So, you've decided to start playing in an IDP league.
Not to be hyperbolic, but this is probably the best decision you've ever made, taking your fantasy football game to the next level. If this is your first season doing IDP welcome, and I hope you enjoy playing fantasy football where you don't ignore an entire half of the player base. If you've been doing IDP for a while though and are just stopping by to look at the rankings for this season and prep for your draft, welcome to you too, and I hope these rankings help you. The second in our series of three ranking sets is defensive linemen, usually considered to be the second most important of the IDP groups, and possibly the one with the least yearly turnover at the top. Happy reading!
---
Tier 1
1. Aaron Donald (Los Angeles Rams) – 2018 Stats: 41 Solo, 18 Assists, 25 TFL, 20.5 Sacks, 4 FF, 2 FR, 1 PD
Aaron Donald had already cemented himself as one of the NFL's premier players going into 2018, boasting a resume that included 4 Pro Bowls, 3 All-Pro Teams, a pair of 11 sack seasons and the 2017 Defensive Player of the Year Award, all in his first four seasons in the league. He then decided he needed to take his game up even another step, coasting to the 2018 Defensive Player of the Year Award by racking up 20.5 sacks, the most by a player since Justin Houston's 22 sack 2015 campaign, as well as leading the league with 24 tackles for loss. Ndamukong Suh's departure likely means a slight downtick in Donald's production in 2019, but with Donald already being consistently double and triple-teamed by O-Lines, you shouldn't be worried. Until teams start using all 5 linemen to stop him, the future Hall of Famer will continue to be an absolute force of nature.
2. J.J. Watt (Houston Texans) – 2018 Stats: 47 Solo, 14 Assists, 18 TFL, 16.0 Sacks, 7 FF, 4 PD
Crazy Fact: J.J. Watt and Aaron Donald have collectively taken home five of the last seven Defensive Player of the Year Awards, with the Texans franchise face bringing the award home in 2012, 2014 and 2015, making him one of just 3 players (Donald, Lawrence Taylor) to win the award in consecutive years. After injuries limited the Milkman to just eight games in 2016 and 2017, fantasy owners were justified in their tempered 2018 expectations. Instead, Watt bounced back with another spectacular campaign, notching his fourth career season with 16+ sacks, and finishing as the #2 defensive lineman. If it weren't for injury concerns, Watt could very well have landed at the top spot in my rankings, but the back injury that held him out most of 2016 was more than enough to keep him below Donald, who's missed just two games in five seasons.
Tier 2
3. Joey Bosa (Los Angeles Chargers) – 2018 Stats (7 Games): 18 Solo, 5 Assists, 7 TFL, 5.5 Sacks, 1 FR
A foot injury held Joey Bosa out for most of 2019, and he didn't look quite as dominant as we're used to seeing him when he was able to get back on the field. He still managed to be a DL2 though, and being a full year removed from his aforementioned foot injury should be conducive to a bounce-back season for the 24-year-old Pro Bowler. The foot injury provides some risk, but Bosa has proven himself to be a clear-cut Top 5 DL when he's on the field, and with health should come another great season for the eldest Bosa brother.
4. Danielle Hunter (Minnesota Vikings) – 2018 Stats: 51 Solo, 21 Assists, 21 TFL, 14.5 Sacks, 1 FR, 1 TD
After two seasons in which he finished as a DL2 or higher (Including being the #5 DL in 2016), Danielle Hunter still managed to be a value for owners who drafted him, finishing third among DL in points and making his first Pro Bowl for good measure. It was a tale of two halves for the former LSU Tiger though; he was the best DL by a healthy margin for the first nine games of the season, but just the 24th for the rest of the year, totaling just three sacks over his final seven games. This was odd for Hunter, who has a history of finishing much stronger than he started, though memories of Everson Griffen's meteoric dropoff from the second half of 2017 are evoked. His "poor" second half notwithstanding, Hunter is a top option at the position and should continue to put up great numbers on an excellent Minnesota defensive line.
5. Myles Garrett (Cleveland Browns) – 2018 Stats: 35 Solo, 9 Assists, 12 TFL, 13.5 Sacks, 3 FF, 3 PD
The #1 pick of the 2017 NFL Draft, Myles Garrett followed up a rock-solid (albeit injury-shortened) rookie campaign with an explosive sophomore year, racking up 13.5 sacks as he continued to improve as a player. He's another case of a player exploding out the gates before finishing the season rather poorly, but that largely only translated to the scoresheet: he was a dominant pass-rushing force in the second half who simply wasn't able to get the sack as much as he was in the first half. One of the small handfuls of knocks on Garrett coming out of college was his relative rawness and tendency to fall back on his athleticism, and we've seen that at times from him in the NFL. He's certainly taken positive strides in that regard though, and with another full offseason to work on his technique, Garrett could be in for a monstrous 2019 season. It wouldn't be at all surprising to see him finish higher than this. Eat your heart out, Warren Sapp.
6. Calais Campbell (Jacksonville Jaguar) – 2018 Stats: 53 Solo, 19 Assists, 20 TFL, 10.5 Sacks, 1 FF, 1 FR, 2 PD
Few fantasy players at any position can boast the type of consistency Calais Campbell has displayed, as 2018 marked his 3rd straight season in the Top 5 at his position, and he's been in the Top 15 every season since 2011. So while entering their 12th season might be a reason to start fading a player, Campbell has proven himself as trustworthy as they come, and continuing to operate within the spectacular Jaguars' defense should allow Campbell to continue being one of the absolute best defensive linemen in football, fantasy or not.
7. DeMarcus Lawrence (Dallas Cowboys) – 2018 Stats: 42 Solo, 22 Assists, 15 TFL, 10.5 Sacks, 2 FF, 1 FR, 1 INT, 1 PD
The offseason was very kind to DeMarcus Lawrence, as the 5-year veteran cashed in with a 5 year, $125M contract extension from the Cowboys. An overpay? Probably. Fantasy owners aren't on the hook for that though, and Lawrence has been a Top 6 DL each of the last two seasons. This ranking assumes though that his surgically-repaired shoulder will be good to go for Week 1, and he slips a few spots down this list if it isn't. Either way, he's an elite option whenever he's on the field and is one of the centerpieces of an exciting Dallas Cowboys defense.
8. Cameron Jordan (New Orleans Saints) – 2018 Stats: 35 Solo, 14 Assists, 18 TFL, 12.0 Sacks, 1 FF, 1 FR, 6 PD
Another model of consistency, Cameron Jordan has been a Top 10 DL in six of the last seven years, his highlights being a #1 finish in 2017 and #4 in 2016. Entering his 9th year you should expect more of the same, though continued development from 2018 first-round pick Marcus Davenport and 4th year DT Sheldon Rankins could allow Jordan a little more breathing room to rack up stats, though also providing some competition. There's not a ton of upside here, but the 30-year-old has one of the highest floors at the position and has never missed an NFL game to boot.
Tier 3
9. DeForest Buckner (San Francisco 49ers) – 2018 Stats: 44 Solo, 23 Assists, 17 TFL, 12.0 Sacks, 1 FR, 3 PD
Though DeForest Buckner has been a spectacular real-life defensive tackle in San Francisco, and he even finished Top 10 at DL his rookie year in 2016, a lack of sacks led to a disappointing #32 finish in 2017. Clearly peeved by this, Buckner responded by doubling his previous career-high in sacks along with an impressive 67 tackles and finished #7 in 2018. 2019 should be the most exciting year for the 49ers defense in a while, but Buckner's 2019 outlook is a double-edged sword. While the addition of Dee Ford and Nick Bosa should allow Buckner more breathing room and fewer double teams, it also provides a pair of incredibly talented players to steal sacks and tackles away. Buckner should once again be a great option, but he carries more risk than in years past.
10. Nick Bosa (San Francisco 49ers) – 2018 Stats (College, 3 Games): 11 Solo, 3 Assists, 6 TFL, 4.0 Sacks, 1 FF, 1 TD
This is my first truly spicy take of the article, though it won't be the last, rest assured. Nick Bosa finishing his rookie season Top 10, especially on one of the better defensive lines in football, seems pretty unlikely. However, this kid absolutely oozes raw talent, and he might even be as good as his older brother in SoCal, if not better. Also, barring some sort of insane hype spike, you won't have to draft the younger Bosa anywhere near this high. We haven't seen a rookie DL finish in the top 10 since 2016 (DeForest Buckner, appropriately), but if anyone can do it this season, it's the #2 overall pick.
11. Melvin Ingram (Los Angeles Chargers) – 2018 Stats: 28 Solo, 15 Assists, 8 TFL, 7.0 Sacks, 1 FF, 2 FR, 1 INT, 3 PD
Prior to 2018, Melvin Ingram had been a consistent producer for several years, with three straight seasons of 55+ tackles, 8+ sacks, and 10 TFL. His 2018 season though went way off the rails, failing to hit any of those three benchmarks, and finishing as the DL28. Having Joey Bosa alongside him for more than seven games should help Ingram bounce back in 2019 though, as should the addition of first-round rookie Jerry Tillery. Take advantage of his weak 2018 at the draft table this season, as he could end up being a really nice value.
12. Chris Jones (Kansas City Chiefs) – 2018 Stats: 35 Solo, 5 Assists, 19 TFL, 15.5 Sacks, 2 FF, 1 INT, 5 PD, 1 TD
Chris Jones had already shown he was an elite defensive lineman in real life coming into 2018, but his #27 finish in 2018 was the best we'd seen from him. He absolute shattered all expectations in 2018 though, nearly tripling his career sack and TFL totals. Despite all this though, 2019 likely won't be all sunshine and rainbows again. The biggest problem is Jones' position change over to defensive tackle, relinquishing his old position to free-agent addition Alex Okafor. Despite this and trade acquisition Frank Clark though, Chris Jones should once again be a useful DL, especially with how many opportunities the Chiefs defense will get, playing in tandem with an explosive offense that now returns Tyreek Hill. With the potential downside, he now has due to more competition on the line though, perhaps letting someone else pay for his 2018 would be a good choice.
13. Frank Clark (Kansas City Chiefs) – 2018 Stats: 33 Solo, 8 Assists, 10 TFL, 13.0 Sacks, 3 FF, 2 FR, 1 INT, 2 PD
After a solid four years in Seattle, Frank Clark was shipped to the Chiefs and given a fat, fat contract that made him the NFL's highest-paid defensive end (until DeMarcus Lawrence promptly stole the title). A lot of what was said about Chris Jones applies here too: Clark will have lots of opportunities but plenty of competition to go along with it.
Tier 4
14. Akiem Hicks (Chicago Bears) – 2018 Stats: 41 Solo, 14 Assists, 12 TFL, 7.5 Sacks, 3 FF, 5 PD
Akiem Hicks is an exceptionally unexciting player but in the best way. Since 2016, he's finished no higher than 12th, and no lower than 14th, while missing just three games over seven years in the league. Playing in a stellar Bears defense will ensure he continues to get the opportunity, and lining up alongside Khalil Mack and Eddie Goldman will keep double teams to a minimum. The type of player you draft, put in your lineup and forget about until the bye.
15. Olivier Vernon (Cleveland Browns) – 2018 Stats (11 Games): 23 Solo, 7 Assists, 5 TFL, 7.0 Sacks, 1 FF, 1 FR, 1 PD

Olivier Vernon has been a premium option at DL for several years, interrupted by a switch to linebacker last season. Vernon's back at his natural position now and should be poised for a very strong season in Cleveland beside Myles Garrett, Sheldon Richardson, and Larry Ogunjobi. A career-high in sacks (currently 11.5 from 2013) is well within the realm of possibility for Vernon, especially if he's moved past the ankle injuries that have caused him to miss 9 games over the last two years.
16. Jonathan Allen (Washington Redskins) – 2018 Stats: 35 Solo, 26 Assists, 11 TFL, 8.0 Sacks
Jonathan Allen has been a great player for the Redskins since being drafted out of Alabama in 2017 and finished as the #21 DL last season with a career-high eight sacks. He looked especially spectacular in the second half of last season, and coming into his third year I think he's poised for a career year, especially with a shiny Montez Sweat to draw blockers away, as well as fellow Alabama product Da'Ron Payne heading into his sophomore campaign, following a very strong rookie season. Ultimately, it's entirely possible I'm placing too much faith in Allen to take a step forward, and I'll be the first to admit it if I whiff on him. But in the end, these are my rankings, and as the wise Connor Colquhoun once said, "Art should be controversial, man".
17. Dee Ford (San Francisco 49ers) – 2018 Stats: 42 Solo, 13 Assists, 13 TFL, 13.0 Sacks, 7 FF
In the interest of not wasting your time, I'll keep Dee Ford's entry here succinct, since you've already basically read it with DeForest Buckner. A good player who had a spectacular career year in 2018, should once again be very good on a great 49ers front four. He would have finished as the DL7 last season if he were eligible there, though his whopping seven forced fumbles likely won't repeat, or come particularly close as his previous high in a season was one.
18. Justin Houston (Indianapolis Colts) – 2018 Stats (12 Games): 28 Solo, 9 Assists, 8 TFL, 9.0 Sacks, 5 FF, 3 FR, 1 INT, 1 PD
After an explosive first four-season averaging 64 tackles and 13 sacks per 16 (and subsequently earning himself a six-year, $101M contract), Justin Houston looked like he was well on his way to being a perennial All-Pro, especially after notching a 22.0 sack campaign in 2014 and nearly toppling Michael Strahan's then 13 year-old record. But then injuries happened, and he's failed to reach even double-digit sacks. His 16 game pace last season though would have netted him a Top 5 spot at DL (if he were eligible), and even missing those 4 games he still would have finished within the Top 20. Houston certainly has the potential to land much higher than this on the list, but the guy has missed 26 games in the last 4 years. There's also the outside chance that Kemoko Turay emerges as a starting option under Houston's tutelage, but that doesn't factor into my ranking. The injuries present quite a bit of downside for the eight vet, but the payoff could be absolutely massive if his health cooperates.
19. Trey Flowers (Detroit Lions) – 2018 Stats (15 Games): 32 Solo, 25 Assists, 9 TFL, 7.5 Sacks, 3 FF, 2 PD
Trey Flowers is another player whose biggest calling card is consistency. Blossoming into a very good player on the Pats (Pun fully intended), Flowers finished between as the DL26, 17 and 20 over his three years as a consistent starter, and he would have finished even higher in '17 and '18 if not for a handful of missed games. Now donning powder blue and rocking a shiny new (and absolutely colossal) contract in Detroit, Flowers should once again be reliable if boring fantasy starter, joining a young and spectacular defensive line (not counting Damon Harrison). The unsightly linebacking crew makes it hard to endorse the Detroit front seven as one of the best in football, but Flowers, Da'Shawn Hand, Snacks and A'Shawn Robinson should form one of, if not the best defensive line in football, and Flowers should be the best of that group (as far as fantasy is concerned).
20. Everson Griffen (Minnesota Vikings) – 2018 Stats (11 Games): 22 Solo, 11 Assists, 5 TFL, 5.5 Sacks,1 PD
2018 was largely a lost year for Everson Griffen, as the 31-year-old dealt with mental health issues, and was not the same even when he was on the field (his 16 game pace would still have made him a DL4). 2018 aside though, Griffen has been pretty great, laying claim to three top-10 finishes, in 2014, 2016 and 2017. Griffen isn't without his blemishes though, and it would be irresponsible of me to fully endorse Griffen as a Top 10 guy once again in 2019. Firstly (and least importantly), Griffen's getting a bit long in the tooth at age 32, and while plenty of guys continue to produce past that age (See #6), you can't really ignore the age factor, even with someone like the previously mentioned Calais Campbell who's still playing at an elite level. The other is Griffen's consistency (or rather, lack thereof). The framework behind his Top 10 finishes in '14 and '16 and '17 hide behind disparate first and second halves.
| | | |
| --- | --- | --- |
| | First Half DL Rank | Second Half DL Rank |
| 2014 | 3 | 50 |
| 2016 | 8 | 16 |
| 2017 | 3 | 53 |
So while Griffen's end of season stats may look great, actually owning him is an exercise in frustration, which I can't in good conscience endorse.
21. Marcus Davenport (New Orleans Saints) – 2018 Stats (13 Games): 12 Solo, 10 Assists, 6 TFL, 4.5 Sacks, 1 FF, 2 PD
Am I crazy for endorsing Marcus Davenport as a DL2 after he finished #91 at the position last year? Yes. Hopefully good crazy though. With Alex Okafor departed to Kansas City, and without much behind him, Marcus Davenport should have a firm grasp on his role across the line from Cameron Jordan. While Davenport didn't get much opportunity in his rookie year (just 416 snaps) he looked solid when he was on the field, and it's not hard to see him fulfilling the massive potential the Saints saw in him to make him the 14th overall pick in 2018. His rawness was the main knock on him coming into the NFL and it showed at times, seemingly making an incredible play to pressure the QB one play, then getting made a complete non-factor by a tight end's blocking the next. I feel as though this ranking is either going to be a home run or a massive whiff and though I might be a year early on the former UTSA standout, I think another offseason learning from Cam Jordan is exactly what the doctor ordered for Davenport.
22. Carlos Dunlap (Cincinnati Bengals) – 2018 Stats: 31 Solo, 16 Assists, 8 TFL, 8.0 Sacks, 2 FF, 1 FR, 8 PD
Another one for the "Unexciting but consistently productive" pile, Carlos Dunlap has been a Top 20 DL every season since 2012, with a trio of top 10 finishes. Though his days of double-digit socks or high DL1 finishes are likely behind him, Dunlap is still an incredibly consistent option who you can set and forget.
23. Vita Vea (Tampa Bay Buccaneers) – 2018 Stats (13 Games): 21 Solo, 7 Assists, 4 TFL, 3.0 Sacks
Okay, hear me out. Watching Vita Vea in the first half compared to Vita Vea in the second half was like comparing Spider-Man: Turn off the Dark to Wicked. Though his fantasy numbers didn't fully reflect it Vea was a wrecker in the second half of the season for Tampa Bay, and he now has Ndamukong Suh running beside him to distract offensive lines. Vea's pass-rushing, in particular, was vastly improved, notching all three of his sacks in the second half, as well as 17 of his 22 QB Hurries. The 24-year-old behemoth also notched 14 tackles in his final three games of the season and looks like he could be ready to take the league by storm in 2019. While he doesn't look quite as polished as we'd prefer him to be; he still relies quite a bit on his massive 6'4, 350 pound frame to bully linemen, the collective wisdom and experience of Suh, Jason Pierre-Paul and William Gholston rubbing off on Vea this offseason could be just what he needs to become one of the NFL's most fearsome defensive tackles. Factor in how cheap he'll be going in drafts, and you have a dart throw who (in my opinion) will be one of the most improved fantasy players of 2019.
24. Jurrell Casey (Tennessee Titans) – 2018 Stats (15 Games): 36 Solo, 26 Assists, 11 TFL, 7.0 Sacks, 2 FF, 1 FR
Jurrell Casey has been a very reliable player for IDP managers, finishing as a DL2 in 4 of the last 5 seasons. He'll likely finish there once again this season, though the Titans announced on Monday that he'll be opening camp on the PUP list, and we're not sure how long he'll be there. His health needs to be monitored, but you should draft him here with confidence if he's ready for the season.
25. Fletcher Cox (Philadelphia Eagles) – 2018 Stats: 33 Solo, 13 Assists, 12 TFL, 10.5 Sacks, 1 FF, 1 FR, 1 PD
Fletcher Cox was already tearing the league up as a defensive end, but his switch over to defensive tackle in 2016 has just made him an even more devastating defender, and the centerpiece of the Eagles D. The switch didn't help his fantasy numbers though, going from a top 10 type of guy to more of a low end DL2 with upside. Outside of a rough fantasy season in 2017 Cox has been perfectly solid as a DL though, and is a perfectly satisfactory second lineman, though be wary of paying extra for the name value.
26. Yannick Ngakoue (Jacksonville Jaguars) – 2018 Stats: 25 Solo, 3 Assists, 13 TFL, 9.5 Sacks, 1 PD
Going into 2018, The "I Thought he was Greek" Freak, Yannick Ngakoue, was one of my absolute favorite IDP players. I proclaimed to the heavens and to anyone who would listen to me that he would be a Top 5 DL in 2018 and a future superstar. Let's see how that turned out: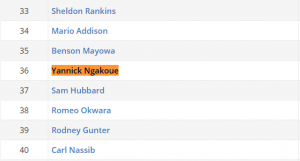 Alright, so I whiffed on that one. Still, he's loaded with talent and on an equally talented Jacksonville defensive line that does a fine job occupying offensive linemen. I don't want to jinx it, but I swear, this is going to be his year. The guy is a pass-rushing force and just needs to get home more often to translate that talent into the exorbitant sack numbers I know he can post.
27. Damon Harrison (Detroit Lions) – 2018 Stats (17 Games): 52 Solo, 29 Assists, 9 TFL, 3.5 Sacks, 2 FF, 1 FR, 1 PD
Damon Harrison had an absolutely incredible 2018 season. Through the first 7 games of the season, as a Giant, Harrison was the #35 DL, with an impressive 31 combined tackles in that span. After his trade to the Detroit Lions though, Snacks was the #10 DL, averaging a huge (for the position) 5 tackles per gaming, and notching every one of his 3.5 sacks. Its no secret that Damon Harrison has been on of the NFL's finest run stoppers for quite some time, but even his pass-rushing, one of the weaker aspects of his game, was rock solid as a member of the Lions. This led to him finishing the season as the #15 DL, his 3rd straight season in the top 20. He ends up this low on the list, though, largely because his previously touted defensive linemates in Detroit are the best group he's ever played with, which could potentially eat into his tackle numbers, which were consistently helped in New York by playing nose tackle. The other is that he simply lacks the upside that others in this tier do. He could very well prove me wrong if he continues to get more pass-rushing opportunities, and Snacks will almost assuredly end up higher than this by seasons end. Still, there are safer consistency guys to draft later than he, and certainly more exciting upside picks.
28. Leonard Williams (New York Jets) – 2018 Stats: 27 Solo, 15 Assists, 11 TFL, 5.0 Sacks, 2 PD
Leonard Williams might be the poster child for how having a competent supporting cast can be absolutely crucial. Williams had an innocuous but respectable rookie season in 2015, finishing 37th at the position. He then followed this up with a great 2016 campaign, finishing 20th and looking like a potential fantasy stud, complementing Sheldon Richardson and Muhammad Wilkerson. He followed up this campaign, though, with back to back seasons outside of the top 40. Why is that? Well, when Sheldon Richardson and all his run-stoppy goodness were shipped out of New York prior to 2017, defenses simply ran up the newly opened up middle, now also Muhammad Wilkerson-less as he shifted to defensive end. We saw the same problem once again in 2018, now with Wilkerson missing all but 3 games on the season. It's hard to deny the impact that Richardson's absence has had on Williams' fantasy production: he averaged almost 66 tackles in the two seasons he did share with Richardson and just 45 in the two since. Now though, with rookie Quinnen Williams, the elder Williams now has a defensive force that will force running backs outside and into Leonard's open arms. Add to that his pass-rushing ability, which has gradually improved every year since his rookie year, and Leonard Williams could potentially be a huge sleeper this season. I'm not quite ready to hand him his top-20 crown back just yet, but I wouldn't be at all surprised to see Williams crack the Top 15 here in 2019. He's absolutely a target of mine in all leagues, especially with a price tag like he'll surely have after two poor fantasy years.
29. Cameron Heyward (Pittsburgh Steelers)  – 2018 Stats: 29 Solo, 22 Assists, 10 TFL, 8.0 Sacks, 1 FF, 1 FR, 3 PD
Honestly, Cameron Heyward doesn't deserve to be as low on this list as he is. He's a remarkably consistent player who usually ends up in the top 20 by seasons end and has been remarkably healthy outside of a 7-game 2016 season. In the end, he's not down here because I dislike him per se, but rather because I just like a lot of young lottery tickets who I placed ahead of him. An ever-improving Steelers pass rush could theoretically negatively impact Heyward's sack numbers, but I wouldn't bank on that too much. Heyward is a solid choice as a DL2 if you're not feeling particularly dangerous. As I've made abundantly clear though, I, like a certain terror who flaps in the night, enjoy getting dangerous.
30. Jason Pierre-Paul (Tampa Bay Buccaneers) – 2018 Stats: 48 Solo, 10 Assists, 16 TFL, 12.5 Sacks, 1 FF, 1 FR, 2 PD
HUGE DISCLAIMER: Jason Pierre-Paul is currently recovering from a fractured vertebra, and will likely be out until October at the soonest. When he's on the field, he's one of the absolute best at the position, especially if Vita Vea develops into the defensive terror I believe he can. However, being set to miss six to eight games as the best case scenario obviously isn't great. He's worth stashing on IR until he comes back in my opinion, though where he gets drafted is a huge factor. I mostly placed Pierre-Paul here as a placeholder, because while I think he's considerably more valuable than anyone in the tiers below, he could also very well miss more than half, if not the entire season. If you draft him, he should absolutely be drafted as your 3rd DL at the soonest, and not at all if you play in a league with no IR.
Tier 5
31. Kenny Clark (Green Bay Packers) – 2018 Stats (13 Games): 36 Solo, 19 Assists, 8 TFL, 6.0 Sacks, 1 FF, 2 FR, 3 PD
Kenny Clark is one of the absolute best and most well-rounded defensive tackles in football for the Packers and that same well-rounded skill set allows him to be a solid contributor for fantasy, by stuffing the sheet across the board to a certain degree, combining the rare solid sack and solid tackle numbers at the DT position. Still, he's not quite good enough in either department to be considered a top option and is better suited for a solid bench DL or as a worst-case scenario second DL if you decide to wait. One of the best examples of elite players whose true contributions just aren't felt on the stat sheet.
32. Ezekiel Ansah (Seattle Seahawks) – 2018 Stats (7 Games): 7 Solo, 4 Assists, 3 TFL, 4.0 Sacks
Let's just agree to never talk about Ziggy Ansah's 2018 season ever again. Cool? Cool. Someone had to come in and try to replace Frank Clark's huge production for Seattle in 2018, and the Hawks decided to sign Ezekiel Ansah and drafting L.J. Collier in the first round (over a bevy of better players at other positions of need) was the best course of action. The Rasheem Green fanboy in me died a little bit, but Ansah has consistently been a strong defensive end when on the field (particularly as a pass rusher). He's just two years removed from a DL1 season in just 14 games, but a torn labrum suffered last season, especially for a guy who dealt with shoulder woes as much as he has is concerning. Tack on that coach Pete Carroll already seems skeptical that he'll be ready for the season opener, and there are more than a few red flags here. Still, he's by far the best player on the line (until Jarran Reed returns), and could very well notch a third double-digit sack season.
33. Ed Oliver (Buffalo Bills) – 2018 Stats (College, 8 Games): 29 Solo, 25 Assists, 14.5 TFL, 3.0 Sacks, 1 FF, 2 PD
Say what you will about his competition in the AAC (Tulane University, anyone?) Ed Oliver was an absolute force of nature in college, even drawing comparisons to the mighty Aaron Donald. While I don't quite think he'll be quite on Aaron Donald's level as a rookie (or ever possibly, considering Donald is one of the best defensive linemen we've ever seen), I think he'll still make an impact, and will emerge in the coming years as one of the elite defensive tackles, both for fantasy purposes and on the gridiron. I rank him here because, while I think he certainly does have the talent to be a DL2 or even DL1 his rookie season, I think adjusting to the NFL game will take some time for Oliver, particularly in regards to dealing with offensive linemen far more skilled and athletic than those he faced in college. Keep Ed on your watchlist if he goes undrafted, and scoop him up the instant it looks like he's putting everything together. It's not every day you get the chance to draft a generational talent at ninth overall, but this was the Bills' lucky year.
34. Clelin Ferrell (Oakland Raiders) – 2018 Stats (College, 15 Games): 29 Solo, 26 Assists, 20 TFL, 11.5 Sacks, 3 FF, 1 FR, 2 PD, 1 TD
Though many were skeptical of the Raiders decision to draft Clelin Ferrell at fourth overall, it's impossible to deny how incredibly talented he is, and he immediately slots in as possibly the best player on that line. He's the type of player who, while perhaps not superb at most skills, is at least good at just about everything you could ask of a rookie defensive end. Having played in three National Championship's as a Clemson Tiger and taking home two, Ferrell is no stranger to pressure, which he'll undoubtedly face as the de facto centerpiece of the Raiders defense, and the presence of Mo Hurst and Johnathan Hankins up the middle should allow for plenty of tackle opportunities.
35. Jabaal Sheard (Indianapolis Colts) – 2018 Stats: 37 Solo, 13 Assists, 14 TFL, 5.5 Sacks, 1 FR, 4 PD
While Jabaal Sheard has been rock-solid as a member of the Colts, this ranking is largely a product of how much I like some of his contemporaries. Both Kemoko Turay and Ben Banogu talented young pass rushers who I think end up pushing Sheard for snaps as the season progresses. If Sheard holds down his job completely he'll end up higher than this, but I really like Turay especially, and think he can take a step forward from an underwhelming 2018.
36. Jerry Hughes (Buffalo Bills) – 2018 Stats: 30 Solo, 7 Assists, 13 TFL, 7.0 Sacks, 3 FF, 1 PD
Jerry Hughes has had some solid, useful fantasy seasons several years back, but he seems to have largely settled into a role now as a respectable, and very unexciting DL3. Sure, you can draft him, but why? This late, you're better off taking a lottery ticket pick on a young player than hoping Hughes recaptures his 2014 glory days. The presence of Ed Oliver could potentially help him pump his tackle totals up, but he'd need some pretty sizable gains to be worth spending a late-round pick on.
37. Geno Atkins (Cincinnati Bengals) – 24 Solo, 21 Assists, 13 TFL, 10.0 Sacks
Another player who will likely finish higher than where I've ranked him, Geno Atkins at this point in his career is a solid DL who'll give you a low-end DL2 performance at best, though at worst be an inoffensive DL3. If your league really requires you to own this many DL, look for a player who can give you a little more upside than Atkins can.
38. Brandon Graham (Philadelphia Eagles) – 2018 Stats: 31 Solo, 8 Assists, 9 TFL, 4.0 Sacks, 1 FF, 1 FR, 2 PD
Brandon Graham could potentially be an intriguing fantasy option, but the inconsistency is noteworthy (two seasons outside the top-40 sandwiching his Top 15 finish in 2017). Staking your claim here could pay off, but I wouldn't bank on it.
39. Robert Quinn (Dallas Cowboys) – 2018 Stats: 25 Solo, 13 Assists, 9 TFL, 6.5 Sacks,  2 FF, 2 PD
The only reason Robert Quinn lands on this list is because of the sack upside that lining up opposite DeMarcus Lawrence can afford a player. Otherwise, he gives nothing of particular note to fantasy owners, finishing almost exactly here last season (DL #41). You can probably leave him on waivers, and snag him if it looks like another 10+ sack season is in the cards for him at age 29. Don't get your hopes up.
40. Jarran Reed (Seattle Seahawks) – 2018 Stats: 34 Solo, 16 Assists, 12 TFL, 10.5 Sacks, 2 FR
DISCLAIMER: Jarran Reed is suspended for the first six games of the season. If it weren't for this suspension, Jarran Reed would have landed about twice as high on this list (thank God I caught this news before publishing). Unlike Jason Pierre-Paul, who's in a similar position, Reed isn't nearly as worth stashing. You still can, but the payoff of having a low-end DL2 is far less motivating than the potential Top 5 weapon stashing Pierre-Paul could give you. He's maybe worth a last round pick if you need a third DL, but it's hard to justify burning a roster spot since unlike Pierre-Paul, Reed can't simply be stuck in your IR slot. 
---
That wraps up our defensive line rankings. Next on the docket is going to be defensive backs, which will be released for your viewing pleasure on Tuesday, July 30th. Until then, feel free to leave a comment down below to ask a question or comment on these rankings, singing my praises and telling me how amazing these rankings are. Or, if you want more personal engagement, feel free to shoot me a Tweet @Quack2Back.
(Photo by Ric Tapia/Icon Sportswire)