Last week, I talked about how the wildcard playoffs was underwhelming, with only a couple games coming down to the wire. Well, it appears I spoke to soon! The divisional round of the playoffs consisted of what I'd easily call the best weekend of football in some time. During two days we got:
Three games decided by a game-winning field goal as time expires
Three upsets
An instant classic between the Bills and Chiefs featuring the craziest final two minutes of football I have ever seen
 Every game was decided by the final play of the game
That is absurd! Hopefully, the conference championship games can provide us with a similar amount of entertainment. These two games are rematches of some of the best games of the regular season, and we'll look for a repeat of that.
Now it's time to take a look at the best bets to make this Sunday! Utilizing advanced metrics and personal projections, I have found four picks that look quite favorable this week; this includes an over/under total, a teaser, and two prop bets. What are these beneficial bets? Let us take a closer look!
All Stats via Pro Football Focus and rbsdm.com
#1: CIN at KC (Under 54.5)
Last week, I took the under in the Bills/Chiefs game, only to watch it get blown up in my face during the final two minutes of the game. At the same time, before that point, the under was in good shape, so it isn't as though there wasn't sound reason to bet it.
The recency bias of those final two minutes, in my opinion, have inflated this point total. The opening line was 51, but, now, it has vaulted up to 54.5. This seems like an overcorrection by the market, which we can look to take advantage of.
During the regular season, both of these defenses excelled in coverage, ranking in the top-12 in PFF coverage grade. On the other hand, both have struggled in terms of run defense, which could open the door for a more run-heavy game script from both sides than we are expecting. Plus, with a spread of 7.5 points, the expectation is that Kansas City should win this game without reasonable doubt, for the most part. Thus, we might not see them be on the accelerator late like we are used to.
The Chiefs should get back defensive backs Rashad Fenton and Tyrann Mathieu for this game, which would be pivotal for their defense. As tremendous as Joe Burrow is, there are indications that the team will try to protect him this week behind a poor offensive line by utilizing the running game more, thus slowing down the pace. That doesn't void well for a lot of points being scored.
Meanwhile, Kansas City's offense isn't as explosive as you may think it is. In his two playoff games, Patrick Mahomes has an average depth of target of just 5.5 yards. This means that they've become incredible reliant on yardage after the catch to succeed, which can be volatile on a game-to-game basis. Without strong field position, since both of these teams don't commit many turnovers, all points are going to be earned, and I think we're letting recency bias affect us in how easy it is going to be. I know that these teams combined for 65 points the last time they met, but there was a lot of chunk plays that played a role there, as well as game script; Kansas City also scored just three points in the second half after Cincinnati switched up their defensive game plan. I don't want to say those big plays are fluky, but with how little these quarterbacks have pushed the ball down the field this postseason, we might not get the shootout many are anticipating. It might be a buzzkill, but feel comfortable betting the under here.
#2: Teaser: KC (-0.5) vs CIN, SF (+10.5) at LAR
I couldn't resist the urge to include a teaser in here! This week, though, we are shaking it up; instead of a six-point teaser, we're going to implement a seven-point teaser.
At 3.5 points, the 49ers may seem like a logical bet. After all, they've already beaten the Rams twice, and have now beaten them six times in a row. However, how much of that actually matters when projecting this game? The quarterback mismatch between Jimmy Garoppolo and Matthew Stafford is notable, and the Rams on paper would seem to be the more talented team. That being said, I have 100% confidence in San Francisco covering a 10.5 point spread, especially with the seven-point teaser allowing to exceed a key number (10).
When he's not blitzed, Matthew Stafford's passing grade goes down to 75.1, while averages far fewer yards/pass attempt (8) than he does when blitzed (9.3). At the same time, he struggles when under pressure, which is exactly what the 49ers were able to accomplish, despite blitzing only 10 times on 81 Stafford drop backs this season. In Week 18, they generated pressure 48.6% of the time, leading to a spiked 5.3% turnover-worthy play rate. Simply put, Stafford wants to make the big play happen, but San Francisco's defense is designed to prevent that. Thus, when he gets impatient, that's where sacks and turnovers happen.
On the other side of the ball, Deebo Samuel and George Kittle each have been significantly more effective when facing zone coverage, which the Rams run an extensive amount of, per PFF's Dwain McFarland. Meanwhile, in the two matchups against them, San Francisco is averaging 29 points per game, as they've exploited some of Los Angeles' vulnerabilities when it comes to leaving the middle of the field open and not stacking the box. There's too much talent on both sides of the field, as well as injuries on the 49ers side for me to feel confident in them covering the +3.5 spread, but 10.5 points is a significantly different deal.
As for the Bengals and the Chiefs, do we really need to think long on who the better team is. Cincinnati may have beaten them in Week 17, but using that as a reason why they'll win again is an extreme fallacy. Despite facing a significantly softer schedule, the Bengals (11th) trail the Chiefs (2nd) by a notable amount in EPA/play, both in terms of passing and rushing. Meanwhile, the defensive gap is minimal by most metrics. Whereas Cincinnati has had to scrape by the Raiders and Titans, Kansas City in the playoffs is a completely different animal, and I'm not sure they're ready to handle that. Maybe I'm wrong, but it would appear they've hit their peak, and when I can shift the spread from 7.5 points, which seems like a lot, to essentially a pick-em, I'll ride with the team with the much more reliable offense.
#3: Cam Akers (Under 61.5 Rushing Yards)
The story of Cam Akers is quite incredible. From tearing his Achilles in late July to making his return into the starting lineup, his recovery has paved the way for other injured players to have hope a quicker-than-anticipated recovery.
That being said, Akers' rushing prop might be too high here. It isn't as though he's been very impressive since coming from the injury; he has a 38.8 PFF rushing grade, is averaging 2.3 yards/rush attempt, as well as 2.02 yards after contact/attempt. The volume has been there, but there's not expectation for the efficiency to be there to reach this total.
Then, there is the 49ers defense. They are allowing the second-fewest rush EPA this season, and haven't allowed a player to go over this rushing total since Week 9. In fact, in that span, they have been the #1 run defense by a wide margin based on EPA/allowed per play, as well as success rate: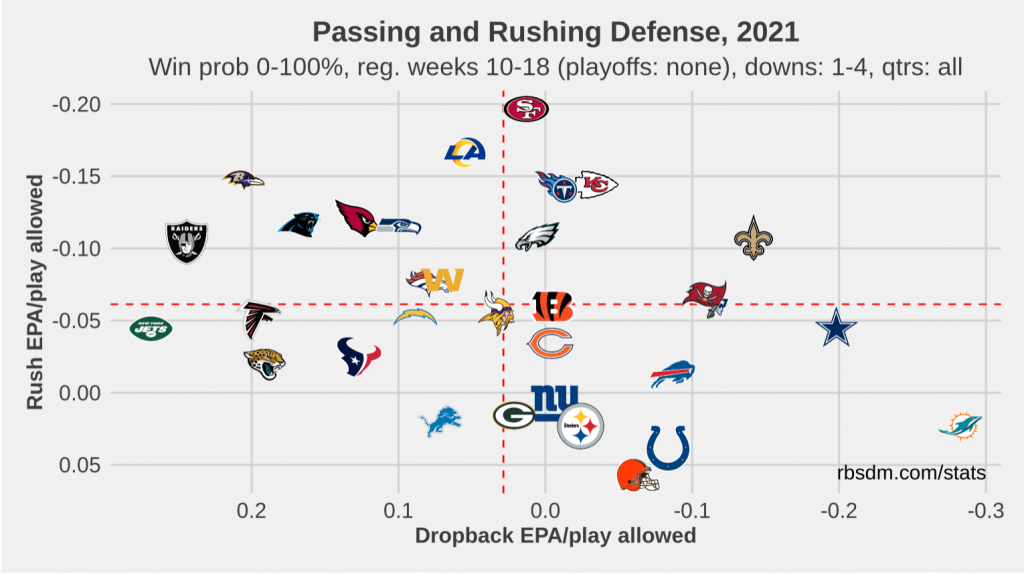 The 49ers' defense has been one of the top pass-funnels this season. Plus, after two fumbles last week, he could see Akers trusted slightly less this week. If either he remains not efficient or his rushing volume isn't there, he isn't going to hit this rushing total. That's a lot of avenues to success here, making it a smart pick ahead of a pivotal matchup.
#4: Clyde Edwards-Helaire (Over 35.5 Rushing Yards)
From a rushing under to a rushing over, he head to the other exciting matchup this weekend.
Last weekend, Clyde Edwards-Helaire got back into action, rushing for 60 yards on just seven carries. Now, he'll need more rushing volume to go over his total this week – we can't rely on elite efficiency – but I'm confident it will be there for him.
Based on Edwards-Helaire's 4.6 yards/carry this season, you're looking for him to get eight+ carries in this game. Considering that they're favored by 7.5 points, which means more rushing most likely, that is quite doable. It certainly helps that Edwards-Helaire is supported by PFF's third-highest graded run-blocking offensive line, while the Bengals rank as a bottom-ten run defense.
In fact, given their strengths in pass coverage, you'd figure that Cincinnati would more of a run-funnel here. The game script is certainly in his favor, and we could also see him naturally get more work in his second week back from injury. Really, there isn't much more analysis needed here. We'd expect Edwards-Helaire to exceed the amount of carries he'll need to reach this number, especially since the Bengals have been a poor run defense this season. With the game script on his side, I'll side with the over here.
(Photo by Jevone Moore/Icon Sportswire)