As training camp begins and the season draws ever closer, it's time to take a look around the league and make a few spicy guesses for the 2021 season. It's already been a spicy couple of months, with the Aaron Rodgers drama continuing to unfold, the uncertainty over Deshaun Watson's future in the league, and a whole lot of disagreement over the NFL's vaccine mandate. These predictions — according to QBList leader Erik Smith — must be very bold, so keep that in mind as you approach draft season.
Jerry Jeudy finishes as a Top 20 WR
Jeudy was the second WR off the board in the 2020 NFL Draft (15th overall), going just a few picks behind his former teammate, Henry Ruggs III. Expectations were high for him and the Broncos offense heading into 2020, as GM John Elway made the conscious choice to build around QB Drew Lock (as opposed to finding a new QB) and give Lock enough weapons to succeed under center.
Jeudy racked up 52 receptions, 856 yards, and 3 TDs, good enough for a WR45 finish (PPR) in 2020, falling below many fantasy managers' expectations and well below the expected production level for a WR with an ADP of 112.3. There are a couple of factors you can point to for Jeudy's struggles:
Drops – There's no way to spin this one positively. Jeudy just dropped the ball a lot. He had one of the league's lowest catch rates, according to Next Gen Stats, and had the second-most drops in all of football behind Diontae Johnson. Jeudy will need to hold onto the ball more often in order to boost his stats.
His QB –  I hate to harp on Lock too much because he's played all of 18 games in the NFL. It's hard to be a great passer when you're thrust into a starting role and then expected to perform at a high level without the growing pains that come with being a rookie. But Lock actively hurt Jeudy's value throughout 2020. Jeudy had the highest percentage (and highest number) of uncatchable passes thrown his way in 2020, according to PFF. He was also among the league leaders in uncatchable deep balls (47% of deep balls thrown his way were deemed uncatchable) and red zone targets, which are two big ways to boost fantasy value.When Lock was injured or sitting, the alternatives under center were even worse for Jeudy's value. There were 4 QBs that received playing time during the Broncos' season: Drew Lock, Jeff Driskel, Brett Rypien, and Kendall Hinton. If you don't know any of those names, it's probably for good reason. They're not going to be lighting NFL defenses on fire under center. The rotating carousel of QBs — and Lock's struggles — led first-year Broncos Offensive Coordinator Pat Shurmur to trot out a run-heavy offense. Opposing teams saw a heavy dose of Melvin Gordon III and Phillip Lindsay last season as a result.
Playcalling/Personnel – As alluded to earlier, Pat Shurmur chose to install a run-heavy offensive scheme. He called for a pass in just 45.1 percent of neutral, early down situations, which ranked 28th among NFL offenses. Now, if the running game is humming along, it can help open up other avenues for passing plays, like with the Derrick Henry/Ryan Tannehill combination in Tennessee. But, the Broncos' rushing attack was still subpar, ranking 26th in rushing DVOA. The run blocking didn't help much, either, ranking 28th in Football Outsiders' Adjusted Line Yards rate. So, with below-average QB play and a below-average rushing attack, it was difficult for the Broncos to get anything going offensively.
Conclusion: I see plenty of room for growth in Jeudy's game and in the Broncos' offense as a whole. Shurmur now has a year under his belt as the offensive coordinator and should have a better idea of his offense's strengths and weaknesses. Hopefully, he understands that Jeudy has the highest potential of any WR in the offense. The Broncos attempted to address their offensive line issues by drafting and signing a handful of linemen, so hopefully, that line can help protect whoever is playing under center.
There are a couple more reasons I'm confident that Jeudy will take a sizable leap in fantasy production. Firstly, he should be able to improve on his drop rate as he becomes more acclimated to life in the NFL. Secondly, the Broncos tried to address the Drew Lock situation by adding a more accurate passer in Teddy Bridgewater. While Bridgewater will never light up the scoreboard by himself, his passing accuracy should cut down on the number of uncatchable balls that Jeudy faced last year. Improved quarterback play and what should be increased running game success should also open up Shurmur's playbook a little more, allowing the Broncos to find more ways to target Jeudy.
And, finally, this:
Jerry Jeudy route running already on god mode pic.twitter.com/fXCNDF57nq

— Ian Hartitz (@Ihartitz) April 15, 2021
The Philadelphia Eagles will have a Top 10 offense
The Philadelphia Eagles struggled mightily on offense last season, finishing 18th in rushing DVOA and 29th in passing DVOA. It got ugly in the final days of Carson Wentz under center, as Wentz ended the season tied for the lead in INTs despite playing in just 12 games. The offense became quite stagnant overall, as the Eagles ranked 31st in Expected Points Added (EPA) with Wentz under center. When Head Coach Doug Pederson decided to switch Wentz out for Jalen Hurts, the offense improved to 21st in EPA.
The benefit of moving on from Wentz, who was, by almost any measure available, the worst QB in the NFL, is that there is nowhere to go but up. The same goes in regards to the Eagles firing Doug Pederson, whose offense looked mediocre at best and unmovable at worst (apologies for using the eye test to support my point here, but roll with it!). Jalen Hurts starts the season as the presumed starter, although the Eagles also have the elite Joe Flacco and former San Francisco 49er Nick Mullens to back him up. New Head Coach Nick Sirianni and Offensive Coordinator Shane Steichen will have to find ways to make Hurts' life under center easier than it was with Pederson calling the shots.
There's a lot riding against the Eagles' offense. A new HC and a new OC mean it will take time to install a scheme that every player is on board with. Hurts didn't definitively show that he was the answer to all of Philadelphia's problems at QB, either. He struggled with fumbles and held the league's worst Expected Completion Percentage among qualified passers. So, why am I so optimistic?
Health, especially for the offensive line – Philadelphia ranked second in terms of total man games lost last season, falling just behind the extremely injured 49ers. One of the most notable injuries was Pro Bowl offensive lineman Brandon Brooks, who was lost for the entire 2020 season with a torn Achilles. They also lost several other starting offensive linemen, including Lane Johnson, Andre Dillard, and Sua Opeta. At one point last season, the Eagles were starting third-string lineman Brett Toth because so many linemen were on injured reserve. The return of Brooks, Johnson, and Dillard should help bolster a unit that struggled to protect Hurts and Wentz last season. In previous seasons, the offensive line, which featured Jason Kelce, Brandon Brooks, and Lane Johnson was among the best units in the league. Plus, the emergence of Nate Herbig and Jordan Mailata, along with the addition of Center Landon Dickerson, should help provide quality depth options for the offensive line.
Personnel Changes – The Eagles also added an important playmaker for their offense in rookie WR DeVonta Smith. Smith, the 10th pick in the 2021 NFL Draft, should be quite a boost for an Eagles WR room that was a little short on talent last year. WR Jalen Reagor showed flashes of talent in his play last season and WR Travis Fulgham had his moments before falling out of favor with Doug Pederson and the rest of the coaching staff. The Eagles will also return promising TE Dallas Goedert and RB Miles Sanders and will likely have TE Zach Ertz as another weapon. Improved health up front, along with the addition of Smith, should help open up new avenues for OC Shane Steichen to help the offense move the ball up and down the field. With more talent around him — and less pressure on Hurts to elevate the entire offense by himself — the Eagles should significantly improve on the offensive side of the ball.
Conclusion: This prediction hinges on a sizable improvement from QB Jalen Hurts, who was thrust into the starting role after Carson Wentz was, quite literally, the worst starting QB in the NFL. The coaching staff will need to find ways to help Hurts make easy passes and get open looks for Miles Sanders on the ground. Improved line play and health will go a long way towards giving Sanders room to run and time for Hurts to make passes and avoid taking big hits. If the coaching staff can find a way to unlock Hurts' playmaking potential with his legs and make him a more competent passer, the entire offense will improve as a result. If the Eagles can produce the 18th-ranked rushing offense with several different offensive line combinations (and none of them particularly good combinations), then I am optimistic that the Eagles can dramatically improve the passing and rushing offenses (something in the top 10 range) with more consistent line play. It also helps that Philadelphia will play the NFL's easiest projected schedule (based on 2020 winning percentage), which will give the offense more opportunities to gel.
David Montgomery will once again finish as a Top 5 RB
Ahem.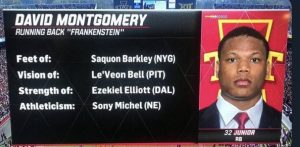 Head Coach Matt Nagy and Offensive Coordinator Bill Lazor took the reins off of "Frankenstein" last year and let him work his magic. David Montgomery had himself a heck of a year, rushing for over a thousand yards (4.3 yards per attempt) and catching 54 passes for another 438 yards. He was the only RB to generate at least 1,000 rushing yards and 400 receiving yards. Montgomery also tacked on 10 TDs and limited himself to just 1 fumble. And, that was all with Mitchell Trubisky under center.
Here's Montgomery's game log from 2020:
David Montgomery 2020 Game Log
Keep in mind that those December games came against Jacksonville, Green Bay (twice), Detroit, and Houston. But, even when the rushing yards dried up early in the season, Montgomery was a solid receiving threat and gave fantasy managers a pretty decent floor, which makes me optimistic for 2021.
In the offseason, the Bears went out and got themselves two QBs, Andy Dalton and Justin Fields. Dalton and Trubisky finished with similar passer ratings in 2020. Dalton also has a long history of putting up average (or occasionally above-average) passer ratings, so at the very least, Dalton will not hurt Montgomery's production too badly. Fields will experience some growing pains as a rookie, but if the pre-draft scouting reports are to be believed, Fields has the talent to become Chicago's next franchise QB. Additionally, Tarik Cohen, the next RB listed on the Bears' depth chart, opens the year on the Physically Unable to Perform (PUP) list and is recovering from a torn ACL. The other RB with any significant NFL playing experience on the Bears is Damien Williams, who didn't play in 2020. But, Montgomery is being drafted as the 17th RB off the board as of July 26! Frankenstein is being drafted behind Chris Carson and J.K. Dobbins, for some reason. This is some outright disrespect and I fully expect him to outperform that ranking in 2021.
Conclusion: It's not easy to be a Top 5 RB in fantasy football. Montgomery was undoubtedly aided by a soft schedule throughout December and favorable game scripts. Plus, injuries to Austin Ekeler, Saquon Barkley, and Christian McCaffrey all removed some of Montgomery's competition for a top 5 RB spot. And, the Bears are projected to face one of the NFL's toughest projected schedules in 2021, so Montgomery won't be able to run roughshod over opposing defenses.
But, I think Montgomery has had his breakout year. If he can continue to improve as a rushing threat and maintain similar levels of targets/receiving yardage against better teams, he can once again reach the promised land of Top 5 RBs. The Bears' defense should be able to keep them in games and keep game script favorable for rushing yardage for Montgomery, but his chops as a pass-catcher should help him out should the Bears fall behind in games. Additionally, the Bears have revamped their offensive line in recent seasons, including drafting OT Teven Jenkins in the second round of the 2021 NFL Draft. That should help protect Dalton and Fields and open up running lanes for Montgomery.
Tony Pollard and Ezekiel Elliott will split carries
Yes, the Cowboys have committed a lot of money to Ezekiel Elliott for the next few years. Elliott is under his current contract until at least 2022 when he can choose to opt out of the deal he signed recently. Tony Pollard is also under contract through the end of 2022 and his age-25 season on a much cheaper deal. So, it doesn't make a whole lot of sense for the Cowboys to play Elliott and Pollard at relatively equal rates due to the money committed to both players.
But, last year, Pollard was the better RB by a handful of metrics, including Defensive-adjusted Yards Above Replacement (DYAR), DVOA, Rushing Efficiency, and Rushing Yards over Expected per Attempt (RYOE/ATT). In other categories, Elliott and Pollard are virtually equal, or Elliott has a slight edge.
Comparing Pollard and Zeke
(ROE% – Rush Pct Over Expected)
Granted, Elliott outpaces Pollard in terms of attempts and yardage. So, Pollard has likely benefitted from being placed into advantageous situations during games. However, Pollard has more than held his own in those situations. I think Elliott and Pollard are closer than originally thought in terms of talent — in fact, Pollard looked like the more explosive RB at times last year — and the Cowboys may want to see what they really have in Pollard after a surprising 2020 season, especially if Elliott has plans to move on from Dallas. It should also help both running backs that Tyron Smith and La'el Collins, two prominent offensive linemen, will return to the lineup to start 2021.
Conclusion: If Pollard continues to run as well as Elliott and spark big runs as he did last year, Pollard may force HC Mike McCarthy into playing the two in an RBBC that would essentially kill a ton of fantasy value for both players. It would also make Elliott's current price as the 5th RB off the board a massive overpay.
Tyler Higbee will finish as TE3
This is finally Tyler Higbee's job to lose. He no longer has to split snaps and targets with Gerald Everett, who moved north to the Seattle Seahawks during the offseason. And, even with Everett and Higbee splitting snaps and targets, Higbee still managed to finish as TE16 in 2020. That was with a Rams offense that featured Jared Goff under center and with a solid Rams running game in Cam Akers, Darrell Henderson, and Malcolm Brown. The Rams upgraded their offense by exchanging Goff for former Lion Matthew Stafford, who represents a significant upgrade under center. And, with Akers out for the season with an Achilles injury and Brown departing for Miami, there will need to be a little more emphasis on the passing attack.
Moving from Goff to Stafford should help in a number of ways. For one thing, Stafford has added more value to his team, ranking 14th in Expected Points Added (a measure of how each play gets a team closer or further away from scoring. A higher rating means positive plays more often) in 2020. Goff ranked 23rd in EPA.
Stafford is also a deep ball/explosive play-oriented QB. Last year, Stafford looked deep beyond the line of scrimmage, with an 8.9-yard average depth of target beyond the line of scrimmage (aka Air Yards). Goff's Air Yards ranked 29th among the 32 NFL starting QBs, with a 6.7-yard average depth of target. So, we can conclude that the Rams' offense under Goff featured shorter plays and a more efficient, methodical offense. NFL teams can win either way, but long plays and deeper passes also help increase fantasy points.

Courtesy of The Athletic
Higbee was asked to run deeper routes in McVay's offense, ranking 7th among TEs in terms of yards per route run, which plays more to Stafford's strengths.
Conclusion: With improved QB play and the weapons to open up the field, the Rams should be able to move the ball with relative ease. Moving the ball easily should lead to more red zone opportunities, which should in turn lead to more opportunities for fantasy points. Higbee didn't quite receive as many red-zone targets as teammates Woods and Kupp, but with more red-zone attempts and few other options to vulture targets, Higbee should see a significant uptick in fantasy points. I'm willing to bet that Higbee will outperform every other TE except Kelce and Kittle in PPR leagues.