What if I told you that there was a way you could get the same benefit from a mock draft with a real league that requires no in-season management? Welcome to Best Ball–one of the most underrated formats in fantasy sports!
Basic Rules of the Format
In short, Best Ball is a set it and forget it style of fantasy football. Each drafter is responsible for drafting a team of 18 – 20 players (depending on if they use defense) and that's it. During each week of the season, the chosen fantasy sports app will choose the highest-scoring lineup from your roster. At the conclusion of the season, the team with the most points wins.
The lineup is typically something along the lines of:
1 Quarterback
1 Tight End
2 Running Backs
3 Wide Receivers
1 Flex (RB / WR / TE)
1 Team Defense (*not for all providers)
As the app only needs to select 8 – 9 players out of your 18 – 20 rostered players, you'll see some variation to your weekly lineups over the course of the season.
*The Draft app only requires 18 players (without Defenses) / Fantrax and Yahoo require 20 players (with Defenses)
Maximizing Scoring Opportunities (a. k. a. Roster Construction)

Industry-wide, there is debate surounding the number of players at each position you should roster. For positions like quarterback, tight end, and defense, it could be argued that rostering any more than 2 options for each of those spots will leave you without enough options for the multi-start slots. It's true that if you roster 3 or more of each, greater than or equal to 20% of your roster will be unused by default each week; However, football is a game where any player is a bad play away from missing the rest of the season. There isn't a right answer, but it's a question you need to be asking yourself throughout the draft.
From the results of the first Best Ball draft done by the QB List team, you can clearly see roster construction was on everyone's mind. Notably, Bryan Sweet, Dan Adams, Josh Gleason, and Matt Dean leaned into the potential 4 starting WR and rostered 8 or more. Despite playing on Fantrax, which does include Defense, only one team (Kevin Taylor) rostered more than 2 defenses.
| Writer |   QB |   RB |   TE |   WR |
| --- | --- | --- | --- | --- |
| Bryan Sweet | 3 | 6 | 1 | 8 |
| Colin Weatherwax | 3 | 7 | 2 | 6 |
| Dan Adams | 2 | 6 | 2 | 8 |
| David Fenko | 3 | 6 | 3 | 6 |
| Frank Costanzo | 2 | 8 | 3 | 5 |
| Josh Gleason | 2 | 5 | 2 | 9 |
| Justin Paradis | 3 | 6 | 3 | 6 |
| Kevin Taylor | 2 | 6 | 2 | 7 |
| Marc Salazar | 4 | 5 | 3 | 6 |
| Matt Dean | 2 | 4 | 3 | 9 |
| Matthew Perri | 2 | 6 | 3 | 7 |
| Stephen Dudas | 3 | 6 | 3 | 6 |
Strategy Is Everything
I've opted to keep roster construction as it's own section, since having an idea of how many of each position you want is necessary for any other strategy.
Timeshares Are Good
I've got a confession to make. In a non-zero number of Best Ball drafts I've done this year, I own RB Tevin Coleman, RB Jerick McKinnon, and RB Matt Breida. Given the return of QB Jimmy Garoppolo and the improvements made to the WR corps to go alongside TE George Kittle, something special may be brewing in San Fransisco and I want a part of that. Don't hesitate to take a skill position player on teams with ambiguous situations, because even a timeshare can net you 1 – 2 starting players per week, just ask anyone who owned RB Alvin Kamara and RB Mark Ingram in 2017.
Know Your Cherry Bombs
Borrowing from our sister site Pitcher List:
Cherry Bomb: A term given to a pitcher who could give an excellent performance or a complete dud. In other words, be really sweet (cherry) or blow up in your face (bomb).
For the purpose of football, think of Cherry Bombs as a good thing. For years, WR DeSean Jackson was the type of player that could blow the top off a defense and rack up a solid fantasy day with one long touchdown. Unfortunately, you would also have to contend with the 2 receptions for 32 yards to go alongside that game-breaking ability. Later on in a Best Ball draft, a player with Jackson's ability to score big on one play is the ideal target for your team. With Best Ball, having an explosive team with a solid floor is the ideal state. Opt to spend your early picks on every week contributors; then shoot for the stars during the back half of the draft.
Feel Free to Gamble
Don't fear rookies or post-hype sleepers. If there is a player that you could swear was talented enough for the NFL during college that either was just drafted or had problems getting on the field during their first few seasons, Best Ball is a great format to try your luck. WR Deon Cain comes to mind for me this season. Cain missed all of 2018 (his rookie campaign) with a torn ACL. Now, in Colts training camp he is starting the year on the roster bubble. It's unclear if he will even make the team. However, WR Devin Funchess is already nursing an injury and that opens up some possibilities for Cain to make an impact. Coming out of college, Cain was considered a talented wideout who just couldn't get out of his own way. He always had the size, speed, and agility to compete though. In the end, Deon Cain might contribute nothing in 2019, but the Colts beyond WR T. Y. Hilton and Funchess are flush with opportunities for a young player and your Best Ball team can be as well.
Don't Fret Bye Weeks Early
With 18+ rounds of drafting (and no kickers), there is plenty of time in the back half of the draft to add options with different bye weeks than the core of your team. Over the first 5 – 7 rounds, choose the best player available for your team and then start to play with the remaining puzzle pieces later.
Our First Draft (in Pretty Pictures)
First off, it probably makes sense to share the draft board.
For the first Best Ball draft by the QB List writers, I've opted to compare our picks against ADP (Fantrax Half PPR). Our draft followed ADP (with slight variation) up until pick 19, where you see RB Damien Williams hanging out to the right of the trend line. From there, you begin to see roster construction and individual rankings take over, though most picks were still within 5 rounds of their ADP through the end. As mentioned in the strategies above, players like WR Taylor Gabriel and QB Andy Dalton start finding homes on rosters looking for some of that boom-or-bust potential.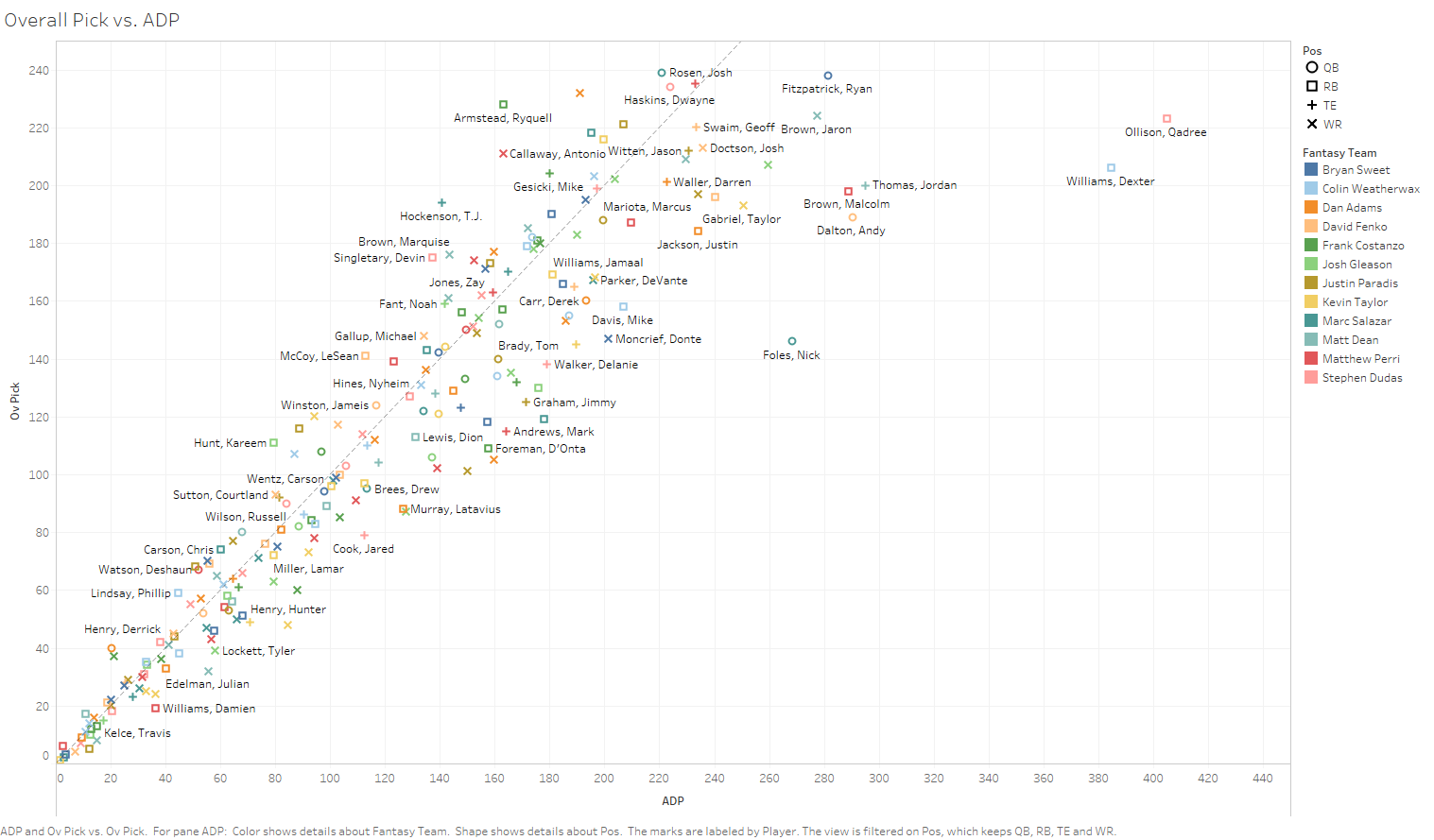 The Cherry Bomb strategy is clearly visible if you look at the spread between wide receiver ADP and their picks in the draft. Our old friend DeSean Jackson joins other exciting options like WR DeVante Parker and WR Donte Moncrief as players that could easily find their way into your starting lineup several times throughout the season.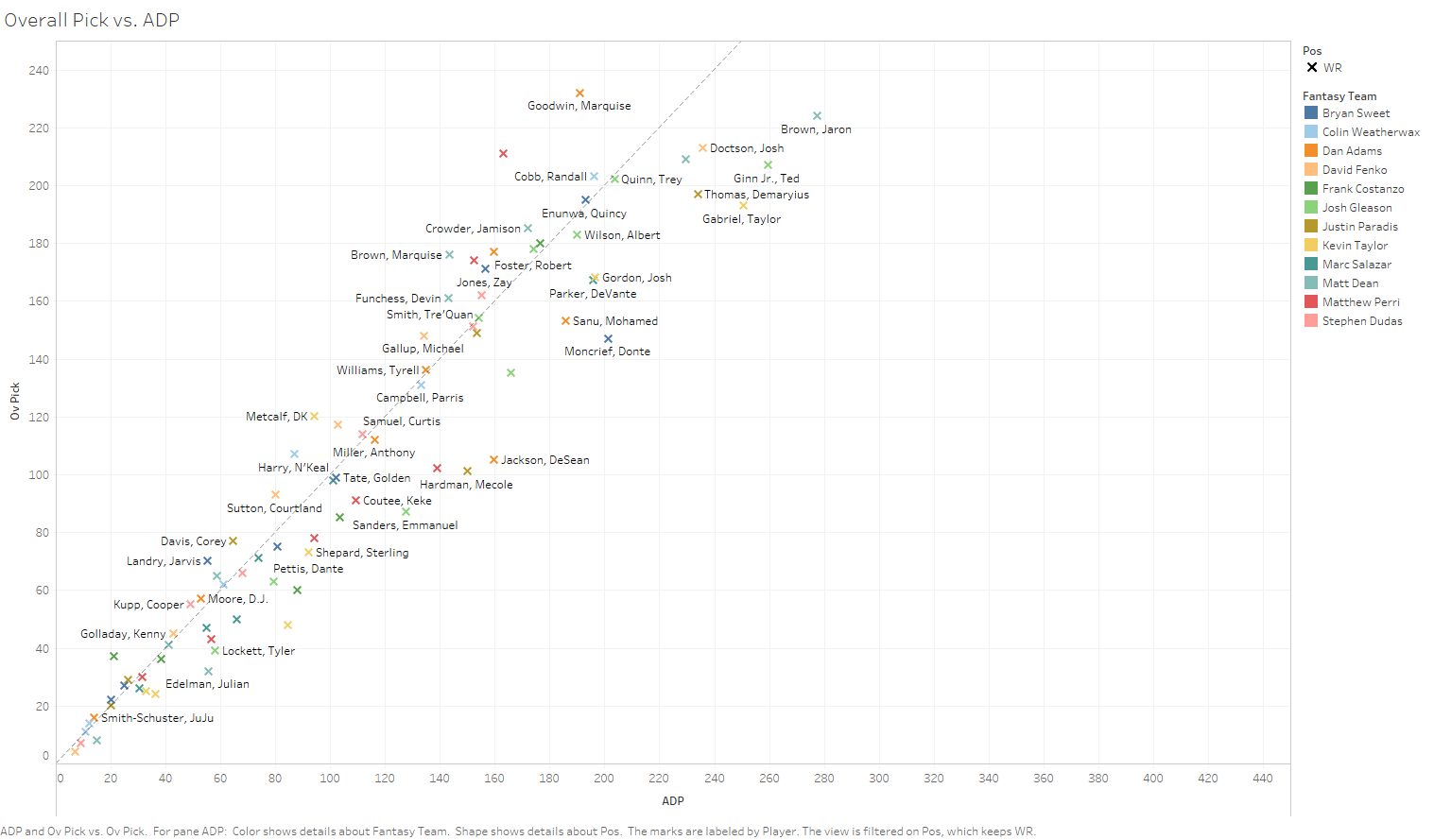 Looking at an isolated view of the running backs, potential rookie contributors RB Dexter Williams and RB Qadree Ollison find their way onto teams to round out the draft. Neither player has a role, but both are part of a running back crew headlined by a player with some injury history and backed up by uninspiring options (RB Aaron Jones & RB Jamaal Williams and RB Devonta Freeman & RB Ito Smith). Should history repeat itself, either player could rack up some serious points during 2019.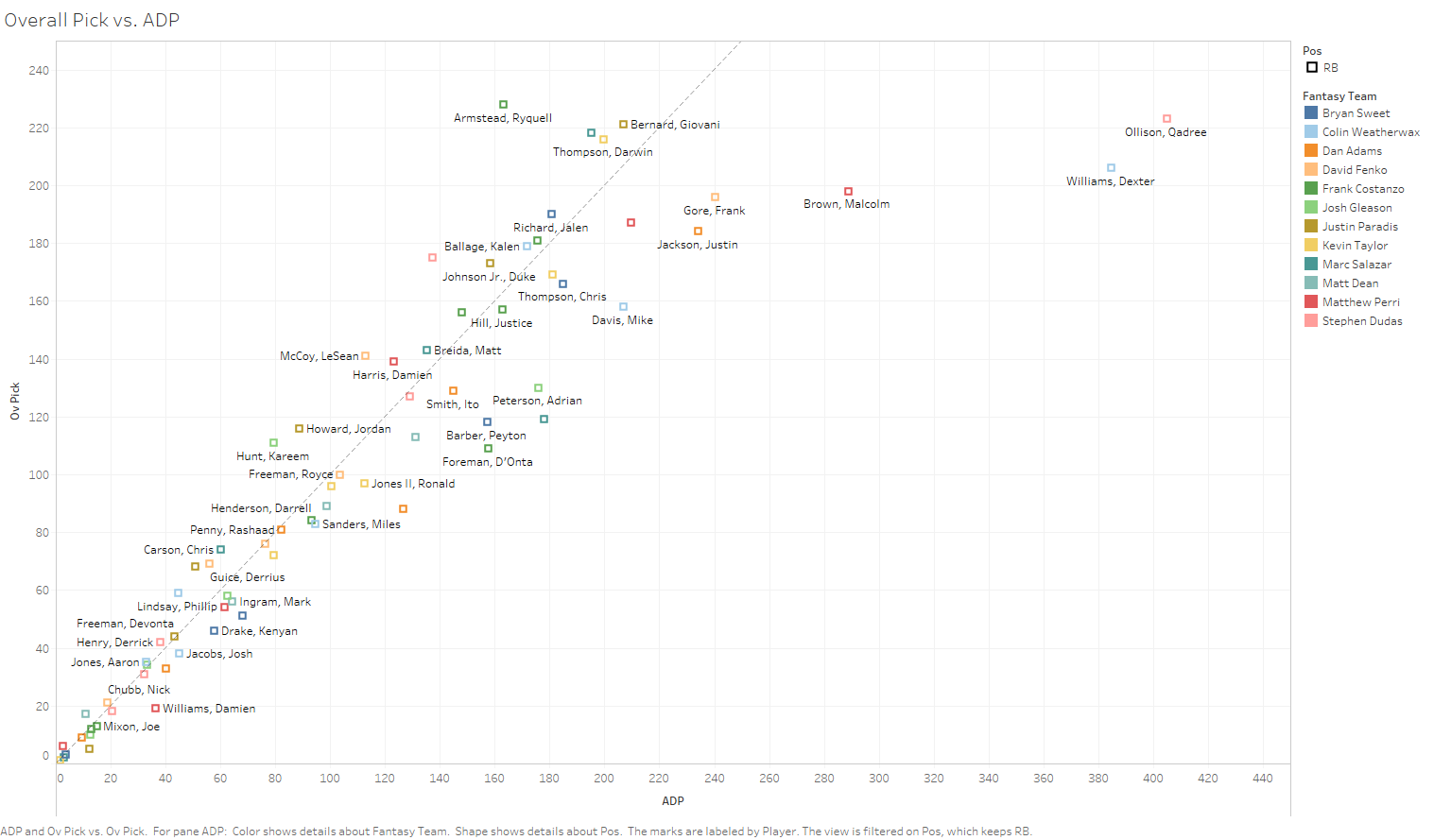 Remember that in Best Ball, it's important to take some risks. Since we don't have to hand select our lineups, boom-or-bust players are much better options on a weekly basis. So take DeSean Jackson and don't be worried about a couple slow weeks. Invest in Taylor Gabriel for those few monster weeks. And most importantly, enjoy being in a league where you don't have to do roster management all season!