(Photo by Roy K. Miller/Icon Sportswire)
QB List is excited to be partnering with FantasyDraft, featuring advice articles every week through the entirety of the 2018 season. Signup and play for free at FantasyDraft.
Prior to breaking down the Thanksgiving slate from a daily fantasy perspective, I will recap how I did in the Fantasy Draft $100,000 Run and Gun (Sun Only) tournament from the week before. You can compete against me weekly throughout the season.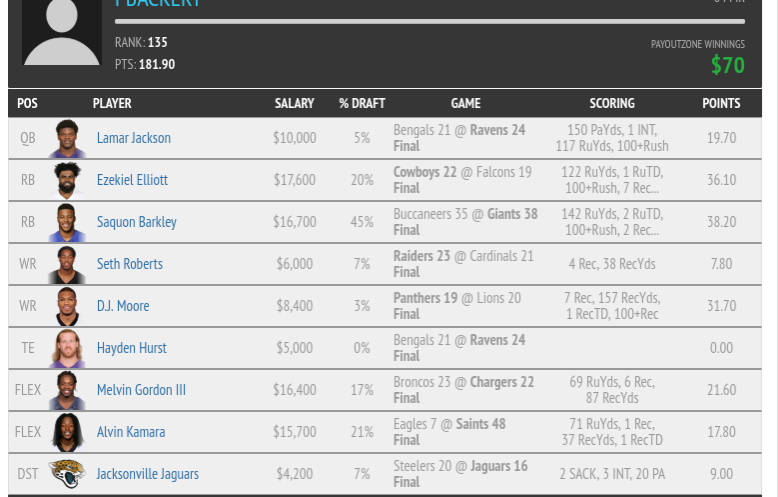 We finally hit on the right combination of low owned players to mesh well with the high priced studs. After it became known that Lamar Jackson will start at quarterback in place of the injured Joe Flacco, the rookie immediately became an elite tournament option. I'm actually surprised that he was only five percent owned as I figured at his price along with his upside rushing ability would make him an attractive option. The Ravens relied on Jackson's legs and he finished with 117 rushing yards and 19.70 FantasyDraft points. At only $10,000, we were off to a great start.
I made a mistake by trying to pair Jackson with any of the receivers on the Ravens as I thought the chemistry displayed in limited opportunities with fellow rookie Hayden Hurst would make for an interesting tournament combination. However, the tight end finished with a big fat zero. The only positive is that his cheap price allowed me to roster the stud running backs. I have made it a point in recent weeks to try and fit as many of the higher priced running backs as possible as volume is king and these players continue to produce. Cowboys running back Ezekiel Elliott, Giants running back Saquon Barkley, Chargers running back Melvin Gordon and Saints running back Alvin Kamara were all expensive, but they all produced. We need the expensive players to come through and this week, they all did.
I still don't understand why Elliott was only 20 percent owned in a prime match-up against the Falcons, but despite being so expensive, he was worth investing in. Even with all those guys playing well, my week came down to Panthers rookie wide receiver D.J. Moore. I have been picking on the Lions secondary over the last few weeks, but have been guessing wrong on which receiver will have the big game. Moore's price fit perfectly this week with the running backs I wanted to use. I never expected him to have the monster performance that he did, but he was only three percent owned which is the exact kind of player we are looking to use in large field tournaments.
I'm hoping to build off this for the remainder of the season.
FantasyDraft is hosting a lot of nice tournaments on Thanksgiving and we will try our best to identify the players you need to roster.
Quarterbacks
Due to recent injuries, there's a lot of unknown surrounding the position on Thanksgiving. The Redskins lost Alex Smith for the season due to a broken leg and will turn to veteran Colt McCoy against the Cowboys. As of Wednesday morning, the status of Bears quarterback Mitchell Trubisky is up in the air as he is dealing with a shoulder injury that could sideline him against the Lions. If he is unable to play, Chase Daniel will be used in relief.
It would be extremely frustrating if Trubisky is unable to play as it was only in Week 10 that we recommended Trubisky as an elite tournament option and he came through in a big way by throwing for 355 yards with three touchdowns and rushing for another. Lions cornerback Darius Slay has returned from injury which gives the Lions a boost in the secondary, but they can still be exploited. However, I can't recommend Daniel and he is an easy fade.
As for McCoy, he is a capable backup and faces a Cowboys secondary that is ranked 26th in pass defensive DVOA according to Football Outsiders. The veteran checks in at the minimum price for quarterbacks at only $10,000 which puts him in play for tournaments as a salary relief option. McCoy did rush for 35 yards in relief of Smith in Week 11 and I think we could see something similar this week.
Lions quarterback Matt Stafford takes on a tough Bears defense that forced two interceptions in their last match-up. The Lions receiving core is decimated with Marvin Jones battling a knee injury and Golden Tate being traded away prior to the deadline. There are other offensive pieces from the Lions that we can use on Thanksgiving, but Stafford is one we can avoid.
If looking to go cheap at the position, Cowboys quarterback Dak Prescott is in play at only $10,900. In Week 7 against the Redskins, Prescott threw for 273 yards and a touchdown along with rushing for 33 and a touchdown. It should be noted that Prescott did lose two fumbles. In five career games against the Redskins, Prescott has thrown four touchdown passes and no interceptions along with rushing for 122 yards. It won't be for the faint of heart, but Prescott is viable in cash games due to his price and the need to pay up for other studs in this slate.
Speaking of the studs, this brings us to Drew Brees and Matt Ryan. Brees is clearly the highest priced quarterback at $14,200 with Ryan checking in at $12,600. The Falcons-Saints match-up has an over/under of 60 so we want to get as much exposure to this game as possible. In Week 3, these two teams faced off with the Saints winning 43-37. I expect a similar output again which makes both quarterbacks an elite option.
Due to price, I probably give Ryan the edge. The Falcons are also 13 point underdogs so they should be throwing a lot. It was only in Week 11 that the Eagles were supposed to have the same formula, but Carson Wentz played his worst game as a pro. I don't think that will happen to Ryan. As always, it depends how you are constructing your lineups, but the nearly $2,000 in savings from Brees to Ryan is huge.
Running Backs
There's a lot of different ways to go at running back, but the first player I am plugging in my lineups, regardless of position, is Alvin Kamara. Kamara should be $2,000 more expensive, but the presence of Mark Ingram has impacted his price. We have used running backs all season long against the Falcons with great success and that won't stop on Thanksgiving. In their last match-up, Kamara caught 15 passes and scored 37 FantasyDraft points. This was prior to Ingram's return from suspension, but the impact could be the same. He will be highly owned in all formats, but we can differentiate elsewhere.
As for Ingram, I don't hate using him with Kamara. The Saints have proven that they can score at an elite rate and they will continue to score no matter how much of a lead they have. Ingram is extremely cheap at $10,200 and is coming off back-t0-back 100 rushing yard performances. Ingram is an elite option in all formats.
Elliott is the most expensive player on this slate which makes me think he will go under owned. If we can get a stud like Elliott at low ownership than he immediately becomes an intriguing option. I think we can avoid him in cash games as that price is simply too high, but he an elite tournament option. The Redskins rank 28th in rushing defensive DVOA so the match-up is a great one. The Cowboys are 7.5 point favorites as well so game flow should allow Zeke to be fed early and often. We have to find ways to separate ourselves when there are only three games and if Zeke is getting overlooked, than he is a near must play.
There are only two other running backs I'm really targeting in this slate as the rest are stuck in price limbo. I don't hate Redskins running back Adrian Peterson as he will get the volume, but if the Redskins do fall behind, he won't have a role in the passing game. Bears running back duo of Tarik Cohen and Jordan Howard will be relied on more if Trubisky is out, but Cohen is a little more expensive than I am willing to pay at $11,500 and for $300 more, I can roster Ingram instead of Howard. Howard is a nice tournament pivot off Ingram, but I'm not sure the upside is the same.
Tevin Coleman of the Falcons is a solid option at only $10,400 and can be used in cash games, but I seem to be using teammate Ito Smith more in tournaments at only $7,000. Smith continues to dominate the red zone opportunities for the Falcons as he is getting nearly 49 percent of the carries compared to Coleman's 37 percent. That is a huge difference and one we need to target in tournaments, especially if this game is expected to be a shootout.
The last running back that makes a solid option in all formats is Theo Riddick of the Lions. Riddick has caught at least five passes in three straight games and will be heavily involved in the game plan due to the injuries the Lions are facing. Kerryon Johnson is dealing with a knee injury and will most likely be sidelined so Riddick could see a couple of carries as well. Riddick is only $8,300 and should have a stable floor and the salary relief makes him a strong option.
Wide Receivers
Julio Jones apparently can score touchdowns as he has now found pay dirt in three consecutive games. There isn't much analysis needed, Jones is an elite option in all formats. As is Michael Thomas and he is absolutely feasts (no pun intended) on the Falcons. The price tag is worth it for both and you will need to roster at least one of these if you want any hope of cashing.
Lions wide receiver Kenny Golladay continues to show he is ready to become one of the better receivers in football and has taken the next step after the departure of Tate and the injury to Jones. Golladay has scored a touchdown in back-to-back games and finished with six catches for 78 yards and a touchdown in the previous match-up against the Bears. Golladay makes for a solid option in all formats as the targets will be there and the ceiling is extremely high for this talented youngster.
In that same game, it was only two weeks ago that Bears receivers Allen Robinson and Anthony Miller exploded for 100 yard performances each. Unfortunately, Trubisky most likely won't be under center and Slay has returned for the Lions. Robinson is an easy fade at his price, but Miller is only $9,800 and won't see Slay in coverage. I think he can be used as a cheap option if needed. The same goes for Taylor Gabriel, but I prefer Miller at a cheaper price.
I'm staying clear of the receivers for the Cowboys and the Redskins as I'm not sure the upside is there. Amari Cooper will carry more ownership than deserved, especially with Golladay only $100 more.
Other receivers we can target come from the Falcons-Saints game once again as Tre'quan Smith is only $8,800 which is way too cheap. There will be a lot of chalky players from this game, but Smith may be one of the most owned players due that price. Smith is coming off a monster performance in which he caught 10 balls for 157 yards and a touchdown. Fading anyone from this game will be tough, but I'll be fading Smith. Previous to his Week 11 performance, Smith didn't catch a ball in Week 10 and hasn't caught more than three balls in any game this season. We know the ceiling can be high, but so is the floor and if he will carry heavy ownership, than I'm out.
I absolutely love Calvin Ridley and I think he will be overlooked. The rookie hasn't caught more than three passes in back-to-back weeks and has only caught one touchdown pass in his last six games. However, in the first match-up between these two teams, Ridley exploded as he caught eight passes for 146 yards and three touchdowns. It will be unrealistic to expect that kind of production again, but the opportunity to smash once again is firmly in play.
Mohamed Sanu is also in a great spot as he will square off against P.J. Williams. The Saints cornerback is graded as one of the worst in the league according to Pro Football Focus and Sanu is the cheapest of the three Falcons receivers.
There's no way around it, this game will have plenty of scoring and it will be fun building lineups around a core from these two teams and identifying which players could be lower owned than others.
Tight Ends
As is the case in most weeks, the tight end position is ugly which makes me realistically able to recommend Jordan Reed and Austin Hooper. Reed is finally more involved in the offense as he has caught at least four passes in five of the last six games. The price is a little too expensive at $9,100, but McCoy will look his way early and often. The potential of a huge day is too hard to ignore.
As for Hooper, he is $1,000 cheaper and continues to be involved in the passing game as he has caught at least nine passes in three of the last six games. That is insane production and makes him a strong option in all formats.
Bears tight end Trey Burton can be safely faded as he is the most expensive tight end and will more than likely have Daniel as his quarterback. If wanting to punt, Cowboys tight end Dalton Schultz is minimum priced and head coach Jason Garrett would like to see Schultz more involved in the passing game. I'm not sure the production will be high, but at least the price is compelling.
Defenses
It's hard to ignore the Bears defense this week in all formats as they have the ability to pile up the stats at a high rate. They're the highest priced defense in this slate and for good reason, but at $6,500, we can still fit in the studs.