In what was one of the most un-athletic and unproductive crops of talent at the running back position in recent memory, finding a player worthy of the "RB1" monicker in this past April's NFL draft was a difficult task. There was no Saquon Barkley or Ezekiel Elliott, or anyone dubbed a "generational talent". There wasn't even a Leonard Fournette.
However, when it was all said and done there was one running back who the majority felt was the top guy. This was then later confirmed as the by the Oakland Raiders when they drafted him in the first round. That running back was none other than the University of Alabama product Josh Jacobs. Jacobs didn't wait long to hear his name called on draft night as Raiders GM Mike Mayock made the call with the 24th pick of the first round.
Since Commissioner Roger Goodell announced the selection, Jacobs has seen his average draft position skyrocket. As of July 30th, Josh Jacobs is being selected at the very beginning of the 4th round (4.01) as the RB19 per Fantasy Football Calculator. Currently being drafted between the known commodities of Devonta Freeman and Derrick Henry, Jacobs has some high expectations on his shoulders. But should they be?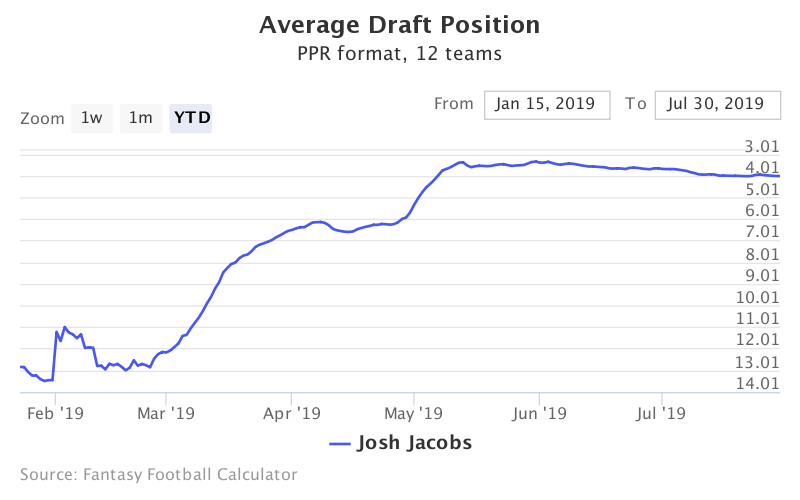 Josh Jacobs was one of the most polarizing players available in this year's NFL draft. Many believed that he was the far and away best RB available, whereas others believed Jacobs didn't deserve to be drafted in the first 3 rounds. The Raiders decided the former had the correct opinion over the latter as he was drafted at the back end of the 1st round.
From watching Jacobs' college tape it was evident that he was not an upper-tier athlete, so his athletic profile created pretty low expectations. Leading up to the draft, Jacobs was sidelined from the NFL Combine and opted to only workout at his pro-day. The numbers he posted were not impressive by any stretch of the imagination. At Alabama's first pro day, Jacobs ran the 40-yard dash in around 4.63 seconds (~38th percentile) but later improved it to around 4.54 seconds (~65th percentile) at his second pro-day. Jacobs posted a 35 inch vertical and 18 bench reps which were both below average. Luckily for Jacobs, the NFL has seen mediocre athletes excel at the RB position in such cases as Arian Foster and Kareem Hunt.
What made Jacobs so intriguing as a prospect was that he also did not have the prototypical high school and collegiate resume that most projected top draft picks have. When Jacobs declared for the NFL draft, his final career stats from the University of Alabama were 251/1491/16 on the ground, and 48/571/5 through the air. For comparison, RBs drafted in the 1st round in the past 5 years before 2019 had an average college career stat line of 591.25/3878.13/37.38 on the ground and 61.63/664.88/5.25. As you can see, Jacobs college production falls well short of those drafted before him.
| | | | | | | | |
| --- | --- | --- | --- | --- | --- | --- | --- |
| Player | Year | Att | Yds | TDs | Rec | Yds | TDs |
| Josh Jacobs | 2019 | 251 | 1491 | 16 | 48 | 571 | 5 |
| Saquon Barkley | 2018 | 671 | 3843 | 43 | 102 | 1195 | 8 |
| Rashaad Penny | 2018 | 488 | 3656 | 38 | 42 | 479 | 6 |
| Sony Michel | 2018 | 590 | 3613 | 33 | 64 | 621 | 6 |
| Leonard Fournette | 2017 | 616 | 3830 | 40 | 41 | 526 | 1 |
| Christian McCaffrey | 2017 | 632 | 3922 | 21 | 99 | 1206 | 10 |
| Ezekiel Elliott | 2016 | 592 | 3961 | 43 | 58 | 449 | 1 |
| Todd Gurley | 2015 | 510 | 3285 | 36 | 65 | 615 | 6 |
| Melvin Gordon | 2015 | 631 | 4915 | 45 | 22 | 228 | 4 |
Although Jacobs does not have the typical production or athletic profile found in most round 1 RBs, it does not preclude him from being talented. What gave Jacobs the edge as the number one RB in the 2019 class was his ability to produce in all phases of the game. In the limited opportunities that Jacobs was afforded, he showed flashes of brilliance as both a runner and receiver.
In his small sample of rushes, Jacobs proved to be an elite-level talent at creating yards. According to Graham Barfield's Yards Created metric, Jacobs created 5 or more yards on 37% of his charted attempts. For comparison, 37% was also the same number Saquon Barkley posted and was good enough for 3rd all time. Graham Barfield also awarded Jacobs with .41 missed tackles per attempt which slotted him 10th all time. For reference, Christian McCaffrey posted a rate of .40, Ezekiel Elliott's was .38, and Nick Chubb's was .47.
In 2018, Jacobs posted an impressive 11.5 yards after the catch and a stunning 151.0 passer rating when targeted. What is interesting is that Alabama lined him up as a slot receiver on almost 14% of his snaps. That is a clear sign of trust in his route running and receiving ability.  According to Pro Football Focus (PFF), Jacobs earned 1.73 yards per route run in 2018 which was good enough for 12th among draft-eligible RBs. PFF also gave Jacobs an exceptional career receiving grade of 85.7 which is 6th highest among FBS RBs.
Jacobs held his own in the receiving game at Alabama, making impressive catch after impressive catch. He could be utilized similarly to how Le'Veon Bell was utilized by the Pittsburgh Steelers.
Where many rookie RBs struggle when first entering the league is in pass-protection. If they can't pass protect, they won't be used on third downs. Jacobs was given a 64.1 pass-blocking grade from PFF which ranks 22nd in the 2019 class. Although this is a relatively low grade, he did have an 88% Pass Protection Execution Rate–5th best over the past 4 years. Jacobs also has the size and build (5'10", 220 lbs.) to pass protect, meaning he should be able to refine his skills at the next level rather easily. Staying on the field for obvious passing downs should not be an issue for Jacobs.
Although Jacobs is talented, if he doesn't get a sizeable workload he won't be very relevant to us in the fantasy football world. Volume is the ultimate driver in fantasy because the player needs the ball to score points. So what kind of volume can we expect from Jacobs?
The Raiders view Jacobs as a player who can be in for all three downs and handle a large workload. A week after Jacobs was drafted, Raiders Head Coach Jon Gruden sent a message to his new RB that excited fantasy fans everywhere. He was quoted saying:
"If you are listening Josh, I encourage you to get some rest because we are going to run you a lot." And that was Gruden to Jacobs before the Crowell injury.

— Vic Tafur (@VicTafur) May 1, 2019
We know the Raiders will use him, but to predict future volume it is important to look at the past. Since there were no major personnel changes on the Raiders coaching staff, the best way to do that would be to analyze what the Raiders and Jon Gruden did in 2018 and use it as a benchmark.
On a team level, the Oakland Raiders ran the ball on 38.9% of their plays in 2018. That mark gave them the 12th lowest rate in the league. A reasonable explanation for that number would be that the Raiders were not a very strong team and found themselves trailing often. This would cause them to attempt to preserve the clock by moving away from running and opting to throw the ball.
Digging a bit deeper, in neutral game scripts when the Raiders were +/- 7 points of their opponents, they ran the ball 43% of the time. That tied for 12th highest in the league. From this, we can assume that if the Raiders keep the score within a reasonable margin, they will be at or above the league average in rush attempts. More rush attempts = more chances at points for their RB.
In 2018, the plan was for the Raiders backfield to be led by former Buffalo Bills and Seattle Seahawks back Marshawn Lynch. Unfortunately for Lynch and the Raiders that was not the case. His season was over after the 6th week due to a serious groin injury. Before being shut down for the remaining 10 games of the season, Lynch amassed 90 carries and 15 catches. Once Lynch went down, Doug Martin took over the lead back duties and racked up 172 carries and 18 catches over the last 10 games. Mixed in with Martin and Lynch, especially on 3rd downs, was Jalen Richard. In 2018, Richard caught a team-high 68 passes from the RB position and dominated 3rd down and negative game script work.
This could be seen as negative since the Raiders didn't deploy a true 3-down back workhorse. However, unlike Jacobs, neither Lynch or Martin are known for their ability to catch the ball which led the coaching staff to allow Richard, who excels in the passing game, to have a large presence there.
| | | | | | | | |
| --- | --- | --- | --- | --- | --- | --- | --- |
| Player | G | GS | Att | Yds | YPC | TD | Y/G |
| Marshawn Lynch | 6 | 6 | 90 | 376 | 4.18 | 3 | 62.7 |
| Doug Martin | 16 | 9 | 172 | 723 | 4.20 | 4 | 45.2 |
| Jalen Richard | 16 | 1 | 55 | 259 | 4.71 | 1 | 16.2 |
Red zone opportunity is another part of a player's volume that we must take into consideration. If Player A gets more carries at the 1-yard line than Player B, then in most situations Player A will score more touchdowns; touchdowns are obviously huge for fantasy production. Unfortunately, red zone and goal-line carries are not sticky statistics, so they are difficult to predict year over year. What we can do instead is look at playcalling and how the offense tried to score when they got within the opponents 20-yard line.
When the Raiders got within 20 yards they relied on the run more than they did the pass. According to Sharp Football Stats, once Oakland got into the money zone they threw the ball on 49% of their plays while running on 51%. The league average was roughly a 54%/46% split in favor of passing.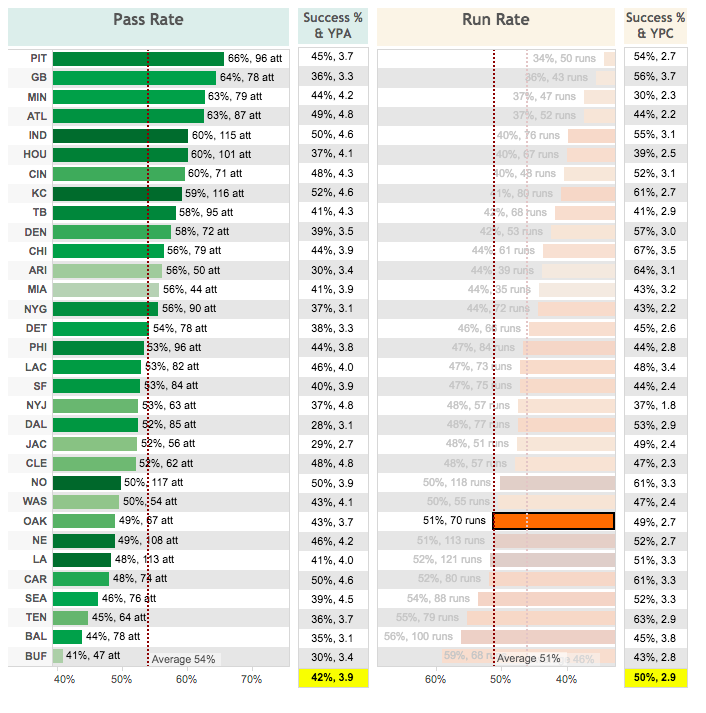 Moving up to inside the 10-yard line, the Raiders shifted to a 52%/48% split in favor of the pass, which surprisingly is above the league average of 50%.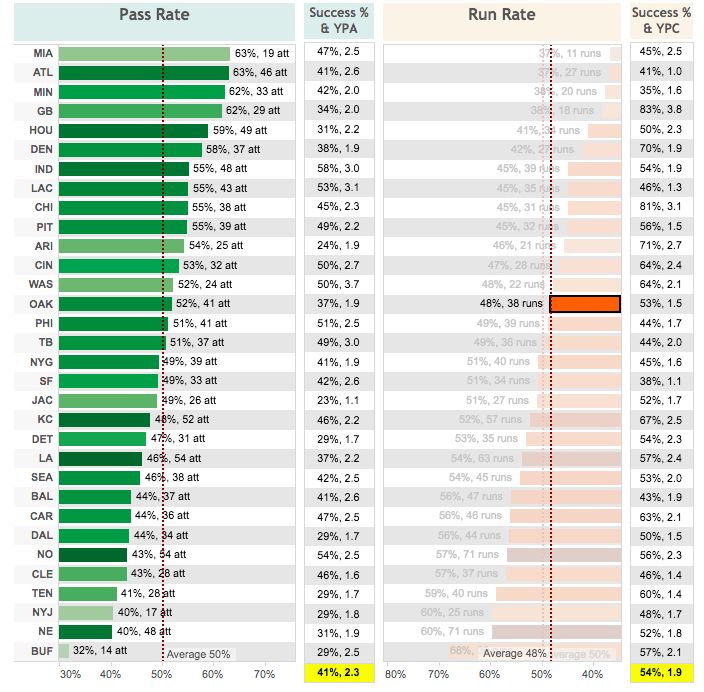 Finally, when inside the 5 they lean on their run game hard. Passing on only 38% of plays, a rate that was 7% below the league average. What we can take from this information is that the Raiders look to run when they get close to the goal-line and we can assume their starting RB will get plenty of scoring opportunities.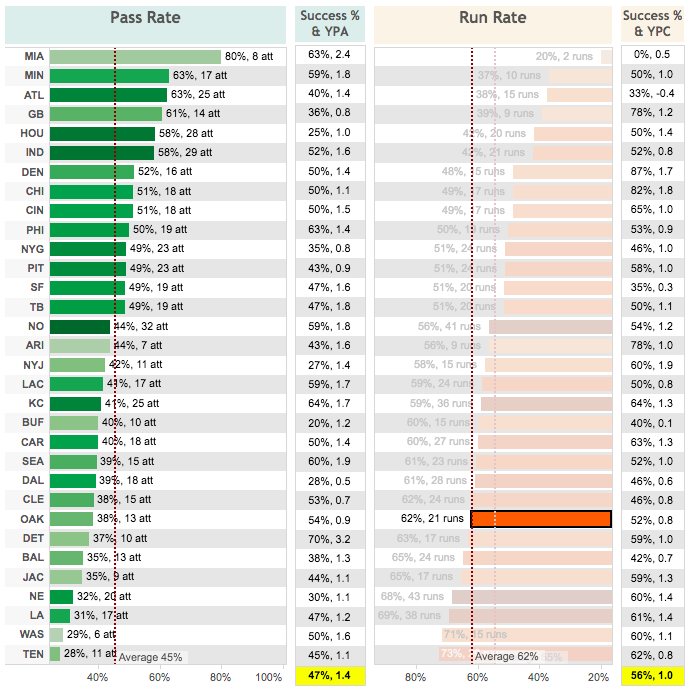 Playing with Derek Carr at QB is also a significant boost to the Oakland RBs value. Weird, I know, but Derek Carr is elite at checking the ball down. According to Steve Palazzolo of PFF, over the past two years Derek Carr ranks 10th in checkdown percentage at 8.4%. Four of the guys in the top 10 have played 10 fewer games the past two seasons, so Carr has a much bigger sample and yet is still checking the ball down at an astronomic rate. So why is this beneficial for Raiders RBs? They are the ones he's checking down to. When he refuses to throw the ball downfield, he looks to the nearest guy–typically the RB–and dumps it off to him. In PPR, those are dirty points, but they all count the same.
Highest percentage of "checkdowns" over last two seasons (screens are play calls, not checkdowns):

1. Bortles 11.2%
2. Kizer 10.4
3. Eli Manning 10.2
4. Osweiler 9.7
5. Brissett 9.3
6. Alex Smith 9.1
6. Flacco 9.1
8. Tyrod Taylor 8.7
8. Rivers 8.7
10. Carr 8.4
11. Prescott 8.2

— Steve Palazzolo (@PFF_Steve) July 23, 2019
Going into the upcoming season, Marshawn Lynch is no longer with the Raiders and Doug Martin was only re-signed after his replacement, Isaiah Crowell, ruptured his Achilles during offseason activities. Tallying up Lynch and Martin's combined workload over the entire 16 game season, when each was the lead back, gives us 235 carries and 34 catches. That leaves an extremely large vacancy in Oakland that someone needs to fill, and Jacobs was drafted to be that guy.
Being drafted in the 1st round as an RB is an immediate indication of future fantasy points. Rookie running backs taken in the first round have almost always provided a strong return on investment. Since 2000, rookie running backs taken in the first round of the NFL draft who have started at least 5 games have averaged 217 PPR points (Median = 208) over a full season. For comparison, 217 PPR points would have been good for RB14 in 2018. The key to that statistic is the number of games started. There have been multiple occasions where RBs have gone in the first round and have not produced their rookie year because they weren't given the opportunity. When we look at Jacobs and the number of touches left behind from last year, it is safe to assume barring injury that he will start at least 5 games.
Beyond drafting Jacobs in the 1st round, the Oakland Raiders offense has gone through a serious remodelling during the 2019 offseason. First, they went out and shocked the league by trading for future hall of fame WR Antonio Brown. They then followed that up by signing one of the top WRs in Free Agency in Tyrell Williams. After solidifying their WR group, they moved to the offensive line making former New England Patriots LT Trent Brown the highest paid O-lineman in league history.
After all the moves made to help improve the offense, it should take a step forward this year. In 2018, the offensive line was woeful, but the addition of Trent Brown paired with improvement from 2018 1st round pick Kolton Miller should equate to an upgrade in performance. Antonio Brown and Tyrell Williams replacing Jordy Nelson and Martavis Bryant will also help the offense tremendously. With defenses affording more attention to the passing game, they will not stack the box as often and Jacobs will be able to take advantage.
Josh Jacobs will slide into a workhorse role immediately, taking over Marshawn Lynch's and Doug Martin's workload while also carving out a large chunk of Jalen Richard's pass-catching role. He is currently a great value at his early 4th round price tag. However, I do see his value going up as the season approaches, so capitalize while you still can. Jacobs will undoubtedly be the next to join the elite fantasy RB conversation after the 2019 season.
Projection:
| | | | | | | | | |
| --- | --- | --- | --- | --- | --- | --- | --- | --- |
| Player | Pos | Ru Yds | Ru TDs | Tgts | Recs | Re Yds | Re TDs | Pos Rank |
| Josh Jacobs | RB | 1047 | 7 | 73 | 54 | 441 | 2 | 11 |
Featured image by Nathan Mills (@NathanMillsPL on Twitter)