Mike Evans finished the 2018 season as the WR6 in standard leagues and WR9 in PPR. Despite putting up career highs last year and consistently proving his elite talent, fantasy players are treating Evans like he's some faded ribbon you were given for participating in the second round of fantasy football drafts.
Full disclosure: I live in Tampa, Florida and the Buccaneers are my second-favorite team. I'm going to try my best to set aside any bias for this piece. That being said, people need to start giving some respect to Mike Evans. He has been the one constant of an incredibly inconsistent team, and his potential is the highest it's been in a very long time.
Consistency
Mike Evans is one of the most consistent wide receivers in the league when it comes to yardage. Last year he only had two games below 50 yards. Also, Evans has never gone under 1,000 yards per season in his entire NFL career.
After five years, Mike Evans already holds the Buccaneers team records for yards, touchdowns, targets, and receiving yards per game. He's also on-pace to break the team records for receptions and receptions per game.
His build and great hands have made him quite the reliable sideline receiver. Although Evans' size may limit his burst speed, his frame allows him to play much more physical than your average wide receiver. Even with Jameis Winston throwing hospital balls like this:
C'mon Jameis, that man's got a family. Evans still came down with it somehow.
Luckily, Mike Evans can dish it out as well as he takes it.
Get off me—Child's Play!
Let's just say, the talent is there. Evans finished the 2018 season with career highs of 1,524 total yards and 17.7 yards per catch. It is through no fault of his own that Mike Evans is being drafted late in the second round. It has everything to do with the factors out of his control. The good news is, all those factors seem to be perfectly aligning in 2019.
Better Coach, Better System
One of the biggest reasons to get excited about Mike Evans this year is new Buccaneers head coach Bruce Arians. The Crown-Royal-sipping two-time coach of the year has returned from retirement to once again grace us with his quotable quips, and many are optimistic about what he can do with Evans.
Hines Ward, Antonio Brown, Reggie Wayne, and Larry Fitzgerald. These are just a few of the amazing talents to have some of their best seasons under none other than Bruce Arians. Hell, Larry Fitz averaged 138.8 targets per season under Arians. The guy simply knows how to get the most out of his receivers and Mike Evans is next in line to benefit from the "no risk it, no biscuit" offensive style.
Once again, Mike Evans is not the problem here. Anyone in Tampa, Florida will tell you that Arians' most difficult challenge this year will be turning Jameis Winston into a serviceable quarterback. The biggest factor preventing Mike Evans' return to top three prominence is likely Jameis Winston.
Consistent Quarterback Play (Well, Kinda…)
Last year was, to put it mildly, a dumpster fire for Buccaneers quarterbacks. As many will remember, Ryan Fitzpatrick started seven games while Jameis Winston started nine. Sure, Fitzmagic had some crazy weeks putting up monster numbers. Overall, though, the Bucs' quarterback position was wildly inconsistent. Mike Evans had a very mediocre 62.3 catch percentage likely due to this erratic quarterback play.
Now that Fitzpatrick has taken his talents to Miami, Winston is once again at the helm. The consistency of having the same quarterback over the entire season should positively affect Evans' stats. I get it–Jameis throwing the ball isn't the sexiest image; still, his connection with Evans cannot be denied.
The relationship between Tampa, Florida and Jameis Winston is similar to that terrible boyfriend you cannot believe Becky took back after he cheated on her for the umpteenth time. He talks a big game and seems like a great guy then consistently disappoints through his actions. For every one thing that Jameis Winston does amazingly, it seems he does three things terribly. After four years of up-and-down performances, it's officially time for him to show up or ship out.
With Winston on the shortest possible leash in a contract year, it seems Bruce Arians came at just the right time. Arians is known to be quite the "quarterback whisperer" with experience coaching Andrew Luck, Peyton Manning, Carson Palmer, and Ben Roethlisberger.
Winston showed promise last year when he regained the starting job and threw 13 touchdowns and four interceptions over the last seven weeks of the season. Given Arians' history with quarterbacks, I expect Jameis Winston to continue and possibly increase that efficiency.
So far, the pair seems to be clicking. Bruce Arians has said many of Winston's problems are mechanical (AKA coach-speak for "fixable"). Arians has also praised Winston's consistency, noting "He's gradually getting a better understanding of when to get the ball out of his hand."
I know I haven't mentioned Mike Evans in a while, but the success of Bruce Arians and Jameis Winston is directly correlated to his upside in 2019.
He's Done It Before. He Can Do It Again.
People are so quick to forget that Mike Evans was a top three wide receiver just a few short years ago. It should come as no surprise that Evans' best fantasy football year was also Jameis Winston's best season (2016). If Bruce Arians can get Winston to continually look like a competent quarterback, I believe the sky's the limit for Evans this year.
In his five years in the NFL, Evans has put up with quarterback and coach instability while consistently proving his talent. Yes, it's Arians' first season with the Bucs and we probably shouldn't expect any miracles; but anyone around Tampa, Florida will tell you he's one of the few people capable of righting the ship.
I don't know how you can't get excited about Mike Evans in the "risk it for the biscuit" system. Pretty much everywhere he goes, Bruce Arians has relied on his WR1. Even with the talented O.J. Howard and Chris Godwin competing for targets, I believe Mike Evans has top three wide receiver potential this year if the offense starts clicking.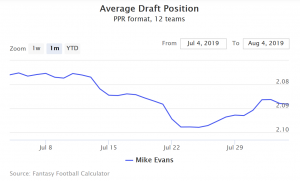 Evans' average draft position was steadily dropping throughout most of July but has since leveled out a bit. Now his ADP is towards the end of round two in 12-team mocks.
With his mix of skill and opportunity in 2019, Mike Evans could be the most valuable player taken in the second round. I believe Evans' floor is a perfect fit for his current ADP while his ceiling is top three among wide receivers. That's exactly the type of value and upside you want in the second round.
(Photo by Cliff Welch/Icon Sportswire)