Travis Kelce, George Kittle, and Zach Ertz. The consensus top-three tight ends for the 2019 season. To ensure that one of them is on your team, you'll need to spend a pick in the first three rounds. This is an appealing choice. I get it. You want to get an advantage on your opponents at the position. You want to be able to set it and forget it. But are we sure this is the best way to go about it?
I'm not. Each of those guys are phenomenal players. I will never debate that fact. They put up three of the top four all-time fantasy seasons (PPR) for tight ends last year. All in the same season! That's bananas. They each had to break records to accomplish it. Kelce broke the tight end receiving yards record (1,336 yards), only to have his record broken an hour later by Kittle (1,377 yards). Ertz had the most catches (116) in a season by a tight end. Historic numbers. So, why are we paying for that?
The chances that all three meet those standards again are not high. They each have their obstacles this year. Kelce is facing regression from Patrick Mahomes and age (though I will say he is the safest of the three, hence the highest-drafted). Kittle had 870 yards after the catch, which is unheard of for the tight end position and difficult to replicate. Ertz has way more competition for targets this year with DeSean Jackson and Alshon Jeffery back in the mix.
This is all without discussing two other large issues with drafting a tight end early. We struggle to pick who will be tops at the position year-to-year. Most people like to forget that Rob Gronkowski was the first one drafted last year. The other is the obvious fact that we are missing out at top players at more important positions.
What do we do? This year I believe it's worthwhile to go after the second tier. Evan Engram, Hunter Henry, and O.J. Howard. My colleague, Ben Davidowitz, took a look at Engram last week (check it out here). Now, it's my turn to try and tackle one of these beasts.
The Bruce Arians Effect
"No risk it, no biscuit."This is Bruce Arians's mantra. Bruce Arians's gameplan is to attack defenses down the field with vertical passing. Post-routes, go-routes, and double-moves are staples of his offenses. Carson Palmer had a career renaissance hitting J.J. Nelson and John Brown for deep shots. Per NFL NextGen Stats, Palmer was fifth in 2016 and seventh in 2017 (Airans's last two years in Arizona and the farthest back NextGen Stats has available) in intended air yards.  Arians will make sure he tailors his offense to this personnel and finds the best role for them in the offense. He was able to adapt Larry Fitzgerald into a new role as a "big slot." Arians has had success with this scheme in each of his prior stops at Pittsburgh, Indianapolis, and Arizona due to his malleability. Now, he's bringing it to Tampa Bay.
Jameis Winston and the rest of the Buccaneers' offense should be excited. Winston has always been at his best with a more vertical passing game. Per airyards.com, Winston completes passes well above expectation, when throwing 10 to 20 yards past the line of scrimmage. He has a career 10.4 aDOT. Winston was playing in a system that focused on deep passing last year as well and the Tampa starting QBs (Winston and Ryan Fitzpatrick) combined to throw 5,125 passing yards last year, which led the NFL. Arians will be able to take this offense to another level, with the added benefit of the players having some prior success. Hopefully, he can be the man to rein in Wintson's turnover problem.
A hot debate is whether a tight end can thrive in Arians's offense. I do not give too much credence to that argument. When was the last time Arians had a tight end like Howard or even Cameron Brate? Heath Miller was great under Arians in Pittsburgh. Coby Fleener and Dwayne Allen were both fantasy relevant during the same season under Arians. Arians had a shallow TE depth chart to work within Arizona and still managed to get Ricky Seals-Jones to produce. As I said earlier, Arians tailors to his players. And when you have a freak like Howard, you use him.
The Freak
Probably time to start talking about the player you all came here to read about, right? Coming out of Alabama, Howard was the consensus number-one tight end in a loaded draft at the position. He was a stellar blocker and was seen to have tons of upside as a receiver. He never caught more than 45 passes in college, but he was consistently a downfield and yards after the catch threat. His lowest yards per catch in college was 13.2 in his senior season. Alabama was just never focused on passing the ball while he was there.
Teams were enamored with his athletic profile. I mean, can we all just stare at this spider chart from mockdraftable.com for a second: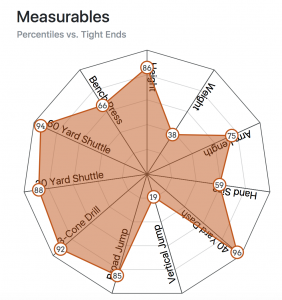 My goodness.
His speed score, which takes a player's 40-yard dash time and adjusts it for their size, is in the 98th-percentile. His SPARQ score per Three Sigma Athlete was 130.6 (84th-percentile in the NFL). I think it's safe to say that Howard has the athletic ability to play in the NFL.
Howard has carried over his deep-receiving ability from college to the pros. In his first two seasons with the Buccaneers, his yards per catch is 16.6 which leads all tight ends during that span. The coaches knew he could threaten defenses in the second level, which is why his aDOT (average depth of target) was 12.4. That led the position with at least 30 targets last season. It sounds like a fit for Arians to me.
Additionally, Howard uses his athletic ability in the open field. Howard averaged 6.9 (necessary "NICE") YAC per reception last year per NFL NextGen Stats. NextGen Stats calculated that his expected YAC per reception was only 4.8, which leaves a difference of 2.1. Howard's 2.1 YAC over expectation was the sixth-highest in the entire NFL.
Notice how that route is similar to the play I showed from Arians's time with the Cardinals. In that play, Jermaine Gresham caught the in-breaking route and was immediately tackled. Here, Howard shows off his game-breaking ability. He makes multiple defenders miss and outruns the entire Eagles defense to the end zone.
Pro Football Focus has a signature stat called yards per route run. It is pretty self-explanatory, but PFF states that it is the stickiest and most predictive stat for receiving production year-to-year. For example, Julio Jones has led the NFL in YPRR in the last four seasons. Jones was first or second in receiving yards in each of those seasons (psst… buy Julio again this year). Last season, Howard's YPRR was 2.83, which was 15th ALL TIME. Not just for tight ends, all-time for the entire NFL! Howard just needs consistent targets. Speaking of…
Less Competition
Howard's YAC ability and aDOT helps explain his 2018 season. Howard averaged 56.5 yards per game last year, which was the fourth-most at the position. However, Howard only averaged 4.8 targets per game and 3.4 catches per game, which were 14th and 13th respectively for tight ends. Howard's receiving efficiency is undeniable. However, he was not garnering enough looks to contribute consistently for fantasy.
Good news, everyone! Tampa lost 234 targets (or 37%) from last season, which is fifth in the NFL per Rotoworld. DeSean Jackson reunited with the Eagles and Adam Humphries is now a Titan. Howard only had 11% of the target share last season, but that can only rise this year.
The entire fantasy community is in love with Chris Godwin this season, as they should be. But someone needs to be the third target in this offense. Howard should fill that void. There is no receiving-back to take work in the middle of the field away from Howard (unless you still believe in Ronald Jones). Godwin will play the slot role, according to Arians. Although, don't be shocked to see Howard getting slot looks also. He could easily run some of the routes that Fitzgerald ran in Arizona with Arians.
Conclusion
O.J. Howard is being drafted with the 54th pick and TE4 per fantasyfootballcalculator.com. Though, I have seen him go after Engram, Henry, and even Eric Ebron in some mock drafts. In my opinion (which you just read if you made it this far), Howard is worth the price. Bruce Arians is in Tampa to push the ball downfield and Howard is a weapon he's never had before. Howard was on the verge of a breakout before getting injured last year. 2019 is the year O.J. brings the juice.
Featured image by Nathan Mills (@NathanMillsPL on Twitter)