In Greek mythology, the Sirens lured sailors with their beautiful songs onto the rocky shores, wrecking their ships. In Homer's The Odyssey, Odysseus forces his crew to tie him to the mast so that he can hear what the Sirens are saying without the risk of steering the ship close enough to crash. In our collective odyssey of prepping for 2019 drafts, I tied myself to the mast to listen closely to the beautiful siren song of Derrick Henry and I'm ready to tell my tale.
A Greek God
At 6'3" and over 240 pounds, Henry looks more like an edge linebacker than a running back. No seriously, his NFL Combine testing results were nearly identical to Von Miller. His intimidating size paired with rare speed creates a "speed score" in the 97th percentile according to his player profiler page. Factor in his broken tackle ability and his appeal to fantasy football owners is as obvious as it was to Titans General Manager Jon Robinson when he made Henry his second-round draft choice in 2016. Check out his spider graph from Mockdraftable. His elite size and jumping ability create a rare athlete.
Henry is the type of back that can easily get discounted as a short-yardage/goal-line, bang between the tackles guy, like LeGarrette Blount. However, Henry is much faster and therefore provides more broken/evaded tackle ability than most backs in the league. In fact, Henry led the league in yards created per carry and profiled more like a vintage Marshawn Lynch. Even in a split backfield, Henry is the preferred option inside the five, among the league leaders in goal-line carries and converted opportunities.
The Offensive Line
The Titans identity is built through the offensive line to play to the strengths of Henry. Former Head Coach Mike Mularkey called his approach "Exotic Smashmouth," which sounds like a bad cover-band of the 90's pop group Smash Mouth (if they could possibly get worse). The idea was to lean heavily on the run in an old school approach, updated with new concepts, to set up the passing game with easier throws. Before you chuckle, it's a perfectly reasonable response to defenses evolving to keep pace with the passing game. It's why teams like New England keep a full back and run old school running plays – because there is a competitive advantage in it.
Pro Football Focus rated the Titans offensive line as the fourth-best unit entering 2019. The line is anchored by Taylor Lewan, a three-time Pro Bowler with first-round pedigree. Lewan has been suspended for the first four games of the season, but the Titans have solid depth in Dennis Kelly to fill in. According to Football Outsiders, the Titans were second best in the league running off the left end in 2018 (that may have been due to the famous 99-yard run – more on that below). Ben Jones is a solid center, signed away from the division-rival Texans in 2016. In between those two will likely be Rodger Saffold, the massive former-Rams guard who signed a 4-year, $44M contract this offseason. If Saffold settles into the same position with the Titans, the left side of the offensive line becomes interesting for Henry to run behind.
On the right side, it's not as clear cut. Jack Conklin returns for his fourth season trying to bounce back after two straight years of knee-related issues. Conklin simply wasn't the same caliber player he flashed as a rookie and because of that decline, the Titans decided against picking up the 5th year option of his rookie deal. Between Conklin and Jones will either be rookie Nate Davis, a third-rounder out of UNC Charlotte, or Kevin Pamphile, a 6-year veteran with 35 career starts.
In my opinion, that's too much uncertainty on the right side to earn a top 5 offensive line ranking heading into 2019. Looking back on some of the 2018 rushing rankings, the Titans were a bottom-tier unit in many areas, so it's hard to see this group being anywhere close to top five. Everything has to click perfectly for that to happen. I'd say a more reasonable outcome is that this line is more in the 10-15 range, with issues on the right side holding them back.
The 99 Yard Run & the Data Skew
Easily the most exciting highlight of the 2019 Titans season was the record-tying stampede against the Jaguars. Henry takes the handoff behind eight offensive linemen and tight ends on the line of scrimmage. When Henry gets to the line, there are eight Jaguar defenders to seven Titan blockers, surrounding him on seemingly all sides.
The perimeter defender (#35) does an excellent job of running himself out of position or this would have been a gain of one or two. Henry finds an opening by bouncing it out to his left, where he's tracked by AJ Bouye, a 190-pound cover corner. Bouye is in position to take out Henry's legs around the 15-yard line but instead slows up to take on Henry's upper body where he is immediately rewarded with a stiff arm.
Linebacker Leon Jacobs takes a decent angle to push Henry out of bounds around the 45 but commits the same error as Bouye not once, but twice, getting thrown to the ground like a ragdoll on the 30 (25 yards after he first makes contact!). The next victim, Myles Jack, makes the exact same mistake on the 25 and is met with the fourth stiff-arm Henry has used on this run. Jack then loses a footrace to track Henry down as he coasts the last twenty yards into the end zone. Power, speed, and a lot of bad tackling add up to one incredible highlight, unlike any run I've ever seen.
But let's take a step back and just imagine for a second that Henry is wrapped up for minimal gain as it appeared he would be at the line of scrimmage. Take away that big carry and his statistical achievements in 2018 start to take on a different look. His 1,059 rushing yards, seventh-most in the league, fall to 13th, behind Lamar Miller. His 66 yards per game drop down to 60, good for 20th in the league. For a back that isn't a threat in the passing game, this should set off some alarm bells.
Furthermore, if we look at his fantasy production, that 99-yard run also happened to be a part of a 238 yard, 4 TD day – a crazy 47 point outburst in Week 13. That's a full 25% of his 2018 production in one game. That's great if you happened to be desperate enough to start him that week, but not generally useful to most fantasy players at that point. In fact, he only had a combined 44 fantasy points for the first 8 weeks and Week 13 was his first game to break the 60-yard mark of the season!
Stacking the Box
Henry's biggest flaw as a modern back is that he contributes so little in the passing game. The Titans signed Dion Lewis last offseason to compensate for this weakness. In doing so, the Titans tipped their hand on whether or not they were running or throwing the ball based on who lined up behind Marcus Mariota. When Henry took a handoff from Mariota, defenses were lined up with eight defenders in the box 44 percent of the time, the most in the league. In fact, Henry faced an average of 7.4 defenders in the box, the 6-yard rectangle drawn out from the outer shoulders of the offensive tackles. (Note: Some of these numbers will vary by site. Next Gen stats had Henry running into 8-man boxes 32% of the time, good for 8th most in the league. The point is more the prevalence, not the exact rank.)
Ideally, Henry would see fewer stacked boxes and running opportunities against sub-package defenses, where a linebacker is replaced by another corner or safety. As it is, Henry spends a lot of his carries meeting first contact near or behind the line of scrimmage. In fact, Tennessee had 51 negative carries in 2018, the 4th most in the league. Below is a chart comparing teams on the number of explosive runs (10+ yards) and negative runs, stacked left to right by the team with the biggest differential to the team with the worst. The Titans finished 2018 dead in the middle at number 16.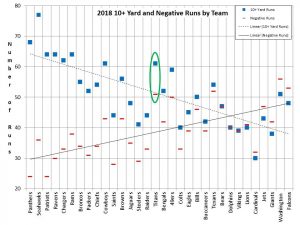 One issue is that Henry is relatively slow in getting to the line of scrimmage. This is likely the result of wading through the detritus of offensive and defensive linemen, but could also reflect some degree of indecisiveness. Unfortunately, that's a two-sided coin that's tough to judge – either a back is rewarded for being a patient runner or derided for not being decisive.
The result in 2018 was that the Titans had a lot of negative plays but were in the top 10 in runs of 10 yards or more. Again, it's a two-sided coin. It could also go back to his combine numbers where he's a superior athlete in the open field but lacks lateral quickness to avoid tacklers in close proximity. He'd much rather run through someone than try to avoid the contact altogether. That's fine when taking on corners and safeties but he won't win a ton of those matchups with defensive linemen.
A New Coordinator
One of the most consistent storylines on draft day in 2016 regarding Henry was the need to craft an offensive philosophy around what he does best or he would be wasted in the wrong scheme. Think about Jordan Howard's struggles in 2018 under Matt Nagy. Despite many who believed Howard was going to benefit from Nagy's creativity, he was a poor fit for the scheme and traded away for the equivalent of a couple of cheesesteaks from Philadelphia. Henry will be playing for his third offensive coordinator in four years as Matt LaFleur departs for Green Bay, replaced by Arthur Smith.
Arthur Smith was elevated from Tight Ends coach within the organization, so he was around for 2018 and experienced the struggles of the offense first-hand. Apparently, there's some mutual love between the two. Smith is quoted as saying "Derrick will be a big part of the offense. He has a rare skill set. Derrick's a home-run hitter. We are taking another step hopefully with him. What he did over the last five weeks will open up a lot of things."
Henry, for his part, seems genuinely excited. "I love Arthur, so it has been fun. I have known Arthur going on year four, so I am excited, and now it's about building team chemistry when we're out here." Idle offseason chatter or a real commitment to building around what was working late in 2018? That might be the most important question because 200 carries from Derrick Henry isn't going to pay the bills. He needs 250+ carries to flirt with RB1 territory and 300 might just carry your fake squad to a championship. Only Ezekiel Elliot tallied over 300 carries in 2018, but if the Titans are a better team overall, Henry should rack up the carries when salting away games.
Conclusion
Did the Titans really figure something out over the final month of the season that they can carry into 2019? Will the new coordinator feed Henry to an Ezekiel Elliot or Saquon Barkley degree or will he hover around that 215 carry mark again? Is the offensive line as good as some hope it to be or will they repeat last year's disappointing results?
The answers to those questions will determine where he lands in the final ranks. Henry's Average Draft Position unsurprisingly favors standard scoring as the RB17 with only a minor hit on his stock in PPR leagues at RB20. That spread needs to be bigger, pushing Henry up in standard scoring and down in PPR. If the offensive line can come together to be close to the expectations of PFF and the Titans stay dedicated to the run, Henry will return major value on his current draft position in all formats. That's a big if and for me, I don't see drafting Henry in the first three rounds of a snake draft. However, if Henry is available in the fourth or fifth round, that Siren Song of his will be too sweet for me to ignore.