(Photo by Frank Jansky/Icon Sportswire)
Note: We started our draft recap Monday with rounds 1 and 2. If you missed a day, click the links at the top or bottom of the page. Today we will be finishing up as we cover rounds 15-25.
Rounds 15-25
We will jump right into the draft again today. In addition to covering each round, our managers will discuss their final rosters and give their teams a score on a scale of 0-10.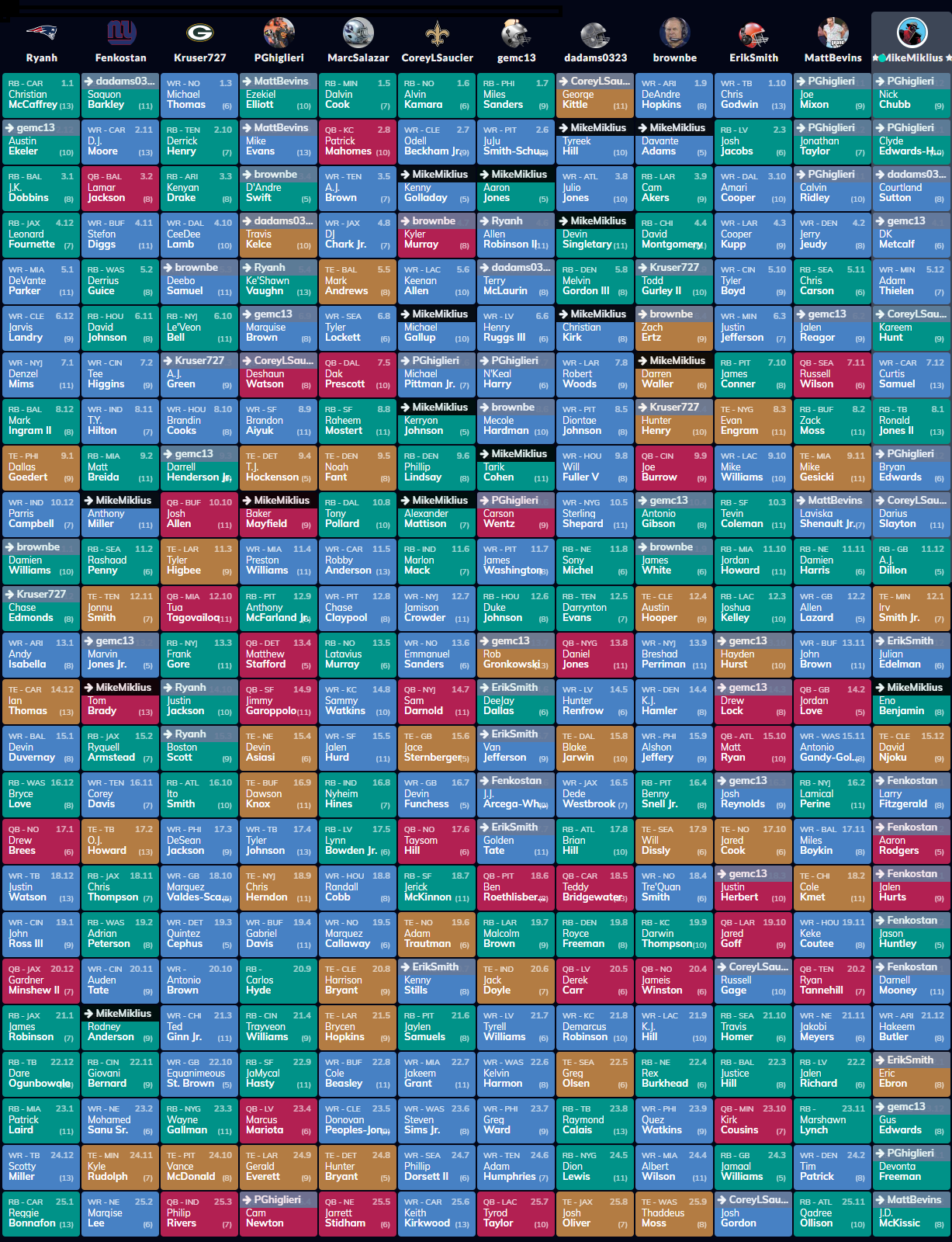 Note: Each pick was made by the name at the top of the column unless stated otherwise on the pick itself. For example, pick 1.01 was made by Ryanh while pick 1.02 was made by dadams0323–not Fenkostan. The color of each pick represents the position of the player (green is RB, blue is WR, orange is TE, and red is QB). Click here to access the interactive version of the draft board.
Rounds 15-17
Round 15 started with Devin Duvernay, a third-round draft selection by the Ravens. I don't love this offense for wide receivers, but I'll reserve judgment until we see what Duvernay is. Ryquell Armstead profiles as the heir-apparent to Leonard Fournette, but I could just as easily see the team drafting someone next year. If Fournette goes down, Armstead would likely walk into a huge role right away. Boston Scott is the current handcuff to Miles Sanders, a back that I don't see being a workhorse. That's great, right? Well, Philly is rumored to be eyeing the veteran market and I could see a messy split here. The best investment might be whoever they add. Devin Asiasi is a tight end many liked in the draft, and he finds a home in New England. Without an established offense in New England, this is a hold for now. That being said, there should be plenty of targets up for grabs. Jalen Hurd went in the third round to San Francisco, another team with a hole at wide receiver. The team's WR2 spot is clearly up for grabs, so Hurd has the opportunity for immediate playing time. Jace Sternberger finished out the first half of the round. He only played 60 snaps last year and he never saw a target. It's hard to imagine any deep chemistry developing with Aaron Rodgers in a shortened offseason. The back half of round fifteen saw a pair of rookies (Van Jefferson and Antonio Gandy-Golden), a pair of tight ends (Blake Jarwin and David Njoku), and a pair of veterans (Alshon Jeffery and Matt Ryan). Jefferson's draft capital tells me the Rams want to use him right away in the Brandin Cooks role while Gandy-Golden seems a little more buried in a Washington offense lacking a strong quarterback. Blake Jarwin is the TE1 in Dallas, but I don't see him being a priority in the passing game–there are just too many viable weapons ahead of him. David Njoku, my last pick until the 21st round, is a talent I just can't quit. I love his athletic profile, and I still have hope for the future. That being said, he offers close to nothing this year. The Browns clearly expect Hooper to be their TE1 in 2020 and moving forward. I imagine Njoku will benefit from an eventual change of scenery. Alshon Jeffery is probably still the best wide receiver in Philadelphia, but he has trouble staying healthy. Over the last five years, he has averaged four missed games per season. Think of him as a decent flex while he's healthy. Matt Ryan feels like an excellent value, and someone who I would have waited for had I known his eventual draft price. Over the last four years, Ryan has averaged 575 pass attempts, 4,607 passing yards, and 30 touchdowns. He has two excellent receivers, a stud RB, and a young tight end. I expect Ryan to be useful in at least a half dozen games this year.
Round 16 started with Larry Fitzgerald, back for his 17th and likely final season. Here are some interesting Fitzgerald facts: he has seen 100+ targets in every year of his career, he hasn't missed a game in five years, and he has nine 1,000-yd seasons. Rookie running back Lamical Perine went next to the Jets and likely fits in as the team's #3 behind Bell and Gore. Josh Reynolds hasn't caught on with the Rams in three seasons, and now his replacement is on the roster. I think a trade would be best for him and the team at this point. Benny Snell was serviceable in his rookie season, but he looks like just another guy in a crowded backfield. Dede Westbrook will be fighting for the WR2 role in Jacksonville behind DJ Chark. I'm not optimistic here, but Westbrook does offer flex appeal during bye weeks. JJ Arcega-Whiteside came next and he'll look to rebound from an abysmal rookie season. In a year where the Eagles were desperate for weapons, Whiteside still struggled to do anything. The price is cheap if you are still a believer. Devin Funchess was next off the board, and he's headed to Green Bay. Since no one has gained traction as the team's WR2, this feels like a great lottery pick. We should know soon enough if he and Rodgers develop a rapport. Nyheim Hines is an excellent dart throw here with new quarterback Philip Rivers. Does anyone remember Rivers constantly checking down to Ekeler last season? If there is even a chance of that in 2020, Hines is worth this pick. Looking past the coming season, I am a big fan of Hines' talent in general and I imagine he'll eventually find a James White-like role somewhere. Dawson Knox returns for his second year as the starting tight end in Buffalo. He is a cheap pick this late, and he's worth holding while he continues to develop. He's also useful in the short term as tight end can feel like a wasteland. Ito Smith, Corey Davis, and Bryce Love closed out the 16th round. Smith is one of many backups in Atlanta that fails to excite me. If Gurley goes down, I probably want to look elsewhere for a starter. Corey Davis continues to fail to live up to hype as he enters his fourth season. I imagine someone else will take a chance on him once the Titans let him go, but there isn't much to be excited about here. Bryce Love fits in perfectly with the Washington backfield. By that, I mean he was injured last year. Good luck picking which back comes out of the pack here. I don't really expect anyone to be the workhorse unless everyone but AP ends up injured again.
The 17th round began with Drew Brees, who profiles similarly for fantasy purposes to Tom Brady: he is close to retirement and is set up for one or two more runs at a championship with some nice weapons around him. I like Brees as a streamer this season, and he makes for good cheap depth. OJ Howard dropped off a cliff in ADP after a disastrous 2019 season. I don't have much more hope for him in 2020 with Gronk on the roster. Like David Njoku, I think Howard needs a change of scenery. DeSean Jackson–the king of best ball–was next off the board. I imagine he will have a couple of huge games in 2020, but good luck predicting them. Two rookie receivers, Tyler Johnson and Lynn Bowden, were next. I have a hard time seeing Johnson cracking the roster early with too many weapons in front of him. Still, he could grab the slot role and we know how Brady loves his slot receivers. Bowden joins the Raiders, a team I've mentioned has plenty of need at pass-catcher. Taysom Hill went next, and I imagine this is in hopes that he gets TE eligibility. Despite what the Saints may claim, I completely doubt that Taysom Hill is their future at quarterback. Look how quickly they chose Teddy Bridgewater to start over the supposed "future" of the team last season. The round finished with Golden Tate, Brian Hill, Will Dissly, Jared Cook, Miles Boykin, and Aaron Rodgers. Tate is an uninteresting veteran on a bad team, and he figures to be the fourth-best option in the passing game. Oh, and he's 32. Brian Hill is another backup in Atlanta's backfield, and I've already mentioned how I feel about Atlanta's backups. Will Dissly is an excellent value here if he's healthy again. After a nice start, Dissly tore his Achilles and saw his season come to a close. I love the fit with Russell Wilson, and there should be plenty of volume to go around here. If I didn't already grab a third tight end, Dissly would have been in play around this range. Jared Cook is nearing the end of his career, but he looks like he might have another year or two left in him. He put up 9 touchdowns last season working mostly with Teddy Bridgewater, and we've seen what Brees can do with a good tight end. Miles Boykin was the 17.11, and he was a rookie I was high on last season. Unfortunately, he didn't do much as Marquise Brown stole the spotlight instead. I don't love this offense to ever be a high-volume passing attack, and Brown has already established himself as the favorite. Still, someone has to start on the other side. That brings us to Aaron Rodgers–the last pick of the 17th round. All logic tells me that Aaron Rodgers is nearing the end. His completion percentage has decreased for 4 straight seasons, and he hasn't thrown 30+ touchdowns since 2016. Oh, and Jordan Love was already drafted as the heir-apparent. Still, I just can't see Rodgers going quietly into the night. Something tells me we are about to see an F-U season from Rodgers that tells us he's not done yet. Just hope that Davante Adams doesn't get hurt…
Rounds 18-20
Jalen Hurts started off the 18th as an interesting hold for the future. If Wentz goes down, Hurts would be fun for fantasy with his rushing upside. I am not as high on him in terms of finding real-life success. Cole Kmet is the 800th TE on the Bears' roster, and he should be the immediate starter at the position. I don't tend to trust rookie tight ends, but Kmet should see plenty of playing time. Justin Herbert went next, and I love his value at this point. Herbert could be the starter before the year is over, and he was basically free in the draft. He also has a nice set of weapons around him in LA. Tre'Quan Smith was a nice sleeper pick heading into last season, but he again failed to break out despite a lack of significant options on the Saints. Smith does offer a nice touchdown upside though: despite only 25 targets and 18 receptions in 2019, he still totaled 5 scores. Teddy Bridgewater takes over in Carolina after the Panthers departed with Cam Newton and Kyle Allen. He played well last year, despite not being asked to do much. Bridgewater has a nice supporting cast of weapons supporting him in McCaffrey, Moore, Samuel, and Anderson. Ben Roethlisberger was the next QB off the board. He enters his age-38 season after missing 14 games in 2019. I don't expect a repeat of 2018's 675 pass attempts, but Big Ben will be useful as a streamer. Jerick McKinnon missed all of 2018 and 2019 with injuries, but he still tantalizes with his athletic profile, and he is on a 49ers team that loves to run. Randall Cobb showed that he still has something left in the tank in 2019, and he could be the most reliable weapon–healthwise–left in Houston. Chris Herndon drew buzz after his 2017 rookie season, but suspension and injury completely derailed his sophomore campaign. If he can get back on track, this is a steal at tight end. Marquez Valdez-Scantling is another one of the wide receivers fighting for the WR2 role in Green Bay, but he regressed last year from his rookie-year numbers. Still, there is plenty of work to go around here for whoever becomes Rodgers' second favorite target. Chris Thompson moves on to Jacksonville and he'll be 30 in October. He is an adept pass-catcher and could steal a lot of receptions from starter Leonard Fournette. He'll have to stay healthy though. Justin Watson will be battling for the slot role in Tampa Bay with Tyler Johnson. It's hard to see high volume in that role, but there is some value for whoever comes out on top.
John Ross has now failed to break out in his first three seasons. History is not kind to such receivers. This season will probably be his last chance in Cincinnati. Adrian Peterson is one of many backs fighting for the lead role in Washington. However, he is clearly the team's last resort outside of Peyton Barber. Quintez Cephus was a fifth-round pick by the Lions, and he'll be battling for the WR3 spot behind Kenny Golladay and Marvin Jones. If Matthew Stafford can stay healthy, there could be enough volume for Cephus to be at least flex relevant until Jones hits the age dropoff. Gabriel Davis is headed to Buffalo, and I'm not expecting to see much early. Buffalo is a low-volume pass attack, and Stefon Diggs and John Brown occupy the two starting spots. Marquez Callaway is headed to New Orleans and is likely a hold as the team chases a championship one more time. I'd be surprised to see a near-retirement Drew Brees develop a serious rapport with a rookie receiver. Adam Trautman also heads to the Saints at tight end, and he'll learn behind veteran Jared Cook. Malcolm Brown once seemed like he had a chance in the Rams backfield, but that feels almost impossible now with Darrell Henderson and Cam Akers ahead of him. Royce Freeman's days appear numbered in Denver with the signing of Melvin Gordon and Philip Lindsay still on the roster. His bet best of success at this point is a new start on a new team. Darwin Thompson drew lots of buzz last preseason including from me. It's clear, though, that the team isn't convinced. Thompson probably sits third or fourth on the RB depth chart here–if he makes the team at all. Jared Goff has gone from underrated to overrated and back to underrated in my mind. Despite an awful O-line last year, Goff still managed decent numbers as the team stumbled to a 9-7 finish. He also averages close to 300 yards per game over the last two seasons. Keke Coutee is someone I love at this draft value. Coutee has shown chemistry with quarterback Deshaun Watson when healthy, and the team just threw away it's number one receiver. The problem for Coutee, like seemingly every receiver on the Texans depth chart, will be health. Jason Huntley finished our 19th round and is headed to Detroit. He will likely be fighting for scraps as De'Andre Swift and Kerryon Johnson battle it out for the lead role.
Darnell Mooney was drafted by the Bears in the fifth round and will compete with Ted Ginn Jr for the WR3 role. He is a small speedster with a highly productive college career, but his upside is probably as the team's fourth option in the passing game. Ryan Tannehill earned a big contract on the back of his 2019 season. Tannehill looks like he might be truly breaking out, though I need to see more before I'm fully convinced. Russell Gage fit in nicely last year as the Falcons' number three receiver last season. If either Julio Jones or Calvin Ridley goes down, he could see an increased role. I have a hard time otherwise seeing him advance in this depth chart. Jameis Winston is now the backup in New Orleans and likely the future starter–regardless of what is said about Taysom Hill. He is great for fantasy and would be valuable if Drew Brees misses time. Derek Carr is still the starter for the Raiders, though the team seems like it's getting impatient with him. He will play as well as the offensive line does, and he has 500+ pass attempts in every season of his career. Jack Doyle is now 30 and he has one 600-yd season to his name. He has never caught 6+ touchdowns in a season. Kenny Stills is another part of the Texans receiving corps, but he looks like he may be gone soon. Between Kenny Stills, Brandin Cooks, Will Fuller, Randall Cobb, and Keke Coutee it seems like someone is on the way out. Harrison Bryant was a tight end prospect I liked, but he is now buried in Cleveland behind Austin Hooper and David Njoku. Maybe this is a sign that Njoku will soon be on the move. Carlos Hyde was just signed by the Seattle Seahawks and would likely have gone much higher had this been known during the draft. Hyde has a great chance in Seattle against Carson (fumbles, injured hip) and Rashaad Penny (torn ACL). I want whoever is the starter in Seattle, so this is an amazing value. Antonio Brown is 32 in July, he currently has no team, he only played one game last year, and he has "questionable" behavior. Still, it's hard to forget what he was. If he comes back at even 80% of his former self, that's still worth a whole lot. At this point, though, there probably aren't many teams left that would take a shot. Auden Tate saw a huge increase in volume in his sophomore season. He was on pace for close to 100 targets and he is still only 23. That being said, Tate looks like the third or fourth option on the team in 2020. Gardner Minshew remains the starter in Jacksonville, though I'm not sold on his long-term appeal yet. Still, he was useful last year as a streaming option. He will likely be the same in 2020.
Rounds 21-25
Round 21 saw my last two picks come off the board: Rodney Anderson and Hakeem Butler. Rodney Anderson is someone I liked last year and is now somewhere behind Joe Mixon on the Bengals' depth chart. He disappeared last year once he tore his ACL, and that's not typically a great start for a running back's career. Still, he could become the lead back if anything happens to Joe Mixon–or if Mixon misses time as he fights for a new contract. There is also the possibility that Anderson impresses and the Bengals let Mixon walk at the end of the season–rather than give him a huge deal. I liked Anderson's rookie tape and I have hope he could still be something eventually. It's also worth mentioning Trayveon Williams, who went two picks later in our draft. Fittingly enough, Williams is also fighting for the backup role in Cincinnati and he was also drafted by the Bengals last year. Hakeem Butler was another talent I liked last year, though he also suffered a season-ending injury: a bad fracture in one of his fingers. Butler returns to the Cardinals healthy and he'll try to grab one of the starting spots. With Arizona preferring to run 10 and 11 personnel, there will be plenty of chances to get on the field if Butler is the talent I saw in his college tape.
In the 22nd round, I was a fan of the Justice Hill and Kelvin Harmon picks. We all know Baltimore loves to run, so there is plenty of opportunity for more than one back to succeed here. Sure, they drafted JK Dobbins in the 2nd round a year after drafting Hill. However, Ingram is another year older and he dealt with some injuries last season. I also wouldn't be surprised if the team parted ways with Gus Edwards. The best thing for Hill is that, as a big-play threat, he shouldn't need many targets to be useful. He is a great dart throw this late in the draft. Kelvin Harmon was another rookie last year who was overshadowed–in this case, by teammate Terry McLaurin. There is room for optimism though. Harmon saw 35 of his 44 targets in his last seven games–once Dwayne Haskins took over. That pace would have given him 80 targets on the season, a solid number for any rookie receiver. Like with Hill, I am hardly expecting a breakout year imminent for Harmon. However, there is reason to be optimistic and a dirt-cheap price tag for the opportunity. These are the kind of players I want to be grabbing at the back of my roster.
There wasn't much left to talk about in the last three rounds, so I will instead discuss my general strategy with how you should approach your last 2-4 picks in a longer dynasty-style draft. If you are drafting 25 players to fill 25 roster spots, inevitably they won't all be great. Your 24th and 25th guys should be droppable in case something better comes along. Remember, someone breaks out every preseason and you don't want to hesitate in knowing who to drop. For that reason, my favorite way to attack my last picks is with homerun swings. Hakeem Butler and Rodney Anderson should show signs of success or failure before the regular season even begins. I'll know by the end of the preseason how the Mixon situation is looking, and I'll have seen Rodney Anderson play in four preseason games. That's plenty of time to see if there is some reason to hold out hope. Is Anderson getting in games before or after Trayveon Williams? Who is looking better? What is the team saying about each guy? Likewise, the preseason is a great chance to gauge how your young receiver is doing. Is he playing with the first team, or is he relegated to playing with the second-stringers? Does he look good on the field against whatever competition he's facing? How are the team's press blurbs about him and the other receivers on the roster? All of these factors can help make a decision. I could easily drop Butler before the season starts and not feel bad if his development isn't happening. This is how I recommend hitting these last few picks.
Final Recap
And that's it! Let's take one final look at the rosters. (If you are having trouble viewing the table, use this link to view the google doc instead.)
| | Ryan Heath | Dan Adams | Ryan Kruse | Matt Bevins | Marc Salazar | Corey Saucier | Colin Weatherwax | Ben Brown | Erik Smith | Paul Ghiglieri | Mike Miklius | David Fenko |
| --- | --- | --- | --- | --- | --- | --- | --- | --- | --- | --- | --- | --- |
| QB | D. Brees | D. Jones | J. Allen | R. Wilson | P. Mahomes | D. Watson | D. Lock | K. Murray | M. Ryan | C. Wentz | B. Mayfield | L. Jackson |
| | G. Minshew | T. Bridgewater | T. Tagovailoa | J. Love | D. Prescott | S. Darnold | J. Herbert | J. Burrow | J. Goff | M. Stafford | T. Brady | A. Rodgers |
| | | D. Carr | P. Rivers | R. Tannehill | J. Stidham | T. Hill | B. Roethlisberger | J. Winston | K. Cousins | J. Garoppolo | | J. Hurts |
| | | | | | | | T. Taylor | | | M. Mariota | | |
| | | | | | | | | | | C. Newton | | |
| RB | C. McCaffrey | S. Barkley | D. Henry | E. Elliott | D. Cook | A. Kamara | M. Sanders | D. Swift | J. Jacobs | J. Mixon | A. Jones | D. Guice |
| | JK Dobbins | M. Gordon | K. Drake | C. Carson | R. Mostert | K. Hunt | A. Ekeler | C. Akers | J. Conner | N. Chubb | D. Singletary | Da. Johnson |
| | L. Fournette | S. Michel | T. Gurley | Z. Moss | T. Pollard | P. Lindsay | D. Henderson | D. Montgomery | T. Coleman | C. Edwards-Helaire | R. Jones | M. Breida |
| | K. Vaughn | D. Evans | L. Bell | D. Harris | L. Murray | M. Mack | A. Gibson | D. Williams | J. Howard | J. Taylor | K. Johnson | R. Penny |
| | M. Ingram | B. Hill | C. Edmonds | L. Perine | N. Hines | J. McKinnon | Du. Johnson | J. White | J. Kelley | A. McFarland | T. Cohen | R. Armstead |
| | J. Jackson | R. Freeman | F. Gore | J. Richard | L. Bowden | J. Samuels | M. Brown | B. Snell | D. Dallas | C. Hyde | A. Mattison | C. Thompson |
| | B. Scott | R. Calais | I. Smith | M. Lynch | | | G. Edwards | D. Thompson | T. Homer | T. Williams | AJ Dillon | A. Peterson |
| | B. Love | D. Lewis | W. Gallman | Q. Ollison | | | | R. Burkehead | J. Hill | J. Hasty | E. Benjamin | G. Bernard |
| | J. Robinson | | | J. McKissic | | | | | J. Williams | D. Freeman | R. Anderson | J. Huntley |
| | D. Ogunbowale | | | | | | | | | | | |
| | P. Laird | | | | | | | | | | | |
| | R. Bonnafon | | | | | | | | | | | |
| WR | A. Robinson | J. Jones | M. Thomas | M. Evans | AJ Brown | O. Beckham | J. Smith-Schuster | D. Hopkins | C. Godwin | C. Ridley | D. Adams | DJ Moore |
| | D. Parker | C. Sutton | C. Lamb | J. Jeudy | DK Chark | K. Allen | DK Metcalf | D. Samuel | A. Cooper | M. Pittman | T. Hill | S. Diggs |
| | J. Landry | T. McLaurin | AJ Green | L. Shenault | T. Lockett | D. Slayton | J. Reagor | M. Hardman | C. Kupp | N. Harry | K. Golladay | T. Higgins |
| | D. Mims | R. Woods | B. Cooks | A. Lazard | R. Anderson | J. Crowder | H. Ruggs | B. Perriman | T. Boyd | B. Aiyuk | A. Thielen | TY Hilton |
| | P. Campbell | D. Johnson | D. Jackson | J. Brown | C. Claypool | E. Sanders | M. Brown | KJ Hamler | J. Jefferson | B. Edwards | C. Kirk | C. Davis |
| | A. Isabella | W. Fuller | M. Valdes-Scantling | A. Golden | S. Watkins | D. Funchess | J. Washington | A. Jeffery | M. Williams | P. Williams | M. Gallup | JJ Whiteside |
| | D. Duvernay | S. Shepard | Q. Cephus | M. Boykin | J. Hurd | R. Gage | M. Jones | T. Smith | J. Edelman | T. Johnson | C. Samuel | L. Fitzgerald |
| | J. Watson | H. Renfrow | A. Brown | K. Coutee | R. Cobb | J. Grant | J. Reynolds | KJ Hill | V. Jefferson | G. Davis | A. Miller | A. Tate |
| | J. Ross | D. Westbrook | T. Ginn | J. Meyers | M. Calloway | S. Sims Jr | T. Williams | Q. Watkins | G. Tate | | H. Butler | D. Mooney |
| | S. Miller | D. Robinson | E. St. Brown | T. Patrick | C. Beasley | P. Dorsett | K. Harmon | A. Wilson | K. Stills | | | M. Sanu |
| | | | | | D. P-Jones | K. Kirkwood | G. Ward | | | | | M. Lee |
| | | | | | | J. Gordon | A. Humphries | | | | | |
| TE | D. Goedert | T. Kelce | H. Henry | M. Gesicki | M. Andrews | G. Kittle | R. Gronkowski | Z. Ertz | E. Engram | TJ Hockenson | D. Waller | J. Smith |
| | I. Thomas | B. Jarwin | T. Higbee | C. Kmet | N. Fant | J. Sternberger | H. Hurst | A. Hooper | J. Cook | D. Asiasi | I. Smith | OJ Howard |
| | | G. Olsen | V. McDonald | | Ha. Bryant | A. Trautman | J. Doyle | W. Dissly | E. Ebron | D. Knox | D. Njoku | K. Rudolph |
| | | J. Oliver | | | B. Hopkins | | | T. Moss | | C. Herndon | | |
| | | | | | Hu. Bryant | | | | | G. Everett | | |
It's been five long days, and we've finally made it to the end! What you are looking at is the completed roster for every team in our dynasty league–pending free agency. You may notice that some teams have more than 25 players while some have fewer; Sleeper allows a team to accrue more than 25 picks in the draft via in-draft trades. It's not a loophole though: you have to drop your excess players before you can make any trades, free agency moves, or line-up decisions for the season. So, how did we do? Here are the self-grades from our managers:
Me (Mike Miklius): Looking at my final team, I love what I was able to accomplish. At quarterback, I like Tom Brady for the short term while Baker Mayfield gives me some future upside–as long as he can right the ship. Between Brady and Mayfield, I feel like I should almost always be able to stream a top-12 option for the coming season. I expected to behind the eight-ball at running back, but I wouldn't say that's the case. Aaron Jones is a low-end RB1 for this season while Devin Singletary returns to a run-happy Buffalo offense. Tarik Cohen provides another reliable source of points–he won't ever be the workhorse, but he also won't ever be phased out of the Bears' offense. Ronald Jones and Kerryon Johnson have the talent to take regular carries, but it's unclear what their roles will be. I was willing to take some chance with my RB4 and RB5 though, and I'm hopeful that one of them can latch onto a regular role. Alexander Mattison and AJ Dillon are high-upside backups, and I may very well never use either of them in my lineup this year. If the starters go down in front of them, however, I'll be thrilled that I took them. Eno Benjamin and Rodney Anderson round out the list as total dart throws–I could see myself dropping either, but each has upside I liked at the price. My wide receivers are the highlight of my team, and they will fill five of my starting spots most weeks. Going into 2020, I see Hill, Adams, Golladay, and Thielen all as WR1 threats. I've already discussed the depth behind them, but Kirk, Gallup, Samuel, and Miller all represent players with plenty of room to rise. At tight end, I expect Darren Waller to be a target machine again. I don't trust the depth added behind him to break out right away. Irv Smith looked excellent last year and he could eat up a ton of targets in a Minnesota offense now devoid of reliable receiving threats. For the coming year, I give myself a 9.1 out of 10 and I feel good–health pending of course–about my chances of making a playoff run. Long term, I have to factor the draft picks I traded into my score. That would probably drop my long-term grade to an 8.1 out of 10.
Ben Brown: One theme of this draft was that veteran wide receivers often slipped far past their ADP, and I think I got tremendous value on Alshon Jeffrey in the 15th round. While he may begin the season on PUP, I think this may actually benefit him for 2020 and especially 2021. He's got a lot of wear and tear on his body but some time off and a short season, whether injury or quarantine related, may allow him to fill the tank one last time before running it dry. He's not someone I see owning past 2021 but in the short term, as a WR5/6 with WR2/3 upside when healthy, I think I did pretty well. My 24th round pick, Albert Wilson, is also a sneaky upside pick who I knew would be available late in the draft. He received 7 or more targets in each of the last three weeks of the season and averaged 12.8 fantasy points during that stretch. He's only 27, just restructured his contract to stay in Miami, and should benefit from more open looks as more attention gets paid to guys like Devante Parker and Preston Williams. I would give my team a 6.5 out of 10 after this draft. I really whiffed on the Ertz pick and would probably rank myself an 8 had I gone with Christian Kirk instead. I was still able to get a solid TE in Austin Hooper later on and I like my late-round flyers Will Dissly and Thaddeus Moss in the dynasty format. If I were to do it all over again, I also probably would have taken Julio Jones over D'Andre Swift in the third round to be more competitive right away, but I would have ended up reaching for another RB at some point so it likely would have evened out. I love my young QBs and should be set there for years to come, and I also feel good about TE/WR, in that order. My competitiveness this season all depends on Cam Akers and Mecole Hardman – one or both of those guys needs to make enough plays to be fantasy relevant all season, otherwise I'll likely be picking in the middle of the pack in the rookie draft at this point next year.
Ryan Heath: I was thrilled to get Devin Duvernay. He is a fast slot receiver that enjoyed a massive senior-year breakout, all while landing on an offense without much established target competition in the Ravens. I also locked up my QB room here with Drew Brees and Gardner Minshew, a combo that should easily return QB1 numbers for me this year at basically zero cost. I think I built a pretty good roster given what I had to work with. McCaffrey and Fournette give me immediate top-end production at running back, tailed by Dobbins and Vaughn, both of whom have great chances to break out on dominant offenses. Waiting on wide receiver paid dividends as I'm very confident in my trio of Robinson, Parker, and Landry to deliver great numbers in PPR for the next few years. I loaded up the back half of my roster with young talent, with QB the only long-term question mark. I'd rate my team an 8.0 out of 10.0.
Ryan Kruse: Ito Smith should be a smart acquisition for locking down the Atlanta backfield. After that, I had to take a bunch of dart throws at the WR board. One of Valdes-Scantling or St. Brown needs to step up for the Packers this season after Green Bay failed to draft any wide receivers in 2020. Full disclosure: I'm a Packers fan. Continuing the homer picks, I nabbed Quintez Cephus, the former Wisconsin Badger. Cephus' off-field concerns were likely what made him fall all the way to the fifth round in this year's draft, but the kid has a great skill set for the NFL. Ted Ginn Jr. should be serviceable for at least this year and, no matter how nauseating the pick might be, Antonio Brown could always come out of nowhere and rejoin the NFL (even if it's not in 2020). I don't like AB any more than the next guy, but I couldn't pass up that talent in the 20th round. I suppose I'd give myself a 7.7 out of 10 because I feel my team is pretty well-rounded. I've got at least one top-10-in-2019 option for each position. Although my RB talent isn't elite, I feel my guys should be safe for the next year or two. I've got a young and promising QB room and two top-10 tight ends. I think I've got a good mix of talented veterans and encouraging rookies/young guys to remain competitive for the next couple of years.
Matt Bevins: Antonio Gandy-Golden was my highlight in these rounds. I was eyeing him before the draft and his highlights pop off the screen. He won't burn you off the line, but he'll muscle for extra yards, can make himself an option, and could be a solid pairing with McLaurin in Washington. One of my big draft keys was to find a potential sneaky #2 wr in an offense but could sneak ahead of their current #1s. (Shenault with Chark, GG with McLaurin). I also wasn't the biggest fan of him after his first season, but getting Miles Boykin in the late stages of the draft was something I would do 10 times out of 10. Zeke, Evans, and Jeudy are the cornerstones of my franchise, with Danger Russell Wilson and Jordan Love in case of emergency set to show my talent. My rushing depth is my weakness but rushing also has plenty of breakout players and with it being a dynasty, the position could be something I research or get to before others. I have a lot of curious depth players, but so does everyone else. I have the best dynasty rookie WR. I'd give my team a 7 out of 10, with plenty of upside to improve. Wait, make it 7.2, because folks were stung they didn't get Boykin.
David Fenko: Auden Tate in the 20th was a choice of mine to augment my earlier choice of Tee Higgins. If Higgins has trouble finding the field much during his rookie season, he's probably losing those reps to Tate. I'd give my team a 7.5 out of 10. Picking up a probable starter in Matt Breida in the 9th gave me some wiggle room to flesh out my 2020 roster later on and allowed me to take risks like Jalen Hurts in the 18th.
Erik Smith: Van Jefferson wasn't really on my radar coming into the draft, but a rookie wide receiver that was just selected in the second round of the NFL draft has more value than that, and he could jump in value if Cooper Kupp leaves for free agency next year. I took my first quarterback in Matt Ryan at 15.10. At 35, and on a team whose defense I don't trust, I should get at least two years of high volume passing out of Ryan. In the 17th round, Golden Tate is an awesome PPR value, and is another Sterling Shepard and/or Evan Engram injury away from pretty consistent volume. Jared Cook and Eric Ebron give me a shot at tight end competence if Evan Engram proves to be unable to make it through another year. Jared Goff is a young, high-volume passer locked into a starting role with an above-average play-caller: not bad in the 19th round. Overall, I'm really happy with my draft. I hammered young, already proven players throughout the draft. I'm a bit weak at running back, but that was bound to happen picking at the end of the first round and missing out on the elite studs. I would much rather hammer young, proven wide receivers than take a bunch of gambles on running backs that are potentially already entering the downside of their careers. For 2020, I can start my 5 best receivers between Godwin, Cooper, Kupp, Boyd, Jefferson, Williams, Edelman, and Tate, which I love for a PPR league. And if I whiff on running backs, I can reload in next year's rookie draft. I'd rather have young running backs anyway, so that isn't a bad fallback option. Sounds like an 8 out of 10 to me.
Dan Adams: Blake Jarwin was a popular breakout candidate before the Cowboys drafted CeeDee Lamb, but Jason Witten and Randall Cobb both leaving their targets behind should create enough room for Jarwin to emerge as a top-12 fantasy tight end. Dede Westbrook struggled last season but is still a talented receiver and the best route runner on this team. He'll be the starting slot receiver and should do better as he develops more chemistry with Gardner Minshew. If not, I still expect him to land on his feet somewhere else next offseason. Teddy Bridgewater is still young enough to give me a few years of upside and seems like a perfect fit for a loaded Carolina offense that wants to focus on short passes to get the ball into the hands of their playmakers. I normally wouldn't have drafted as many tight ends and quarterbacks, but with the uncertainty around availability concerns during this coming season, I wanted to err on the side of having too many bodies rather than too few.
I would grade myself as a 7.5 out of 10. I think I have one of the stronger rosters for the upcoming season but that I may have some work to do in the offseason to retool my team for the future. Barkley/Gordon/Michel is a strong RB tandem, WR is deep for everyone, Kelce/Jarwin/Olsen is good for this upcoming season, and I think I have a few undervalued quarterbacks that could be ready to take a step forward as early as this season. I don't feel I'm as reliant on rookies or unproven young players breaking out for my team to be competitive as some of the other rosters, but the downside to that is my team is on a much shorter time limit to return value. Aside from Barkley, I don't have a good long-term RB prospect on the roster, and while I like Jarwin I don't think he'll ever be an elite tight end the way that some of the other young tight ends that I missed out on could become. I will need to decide quickly if my team is as strong this year as I think it is, and if it's not I will need to either right the ship quickly or fire sale some of my older talents to try and make up for the lack of long term prospects I have.
Paul Ghiglieri: My only goal during the back third of the draft was to add as much upside as possible. I wasn't interested in low-floor options to help me cover bye weeks here since our rosters are large enough to sub in quality options from earlier rounds. I focused first on tight end, a position that normally requires a few years for prospects to grow into production. The Patriots had Devin Asiasi as the top-graded TE in this draft, and he enters an offense that has historically provided ample production to the position. Plus, Asiasi had third-round draft capital to boot. Dawson Knox has the athletic profile you want in a TE, and he's the type of player who could breakout at the position. All of this could also be said of Chris Herndon and Gerald Everett – highly athletic, young tight ends in offenses that have proven to be tight-end friendly. Gabriel Davis and Tyler Johnson are two of my favorite Day 3 rookie receivers. Gabriel Davis had the most well-rounded profile of all the receivers taken after the third round of the NFL Draft. Moreover, a 57.2% College Dominator Rating coupled with a 27.2 BMI and 19-year-old breakout age give Tyler Johnson the kind of upside you see in receivers taken in the first two rounds. Trayveon Williams was added mostly for insurance in case Joe Mixon holds out for a better deal, but Williams led the SEC in rushing. He profiles as a high-upside handcuff at worst. With Gio Bernard a likely cap casualty, Williams could easily have stand-alone value as a PPR option. JaMycal Hasty is the type of UDFA rusher with burst and vision that HC Kyle Shanahan turns into stars. I took fliers on Carlos Hyde and Devonta Freeman simply because either could work themselves into an RB2 role once signed similarly to the way Hyde did last year in Houston when he rushed for over 1,000 yards for the first time in his career at age-29. Hyde's low-carry total over his career makes me think he will float around the league siphoning touches in an RBBC similar to the way Frank Gore has done. Lastly, Marcus Mariota strikes me as the most likely QB to pull a Ryan Tannehill this year, and I like the fit in Las Vegas. GM Mike Mayock and HC Jon Gruden both love Mariota, and they signed him to a deal that makes him the highest-paid backup in the league, indicating he will be given the chance to compete for the starting job. We've seen Carr play under Gruden, and it's been uninspiring. Cam Newton, when healthy, has top-5 QB upside. He's only 31, and the time away may make him the best QB value in this entire draft when all is said and done.
Overall, I am thrilled with my running back stable. My group of receivers features a lot of high-upside, but unproven assets given I barely missed out on players like Amari Cooper and Chris Godwin to anchor the position. If none of my receivers break out, then I may have to consider moving one of my stud rushers to balance my team. However, I trust my process in evaluating receiver prospects, so I am optimistic that enough will pan out to give me the production I need to compete. Overall, I have a nice mix of youth, upside, and elite producers – exactly what you want in a dynasty league.