We've waited months to hear it… welcome back to college football! It's going to be another exciting year in the world of college football, in what will hopefully be the final year of NCAA football without a corresponding NCAA video game from EA Sports. It has been 10 long years since the final edition of the NCAA Football video game franchise, and all the fans' begging, plus the fact that players can now monetize their name, image, and likeness (NIL), has convinced EA Sports to bring back the series. The projected release date is as early as July 1, 2023:
EA Sports is aiming to launch its new college football video game in the summer of 2023. "That's the hope," says Cory Moss, CEO of Collegiate Licensing Co. #CFB #EASports pic.twitter.com/oQToo4Tfz9

— Brandon Marcello (@bmarcello) December 9, 2021
I'm counting down the days until the release date. But, in the meantime, the landscape of college football (in real life!) continues to shift dramatically, with conference realignment completely altering the way we organize NCAA football.
Recapping Some Offseason News
Fallout from the Texas/Oklahoma SEC Decision:
As fans wait for EA to churn out Madden but with college teams, they will witness some of the fallout of conference realignment and another year of NIL-induced madness. In case you hadn't heard, Oklahoma and Texas will be moving to the SEC in 2024, making the SEC a 16-team baseball/softball powerhouse. Replacing the Sooners and Longhorns in the Big 12 in 2024 will be Houston, BYU, UCF, and Cincinnati. The Big 12 is essentially gutting the American Conference, taking its most valuable properties so that people everywhere can enjoy some more high-quality Big 12 football. Thank goodness the Big 12 has recognizable brands, like Kansas State and West Virginia, so that people will continue to watch Big 12 games in prime time slots. Meanwhile, Oklahoma and Texas' remaining years in the Big 12 will have them continually measured against their expected performance in the SEC. Fans from Gainesville to Columbia will continue to debate whether Oklahoma and Texas will survive and thrive in the SEC, even if the Sooners and Longhorns have far greater winning pedigrees than the football programs at Missouri, Kentucky, and Ole Miss, to name a few. Texas will get its first whiff of life in the SEC just a few weeks into this season when they host Alabama, while Oklahoma cowardly scheduled out of conference games against Kent State, UTEP, and Nebraska.
To replace Houston, UCF, and Cincinnati, the American Conference preyed on the rest of the Group of Five and poached UAB, Florida Atlantic, Charlotte, North Texas, Rice, and UTSA. Approximately two of those programs will run winning football records this season, but the American has always liked schools that are willing to increase their athletics spending and build new facilities to match their new budgets. In fact, UAB, Charlotte, and UTSA were the top spenders on football in Conference USA in 2020-21, and with increased TV money coming from their entrance to the American, will be able to spend even more on their football budgets.  The American also tends to target medium-to-large TV markets, thus the addition of Charlotte, Rice (Houston market, theoretically, although Rice doesn't strike me as a huge draw in the Houston area), Florida Atlantic (Boca Raton/Fort Lauderdale/Greater Miami), and UTSA (San Antonio).
UCLA and USC Want Some of That Big Ten Money:
The shocker of the summer was that UCLA and USC would be departing their longtime conference, the PAC-12, to build new regional rivalries within the Big Ten in 2024. "We hate that team 1,500 miles away" really hits different, doesn't it? As a result of this movement, the Big Ten will no longer have 14 members, now ballooning to 16 members with the addition of the two LA-based programs. The move was made for monetary reasons, as the Big Ten's giant TV contract expires in 2024, and having 2 members based in a giant media market will increase the Big Ten's negotiating power. How much money are UCLA and USC in line for now? Let's take a look:
Michigan made $34.89 million just from Big Ten media rights in 2020-21.
But they also received extra distributions from the Big Ten from other revenue streams, totaling nearly $50 million in payouts last year. In 2020-21, those payouts more than doubled the distribution from the PAC-12:
Now, let's take a look at UCLA's (we can't do USC because their information is private and hasn't been released to the public) financial situation:
UCLA's finances are not pretty. A significant contributor to UCLA's woes is the relatively small media rights payout coming from the PAC-12. If UCLA was a full-time member of the Big Ten under the conference's current media rights deal, the Bruins would be making almost $20 million more per year from media rights and other payouts, and while it wouldn't carry UCLA's budget back to breaking even, it would make the imbalance between UCLA's revenue and expenses far better.
The new Big Ten deal, which will be negotiated for the 2024 season and beyond, will reportedly surpass $1 billion per year, a mind-boggling amount of money to be handing over to educational institutions. $1 billion, divided amongst 16 members, would be $62.5 million in payouts per year. Would it fix UCLA's budget problem?
Almost, but UCLA has fallen into a classic trap in college athletics. Chasing higher payouts is a great idea in principle; schools can use their new money to fix budgetary issues and make the athletic department self-sustaining — or at least require less funding from the institution itself. However, those increased conference payouts also mean increased expectations of spending. The Big Ten wouldn't have approved the addition of these two programs without the expectation that they would spend more money on their athletics budget to keep pace with the rest of the Big Ten. So, while UCLA will be increasing their revenue, they will also be increasing their operating expenses, which will keep their budget deficit essentially the same as it is now.
On the gridiron, USC and UCLA should be solid additions to the quality of play in the Big Ten. For USC, who is looking to bring Trojan football back to relevancy, there's no better place to do it than the Big Ten, which carries storied football programs in Penn State, Ohio State, Michigan, and Nebraska. USC's strength of schedule will look a whole lot better for whatever Playoff the sport is headed towards in 2024 when the Trojans can post wins against programs better than Colorado and Arizona. UCLA's going to be fine, but they'll never compete year in and year out for a Big Ten Conference title like USC will.
The Bruins' basketball program will be where they add the most legitimacy to the Big Ten. When the Bruins join the Big Ten, it will instantly double the number of NCAA basketball championships won by conference members. Plus, UCLA will finally get to avoid Arizona's basketball program, and instead will replace the Wildcats with a few more cupcake matchups in conference play.
New FBS Members:
The Group of Five had to replenish its ranks, with some of its premier institutions departing for exciting Big 12 football. The Sun Belt welcomes James Madison to its ranks in 2022, with the Dukes departing the Colonial Athletic Association to compete against the likes of Coastal Carolina and Appalachian State. James Madison had one of the top programs in FCS, winning 2 national titles (2004 and 2016), making the FCS playoffs every year since 2014, and posting zero losing seasons since 2002. The Dukes kick off their FBS tenure with an 11-game season, 1 short of the usual number of games for a football schedule. JMU will take on a full slate on conference games, and for their out-of-conference games, JMU will play Norfolk State, Middle Tennessee State, and Louisville.
Other members joining the FBS ranks in 2023 include Jacksonville State and Sam Houston State, both of which are joining Conference USA. C-USA will be losing several teams to the American Conference in 2024, so it only makes sense that they would look for new members. Jacksonville State is not based in Jacksonville, Florida, but is rather located in Jacksonville, Alabama, a city of 14,385. The Gamecocks' new head coach is none other than San Diego State, Michigan, and Arizona legend, Rich Rodriguez. Rich Rod's career record sits at a respectable 163-119-2, but I'm not sure that record reflects allegations of sexual harassment and a hostile work environment levied against him while at Arizona. Over at Sam Houston State, the Bearkats (They spell "bearcats" with a "k") have been on a nice run at the FCS level, winning the 2020 FCS championship and reaching the quarterfinals of the 2021 FCS playoffs. Under head coach K.C. Keeler, the Bearkats have gone 80-23, and will look to finish out their FCS tenure on a high note in 2022.
Projecting the CFP
Thankfully, instead of listening to Big Ten fans project 10 years of UCLA and USC suckitude, fans will have the opportunity to watch a real season unfold in just a few weeks. This year's CFP discussion promises to have all of the usual suspects, including Alabama, Georgia, Ohio State, Clemson, Oklahoma, Notre Dame, and maybe even Texas A&M and Oregon.
1. Alabama
Death, taxes, 5-star recruits making Alabama a title contender in any given year. Returning Heisman winner and star QB Bryce Young and Heisman snub and star DE Will Anderson, Jr will be the leaders on both sides of the ball, which is good news for Crimson Tide fans. Their play down the stretch last year kept Alabama in the SEC title hunt and propelled them into another CFP Championship Game appearance.
As long as Alabama has their star QB, the rest of the offense should be just fine. Alabama recruits talent like it's going out of style, which means even though Alabama lost key WRs Jameson Williams and John Metchie III, OT Evan Neal, and RB Brian Robinson, Jr., there shouldn't be any drop off in talent from last year's offense. If anything, improved play from Young will push Alabama's offense to scary new heights.
Even the most skeptical college football fans should know better than to doubt Alabama's ability to replace key talent. However, if fans are still on the fence about the 2022-23 iteration of Alabama, Nick Saban's comments should strike fear into their hearts:
Nick Saban on calling last season a rebuilding year after Alabama won the SEC championship and was the national runner-up:

"I don't think our standard is like everybody else's standard." pic.twitter.com/8vDaTI90Ls

— SEC Mike (@MichaelWBratton) August 4, 2022
I'm not sure Alabama's losing a game this year.
Looking beyond the vibes radiating out of Tuscaloosa and into Alabama's schedule, the first real challenge Alabama will face is in Week 6 against former assistant Jimbo Fisher and Texas A&M. My model does not view Texas as a serious challenge to Alabama just yet, although that may change with early-season results. Meanwhile, A&M nearly ended the Tide's playoff hopes with a huge win at Kyle Field last season, so 'Bama will be out for blood this year. Fisher is a relentless recruiter, reeling in 5-star prospects with ease, and as a result, the Aggies may be one of the few teams that can compete with Alabama's prospect pipeline year in and year out.
Alabama then has to travel to Knoxville to take on a talented Tennessee team. Last year, 'Bama smoked the Vols, winning 52-24 in Tuscaloosa, so Tennessee will likely be giving this one their all. It's probably not going to be enough to beat the Tide, even with returning star QB Hendon Hooker, but two high-intensity, emotional games in a row could be trouble for Coach Saban and Alabama.
Should Alabama reach the SEC Championship game — and my model has them at the highest possibility to do so in the SEC West — we will likely get a rematch between Alabama and Kirby Smart's Georgia. Alabama was able to take advantage of that matchup to propel themselves into the Playoff last year, but Georgia got the last laugh in the National Championship Game. Georgia is another one of those teams that might be able to compete with Alabama's talent recruitment pipeline, so it will be a nice resume builder for either squad. The winner and maybe even the loser of this game (assuming both are 12-0) will be in the CFP.
2. Clemson
Hopefully, everyone enjoyed their 1-year break from Dabo Swinney and the Tigers. 2021 was a nice change of pace, as pundits could totally write off the ACC for the CFP hunt with about 3 weeks left in the season. That gave everyone more time to mentally prepare themselves for two SEC teams in the last four standing. However, it looks like 2021 was the exception, not the rule, as Clemson promises to be right back in the hunt for a fourth national championship, and their third in the last 7 seasons.
Clemson is second in my CFP projection because I don't see Ohio State or Oklahoma with such an easy path to a playoff spot. Clemson will hardly be challenged in conference play, and their only real test comes against Notre Dame in November. By that time, Coach Swinney should have the Tigers rounding into playoff form and will have them leaving South Bend with a win. Clemson's other out-of-conference games includes battles against Furman, Louisiana Tech, and South Carolina, none of whom are world beaters.
Quarterback is a position of concern for the Tigers heading into this season. Last year, then-Sophomore QB D.J. Uiagalelei struggled to replace superstar QB Trevor Lawrence, averaging a paltry 6 yards per passing attempt and completing just 55 percent of his passes. Conventional wisdom finds that it is difficult to keep the offense moving when the quarterback is not throwing the ball downfield nor completing enough of the "easy" throws to help the offense move down the field, 10 yards at a time. In fact, both Clemson's Yards per Passing Attempt and Completion Percentage ranked in the bottom 20 teams in FBS. All of that contributed to Clemson's team passer rating of 108.8, which was good for 118th out of 130 teams.
The other parts of the offense, such as the offensive line and the running game, mostly did their part to move the chains. Clemson's offensive line ranked in the top 30 in almost every meaningful statistic. The line didn't allow a lot of sacks and created open running lanes, allowing two different Clemson RBs — Will Shipley and Kobe Pace — to average over 5 yards per carry across 149 and 104 carries, respectively. Clemson's running game as a whole averaged 4.4 yards per carry, good for 54th in the country. With a decent running game and an awful passing game, it is no wonder that Clemson's offensive efficiency ranked 84th of 130 teams.
It should also come as no surprise then that Uiagalelei will make-or-break this Clemson offense. Last year, with one of the worst passing games in FBS, Clemson still finished 10-3. Their defense should still be very strong, despite losing defensive wizard (and Defensive Coordinator) Brent Venables to Oklahoma in the offseason. With an improved offense, Clemson will turn some of last year's losses into this year's wins. Since it can't get much worse than last year, I think Clemson finds their way into the 2nd overall spot in the CFP rankings.
3. Ohio State (3a)/Michigan (3b)
The Big Ten will almost certainly have a team in the final four, but whether that team is Michigan or Ohio State depends on the winner of The Game. My model views them both as top-10 teams, with Ohio State holding a slight edge over the Wolverines in terms of talent and quality. Michigan got the better of the Buckeyes last season in The Game, finally winning after 5 straight losses to tOSU under Jim Harbaugh and 8 straight losses overall. Michigan took their home field advantage and literally ran with it, racking up nearly 300 rushing yards across 41 attempts for an average of 7.2 yards per carry.
This year, it won't be so "simple" for the Wolverines, as Ohio State returns star QB C.J. Stroud and elite wideout Jaxon Smith-Njigba. Considering how relentlessly Ohio State Coach Ryan Day recruits talent, the drop-off from losing WRs Garrett Wilson and Chris Olave to the NFL won't be steep, if there's any drop-off at all. Even though Stroud lit Big Ten defenses on fire last season, finishing with the second-best QB Rating and third-best completion percentage in all of college football, another year of experience and practice under his belt will be helpful. If Stroud is the best QB in the FBS this season — assuming he isn't already the best QB — this Ohio State offense will be scoring with frustrating ease.
Ohio State faces an intriguing schedule this season, facing Notre Dame to kick off the season and Penn State in Happy Valley, among others. An early loss to Notre Dame won't be a hamstring to the Buckeyes, as long as they win the other games on their schedule. In fact, Ohio State's loss to Oregon early last year seemed to spell doom for the Buckeyes' playoff hopes, but they were able to revive their campaign by crushing the rest of the Big Ten. They were in pole position for a playoff berth until falling to Michigan in the final game of the regular season.
But Ohio State will not only have to beat the Fighting Irish early on, they will also have to take care of business against Penn State and Michigan. Ohio State will have to travel to State College on Halloweekend in what will almost certainly be a White Out and sellout, making that game one heck of a hostile atmosphere for the Buckeyes. Penn State is just good enough to push Ohio State to the final snap, and if some things break right for the Nittany Lions, Ohio State could be leaving Pennsylvania with a huge loss. And, of course, Ohio State will face a Michigan team that is once again good enough to hang with the Buckeyes and doesn't have the monkey of "can't beat Ohio State" on their backs anymore. Fortunately for tOSU, that game will be at the Horseshoe in Columbus and will be rocking for the Buckeyes.
Michigan is in this spot because they have the luck of the draw this season. They get 5, maybe 6 tune-up games before entering the meat of their schedule. Michigan's first 6 games:
Colorado State, at home
Hawaii, at home
UConn, at home
Maryland, at home
Iowa, away
Indiana, away
My model expects Michigan to sail through these games, giving them a 48% chance to win all 6 of them (that's very good, for those wondering). Michigan then gets a good Penn State team in Ann Arbor, which allows them to avoid the hostile crowd in Happy Valley, and then a rematch with a solid Michigan State squad at home. Barring any miscues or big upsets, Michigan has a very good chance of walking into the Horseshoe with an 11-0 record. If Michigan can pull off the upset — if it is still viewed as an upset by then — they will be 12-0 and steamrolling into the Big Ten championship game, making them a virtual lock for the CFP.
That's all fine and good, but Michigan has its own share of issues. For one thing, the ultra-soft schedule to start the season means Michigan has little margin for error. They don't have the opportunity to rack up "quality wins" in the same way that SEC teams like Alabama and Georgia do, as the Big Ten has fewer quality teams overall. A slip up against a weaker Big Ten team could completely derail the Wolverines' bid for a second straight CFP appearance.
4. Oregon (4a)/Oklahoma (4b)
This is finally the year the Ducks make their return to the Playoff. Oregon will be the best of the rest, taking advantage of weak seasons from Oklahoma, Notre Dame, and probably winning out over Georgia as a conference champion.
I had Oklahoma ahead of Oregon initially. My model currently views Oklahoma as a 12-win team because they won't face much of a challenge from other Big 12 teams, however, I'm not as optimistic about them. The Sooners just lost Head Coach Lincoln Riley to USC and then saw a corresponding exodus of talent to LA. Both of Oklahoma's starting quarterbacks from 2021, Caleb Williams and Spencer Rattler, departed for USC and South Carolina, respectively. Oklahoma replaced Coach Riley with former Clemson Defensive Coordinator Brent Venables and then brought in former UCF QB Dillon Gabriel to take over the starting QB job. Venables was a defensive mastermind at Clemson, while Gabriel was a solid QB in Orlando, but I'm not sold on Venables' ability to bring it all together in Year One. I think Oklahoma will slip up at least once, and they won't have the strength of schedule to compete against Oregon come CFP Decision Day.
Oregon should run through most of the PAC-12 with ease. My model projects their only regular season loss to come in Week 1 against Georgia in Atlanta. Depending on how that game shakes out, Oregon could walk away with a significantly boosted resume. The Ducks don't even have to win that game to show the Committee they're a legitimate team; they just need to keep it close. However, an upset win over the Dawgs would help their Playoff resume more than any other game on their schedule.
If Oregon can take care of business against the PAC-12 and emerge with an 11-1 regular season record, plus a PAC-12 conference title, the Ducks will be in good shape for the Playoff selection show. However, Oregon has some of the same issues as Oklahoma: Head Coach Mario Cristobal decamped for Miami in the offseason, leaving Oregon to find another head coach. Oregon settled on Dan Lanning, the former defensive coordinator at Georgia. Much like Venables, Lanning was the mastermind behind an elite defense — although, Lanning led one of the greatest college defenses of all time last season. And, much like Oklahoma, Oregon imported a QB to replace Anthony Brown Jr., grabbing QB Bo Nix out of the transfer portal. I'm not sold on Lanning's ability to bring the Ducks all together in Year One, either. And even with Cristobal at the helm, Oregon was known to slip up once or twice during the regular season, handing away games to less talented teams. I don't know enough about Lanning to say that Oregon won't do it again at least once this season.
What makes Oregon 4a and Oklahoma 4b in my mind is that Oregon faces a weaker schedule overall. The PAC-12 is not a particularly tough conference because there are a few good teams clumped together at the top of the conference and some very bad teams for other good teams to beat up on, sort of like the NBA's Eastern Conference during LeBron James' tenure in Cleveland and Miami. I would call Oregon the Miami Heat of the PAC-12, in that they have the most talented roster in the conference and every other PAC-12 squad knows the road to the PAC-12 championship game goes through Eugene.
Meanwhile, Oklahoma will have to beat a slightly better collection of teams. My model rates Oklahoma's average opponent quality as much higher than Oregon's, meaning there are more chances for the Sooners to slip up and take a Playoff campaign-ending loss or two. Thus, Oregon has a greater chance of winning out against their schedule, and a 1-loss, PAC-12 champion Oregon looks more favorable to the Playoff Committee than 2-loss, Big 12 champion Oklahoma.
Previewing the Other Teams in FBS
Instead of previewing every single schedule in college football, I'm going to do something more digestible: superlatives!
A quick explanation about the "rankings" I'll be using: Every week, the AP and USA Today publish polls that rank the Top 25 teams in college football. The AP poll votes come from media members, such as sportswriters and broadcasters, while the USA Today Coaches poll comes from, well, coaches. Voters rank their teams 1-25, and the polls are weighted to reflect their choices. So, the first overall team, Alabama, likely received the most first-place votes, while Ohio State, the second overall team, likely received a share of the first-place votes, but not enough to supplant Alabama.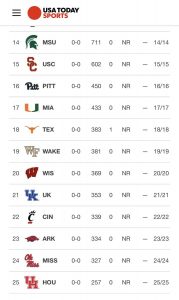 The number next to the teams' records (0-0) is the total weighted points received from all voters. Texas received one first-place vote, which pushed them a smidge ahead of Wake Forest, thanks to the point value of a first-place vote.
The initial 2022-23 Coaches poll was released on August 8, 2022, and featured votes from 66 coaches at FBS schools. Invariably, there will be a difference of opinion between the 66 personalities, and some teams will receive votes but won't receive enough to rank them in the Top 25 in terms of rankings points. They are listed in the "Others Receiving Votes" Section beneath the poll:
Much like any other voting process, coaches and sportswriters will have their own biases towards certain conferences or teams. The SEC gets a significant prestige boost — most of it deserved — from writers and sports media, so SEC teams with a certain record will generally have the edge over teams from other conferences with similar or slightly better records than the SEC teams. Some of the voting bias stems from historical performance as well, as teams that have been very good in the past (USC, Nebraska, and Miami, to name a few) are more likely to garner what most fans consider undeserved votes. For example, the University of Miami has received votes for nearly every initial AP poll in the last few seasons, and the Hurricanes have rewarded voters with incredibly mediocre finishes. And, some of the voting bias also comes from geography, as West Coast teams will sometimes struggle to gain fair recognition for their achievements because their games are played late into Saturday evenings. Much of the country, including some sportswriters, don't stay up to watch Oregon take on Washington at 10 pm Eastern, and have to base their evaluations of West Coast teams on condensed film and box score analysis.
Most Likely to Start the Season Ranked But Finish With a Losing Record: Arkansas
To be clear, it's unlikely that any of the Top 25 ranked teams at the beginning of the season will finish the season at 5-7 or worse, so this isn't a slight at Arkansas or any other team I could have named.
Arkansas rode QB K.J. Jefferson and WR Treylon Burks all the way to their best regular season finish since 2015. Jefferson returns, lending some stability to the Hogs' offense, but there aren't many games where the Razorbacks can win comfortably. Right off the bat, Arkansas will take on last year's Cinderella story, Cincinnati, in what is projected by my model to be a true toss-up game. Arkansas will also face Texas A&M and Alabama in consecutive weeks early in the season, and they have to travel to play in games that are more winnable, like Mississippi State and Auburn in Weeks 6 and 8. In fact, my model has Arkansas projected to play in a handful of toss-up games in SEC play, giving them a 49% chance of victory at LSU and a dead-even shot at beating Ole Miss. For this prediction to hold true, Arkansas would need to lose most of their toss-up games in conference play.
Actually, Arkansas is one of the few teams in the Top 25 without an almost-guaranteed win (per my model) in conference play. For example, Houston, who is ranked 25th in the USA Today AFCA Coaches Poll, gets to play one of the weakest teams in the country in Temple. That's about a guaranteed a win as you can get against an FBS school, and those guaranteed wins are a luxury that most of the back-end of the Top 25 will enjoy. Cincinnati also gets Temple, Navy, and South Florida, Wisconsin gets to play Illinois, and so on. Arkansas does not have that fortune this season, as they will not be playing free-win Vanderbilt this season. Arkansas' weakest conference opponent will be Missouri, and even that game will be played in Columbia, where Missouri has a greater chance of upsetting the Hogs.
NOTE: This portion was written before the news that Wake Forest QB Sam Hartman would be away from football indefinitely. Losing a starting QB doesn't guarantee a losing record, but it certainly makes it more likely.
Honorable Mention: Pittsburgh
Most Commonly in the "Others Receiving Votes" Section: UCF
Too weird to live, too rare to die, it's UCF!
UCF's schedule and relative quality lend itself well to this superlative, as UCF simply isn't good enough to beat up on their opponents, but will rack up enough wins to be in consideration most weeks. Typically, American schools have been a little undervalued by AP voters, which should keep UCF out of the Top 25 for a little bit, although Cincinnati's appearance in the College Football Playoff should add legitimacy to the American Conference competition (just in time for two of its powerhouses to leave for the Big 12). The Knights are already in the "receiving votes" section of the AP Poll and the AFCA Coaches Poll, and should remain there for quite awhile, given their schedule.
The Knights kick off the season with a very winnable game against South Carolina State. However, beating up on an FCS team is unlikely to move the needle for AP voters, so the Knights will probably remain in the "receiving votes" section at least into Week 2, when UCF hosts Louisville. There, the model predicts the Cardinals and Knights at very even odds, with Louisville given the slightest of edges (54% chance of winning). Should the Knights lose against Louisville, they will likely fall lower into that "receiving votes" section or out of it completely. But from Week 2 until Week 8, the Knights have nothing but winnable games, taking on a slate that includes Florida Atlantic, Georgia Tech, Temple, East Carolina, and SMU. Winning against each of those teams will be expected, not celebrated, for UCF and thus will not be enough to get them into the Top 25 teams until perhaps Week 7 or 8.
The Knights then take on Cincinnati at home, which the model rates as favoring Cincinnati (62% likelihood of the Bearcats winning this one), which should hurt UCF's chances at the Top 25 poll. After that, though, UCF gets 4 more very winnable games against Memphis, Tulane, Navy, and South Florida. UCF will likely break into and remain in the Top 25 at some point during that 4-game set. However, the unfortunate timing of their losses and the lack of quality wins on their schedule will hamstring UCF's chances at being recognized as a Top 25 team.
Honorable mention: Washington
Most Overhyped: USC
The Trojan faithful are desperate for this team to be good again, which is their right as fans. But they're so desperate, in fact, that they're willing to fill in all of USC's roster holes and anoint Lincoln Riley the next great head coach before he's even stepped foot in the Coliseum. The helium has reached incredible levels in recent weeks, culminating in USC's appearance on the AP Top 25 poll at 14th overall. The Trojans slot in one spot ahead of the Michigan State Spartans, who won 11 games last season, including a win against CFP participant Michigan. They are also ahead of Wisconsin (9-4 in 2021), Kentucky (10-3 in the SEC in 2021), and Ole Miss (10-3).
I understand that USC has all the ingredients to succeed in today's college football marketplace: low academic standards, tons of money, a reputation of success but no recent winning to reinforce that reputation, and a mascot on a horse (this sure does sound like a description of Florida State), but let's pump the brakes on USC's triumphant return to the Top 15 programs in college football. Lincoln Riley just got to South Central a few months ago. Clay Helton left the football program devoid of blue-chip talent, and the program lost quite a few players to transfer after Helton was kicked to the curb. For USC to deserve to be slotted among the Top 15 teams in the country, they would have needed to fill in all the holes left by graduating and transferring players and the coaching staff would have had to recruit the best possible incoming freshmen on the planet and get those freshmen ready to contribute straight away.
Lincoln Riley did an admirable job fixing many of USC's weaknesses, including restocking the QB room after both USC QBs from last season transferred elsewhere. Riley also brought in star wideout and former Pittsburgh Panther Jordan Addison to complement new QB Caleb Williams. But I think Riley has too much work to do this year for USC to be ranked in the Top 25 all year long, and certainly not at 15th overall. This year, Riley has to install a completely new culture, recruit like h*ck, and figure out how to integrate his many new transfer players in time for Week 1. The offense in particular will have several new faces in the lineup, as nearly all of the skill position players are transfers from elsewhere. The new set of personalities will need to be managed well in order for USC's machine to be firing on all cylinders, and I'm not a believer in Riley's ability to do that with the snap of his fingers. It's going to take time.
Next year is when USC really competes for the PAC-12 title. I'm calling it now.
Honorable Mention: Texas
Most Underrated: Nebraska
The Huskers had just about everything break against them last year. Nebraska had one of the best 3-9 seasons you will ever see, with the Huskers outscoring their opponents 335 to 272 across 12 games. Every Nebraska loss came by less than 10 points, including:
A 26-17 defeat at the hands of then-#5 Ohio State
A 35-28 loss against then-#15 Wisconsin
A 28-21 loss against then-#17 Iowa
A 23-20 loss against then-#20 Michigan State
A 32-29 loss against then-#9 Michigan
A 23-16 loss against then-#3 Oklahoma
As an optimist, I look at that and think, if a couple things broke right for Nebraska, they'd have been 6-6 and a couple of high-quality wins against ranked opponents. This year, I think things will almost certainly swing back in the other direction, and Nebraska is going to be one difficult team to play against in the Big 10. Head Coach Scott Frost has Big Red moving in the right direction and should continue to move them that way thanks to a very easy slate of games to open the season.
To kick off the 2022-23 season, Nebraska first gets pushover Northwestern in Ireland, of all places, which the model rates as an 84% chance for a Huskers win. Then, Nebraska gets home games against FCS North Dakota and very bad FBS Georgia Southern. The following two weeks, Nebraska will host Oklahoma and Indiana. If Nebraska wins all the games they are favored in during that opening stretch, the Huskers will be chugging right along at 4-1. And, considering how close Nebraska played Oklahoma last season, is it unreasonable to think the Huskers could start the season 5-0? The model gives Nebraska a very reasonable 22% chance of winning their first 5 games, and a 63% chance of beating each of Northwestern, North Dakota, Georgia Southern, and Indiana.
The Huskers will face their challenges at the end of the season, taking on a 4-game gauntlet of Minnesota (home), Michigan (away), Wisconsin (home), and Iowa (away). The model rates each game, minus the one in Ann Arbor, as toss-ups. Similarly to their matchup against Oklahoma, if Nebraska gets a little bit of luck, they could emerge from that portion of their schedule with an even split or even a 3-1 record against that set of opponents. The model currently has Nebraska at 8-4, but the Huskers are built well and should challenge for up to 10 wins, placing them firmly in the Top 25 at the end of the year.
Honorable Mention: UCLA
The Most Exciting Game of Each Week
And finally, a quick peek at the most exciting game of each regular season week for the first half of the season. We'll revisit this in Week 6 to preview the back half of the season when the dust is a little more settled and we can survey the college football landscape safely.
The games are generally more exciting when the teams are both (1) good and (2) evenly matched, so while Alabama is going to be more exciting to watch on a weekly basis than your average Group of Five team, that doesn't mean Alabama is worth watching every week, especially when there are better alternatives. Let's get to it!
Week 0: Vanderbilt at Hawaii — This is due to the total lack of interesting games in Week 0. This game is the winner of the "Week 0's most interesting game" title because it's the only toss-up matchup of the week, according to my model. No other game comes particularly close to being competitive, including the Northwestern/Nebraska tilt in Ireland. The actual quality of the game will be quite low; these teams are among the worst in FBS competition by almost every available metric. At least it'll be fun to see an SEC team way out of their element in Manoa.
Week 1: There are too many to choose from. Here are just a few of the titillating matchups college football fans will get to enjoy in Week 1:
Cincinnati at Arkansas
Houston at UTSA
Oregon at Georgia (at Mercedes-Benz Stadium in Atlanta)
Notre Dame at Ohio State
Florida State at LSU
I think the winner for me is Notre Dame at Ohio State, with Oregon at Georgia coming in second. New Notre Dame head coach Marcus Freeman gets a test right away, challenging last year's Rose Bowl champion Buckeyes in Columbus to kick off the season. Ohio State played a strong out-of-conference opponent last year in Columbus, falling 35-28 to Oregon. Can Notre Dame repeat Oregon's success? The model says no, but my heart says yes.
Week 2: Baylor at BYU — The closest matchup of the week sees the #10 Baylor Bears travel to Provo to take on the Cougars. Baylor surprised just about everyone last season, riding some magic all the way to the Big 12 title. Meanwhile, BYU is coming off a 10-2 season that saw them beat rival Utah and then-21st-ranked Arizona State in back to back weeks. The Cougars ended the season on a bit of a sour note, falling to UAB by 3 points in the Independence Bowl, but should be right back at it again this year. They'll face a strong test just two weeks into the season. For those of you wondering why Alabama at Texas isn't featured here, it's because I don't see Texas as a serious threat to beat Alabama, even in Austin. The model gives Texas a 30% chance of victory, hardly anything to write home about.
Week 3: SMU at Maryland — The Mustangs will take on an improved Maryland squad in Week 3 in a strong test for each side. SMU should be considered one of the best Group of Five teams and will be a nice barometer for the Terrapins' improvements heading into Big Ten play. The same goes for SMU, who can use Maryland — one of the last teams projected to be eligible for a bowl from the Big Ten — as a nice barometer for their progress towards an American Conference title. Despite Week 3 featuring a couple of ranked teams matching up, like Miami (FL) at Texas A&M and BYU at Oregon, the closest game per the model is likely the Mustangs visiting College Park.
Week 4: Notre Dame at North Carolina — I'll be sure to play a little tune on the world's tiniest violin for the Fighting Irish, who face another test shortly after their matchup against Ohio State. The Irish face a slate that is entirely FBS teams, so even their early-season games that follow their matchup at Ohio State feature teams like Marshall and Cal, who won't be total pushovers. That type of schedule is great when Notre Dame submits their resume for College Football Playoff consideration at the end of the season, but it probably doesn't feel good for the Irish during the thick of it. If Notre Dame slips up here and at Ohio State, they could be 2-2 and effectively removed from Playoff consideration.
Week 5: It's a tie! This is a week with a pair of true toss-ups — between teams currently ranked in the AP Poll, but that could change by the time Week 5 rolls around — in conference play:
Kentucky at Ole Miss
Oklahoma State at Baylor
Here, Kentucky and Ole Miss can establish their legitimacies as solid football programs. Kentucky is eager to prove that it cares about football season, while Ole Miss is ready to show that last year's success was no fluke. Meanwhile, Oklahoma State will be looking for revenge after last year's Big 12 title game loss to Baylor erased their chances at a first-ever College Football Playoff appearance. Coin flips will be about as accurate a predictor as my model in these games.
Week 6: Texas vs. Oklahoma (at AT&T Stadium) — There are closer games on the schedule, but the Red River Showdown never ceases to amaze. No more explanation needed.
Week 7: Wisconsin at Michigan State — The Spartans, the surprise of the Big Ten last season, will be in the midst of a very difficult set of games when they host Wisconsin. In Week 6, Sparty hosts Ohio State in East Lansing. Then, in Week 8, they visit Michigan to try to retain the Paul Bunyan Trophy for another year. If the Spartans can come out of these 3 matchups with at least 2 wins, they will be on track for the Big Ten title game. Their best chance at a win in these 3 games comes in Week 7, against the Badgers.
Feature image by Michael Packard (@CollectingPack on Twitter)