Recapping Week 6
The Good:
Tennessee: The Vols rolled into Death Valley and rolled right on over LSU, 40-13.
The Vols got some early help from LSU on the opening kickoff:
✅ Recover opening kick fumble
✅ Punch it in for six pic.twitter.com/9ckMqrbkOv

— ESPN College Football (@ESPNCFB) October 8, 2022
The Tigers came into this game with plenty of momentum, having won 4 in a row, but all that momentum disappeared right away thanks to the fumble and subsequent score. It's tough to recover from any embarrassing turnover, let alone one that puts you down 7-0 after just a few seconds. The Vols didn't make it easy for LSU to come back after that, thanks in part to some magic from Tennessee QB Hendon Hooker:
An absolute dime from @henhook2

📺 @espn
📲 https://t.co/lnbA1pDKyh pic.twitter.com/fVfDjIdQwe

— Tennessee Football (@Vol_Football) October 8, 2022
If I was a football player, a perfect throw from Hendon Hooker to make it 20-0 would let all the air out of my balloon. How can you compete with that, especially when you're down 3 scores?
Tennessee kept attacking after the half, including this perfectly drawn play from color commentator Dan Orlovsky:
On the money.

📺 @espn
📲 https://t.co/lnbA1pDKyh pic.twitter.com/LSa6N45hM5

— Tennessee Football (@Vol_Football) October 8, 2022
When all was said and done, Tennessee stood on top, 40-13, with 37 of those 40 points coming in the first three quarters. LSU added 6 points in garbage time, but many of their fans weren't around to see it:
Tennessee fans were singing Rocky Top on LSU's grave… IN DEATH VALLEY pic.twitter.com/EfOJYyv3PF

— Barstool Sportsbook (@BSSportsbook) October 8, 2022
Hooker was his usual self, totaling 239 yards and 2 TDs yesterday, but the Vols' running game surged yesterday, so the Vols didn't need Hooker to throw the ball 'til his arm fell off.
RBs Jabari Small and Jaylen Wright combined for 34 carries and 186 yards, for an average of 5.47 yards per carry. Small had a season-high 127 yards and 2 rushing TDs. The rushing group as a whole — including Hooker — had their highest output of the season by a long shot, tacking on over 200 yards on the ground. When the offense has this kind of balanced production, Tennessee's offense will be nearly impossible to stop consistently.
Lucky for us, Tennessee gets to take on the best litmus test in college football next week, hosting #3 Alabama at Neyland Stadium in Knoxville with ESPN College Gameday in tow.
Also Good:
UCLA: That's two home games and two huge statement wins in the last two weeks for the Bruins. UCLA hosted Utah and, like Tennessee, showed off a virtually untouchable offense. Like last week, the offense showed out thanks to QB Dorian Thompson-Robinson, one of the best dual-threat QBs in the country:
BRUINS ON TOP 🐻

Dorian Thompson-Robinson keeps it himself for the @UclaFootball TD 💪 pic.twitter.com/KP6QdspoC6

— FOX College Football (@CFBONFOX) October 8, 2022
The DTR touchdown was enough to wake up the percussion section of the UCLA marching band:
— FOX College Football (@CFBONFOX) October 8, 2022
Unfortunately for the Bruins, Utah QB Cameron Rising is one tough runner:
Cam Rising 📈🔥@Utah_Football pulls within one score 💪 pic.twitter.com/g2DOVSBkPZ

— FOX College Football (@CFBONFOX) October 8, 2022
Rising was a threat with his legs all day long, turning long yardage situations into first downs and touchdowns throughout the game. In fact, Rising picked up two rushing TDs, one of them a crucial score to put the Utes within 3 points early in the fourth quarter. Watching the game, it felt like Rising was burning the Bruins on nearly every play with the number of tackles he broke and the yardage he picked up. However, Rising only racked up 59 yards on 13 carries when the dust settled.
When Utah needed a Rising conversion most, though, he made quite the big mistake:
FUMBLE

Rising loses it on 4th down and UCLA recovers in the red zone

Utah officially on the ropes in the Rose Bowl
pic.twitter.com/BesinxUqCg

— Porter Larsen (@Larsen_ESPN) October 8, 2022
On the following play, UCLA RB Zach Charbonnet was able to get into the end zone:
TD de Zach Charbonnet dans la foulée !

UCLA a maintenant une avance de 17 points. pic.twitter.com/HzvjBjczt7

— The Trick Play Podcast – NCAA/CFB (@TheTrickPlayFR) October 8, 2022
The game was wrapped up then, with UCLA up 17 points with 9 minutes left in the game. DTR did make a mistake of his own, though:
Utah is going to lose but this makes it back-to-back weeks with a pick six for Clark Phillips III. Reads DTR's eyes all day, flashes his brilliant closing speed, and undercuts the hitch for a house call. pic.twitter.com/Cg2XxoK7Xy

— Bobby Football (@Rob__Paul) October 8, 2022
Final score: UCLA 42, Utah 32, although the game wasn't as close as the final score might indicate. The Utes had no answer for UCLA's brilliant offense, and it shows in the yardage totals, as the Bruins picked up 502 yards of team offense, 299 through the air and 203 on the ground.
UCLA has its bye this week, but travels to Oregon's Autzen Stadium the following week for what will likely be another matchup between two ranked teams. The Bruins moved up to #11 in the AP Poll after the big win, while Oregon sits at #12. Utah, now 20th in the AP, hosts #7 USC in Salt Lake City next week, in what should be a wildly entertaining game and key matchup in the race for the Pac-12 title.
TCU: The Horned Frogs put together a statement win of their own this week, handling upstart Kansas in Lawrence, 38-31. TCU QB Max Duggan was excellent on Saturday, accumulating 308 passing yards and 3 TDs through the air, and putting up another 55 yards and a touchdown on the ground. Duggan is one of the main reasons TCU trailed for only 1 minute of this contest.
Kansas lost QB Jalon Daniels right at the end of the first half, when TCU led 10-3. But the Jayhawks forced every little bit of extra effort from Max Duggan and the TCU offense, as Kansas' backup QB, Jason Bean, torched the Horned Frogs' defense in the second half, essentially going touchdown for touchdown with Duggan. But Duggan was up to the challenge, and TCU improved to 5-0. This win was huge for the Frogs' burgeoning Big 12 campaign, as they are one of two teams still undefeated in the conference. They will host the other undefeated squad, Oklahoma State, next week.
Notre Dame: The Irish have quietly rebounded from some early struggles, winning their third straight game this week. Notre Dame jumped out to an early lead against formerly-#15 BYU, holding an 18-6 lead at the half and expanding it to 25-6 halfway through the third quarter. From there, the Irish had to hold on for dear life, as BYU scored touchdowns on consecutive drives to make it 25-20, right at the beginning of the fourth quarter. However, the Notre Dame defense stood tall for the final few drives, keeping BYU off the scoreboard for the rest of the fourth. With the win, the Irish moved into the "Also Receiving Votes" section of the AP Poll and knocked BYU into that section as well.
Arizona State: The Sun Devils fired Head Coach Herm Edwards two weeks ago. Since then, ASU has played a gauntlet of a schedule, traveling to the Coliseum to face USC and then hosting Washington in back-to-back weeks. The Devils played USC closely for three quarters before the Trojans pulled away, but the Huskies weren't so lucky.
When Michael Penix Jr. and the Washington offense scored, ASU answered with a TD of their own. Take a look at this very intriguing set of drives in the second half: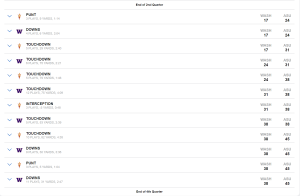 The teams were a perfect mirror of each other for nearly the entire second half, and since the Sun Devils had the lead to open the half, they were able to walk away with the hard-earned W. After the bye, Arizona State gets Stanford and Colorado to kickstart their campaign for bowl eligibility. They'll need to go 4-2 over their final 6 games to be officially eligible for bowl season.
Other Good Performances:
James Madison and Coastal Carolina: The two undefeated teams of the Sun Belt keep on chugging. JMU defeated Arkansas State pretty handily, beating the Wolves, 42-20, to improve to 5-0. Coastal struggled to pull away from a meek Louisiana-Monroe (ULM) squad but ultimately ended on top, winning 28-21. The Chanticleers are now 6-0 but face a much stronger set of teams in the second half of the season, so we will see how long they can keep it up.
South Carolina: The Gamecocks visited #13 Kentucky this weekend and walked away with a big upset win. They tacked on 17 unanswered points in the third and fourth quarters, which made it very difficult for UK, who was playing without star QB Will Levis, to mount a comeback. The Gamecocks now need just two wins to become bowl eligible and have both Missouri and Vanderbilt on their schedule, meaning a bowl berth is attainable (not likely, but attainable).
North Carolina: The Tar Heels did just enough to squeak by Miami this week and improved to 5-1 on the season. QB Drake Maye struggled mightily, throwing 2 interceptions in the win, but the UNC defense forced a couple of turnovers on its own, which allowed the Tar Heels to steal points (and the win) from the U. UNC garnered plenty of votes for the AP Poll but ultimately didn't end up in the Top 25, but a win over rival Duke next week will go a long way towards legitimizing this team.
Texas: Speaking of SEC teams down starting QBs, Oklahoma was short-handed heading into the 119th edition of the Red River Showdown, but that didn't stop Texas from pouring on the points against a hapless OU defense. Texas QB Quinn Ewers made his triumphant return from injury after missing 3 and a half games by throwing for 289 yards and 4 TDs. The Longhorns look like serious challengers for the Big 12 crown this season, and winning the title would end their Big 12 tenure on a high note.
Tulane and UCF: Two of the American Conference's better teams squashed their opponents this week. The Green Wave cruised to a win against troublemaker East Carolina, pushing them to 5-1 ahead of a very winnable matchup against South Florida. Don't forget, Tulane has beaten a Top 25 team (Kansas State) already this season. UCF crushed SMU last Wednesday, scoring 40 points to the Mustangs' 13. The Knights buried SMU thanks to some stifling defense, forcing a handful of SMU turnovers, which the Knights' offense turned into easy points. UCF is now 4-1 and gets a meek Temple squad next week, so both of these teams should be in consideration for a spot in the AP Top 25 next week. Tulane's already in the "Also Receiving Votes" section, and deservedly so.
The Bad:
Teams blowing late leads: 
Florida State led NC State 17-3 at halftime. Hardly an insurmountable lead, but respectable enough that the Seminoles could hold on against the Wolfpack. Instead, the 'Noles scored zero points in the second half and coughed up the lead with 6:33 in the fourth. On their final two drives, FSU threw two interceptions, including a backbreaking interception on the edge of the end zone with 38 seconds to go.
Memphis led Houston 32-19 with 4:04 left in the fourth quarter. The Tigers held a similar lead to FSU, but with far less time left in the game. Memphis even broke out the trick play to open the fourth quarter!
— Follow @TPortalCFB (@CowardlyDoggo) October 8, 2022
This should've been the dagger for Houston! A perfect strike, thrown on the run, to open the fourth? That's a perfect way to put a stamp on a statement win.
Instead, the Cougars scored 2 touchdowns in just under 4 minutes thanks to a 2-and-a-half-minute touchdown drive to make it 32-26. Then, the Cougars recovered an onside kick with 1:17 remaining. The Cougs then went 50 yards in a minute, and then:
WHAT A COMEBACK‼️

Houston rallies from 19 down in the 4th and scores two TDs in the final 1:17 to win at Memphis 😤 pic.twitter.com/d5g9Jc6Eey

— ESPN (@espn) October 8, 2022
Houston was on the backslide heading into this game. The Cougars had lost 3 of 4 prior to this one, including a heartbreaker to Tulane, 27-24. Memphis was 4-1 and had just beaten Temple easily, so the win would've catapulted them into conversation for a Top 25 spot. The momentum was all in Memphis' favor, and they could've ridden it all the way to the end of the game.
Stanford led Oregon State 24-9 after three quarters and 27-22 with just 48 seconds remaining. To win, the Beavers would have to drive the ball all the way down the field and score a touchdown in 1/9th of the time it takes to play Free Bird by Lynyrd Skynyrd. Enter, Oregon State WR Tre'Shaun Harrison:
OH MY GOODNESS WHY ARE YOU ASLEEP

TRE'SHAUN HARRISON WITH A PLAY OF THE YEAR CANDIDATE TO WIN THE GAME FOR OREGON STATE WOW WOW WOW 🦫🦫🦫 pic.twitter.com/G9GcGo30dZ

— The Transfer Portal CFB (@TPortalCFB) October 9, 2022
That's right, the Beavs pulled off their own version of the Minneapolis Miracle, sending Stanford fans home unhappy and all seven fans in Corvallis into a tizzy!
Nevada: The Colorado football schools (Colorado, Colorado State) had a combined 0 wins and 9 losses before the weekend slate of games, but the Wolfpack had a little too much trouble with Colorado State last weekend. The Rams got ahead early, scoring 14 in the first quarter. Nevada battled back to tie it up with touchdowns in the second and fourth quarters, and was looking like they might survive a test from one of the Mountain West's worst, but Colorado State was finally able to get the W, thanks to a game-winning field goal from Michael Boyle:
Colorado State carries kicker Michael Boyle off the field after hitting the game-winner and putting an end to their 10-game losing streak 🙌 pic.twitter.com/ZoYwCqU8Nz

— FOX College Football (@CFBONFOX) October 8, 2022
That was Colorado State's first win in 357 days…
Army: The Black Knights have really struggled to open the season, holding a 1-4 record through their first 5 games of the year. Last weekend continued that dreadful start, as Wake Forest blasted Army in North Carolina, 45-10. Army now needs to win 5 of their next 7 to reach bowl eligibility, which could be difficult, given their struggles early in the season. However, Army still has games against Colgate, ULM, UConn, UMass, and Navy on their schedule, so if the Knights are worth their salt, they'll be fine moving forward.
Ranking the Top 25 and Bottom 10 Teams
Top 25:
Teams I'm more optimistic about than AP Poll voters: Texas. The Longhorns have recovered from their early struggles — although, is losing to Alabama really a "struggle"? — and have posted back-t0-back wins against Big 12 opponents, including a dominant win over rival Oklahoma. While Oklahoma was missing starting QB Dillon Gabriel, the Longhorns still crushed the Sooners in pretty much every facet of this game, which impressed me. My projections have been high on Texas from the beginning, but the loss to Texas Tech two weeks ago had me doubting the stats, but no longer. Texas looks to be chugging right along, and they'll need to play at full strength for the next few weeks, as their schedule is absolutely brutal to close out the season:
Next week: Iowa State
October 22: #8 Oklahoma State
November 5: #17 Kansas State
November 12: #13 TCU
November 19: #19 Kansas
November 25: Baylor
Each of these teams will be at their best, hoping to deal the Longhorns a parting kiss (or punch?) as Texas transitions into the SEC, so Texas will also need to be at their best to come out on top.
Teams I'm less optimistic about than AP voters: Syracuse. From last week's comments about the Orange, which haven't changed, because 'Cuse had their bye this week:
"5-0, sure, but when your signature win is probably a 3-point home win over Purdue, do you really deserve to be ranked? A win over NC State makes them a lock for the Top 20, but until then, this record is the result of a cake schedule and some close wins against middling Purdue and Virginia at home."
Same thought process applies this week. The Orange just haven't impressed me enough to be ranked in the Top 20.
Also Receiving Votes (in no particular order):
Illinois: The Fighting Illini, with Coach Bret Bielema, have orchestrated a very quick turnaround from the depths of the Lovie Smith era by going 5-7 in 2021 and are now 5-1 in 2022. Many props go to Bielema and this year's team, but the Illini really haven't played tough teams and haven't handily beaten the teams they should be handily beating. A 9-6 win over Iowa last week doesn't inspire a ton of confidence for me. Lucky for us, Illinois hosts Minnesota next week in a real Big Ten test.
Notre Dame: The Irish picked up a solid win over formerly-ranked BYU this week to improve to 3-2, but the losses to Marshall and Ohio State and the very close win over Cal keep them off the Top 25 for a little while longer. ND plays 1-4 Stanford next and needs a couple of losses from the teams in front of them, plus a win over Stanford, to sneak back into the Top 25.
BYU: That quality win over Baylor isn't holding a lot of water on their resume these days, with the Bears sitting at 3-2. BYU doesn't have another quality win to speak of, but has two losses to higher-end Power 5 teams after falling to Notre Dame last week. I'll need to see more solid performances from the Cougars before seriously considering them for a Top 25 spot.
UCF: The Knights remained on a roll this week, shaking off any rust they might have had from their bye early in the game against SMU last Wednesday. The Knights cruised to a 22-point win over the Mustangs to improve to 4-1 and have dates with pushover Temple and middling East Carolina before their big matchup against #21 Cincinnati. The reason the Knights aren't in the Top 25 is because of their shocking Week 2 loss to Louisville and their lack of quality wins. They just haven't played a particularly challenging schedule yet, so I'll need more strong performances from them before they reach the Top 25.
Tulane: Speaking of teams with puzzling losses, the Green Wave would be undefeated if not for a wacky 27-24 defeat at the hands of Southern Mississippi. Tulane has a quality win over the currently-ranked Kansas State and has looked quite solid in American conference play, but it's hard to trust them just yet.
We have a new friend on the list this week: Temple! Temple's two wins this season have come against FCS Lafayette and Massachusetts, and while they played a close game against Rutgers, their other two losses have been blowouts. There aren't a lot of positive spots in this Temple program, which has bottomed out over the past two seasons.
Meanwhile, Northwestern continued to run its vigorous campaign to the bottom of FBS, with the Wildcats suffering a big blowout at the hands of Wisconsin this week to drop them to 1-5. Colorado, the Wildcats' other Power 5 pal in the Bottom 10, was idle this week. Both programs are dying for a shakeup in the coaching department, though.
UConn gets further and further away from the bottom 10 thanks to its 3 wins on the year and its second win in a row. Congrats to the Huskies!
Projecting the CFP
This is how I expect the College Football Playoff to look after the dust settles on selection day in December. It's not just a reflection of how I think these teams have played through 4 weeks of games, it also factors in their remaining strength of schedule, injuries, possibility of winning a conference championship, and more.
I project this year to be a test of the Playoff Committee's values. There's a relatively strong possibility that both Alabama and Georgia enter the SEC Championship Game undefeated and with a handful of quality wins under their belts. One of the teams will walk away without a conference title, and those titles have been a heavy consideration for the Committee in years past and still make for an excellent bullet point on any team's Playoff resume.
There are a handful of teams that are still undefeated through 5 or 6 games and look like they could legitimately contend for an 11-1 or 12-0 record in the regular season, such as TCU, UCLA, USC, and Oklahoma State, among others. If any of those teams were to go 11-1 and win their conference championships, would they slot in over the loser of the SEC Championship Game?
Like I said last week, let's just hope "the teams just make it easy on us and sort the Playoff considerations out with an extra loss or two."
1. Georgia
No surprises here, as Georgia "recovered" from close wins against Kent State and Missouri by crushing Auburn last weekend, 42-10.
They're my projected favorite for the SEC title, but only by the slimmest of margins over Alabama.
2. Ohio State
Boy, do the Buckeyes look good. They haven't played a "close" game since Week 1's win against Notre Dame. Of course, it sure helps when you play two struggling Big Ten teams in Wisconsin and Michigan State, plus two of the bottom-30-or-so teams in college football, Arkansas State and Rutgers. However, there's really nothing you can do except beat the teams in front of you, and Ohio State has crushed the teams in front of them. They have earned their "Playoff contender" label.
Of course, Ohio State still has big games against Penn State and Michigan still to come, so they're not a lock just yet.
3. Clemson
There's not a whole lot of trouble left on Clemson's schedule, now that they've beaten Top-20 teams in consecutive weeks, so the Tigers look like the surest (but not a lock, because this is college football and weird stuff happens!) bet out of the three to win their conference and lock in their spot in the Playoff.
4. Alabama
It looks like the Tide — or, if you think they're going to beat Georgia in the SEC championship game, put Georgia here at #4 — may sneak in as the last team in the Playoff. While there are a couple of undefeated teams in the Pac-12 and Big 12 left, I don't think any of them will remain undefeated in the regular season, nor will any of them dominate their opponents in a way that will help them put a hammerlock on a Playoff spot. USC still has Utah and UCLA left on their schedule, UCLA has Oregon and USC left, and Oklahoma State and TCU play each other this week, so it looks like those last undefeated teams are going to "cannibalize" each other's records and knock themselves out of Playoff consideration just in time for Alabama to go 13-0 or 12-1.
Others to watch for: USC, UCLA, Oregon, Tennessee, Oklahoma State, TCU, Syracuse(?), Michigan, Penn State
Bowl Projections After Week 6
A few matchups that are worth highlighting in this iteration of the projections:
The Rose Bowl: Oregon vs. Michigan — Premised on Oregon becoming a two-loss champion of the Pac-12 this season, I project the Ducks to face off against Michigan, whose only projected loss comes against Ohio State. The Wolverines don't have the strength of schedule or strength of record currently to challenge for a CFP spot, even with a loss to Ohio State, so their consolation prize for what looks to be another strong season under Jim Harbaugh is an appearance in "The Granddaddy of Them All." I would be happy to see Michigan's power running team against Oregon's defense, and Oregon's balanced-but-leans-run-heavy-offense against Michigan's top-tier defense.
Cotton Bowl: USC vs. UCF — USC, with a projected loss or two, will ultimately fall behind Oregon in the CFP rankings, but will get a nice consolation prize with the Cotton Bowl. UCF, as the projected highest-ranked Group of 5 team at the end of the season, will get a matchup against another three-letter opponent. This is the first week I've had the Knights projected over Cincinnati in the American, which includes a projected win (by the slimmest of margins) against the Bearcats on October 29th. This game is almost certain to feature all kinds of offensive fireworks, as USC has one of the best offenses in the country, while UCF is no slouch offensively. Neither team has a lockdown defense, either.
Jimmy Kimmel Bowl: Air Force vs. BYU — Here, BYU takes the Pac-12's final bowl tie-in. I expect the Pac-12 to have two teams in the New Year's Six Bowl games and not enough bowl-eligible teams to meet all of their obligations to different bowls, so I think ESPN will pick BYU to fill that role and give us a very entertaining G5 vs. future Big 12 matchup. The two teams appear fairly evenly matched for this matchup, and they'll get to do so in beautiful SoFi Stadium in Los Angeles.
Bowl Projections After Week 6
Games to Watch This Week
We have a couple of games with major Playoff implications this week in the SEC, Pac-12, and Big 12:
#3 Alabama at #6 Tennessee: A win for Tennessee makes them a serious challenger to Georgia in the SEC East. It would also likely put Alabama into a tie with LSU for second in the SEC West division, with each team likely holding a 3-1 record against SEC opponents, while Ole Miss would be slightly ahead, at 3-0 in the SEC. Plus, it would add serious legitimacy to the Volunteers' burgeoning Playoff hopes; Tennessee has already hammered LSU and picked up quality wins over Florida and Pittsburgh, but a win over Alabama is in a significantly higher tier than those wins.
A win for Alabama would provide smaller — but still significant — returns because everyone recognizes Alabama as a legitimate Playoff team already. Beating Tennessee will strengthen the Tide's case, if it comes down to a 12-1 conference champion elsewhere and Alabama for that fourth CFP spot, or it will just be another stepping stone on the way to another 13-0 season for Alabama.
[SICKOS GAME] New Mexico at New Mexico State: What a battle we will have in Las Cruces! New Mexico is 2-4 and among the worst in the Mountain West, while New Mexico State is 1-5 and among the worst in college football this season. Both teams need this win in the worst possible way, so they should be playing hard, and the intra-state rivalry should add some extra flavor.
#10 Penn State at #5 Michigan: This is Michigan's first real test, and we're already 6 games into the season. Blessed with perhaps the easiest out-of-conference schedule in college football, Michigan took care of business there and then cruised through the early slate of lower-quality Big Ten opponents (Iowa, Maryland, Indiana). Penn State is a significant step up in quality from the teams Michigan has already faced. Similar to Tennessee, if the Wolverines beat Penn State, they'll add a top-tier quality win to their resume and reaffirm that they are the best and maybe only challenger to Ohio State's bid for a Playoff spot.
Meanwhile, Penn State can still come out of Ann Arbor a winner, even if they lose on the scoreboard, by keeping the game close for 60 minutes. Penn State hasn't played a lot of tough teams yet — perhaps their best win was a 41-12 blowout over Auburn — and a win or even a close loss would show the college football world that Penn State is truly back in the ranks of the college football elite after last year's second-half collapse.
#8 Oklahoma State at #13 TCU: At least one Big 12 team will be left undefeated and with a legitimate chance at the Playoff after this matchup, as both squads hold perfect 5-0 records and have quality wins over Big 12 opponents to start the season. The winner will be in the driver's seat for a Big 12 Championship Game spot and in the Top 10 in the AP Poll. Oklahoma State might even enter the Top 5 if they win easily.
#7 USC at #20 Utah: USC fits into the "they haven't played anyone good" box of undefeated college football teams, as the Trojans' best win is likely their 30-14 victory over Washington State last week. Before that, USC played a slate of weak out-of-conference opponents, like 1-4 Fresno State or 3-2 Rice, and hasn't really dominated any of their early Pac-12 opponents. That being said, USC will absolutely deserve a spot in the AP Top 10 with a win over Utah in Salt Lake City. The Utes are coming off the loss to UCLA and will probably be on their best behavior after that loss and while facing a name-brand opponent.
Featured Image by Michael Packard (@CollectingPack on Twitter)