Broncos @ Chargers
Final Score: Chargers 19, Broncos 16 (OT)
Writer: Michael James (@MikeoftheFF on Twitter)
Russell Wilson and the Denver Broncos visit SoFi stadium in a bid to right the ship after the offensive firework show that was the epic Thursday Night Football game last week.  They face none other than Justin Herbert and the Los Angeles Chargers, looking to improve on his rib injury as well as his team's record.  The Broncos look to show that the extended week helped them improve upon a slew of offensive statistics that they rank bottom 5 in coming into this matchup.  For all the flak the offense has gotten, the defense has stepped up to the task this season and now will face the Chargers who look to add to the momentum from their gutsy win in Cleveland last week.
The Chargers came out firing, going deep to Joshua Palmer on the first play to draw a pass interference call to set the second play of the game already into Broncos' territory.  Denver would tighten up but some 4th down magic allowed a tipped pass to find its way right into the hands of Michael Bandy to convert to keep the drive alive.  However, after a questionable false start backing them up into 3rd and long only to get a questionable non-call on PI favoring Bandy would push them out of field goal range and they would punt it over to the Broncos.  The yellow cloth would find them too, drawing two penalties backing them to a 1st and 20 and now a 3rd and 14, but would also giveth as doth it taketh away, finding a PI against the Chargers to bail them out into midfield for a fresh set of downs.  The drive would end on a Brandon McManus 51-yarder to put the Broncos on the board with three points.  For those counting at home, we now have one drive by each team, and are already at 5 penalties, with each team having more penalty yards than offensive yards.  Woo, let's strap in.
Denver would finally come alive on a third and thirteen that took them six plays just to get to their own 24-yard line, Wilson would be flushed out and find Jerry Jeudy 37 yards and a first down.  The very next play was a 39-yard touchdown to Greg Dulcich who was wide-open down the sideline.  How we got there was ugly, quick one-second side passes with zero step dropbacks, playing very scared.  But for all that at this point, Wilson is 10/10 and has a touchdown.  Herbert would strike back hitting Donald Parham Jr. for 24 yards into Denver territory.  The first quarter has ended and we have only (!) 6 flags, which funny enough, should be higher with a missed face mask and another after the play roughing both in front of an official.  Meanwhile, another attempt to hit Mike Williams deep, but Pat Surtain is all over him like a blanket so far.  Herbert would march the team down the field with 5 short passes into the red zone setting up Austin Ekeler for a 6-yard touchdown to put Los Angeles on the board.
Baron Browning sacked Justin Herbert in 2.70 seconds (from snap to sack).

The @Broncos defense averages the fastest time to sack (3.76 seconds) in the NFL this season, and only unit under four seconds.#DENvsLAC | #BroncosCountry pic.twitter.com/1k9Ot25r9z

— Next Gen Stats (@NextGenStats) October 18, 2022
As the second quarter is winding down, the flags are back and the Chargers are the overall benefactor on this drive, with two PI calls, including another one for Palmer, taking them into Denver territory.  Ekeler pounds his way into the red zone, but a sack on Herbert would set up a Dustin Hopkins kick to tie the game 10 a piece.  Denver used all their timeouts the maintain time so that when they got the ball back Wilson would hit KJ Hamler for a 47-yard bomb to get them into field goal range.  Fortunately, Hamler was wide open because the ball was short and he had to stop and wait for the ball to come down.  After a highly questionable roughing call, the Broncos use a fresh set of downs to set up the McManus 3-point kick to send us to half-time Broncos 13, Chargers 10, Penalty Flags also 10.
stickkkkyyy @lightningstrk12 | | @ESPNNFL pic.twitter.com/5BX5jK8rKz

— Los Angeles Chargers (@chargers) October 18, 2022
While I have you at the break, here's an interesting snippet from a certain box score: (deleted after halftime)

Even more interesting is when you find out Kyle Van Noy is a linebacker.  I have so many questions.  Kyle Van Noy ROS?
GO LONG!!!!

📺: ESPN | @Kj_hamler
pic.twitter.com/EX6GEeUkAD

— Denver Broncos (@Broncos) October 18, 2022
Back to the action, on their first drive in the second half, Los Angeles battled through a holding penalty set back to use a roughing the passer penalty flag to push them into field goal range for Hopkins to tie the game 13 all.  After taking 8 plays a whole distance of 11 yards, the Broncos punt it over to the Chargers who use another Denver penalty to bail them out of a third and long to set up a Parham 12-yard catch to take them into Denver territory looking to try to push for the lead for the first time all night.  After three quarters, the Chargers have found themselves in 14 third-down situations, but would not convert setting up 4th and 1.  But this is a coach Staley team, and we go for it no matter what the analytics say.  Unfortunately for Staley, Damarri Mathis would have a hand on this pass attempt into a bad pass selection resulting in a turnover on downs.  After picking up some rushing yards, Wilson couldn't cook up enough first downs and Denver had to punt it back to the Chargers.  Herbert then threw the first turnover of the game, an interception straight to Baron Browning giving the Broncos their best starting position of the night.  Denver would set this up for McManus to put Denver up by 3 with 8:30 left to go.
DERWIN HIMOTHY JAMES @DerwinJames | @ESPNNFL pic.twitter.com/XVSp8G1nVM

— Los Angeles Chargers (@chargers) October 18, 2022
Herbert would get the ball back and take it technically 58 yards, but 40 of those yards were penalty yards on the Broncos, setting up Hopkins to tie the game again, and is showing clear signs of pain with his kicking leg hamstring.  This is getting ugly as Herbert is struggling to be accurate and it would appear to be laundry day for the zebras out there.  Wilson gets the ball back with 4 minutes to go.  An absolutely brutal sack by Drue Tranquill set the ball too far back and had to give the ball back to Los Angeles on the 4th and 15.  Denver would send the house on every play and it would work, Herbert had no time to get the ball out and faced a 4th down on their side of the field with the game clock running out.  They would opt to time out at 1 second and go for the Hail Mary, but it would come up short and fall incomplete sending us to overtime.  More time for penalty flags, let's go!
Big-time play, rook. 💪

📺: ESPN | @Marri863 pic.twitter.com/aYnCkptQ9S

— Denver Broncos (@Broncos) October 18, 2022
Russell Wilson gets the ball first and it's time to see what's cooking in his kitchen.  A plate of two handoffs with a side of a third-down pass into the dirt in front of his receiver.  After getting the ball back on a punt, it's another fightin' Chargers penalty flag, Herbert is looking at 1st and 19 on his own 10-yard line.  A short pass for comfort yards and two incomplete deep throws later, the Chargers are 3 and out and back to the Broncos who will be looking to run the ball into McManus' range.  Two runs for no real gain and a deep shot defended by Asante Samuel has Denver punting it right back.  The Chargers would fare no better, and send a booming punt into the receiver who had his blocker collide with him causing the ball to be considered touched by Denver and recovered by Los Angeles.  Now with the ball in Denver territory, the Chargers run 3 plays to keep the ball in Hopkins range, who is kicking with a hurt leg for the win.  After Denver ices the kicker, the snap is off, the hold is good and the kick… is… GOOD.  The Chargers win it in overtime.
This game started out strong with some offense in the first half and then just ground through a defensive slog for the remainder of the game.  I picked a bad day to quit sniffing glue to cover this one.  Both teams were sending extra rushers all night forcing the quick-release throws and not giving them any extra time in the pocket.  Neither team eclipsed 100 yards rushing, and both teams averaged under 5 yards per play.  Denver was only 4-14 on third downs, and Los Angeles was 11-22 on third down.  The real winner tonight was the manufacturer of the official NFL penalty flag as it was thrown 19 times tonight, taking center stage as both teams had more penalty yards than rushing yards.  The Chargers move to a tie for first place in the AFC West and host Seattle next week.  Denver moves to 2-4 and will host the Jets on next week's episode of "Can Nathaniel hack it?"
Patrick Surtain did not allow a reception in coverage for the second time in a game this season.

Surtain has allowed just 142 yards on 35 targets this season, the 2nd-fewest yards allowed in the NFL (min. 30 targets).#DENvsLAC | #BroncosCountry pic.twitter.com/50JSh6Z8tT

— Next Gen Stats (@NextGenStats) October 18, 2022
Denver Broncos
Quarterback
Russell Wilson: 15/28, 188 Yards, TD | 4 Carries, 23 Yards
If you had watched this game,  you would know Russell Wilson was 10 for 10 in the first quarter as they only reminded you every 5 minutes.  Sadly, he was 5 for 18 for the rest of the game.  Khalil Mack and the rest of the Chargers' pass rush made their presence known, and Chef Wilson cooked a bit of magic in the first quarter to punish them on back-to-back passes for a touchdown drive.  However, he seemed to run out of ingredients in the kitchen after that.  72 yards after that touchdown scoring drive, with 47 of them coming on one play.  He did get you a couple of points from rushing to start the 4th quarter, but there were just so many badly thrown balls.  There were 3 deep balls thrown in the second half, all incomplete.  There were 4 shots at the end zone that were either off the mark or well-defended.  Wilson was under pressure all night and as a result, nothing really got down the field with less than 200 yards passing.
The play that set up the TD >>>

📺: @espn | @jerryjeudy pic.twitter.com/YqZ5UehF6m

— Denver Broncos (@Broncos) October 18, 2022
Drue Tranquill timed the snap perfectly, sacking Russell Wilson in just 2.25 seconds, the 4th-quickest sack this season.

The Chargers win probability increased from 46% to 61% as a result of the sack.

Tranquill (2022): 7 pressures (T-5th among off ball LB)#DENvsLAC | #BoltUp pic.twitter.com/AH2i905lYd

— Next Gen Stats (@NextGenStats) October 18, 2022
Running Back
Latavius Murray: 15 Carries, 66 Yards | 1 Target, 1 Reception, -2 Yards
Melvin Gordon III: 3 Carries, 8 Yards
Mike Boone: 1 Carry, 1 Yard | 4 Targets, 1 Reception, 3 Yards
Everyone who rosters Melvin Gordon III is going to be wondering what happened, not seeing an injury report but also not seeing the volume.  Well, only Coach Hackett knows, as spoken to by Troy and Joe as well on the broadcast.  Whatever happened, they just decided they liked Latavius Murray better.  Many camera shots were shown of Gordon on the sideline with a mean mug clearly not pleased with the decision to focus on one ball carrier that wasn't him.  I wish I had more information for you on that front, but I'm sure it will get addressed in the post-game interviews.  Murray actually looked okay and serviceable with his 4.4 YPC.  Leading up to this game it was said by the coaching staff they need to rely on the run more, and yet on 3rd and 1 in overtime, they opt to throw it instead.  Mike Boone did have an end zone target but was unable to go for the ball.
Wide Receiver/Tight End
Jerry Jeudy: 7 Targets, 3 Receptions, 54 Yards
Courtland Sutton: 3 Targets, 2 Receptions, 14 Yards
Greg Dulcich: 3 Targets, 2 Receptions, 44 Yards, TD
KJ Hamler: 3 Targets, 2 Receptions, 44 Yards
Eric Tomlinson: 1 Target, 1 Reception, 16 Yards
Kendall Hinton: 1 Target, 1 Reception, 8 Yards
Andrew Beck: 1 Target, 1 Reception, 7 Yards
Montrell Washington: 1 Target, 1 Reception, 1 Fumble (Lost), 1 Fumble (Recovered)
Yet another week of Wilson not being in sync with his two primary receivers.  Courtland Sutton drew the primary coverage, and with no time to sit through progressions, Jerry Jeudy was the beneficiary of the attention shown to Sutton.  The bottom line is when you only complete 5 passes for 3+ quarters of football, there's not a lot on the box score.  Jeudy had two end zone targets, but the pass wasn't there to be brought in.  Greg Dulcich had another end zone target in addition to his first touchdown catch for his career.  A lot of quick throws with zero step drops resulted in a lot of side-throws to different targets as you can see 5 different targets each, 5 receptions each.
YOU ABSOLUTELY LOVE TO SEE IT.

📺: ESPN | @Greg_Dulcich pic.twitter.com/JDh8s1kyjJ

— Denver Broncos (@Broncos) October 18, 2022
Los Angeles Chargers
Quarterback
Justin Herbert: 37/57, 238 Yards, INT | 2 Carries, 9 Yards
For the second time this season, a quarterback has thrown 57 times, and zero of them for touchdowns.  Justin Herbert spent the majority of the night getting blitzed and was throwing hurried passes with that.  He came out flat going 1 for 5 on the opening drive and only marginally improved from there.  He had trouble staying accurate with a lot of balls being uncatchable.  I don't know if it's the rib injury causing it, but he is having difficulty staying accurate with quick twists and throwing on the move.  Herbert beat his career low of air yards per pass tonight with only 2.2.  He was sacked twice, hit 8 times, and had 9 of his passes defended from his receivers.  He went after the rookie cornerback for the Broncos Damarri Mathis as he was just a pass interference generator for them, keeping drives alive that otherwise would have ended.   He found himself in a lot of third downs tonight (22) which narrowed down his target selection to practically whoever the person Mathis was covering.
OUR BALL!

📺: @ESPN pic.twitter.com/wxl4Uhibhp

— Denver Broncos (@Broncos) October 18, 2022
Running Back
Austin Ekeler: 14 Carries, 36 Yards, TD | 16 Targets, 10 Receptions, 47 Yards
Sony Michel: 8 Carries, 28 Yards | 3 Targets, 3 Receptions, 14 Yards
Owners of Austin Ekeler were happy with his result, much more so from PPR owners who were elated to see SIXTEEN targets for their RB, bringing in ten of those.  When you scheme quick passes, they generally go to the RB out in the flat, and Ekeler had a box score that reflected as much.  Ekeler also ran a deep route he was targeted on but the ball sailed way over his head out of bounds.  I was surprised by the amount of work Sony Michel got, getting 11 touches on the ball, especially when the game was so close all night.  All in all, nearly 20 of Herbert's 57 passes went to his running back.  The only note of concern was the stout run defense of Denver put a damper on both back's YPC, really running into brick walls, but the volume of touches should alleviate concerns moving forward.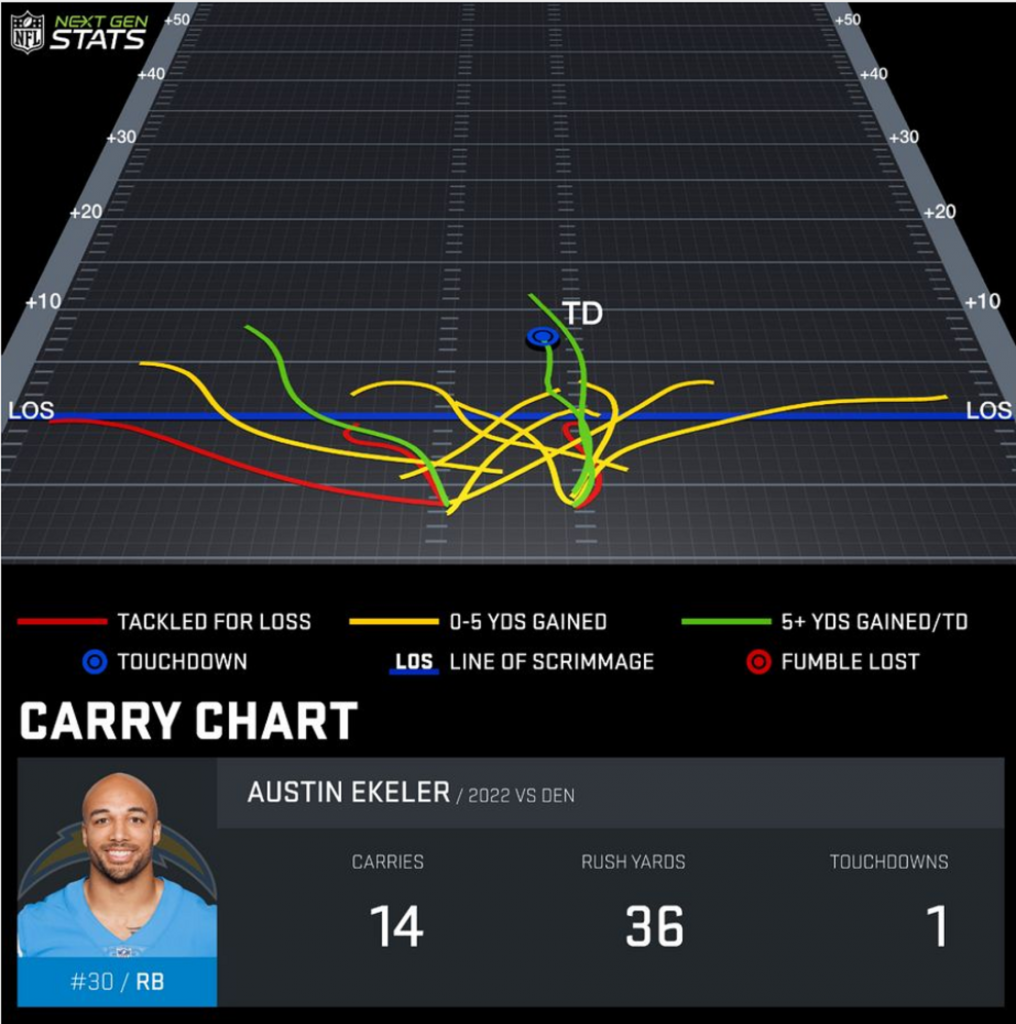 Wide Receiver/Tight End
Joshua Palmer: 12 Targets, 9 Receptions, 57 Yards
Mike Williams: 6 Targets, 2 Receptions, 17 Yards
Gerald Everett: 7 Targets, 5 Receptions, 29 Yards
Donald Parham Jr.: 3 Targets, 3 Receptions, 53 Yards
DeAndre Carter: 5 Targets, 3 Receptions, 17 Yards
Michael Bandy: 2 Targets, 1 Reception, 4 Yards
Zander Horvath: 1 Target, 1 Reception
And the person Mathis was covering all night was Joshua Palmer, who benefited from double-digit targets going for 57 yards on the night.  9 receptions sustained you in PPR, otherwise an okay box score stat line.  Pat Surtain set up shop on his little island all night and hosted Mike Williams, covering him like a wet blanket.  Multiple passes thrown his way were deflected for an incompletion because of the defensive coverage straight taking him out of the game.  He only had 1 reception in regulation, effectively being shut down all game long.  This would have presumably been the role for Keenan Allen, but he was held out tonight to give him one more week for his injury to heal.  He is expected to return next week, according to the broadcast.  Williams was the target of an end zone fade, but the ball was well overthrown and uncatchable.  He did have a beautiful sideline deep ball that got the crowd going, but the officials deemed his foot to be one inch out of bounds sadly.  Aside from Palmer being the target to bully on the Broncos' rookie CB, Gerald Everett got involved in being Herbert's go-to for needing to get the ball out to the chains for the down, bringing in 5 of his 7 targets, though not for many yards.  Donald Parham got off to a great start in the first half of the game but faded for the second half going for no targets for the rest of the game.
smells like chicken parm @Jiggydd_89 | @ESPNNFL pic.twitter.com/Rn1K503wPV

— Los Angeles Chargers (@chargers) October 18, 2022
Photo by Jevone Moore/Icon Sportswire | Adapted by Justin Paradis (@JustParaDesigns on Twitter)