Miami Dolphins @ Jacksonville Jaguars
Gardner Minshew-Mania reached its peak going into Thursday with many people buying into him as a valuable starting quarterback this week. The loss of D.J. Chark seemed to play a factor as Minshew had easily his worst start of the season, with no clear valuable receiving option establishing itself this week. Ryan Fitzpatrick had himself a nice game, producing some good fantasy outcomes for the borderline starters in Miami this week.
Miami Dolphins
Quarterback
Ryan Fitzpatrick: 18/20, 160 yards, 2 TD's, 0 INT's, 1 Sack | 7 carries, 38 yards, 1 TD
There is nothing but good things to say about the performance Ryan Fitzpatrick had on Thursday night. The offensive line gave him plenty of time to work, and he made the simple throws and didn't try to do too much in their 31-13 win. He also showed his usual grit at the quarterback position rushing 7 times, including a designed QB draw for a touchdown at the goal line. Fitzpatrick started off on fire completing 11 for his first 11 passes on throws all less than 20 yards downfield. With the game script not forcing him to throw the ball as often, Fitzpatrick made his throws count, connecting on touchdown passes to Mike Gesicki and Preston Williams, both very nice passes that lead his receiver.
Running Backs
Myles Gaskin: 22 carries, 66 yards, 0 TD | 5 targets, 5 receptions, 29 yards
Jordan Howard: 3 carries, 1 yard, 1 TD
Matt Breida: 3 carries, 4 yards
Any concerns about Myles Gaskin being the main back in the Miami backfield were calmed on Thursday as he clearly lead the team in snaps for running backs and carries, including being much more involved in the backfield on passing downs, with 5 targets compared to zero from any other back. Matt Breida, who we thought would be much more involved in their offense this season, only received carries to spell Gaskin from time to time. The only concern was that Jordan Howard took the carries down at the goal line, including his touchdown run from the 1-yard line. But the lead back role for Gaskin is very encouraging as he will continue to rise to starting territory in your fantasy lineups.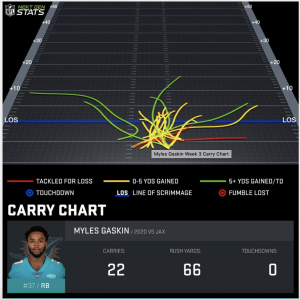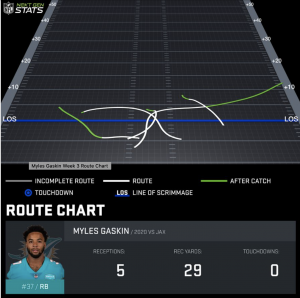 Wide Receivers/Tight Ends
DeVante Parker: 5 targets, 5 receptions, 69 yards
Mike Gesicki: 3 targets, 1 reception, 15 yards, 1 TD
Preston Williams: 2 targets, 2 receptions, 7 yards, 1 TD
With a 90% completion percentage from Fitzpatrick, there were no concerns with Miami receiving options dropping passes or not being on the same page as their quarterback. The lead receiving option was cleary DeVante Parker, who lead the team in targets as a receiver and caught all those passes, not looking too hampered by an injury, which I was a bit concerned with coming into this game. Due to the game script, no other receiver was able to have the big fantasy output we expected from this matchup, but Preston Williams was able to get open in the back of the endzone on a short 4-yard touchdown strike, as we keep waiting for him to emerge more in this offense. Mike Gesicki saved himself from a goose-egg this week with a beautiful leaping catch over a defender on an out-route for the touchdown and his lone reception. I would not be too concerned with the lack of production from the passing game, as the struggles were much more game script caused than inefficiencies.
Jacksonville Jaguars
Quarterback
Gardner Minshew: 30/42, 275 yards, 0 TD, 1 INT, 4 Sacks | 3 carries, 22 yards
I found myself this week really buying into Minshew-mania and picking up Gardner Minshew to stream in this golden matchup against Miami. Unfortunately, that move seems like it will come back to bite me as the Dolphins were able to get pressure on him forcing Minshew to dump off more without his number one target in the offense available. Most of his completions were for 10 yards or less, with only 1 going for more than 15 yards, making for a very disappointing fantasy day.  We can't take much out of his interception as it was late in the game with some clear miscommunication on the route between him and Chris Conley. I can't say I'm fully off the Minshew bandwagon, especially when he will likely get D.J. Chark back next week. But this game is a fair reminder of the clunkers that Minshew is capable of putting up.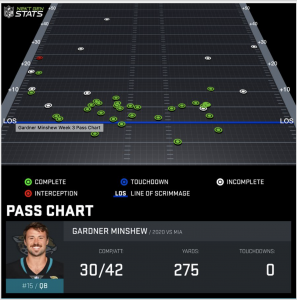 Running Backs
James Robinson: 11 carries, 46 yards, 2 TD | 6 targets, 6 receptions, 83 yards
Chris Thompson: 2 carries, 3 yards | 6 targets, 5 receptions, 35 yards
For an undrafted rookie, I have been very impressed with James Robinson, clearly establishing himself as the lead back and showing some real talent out of the backfield this week. With Minshew being much more uncomfortable in the pocket this week, he was much more willing to dump the ball off to Robinson, who caught all six of those targets. Only game script kept him from getting more carries, nothing due to his talent and power he showed this week. You may look at the Chris Thompson stat line and think he was very involved in the passing game. You would be right with thinking that, but once again it was game script dependent especially on third down in the passing game, limiting a bit of the upside from Robinson for the weeks to come. But with what we've seen I'm likely keeping Robinson in must-start territory from here on out.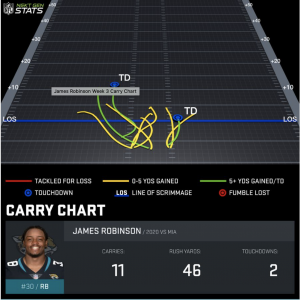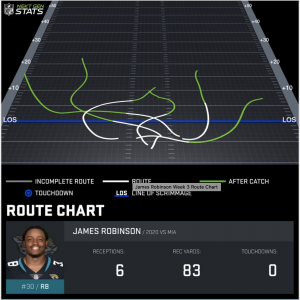 Jaguars HB snap count on 3rd/4th downs, or within 4 minutes of a half
Chris Thompson 17
Dare Ogunbowale 5
James Robinson 5

— Nathan Jahnke (@PFF_NateJahnke) September 25, 2020
Wide Receivers/Tight Ends
Keelan Cole Sr.: 5 targets, 4 receptions, 43 yards
Chris Conley: 8 targets, 3 receptions, 34 yards
Laviska Shenault Jr..: 6 targets, 5 receptions, 33 yards | 1 carry, 1 yard
Tyler Eifert: 3 targets, 2 receptions, 11 yards
Dede Westbrook: 1 target, 1 reception, 4 yards
With the injury to D.J. Chark, we all thought that there would be an uptick in targets for either Laviska Shenault or Keelan Cole this week. Unfortunately, neither receiver got such an increase in targets, as it was Chris Conley who lead the Jaguars in targets and who Minshew looked to in crucial moments. That did not really work as Conley had a case of the butterfingers on Thursday, with multiple drops. When Minshew was looking to go a bit deeper, Keelan Cole was the primary option, with only one other target of 10 yards downfield going to Laviska Shenault this week. I am not going to worry too much about these options as the return of D.J. Chark should help their upside, especially when Minshew isn't under as much pressure as he was this week. But it can be a little concerning that these options were not getting the downfield targets we hoped for.
(Photo by David Rosenblum/Icon Sportswire)