Eagles @ Chiefs
Final Score: Eagles 21, Chiefs 17
Writer: Adam Sloate (@MrAdster99 on Twitter/X)
Last year's Super Bowl matchup, which ended with 73 total points, set expectations high for this Week 11 rematch. Instead, we got a defensive masterclass in the first half from Kansas City Defensive Coordinator Steve Spagnuolo and an offensive disasterclass from Kansas City's offense in the second half. Philadelphia performed in exact opposite fashion, looking like a Chester County deer in the headlights in the first half before regaining some of its mojo and scoring just enough to take home the W in the second half. While Philadelphia's defense never reached 5 sacks-level dominance, it did come up with some key stops in the second half, like Josh Sweat's almost-sack that became intentional grounding on the final drive of the game. Kansas City's offense also came up with some key stops, thanks to a backbreaking red zone fumble from Travis Kelce and a haunting drop from Marquez Valdes-Scantling that was a surefire go-ahead touchdown if caught. Ultimately, the Eagles walked away with a hard-earned victory that should bring some positive vibes into their Sunday afternoon matchup with the maybe-but-maybe-not-surging Buffalo Bills. Kansas City will surely be looking to let off some steam after this one and should be able to lay the beatdown on a newly motivated but not particularly talented Las Vegas Raiders team.
Three Up
DeVonta Smith: Philadelphia's leader in targets and receptions this week; he nearly hit the century mark in receiving yardage with Dallas Goedert out for the game.
Isiah Pacheco: Churned up a normally dominant Eagles front for 4.7 yards per carry and 89 rushing yards. Looked unstoppable on first contact, especially in the first half.
D'Andre Swift: Returned to form after a rough stretch. Tacked on a rushing touchdown while averaging an eye-popping 6.3 yards per carry.
Three Down (note that these are relative to their normal performances)
Patrick Mahomes: Could not link up with receivers in the second half, as hard as he tried. The result: a season-low passing yardage output.
A.J. Brown: Was erased for much of the night, as was much of the Philadelphia passing game; had a minor dust-up with Jalen Hurts after an interception in which he was the intended target and ad-libbed the route while Hurts was under pressure.
Marquez Valdes-Scantling: A game-losing drop is sure to land you in the "Three Down" column, regardless of name recognition or pedigree…not that MVS has either.
Philadelphia Eagles
Quarterback
Jalen Hurts: 14/22, 150 yards, 1 INT, 5 sacks | 12 carries, 29 yards, 2 TDs
In the first half, Chiefs DC Steve Spagnuolo had the Eagles' number on the offensive line. Unblocked guys ran right at Hurts, as Kansas City has been accustomed to all season,  leading to an absurd four sacks in the first two quarters. Hurts was jittery in the pocket as a result:
Hurts is struggling in the pocket. His eyes are dropping and he isn't buying time — just looking for escape hatches ASAP.

Spags + C. Jones are finding success against the line as well. PHI needs to get some quick game rolling to get AJB involved without risking more sacks.

— Benjamin Solak (@BenjaminSolak) November 21, 2023
He also tossed an ugly interception on a play that should have been an easy A.J. Brown completion:
Hurts throwing a pick aside, it really sucks their stupid legs touched while he was down… Because this heads-up play by AJ Brown is unbelievable pic.twitter.com/Zz279A0T8K

— Josh Reynolds (@JoshReynolds24) November 21, 2023
In the second half, Hurts reverted back to the 2021 version of himself, a time when the passing attack felt secondary to his running tendencies. It's hard to blame him, given that DE Chris Jones was bullying the Eagles' offensive line time and again and the rest of the team was strolling on up to Hurts within a few seconds of the snap. Accordingly, Hurts tucked the ball and ran a few more times, ultimately tallying up 12 carries on the evening. However, he still showed off that hunger for deep shots downfield, finding DeVonta Smith for the longest and most explosive play of the night for either team:
JALEN HURTS TO DEVONTA SMITH 🔥

Eagles follow with a tush push TD to take the lead.

(via @NFL)pic.twitter.com/U1lstmIKUB

— Bleacher Report (@BleacherReport) November 21, 2023
Fear not, Hurts also added a couple of touchdowns on the ground to return some sweet, sweet fantasy value. It's nice to see that his knee is back in form, but I sure hope he retains that high-quality passing prowess that's been present over the last few weeks.
Running Back
D'Andre Swift: 12 carries, 76 yards, TD | 3 targets, 3 receptions, 31 yards
Swift had a terrific first half, as the ground game finally woke up after a difficult stretch. Swift engineered 47 yards on eight carries in the first half, including a tough run to get the Eagles into the red zone. With Hurts looking a little more healthy and subsequently opening up the ground game, Swift was still able to find some running room and generate some extra yardage.
So damn happy that D'Andre Swift got to get a fresh start back home in Philadelphia. Jump started his whole career. Ran for a touchdown on the next play! #DGD pic.twitter.com/ReqkUgKhYH

— Thumser (@JeffreyThumser) November 21, 2023
In the second half, it was more of the same. Swift manufactured gains on the ground when it seemed like there were no yards to be had. Not only did he find running room, he also picked up some serious yardage on screen passes and other short-yardage passing work to put the Eagles in prime scoring position:
DO IT AGAIN!

Jalen Hurts to D'Andre Swift on a middle screen.

Keep running that play. pic.twitter.com/qQttmSM6Kn

— DIE-HARD 🦅 Fans (@Eaglesfans9) November 21, 2023
What a return to form for Swift and the Philadelphia offensive line on the ground. The line struggled to pick up some of the early challenges Steve Spagnuolo threw at them, but they came together quite well to help Swift put together his best total yardage output since Week 5. He is so back.
Extra side note: Swift was picking up some blitzes in pass coverage. One of the big reasons that Kenneth Gainwell was seeing field time was because of his superior pass protection, but if Swift can continue to show that pass protection skill week in and week out, he'll never come off the field.
Kenneth Gainwell: 1 carry, 1 yard | 1 target, 1 reception, 4 yard
Gainwell didn't exactly…gain well. He was a total nonfactor. Philadelphia appears to finally be done with the Gainwell lead back experiment, and we're not seeing the heavy rotation many expected at the start of the season. Rashaad Penny was in street clothes while Gainwell and Boston Scott prowled the sidelines for most of the game. This is D'Andre Swift's backfield.
Wide Receiver/Tight End
A.J. Brown: 4 targets, 1 reception, 8 yards
A. J. Brown was practically invisible today, though pretty much everyone in this pass-catching corps was a non-factor with Hurts struggling to orchestrate the passing offense. His most notable play of the day was this terrific hustle play on the Hurts interception, reproduced here from earlier in the column:
This was ALMOST the play of the year.

After Jalen Hurts threw an interception, A. J. Brown waited for the defender to get up to strip the ball…

🎥 @NFL pic.twitter.com/yeJEMLYPx1

— The Athletic (@TheAthletic) November 21, 2023
After the interception, Brown was seen yelling at Hurts on the sideline, which I wouldn't characterize as a big deal, given that they've had these types of discussions on the sideline before and are very close friends off the field. I wouldn't be surprised if he gets right back to his top-tier production next week as the Eagles try to feed him the ball to get this offense going.
DeVonta Smith: 8 targets, 6 receptions, 99 yards
Smitty has now had exactly 99 receiving yards in two of the last three weeks. He is finally rewarding fantasy managers who held onto him through the "lean weeks;" this renaissance should continue, at least while Dallas Goedert is out. As we all know, Smith has WR1-ish talent in his own right, so it's no surprise that he can go off in any given week. But Goedert's absence helps facilitate an increased workload for Smith, as the tight end tends to vacuum up plenty of targets when he's on the field. Those vacated targets primarily ended up in Smith's hands today.
Smith, who set a franchise record for most receptions in a season by a wide receiver last year, was targeted all over the field. Philadelphia moved him into the backfield at one point and sent him on what looked like a wheel route for a short gain. They also peppered him with intermediate targets, and of course, tried to get him a few looks deep downfield, per above. He'll be a great choice in any given week as teams devote more and more resources to stopping AJB, and the absence of Goedert lifts his profile further.
Kansas City Chiefs
Quarterback
Patrick Mahomes: 24/43, 177 yards, 2 TDs, 1 INT, 1 sack | 6 carries, 38 yards
The weather may have been a factor, but Patrick Mahomes barely threw the ball downfield in the first half, letting the run game do the work and then filling in the gaps on mixed or clear passing downs with some passing and a surprising amount of running work (29 yards in the first half). Take a look at his first-half pass chart: not much there beyond the sticks. But hey, 2 touchdown passes in between raindrops in the first half!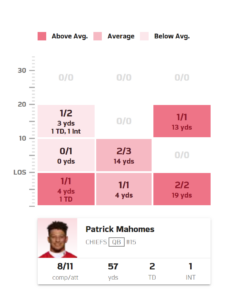 The second half was a very different story. Mahomes started to look downfield as the Eagles' defense wore down, and he found receivers with a bit more regularity. He posted 120 passing yards in the second half, compared to 57 in the first: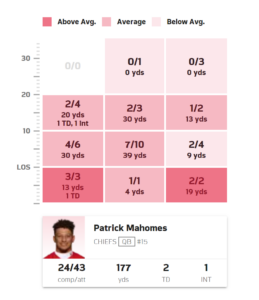 Here we see a handful of additional looks beyond the sticks and a lot of between-the-hashes passes, evidence of an increased focus on Travis Kelce. However, this passing chart is lacking some of the plays that turn passes into huge fantasy points. Compounding his struggles was the fact that Mahomes looked strangely inaccurate on some downfield looks and his receiving corps was inadequate on other downfield looks; more on that later. Accordingly, Kansas City scored a whopping zero points in the second half, letting Philadelphia's start-and-sputter offense back into the game.
If we're doing a comparative negligence exercise, where do we assign fault to members of the offense, I would say this offensive performance was about 30 percent Mahomes, 70 percent everyone else. Could he have been better as a passer? Absolutely. But the KC offense was stagnant for long stretches thanks to miscommunications, penalties, and unforced incompletions, and the Eagles defense made adjustments to contain his scrambling ability, just enough to strip away an important dimension of the Kansas City offense. Keep starting him, because who's benching Patrick Mahomes in fantasy? But you have to wonder when (or if?) the Chiefs receiving corps will wake up and play with more focus and greater attention to detail.
Missed opportunities
Where to begin? Uncharacteristic drops from Travis Kelce and frustratingly in-character drops from Marquez Valdes-Scantling, among others, killed whatever offensive momentum Kansas City started to drum up in the second half.
Marquez Valdes-Scantling, oh no.pic.twitter.com/U44nDAjOtV

— Ari Meirov (@MySportsUpdate) November 21, 2023
Does this one count as a drop?
That's game. #Eagles win.#Chiefs had the game.

Maybe we'll see a Super Bowl rematch. pic.twitter.com/QqGlRb1Pv9

— JPAFootball (@jasrifootball) November 21, 2023
Offensive line penalties killed KC tonight. As the Philadelphia defensive line started to tighten up, the Chiefs were called for a few back-breaking holds and false starts that set them behind the sticks and into 3rd-and-long situations that are hard for any offense to survive.
Mahomes was flagged crushing intentional grounding penalty to avoid a sack by Josh Sweat; putting the Chiefs in a near-impossible 4th-and-long that essentially sealed the outcome of this one.
Eagles DT Jalen Carter was this close to another pick, too:
Jalen Carter trying to intercept Patrick Mahomes' spike is both awesome and smart 😂
pic.twitter.com/E3h1gYiHjK

— JPAFootball (@jasrifootball) November 21, 2023
Running Back
Isiah Pacheco: 19 carries, 89 yards | 1 target, 1 reception, 2 yards
Isiah Pacheco was the big story of the night for the Chiefs, ripping up huge gains on the ground against a team that is known for narrowing those lanes and shutting down the run game. Coming into this game, not a single running back had posted 60 or more yards on the ground, so hats off to the Rutgers product for the impressive accomplishment. Credit absolutely goes to him and his ruthless running style that evokes memory of vintage Marion Barber III, but some of his success can be attributed to the Eagles looking to contain Patrick Mahomes with a heavier defensive front and a focus on stopping the pass early:
Eagles have sent 6 rushers twice already tonight (Reddick sack and that 3rd down conversion). Set an extra rusher on the Pacheco run as well.

Not really a heavy blitz defense to this point in the season! Interesting approach against Mahomes.

— Benjamin Solak (@BenjaminSolak) November 21, 2023
Make no mistake, Pacheco's energy and burst tonight were eye-popping. I am hard-pressed to think of a time when he went down on first contact with a Philadelphia defender; his blend of speed and agility was extraordinarily difficult to pin down for an older and slower Eagles defense. Accordingly, Pacheco posted his highest rushing total of the season since Week 4 against the Jets, and his second-best rushing performance (by yardage) overall. It's a shame he wasn't able to find the end zone or garner any passing game looks because his terrific night looks like a middling performance from a fantasy football perspective, an injustice given how great he looked.
Jerick McKinnon: 1 carry, 7 yards | 2 targets, 2 receptions, 8 yards
Clyde Edwards-Helaire: 2 carries, 20 yards 
Wide Receiver/Tight End
Travis Kelce: 9 targets, 7 catches, 44 yards, 1 TD, 1 fumble (lost)
Eagles Defensive Coordinator Sean Desai had a clear game plan in the first half: blanket Travis Kelce with two safeties whenever possible. There were a lot of Kevin Byard/Reed Blankenship combos on Kelce, yielding only two Kelce targets. The catch that led to a touchdown was a wonderfully schemed play, essentially using a basketball screen to spring Kelce open. Here, he was in one-on-one "coverage" with Byard:
Travis Kelce making Taylor Swift proud with a TD
pic.twitter.com/pX3gRfwYhp

— Bag Chaser Football League (@theBCFL) November 21, 2023
Kelce came alive in the second half; he was the main beneficiary of Mahomes attacking the center of the field on the Chiefs' final drive as the Eagles were committed to protecting the sidelines and taking as much clock away from Mahomes as possible. Kelce managed only 2 catches for 12 yards in the first half, but ended with 7 catches for 44 yards, topped off with a touchdown to tie it all together. It was a fine fantasy night in terms of yardage for Travis, but tougher in reality in that he finally lost to big brother Jason Kelce for the first time and had no incredibly famous celebrity ladyfriend to console him after the game. However, the big story for Kelce tonight was key mistakes in key situations:
Travis Kelce fumble in the redzone 😳

(via @NFL)pic.twitter.com/wnZgNnuyUQ

— Bleacher Report (@BleacherReport) November 21, 2023
Bad drop by Kelce but he redeems himself on the next play 👏#PHIvsKC #ChiefsKingdom

— KLSFootball (@klsfootball) November 21, 2023
Kelce did, in fact, redeem himself on the next play. He did limp off the field at one point, jogging gingerly back to the sideline, but returned for the key fourth-quarter drives. While it's worth keeping an eye on, it doesn't seem like the injury was particularly serious.
Rashee Rice: 5 targets, 4 receptions, 42 yards
Well, it wasn't the big breakout we were all expecting; Rice didn't garner a particularly large target share, nor did he take advantage of an Eagles secondary that has been very generous to opposing wide receivers on paper. As has been the case this season to date, Rice isn't seeing a monster target workload, but looked efficient with the work he got. It feels like Rice managers are chasing a proverbial carrot while waiting for that big breakout, but good results should come down the line, especially with so many drops from fellow wide receivers (we're looking at you, MVS and Justin Watson).
Until then, Rice remains a high-upside dart throw for now, as he's hyper-reliant on chunk plays and touchdowns to return fantasy value. However, those looking for good news should be happy to hear that Rice was cooking tonight when he had the ball:
Rashee Rice just took Darius Slay's ankles😭😭😭 pic.twitter.com/cM4c5gGDg7

— Braiden Turner (@bturner23) November 21, 2023
He came on and off the field in key spots for the offense, so it doesn't seem like Kansas City trusts Rice fully. Yet.
Justin Watson: 11 targets, 5 receptions, 53 yards, 1 TD
Watson's workload sure came out of left field this week. The Penn product had 25 targets all season prior to this game, but suddenly he caught the opening touchdown of the game and saw a hefty target load throughout the night. I don't know what to make of this, but my guess is that Watson won't see anywhere near as many targets in future weeks, given that he hasn't come close to hauling in 5 receptions in a single game until now.
He was pretty darn open on his touchdown catch, though:
South Fayette alum Justin Watson with a TD on Monday Night Football ‼️ pic.twitter.com/YPcAXNjl79

— WPIAL Insider (@WPIAL_Insider) November 21, 2023
Photo by Mark Goldman/Icon Sportswire | Adapted by Justin Paradis (@justparadesigns on Twitter/X)