Jaguars @ Bengals
Final Score: Bengals 24, Jaguars 21
Writer: Sami Alsado (@samialsado on Twitter)
Billed as the battle between the two most recent #1 overall picks, this Thursday Night billing provided far more entertainment than could have reasonably been anticipated. The winless Jaguars stormed into Cincinnati scoring the first 14 points of the game and were on the goal line right before the halftime break ready to score again. A goal-line stand on a fourth-down Trevor Lawrence speed option then halted the first-half onslaught, leaving the score 14-0 at the half. From there, the Bengals outscored the Jaguars 24-7 behind the improvisational ability of Joe Burrow and a career night for C.J. Uzomah, setting up the game-winning field goal for rookie Evan McPherson.
Cincinnati Bengals
Quarterback
Joe Burrow: 25/32, 348 yards, 2 TD | 3 carries, 4 yards
Joe Burrow has it. What is "it" you ask? "It" is a transient word applied to quarterbacks who bring more to the table than their physical skillset. For today, "it" was Burrow's ability to read defenses with an ease that belies his second-year status – checking to a TE screen that set up the game-winning field goal, and improvisational ability that will have old heads reminiscing on Mike Vick's Madden 2004 playmaker – pointing Uzomah open on a broken play.
🗣UZZZZ!! That man is ballin!! https://t.co/vz2YfaiEaw

— Travis Kelce (@tkelce) October 1, 2021
Burrow spent a lot of the second half in empty sets dinking and dunking to receivers underneath with ease. Of course, he also completed a trademark 44-yard deep ball to Ja'Marr Chase, which is becoming a weekly expectation. Though the greedy may call for more deep ball chucking to Chase, Burrow's final stat line showed how effective this efficient passing offense can be when it's rolling.
Burrow's confidence in his surgically repaired knee has been on a clear positive trajectory with each week. This week continued that trend as Burrow used his legs to extend plays, including the broken play TD that led to the Uzomah score and others where he simply left the pocket and threw the ball away to extend drives without taking a sack.
Adding further fuel to the hype train, the Bengals finally opened up the playbook for Burrow by allowing him to attempt a season-high 32 passes. A lot of this is a credit to Jacksonville's D for stunting the inside running game, but Burrow demonstrated why it's a mistake to handicap such a talented QB. Burrow is ascending as a fantasy asset and likely toes the QB1 – streamer line if he continues these positive trends.
Running Backs
Joe Mixon: 16 carries, 67 yards, TD | 2 targets, 1 reception, 0 yards
Samaje Perine: 3 carries, 7 yards | 1 target 1 reception, 15 yards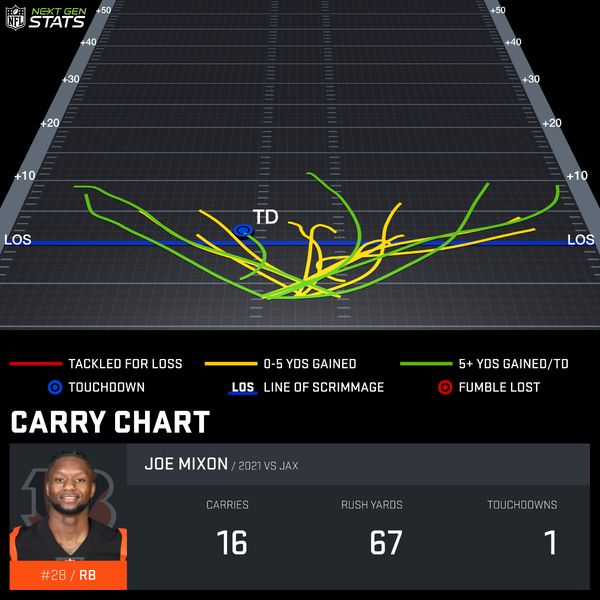 This was a rather uneventful game for the Bengals' running game, as the interior of the line was consistently halted by the Jaguars' front-seven. Mixon was able to find some room stretching runs to the outside in the second half of the game but just as he was gaining momentum he was removed from the game for what was called a "minor" ankle injury by coach Zach Taylor.
Mixon salvaged a relatively weak fantasy performance with a cutback goal-line TD run in the 3rd quarter. Despite the stat-line, Mixon ran hard with his trademark intensity and conviction hitting the hole. Mixon is a true bell cow in a league where they are increasingly difficult to find. Although there are definite concerns around his health and the offensive line that could lead to more weeks that look like this, his entrenched role as a star in this offense gives him too high of a floor to fade in fantasy.
Mixon did drop one screen pass designed for him on a play that was likely going nowhere regardless. Mixon has room to grow as a pass-catching RB, a role the Bengals are looking to fill since Gio Bernard left this offseason.
Samaje Perine was used primarily in pass protection but got some run once Mixon went down with an injury. Perine is a plodding bowling ball of a runner. He won't make defenders miss as Mixon will but he will get what's blocked and finish through contact. Even if Mixon is out, Perine is no more than a volume-based dart throw who will likely split with rookie Chris Evans. The talent drop-off here is stark.
Overall, this game exemplified how even a supremely talented RB like Mixon can't overcome an O-Line that gets no push in the middle.
Wide Receivers/Tight Ends
Tyler Boyd: 11 targets, 9 receptions, 118 yards
Ja'Marr Chase: 9 targets, 6 receptions, 77 yards
CJ Uzomah: 6 targets, 5 receptions, 95 yards 2 TD
Trenton Irwin: 1 target, 1 reception, 25 yards
Auden Tate: 1 target, 1 reception, 18 yards
Michael Thomas: 1 target, 1 reception, 0 yards
On the first play of the game, the Bengals faked a toss to Mixon and snuck Tyler Boyd the opposite way on a drag route which Boyd carried for a season-long 33 yards. From there, Boyd was in vintage form, shaking defenders in the slot on quick timing routes:
🎯🎯🎯🎯🎯🎯 @JoeyB @boutdat_23

📺: #JAXvsCIN on @NFLNetwork
📱: https://t.co/jQ6nvOCVqi pic.twitter.com/AAquMvh9Uz

— NFL (@NFL) October 1, 2021
Tyler Boyd is slot toughness defined. With Tee Higgins injured and missing this game, the Bengals knew they would have to rely more on veterans like Boyd and he did not disappoint. Though there will certainly be points in the season once Higgins is back where Boyd will shift back to a 3rd option, do not forget this stat-line because Boyd is always capable of being a slot target monster.
Ja'Marr Chase getting separation on a fly route seems as certain as the sun rising at this point in the season :
Burrow came out firing in the second half.@Bengals cut the lead in half! @JoeyB #RuleTheJungle

📺: #JAXvsCIN on @NFLNetwork
📱: https://t.co/jQ6nvOCVqi pic.twitter.com/FES2nEXLyu

— NFL (@NFL) October 1, 2021
Prior to this week, Chase was on a scintillating TD pace that was due for some regression – and here it is. Don't let this discourage you though, because Chase did everything you could have expected him to in this game except score that coveted TD. He even set a season-high for both targets and receptions. Chase got one offensive pass interference call on a push-off that he'll learn to make less blatant in time. He was also targeted on another deep ball which was slightly underthrown and well defended. Regardless, Chase is here to stay and is comfortably in the WR2 conversation.
C.J. Uzomah, wow. Who could have expected this? We all knew the absence of Tee Higgins would necessitate someone stepping up into that void, but not even his mother could have predicted the oft-used TE coming off an Achilles tear would throw up a 95 yard, two TD performance. Before I throw water on all the puff pieces that Uzomah is about to star in, it is clear that Burrow and Uzomah have a real connection. Burrow audibled a TE screen to Uzomah which set up a game-winning FG here, reminiscent of the 4th and one play-action audible to Uzomah against the Vikings.
IT'S CJ UZOMAH'S NIGHT. #RuleTheJungle

📺: #JAXvsCIN on @NFLNetwork
📱: https://t.co/jQ6nvOCVqi pic.twitter.com/DAtcXu7ttz

— NFL (@NFL) October 1, 2021
Uzomah on the Burrow audible. "I had to double take that one … He called it and gave me a wink. I'm like, 'this guy is reckless.' He's the smartest guy on the field."

— Paul Dehner Jr. (@pauldehnerjr) October 1, 2021
But, it has to be noted that Uzomah's big TD was on a broken play and the short dump-off TD was more a result of poor tackling than Uzomah's skill. The Jags sat in two-deep coverage all day, leaving the underneath open for Boyd and Uzomah to have big days. Do not go rushing to your wire to pick up Uzomah, this was likely the greatest point of his season if not his career. Once Tee Higgins is back, Uzomah will likely revert back to the low floor, oft-used security blanket he always has been.
Past these three, Trenton Irwin caught a nice back-shoulder pass on the sideline for his first-ever catch and Auden Tate used his 6'5 frame to body a DB on a slant for 18 yards. Even though Tate makes highlight-reel grabs which have some praying on potential, neither of these players are fantasy relevant.
Jacksonville Jaguars
Quarterback
Trevor Lawrence: 17/24, 204 yards | 8 rushes, 36 yards, TD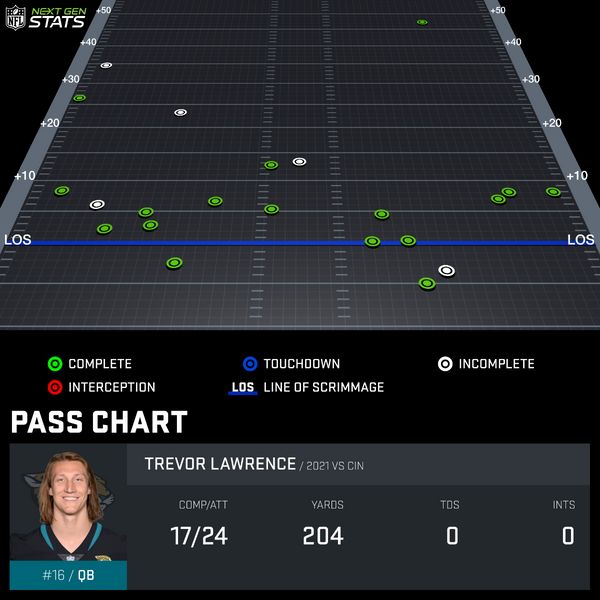 Trevor Lawrence has so many tools, a conspiracy theorist could believe that the blonde-maned super prospect rookie is a lab-built quarterback. With an arm strength that makes Burrow look like he's firing a nerf gun, the athletic gusto to beat DE's one-on-one on read-options, and poise that belies his rookie status – Lawrence is the real deal. Prior to this week, some were questioning the merit of Lawrence's hype as he entered this game with 5 TDs and 7 INTs. But, Lawrence started to silence the doubters tonight with a turnover-less performance that showcased his legs almost as much as his renowned arm.
Trevor Lawrence is looking unstoppable on the read option. #DUUUVAL @trevorlawrencee

📺: #JAXvsCIN on @NFLNetwork
📱: https://t.co/jQ6nvOCVqi pic.twitter.com/n2T8CymQKn

— NFL (@NFL) October 1, 2021
Urban Meyer called multiple read options for Lawrence, including the above TD run. He even called Lawrence on a speed option on a 4th down at the goal line, which was stopped. If Lawrence continues to get designed runs like this, he may not have to put up elite passing numbers to provide value to fantasy owners.
However, the Jaguars receiving core took a blow early in the game, losing deep ball target D.J. Chark to what looks to be a potentially season-ending broken ankle.
#Jaguars WR DJ Chark suffered a fractured ankle, source said. Out indefinitely. Just a brutal injury for one of Jacksonville's best players.

— Ian Rapoport (@RapSheet) October 1, 2021
This led Lawrence to rely on 2nd year WR Laviska Shenault, who more than doubled any other receiver in targets. The typically short yardage target Shenault even got behind the secondary for a 52-yard bomb which was the longest pass Lawrence has hit all year.
Lawrence is easing into his role as franchise savior and slowly finding his place in this offense. Anyone calling bust on Lawrence due to his team's 0-4 record surely didn't watch all the skills he put on display today.
Arm talent. @trevorlawrencee #DUUUVAL

📺: #JAXvsCIN on @NFLNetwork
📱: https://t.co/jQ6nvOCVqi pic.twitter.com/YMhYGwBbjP

— NFL (@NFL) October 1, 2021
There are very few QBs with the arm strength to place this ball so perfectly on the sideline. But with a now weakened WR core which was already relatively weak on talent – Lawrence is in the streaming glut of QBs for fantasy but his floor may be rising if he continues to get designed runs near the goal line like he got today.
Running Backs
James Robinson: 18 rushes, 78 yards, 2 TD | 2 targets, 1 reception, -2 yards
Dare Ogunbowale: 2 rushes, 3 yards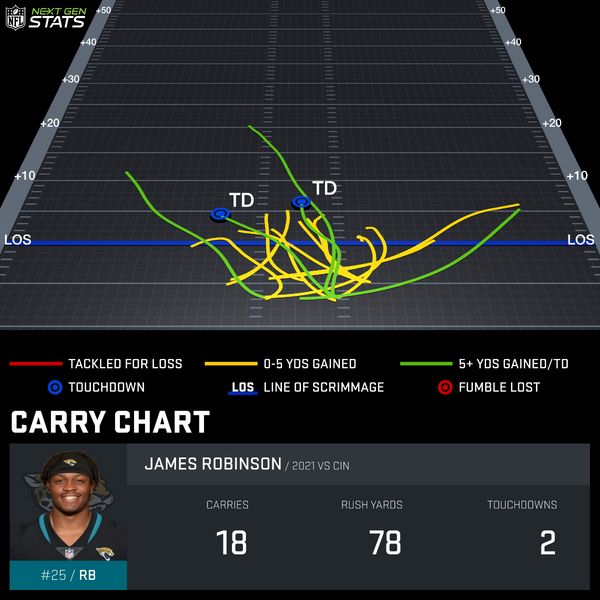 James Robinson had his overdue get-right game, scoring 2 TDs as he gashed the Bengals throughout the first half. Robinson benefited from an O-Line that was dominating the game in the first half as he found holes both inside and outside, piling up yardage as he hit the hole strong and finished through contact.
Unfortunately, in the second half, Robinson only got six carries, which slowed down his progress and halted the momentum the Jags gained in the first half. One of those carries was his second TD which saw him barrel through Von Bell, using his right arm to stay upright and valiantly reach for the end zone.
James Robinson powers through for his second TD of the night!@Jaguars lead 21-14. #DUUUVAL @Robinson_jamess

📺: #JAXvsCIN on @NFLNetwork
📱: https://t.co/jQ6nvOCVqi pic.twitter.com/Qu8J7LLvHp

— NFL (@NFL) October 1, 2021
Carlos Hyde, Robinson's main threat for touches, was a surprise inactive for this game with a shoulder injury, which gave last year's fantasy darling J-Rob a chance to run with the job – and he did. Robinson asserted himself as the clear top option in this backfield.
Wide Receivers/Tight Ends
Laviska Shenault Jr.: 7 targets, 6 receptions, 99 yards
Marvin Jones Jr.: 3 targets, 3 receptions, 24 yards
Tavon Austin: 3 targets, 1 reception, 8 yards
Dan Arnold: 2 targets, 2 receptions, 29 yards
Jamal Agnew: 1 target, 1 reception, 27 yards
Chris Manhertz: 1 target, 1 reception, 7 yards
Luke Farrell: 1 target, 1 reception, 7 yards
Jacob Hollister: 1 target, 1 reception, 5 yards
First and foremost, D.J. Chark suffered a broken ankle early in this game and is likely out for the year, which opened up opportunities for others to shine in this passing O.
Laviska Shenault has been on a roller coaster ride since this preseason when he was one of the most hyped names in the fantasy sphere. Since then, he has been relatively disappointing, not going over 50 total yards in a game. He even bottomed out with a two reception, -3 yards performance in Week 2 which led some to ditch him. The Jaguars have mostly tried to use him in a short-yardage role. Shenault showed impressive strength in the short passing game, bodying smaller DBs on timing routes, and even took the top off the defense by beating Trae Waynes for a 52-yard bomb:
Lawrence goes DEEP for 50 yards to Shenault! #DUUUVAL

📺: #JAXvsCIN on @NFLNetwork
📱: https://t.co/jQ6nvOCVqi pic.twitter.com/sATW2YpVUd

— NFL (@NFL) October 1, 2021
Depending on how you look at his performance today, there is reason to believe this may have been the breakout everyone was waiting for on Shenault. Seen more pessimistically, this is the same stat line he has always put up minus the 52-yard bomb which is the longest play of his career. Regardless, with the injury to Chark and the strong targets he has already been receiving, there is reason to once again dream of Shenault being a fantasy-relevant, target-heavy WR.
Marvin Jones absolutely disappeared in this game and logically that is difficult to understand given Chark's absence. Jones led the Jags in targets the last two weeks, yet he saw as many targets as Tavon Austin in this game. Jones led the Jags in snaps at the WR position as well, further adding mystery to the paltry output. Given the lack of any logical explanation for his disappearance, I think it is safe to give Jones a mulligan on this game. It is possible the Jags targeted other DBs, as they constantly threw toward slot CB Mike Hilton which led to Shenault's bigger day.
Tavon Austin looked ill-fitted for the role he was given in this game and is not fantasy-relevant.
Dan Arnold, fresh off a trade from the Panthers, made his debut and was solid but unspectacular. Primarily cast as a blocker, Arnold is not fantasy-relevant. Three other TE's received catches in this game which had me yearning for a Tim Tebow cameo.
It will be interesting to see how the Jaguars fill the void left by Chark's injury. As of now there is good reason to suggest Shenault is an ascending asset for Lawrence.
Photo by Alexander Jonesi (https://www.flickr.com/photos/alexanderjonesi/) | Adapted by Justin Paradis (@JustParaDesigns on Twitter)