What We Saw: Week 17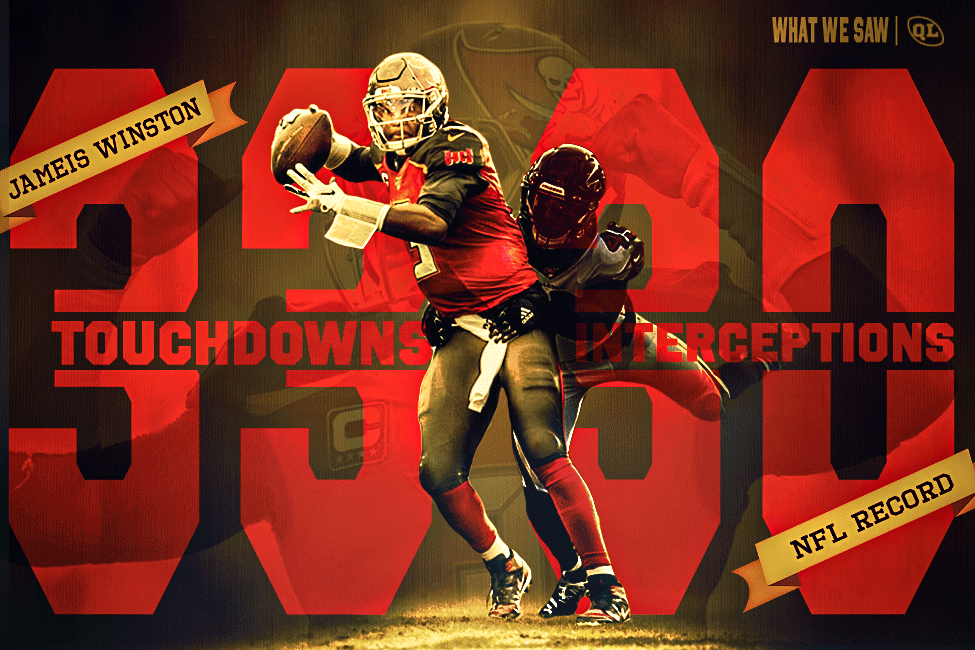 Atlanta Falcons vs Tampa Bay Buccaneers
The Falcons jumped out to a quick lead today, scoring a touchdown on their opening drive and then capitalizing on a Tampa Bay fumble to have a ten-point lead before the Buccaneers had the chance to call more than one offensive play. Tampa Bay responded with two Jameis Winston touchdowns and a strip-sack of Matt Ryan that the Tampa defense returned for a touchdown, and the Buccaneers led 22-16 going into halftime. Unfortunately for the Buccaneers, their kicker would miss a field goal on their first two drives of the second half after also missing one in the first half, and their offense would fail to score any points after halftime. Atlanta was able to put together two late field goal drives to force overtime, and on the first play of overtime, Winston threw a pick-six to end the game. Atlanta won 28-22 and won the time of possession battle 36:22 to 23:45.
Atlanta Falcons
Quarterback
Matt Ryan:

30/51, 313 yards, 1 TD
Matt Ryan capped off a solid fantasy season with another game of over 300 yards passing. His touchdown total for the season was not elite, but Ryan was consistently able to break the 300-yard mark as this offense relied almost entirely on the passing attack to move the chains. He was not overly efficient today as the Tampa Bay pass rush was able to bother him, but he took care of the football and that ended up being enough to get the win. His lone touchdown came on a throw to an offensive lineman that the Buccaneers simply did not cover, and it was an easy throw to a very large target that was wide open. Going into next season Ryan should have the same coaching staff and collection of offensive weapons. If the Falcons can get their offensive line healthy Ryan could return to his MVP-season form, but regardless there is enough here to easily rank him as one of the top-ten fantasy quarterbacks heading into next season.
Running Backs
Devonta Freeman:

18 carries, 58 yards | 4 targets, 2 receptions, 15 yards

Brian Hill:

5 carries, 21 yards

Qadree Ollison:

4 carries, 9 yards
It was a disappointing season for the Atlanta rushing attack, and that continued today as none of their running backs were able to get going. Devonta Freeman handled most of the backfield touches, but the Tampa Bay defensive front did a good job of containing him. The Falcons invested a lot of draft capital in their offensive line this past offseason, and while injuries prevented their line from showing much improvement that improvement should come next season. If Freeman is back as the clear number-one running back he'll have fantasy value, but it would not be surprising to see Atlanta add another running back and return to the split backfield approach they had when Tevin Coleman was still with the team.
Wide Receivers/ Tight Ends
Julio Jones:

13 targets, 7 receptions, 78 yards

Russell Gage:

13 targets, 7 receptions, 68 yards

Justin Hardy:

3 targets, 3 receptions, 40 yards

Austin Hooper:

9 targets, 7 receptions, 45 yards

Ty Sambrailo

: 1 target, 1 reception, 35 yards, TD
Julio Jones finished the season with over 1,400 receiving yards but it still seemed like a quiet year for one of the best receivers in the NFL. He came up limping after a few plays today, but he never left the game for any extended stretch and will head into next season as one of the top-ranked fantasy receivers. Austin Hooper did not have a flashy performance, but he tacked another solid game on to the end of his breakout season. He probably won't be ranked in the elite tier of tight ends heading into next season, but he has shown more than enough to be ranked within the top eight at his position. Ty Sambrailo had the highlight of the game when the offensive lineman ran uncovered up the seam for a long touchdown.
Tampa Bay Buccaneers
Quarterback
Jameis Winston:

13/24, 201 yards, 2 TDs, 2 INTs | 2 carries, 5 yards
Today was a great showcase of the entire Jameis Winston experience. He had plays where he showed off his ability to avoid pass rushers and make incredible throws downfield. He made what was probably an ill-advised pass to Breshad Perriman where he fired the ball into a very small window and followed that up with a perfectly thrown ball to Perriman in the back of the end zone after Winston was forced to roll to his right and had a pass rusher in his face. If you only watched the highlights, it would seem like a no-brainer for the Buccaneers to bring back Winston. Of course, the bad version of Jameis also made an appearance today. He made a couple of ill-advised throws, including the walk-off pick-six he gifted to Deion Jones by not putting enough on the ball. Winston became the first quarterback to have a 30 touchdown and 30 interception season and coupled with his fumbles he averaged over two turnovers a game. Assuming Tampa Bay brings him back he will be one of the most interesting quarterbacks to rank heading into fantasy drafts. He has incredible upside but that ceiling always has to be tempered by the very real possibility that he gets benched for too many turnovers or does not get enough volume to make up the points he loses. If Winston leaves the fantasy-friendly offense of Bruce Arians it would be much harder to talk yourself into him as a fantasy quarterback, and if Tampa Bay brings in any credible veteran as competition that would also be a hit to Winston's fantasy value.
Running Backs
Ronald Jones:

11 carries, 106 yards | 2 targets, 2 receptions, 10 yards

Peyton Barber:

6 carries, 10 yards | 4 targets, 2 receptions, 25 yards

Dare Ogunbowale:

1 carry, 4 yards
Ronald Jones fumbled on his first carry of the game and was essentially benched for the rest of the first half. He fared much better in the second half, breaking off several long runs and looking more like the athletic and powerful runner that the Buccaneers envisioned when they drafted Jones. Peyton Barber was significantly less effective, and at this point, it is clear that Jones is the more talented player. If Jones can clean up some of his mistakes, and work on his ability as a receiver, he should be in line to handle the majority of the backfield work for Tampa Bay next season. His lack of upside as a receiver would limit his ceiling, but this is a high-powered offense so if one running back could have most of the work funnel through him that role would be very valuable.
Wide Receivers/ Tight Ends
Breshad Perriman:

8 targets, 5 receptions, 134 yards, 1 TD

Justin Watson:

4 targets, 2 receptions, 27 yards

Cameron Brate:

3 targets, 1 reception, 2 yards, 1 TD

Tanner Hudson:

1 target, 0 receptions
Breshad Perriman probably earned himself a nice raise with his play over the last few weeks, as he proved in the absence of Mike Evans and Chris Godwin that he could produce like a number one receiver. Perriman made several nice catches, including a leaping grab in the back of the end zone over a defender. Perriman is big and fast and was a really exciting prospect coming out of college before injuries seemed to derail his career. It will be interesting to see where he signs this offseason as he looks to continue to revive his career. Justin Watson had a bad drop and failed to take advantage of the opportunity to showcase himself. O.J. Howard was a complete non-factor and it seems this season we have cemented the idea that Bruce Arians just does not really incorporate tight ends into his offense. 
–Dan Adams