What We Saw: Week 17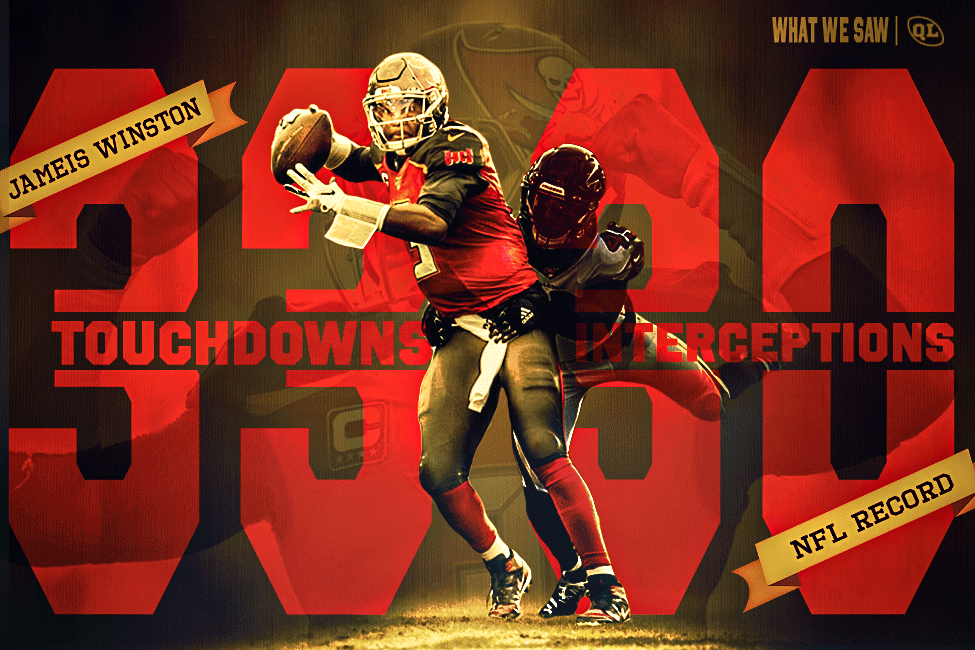 New Orleans Saints vs Carolina Panthers
New Orleans Saints
Quarterbacks
Drew Brees:

19/30, 253 yards, 3 TD

Teddy Bridgewater:

1/1, 14 yards

Taysom Hill:

1 target, 1 reception, 45 yards, TD | 2 carries, 4 yards
It was yet another solid performance from Drew Brees and the Saints' offense on Sunday, and with the game in hand, we saw all 3 Saints QBs get some action. It will be interesting to see how the Saints' QB room shakes out in the offseason. Brees is currently under the last year of his contract – will he call it quits after this season? If not, will Teddy Bridgewater be on his way out the door? You'd have to think that Bridgewater will take a starting position on the free-agent market if he's offered the right deal. If the Saints win the Super Bowl, will that make it more likely that Brees will ride off into the sunset? Other than missing 5 games with a torn tendon in his throwing hand, Brees didn't seem to show any signs of regression as so many had predicted before the season. Brees is still capable of performing at an elite level, and Bridgewater proved that he's worthy of starting consideration after going 5-0 with Brees sidelined by his injury. Another interesting wrinkle is that of 3rd-string QB and Swiss-army-knife Taysom Hill. Saints' head coach Sean Payton has shown a preference to carry 3 QBs to allow for Hill to perform his roles on special teams and otherwise with the offense. It wouldn't surprise me to see Brees back for 1 or 2 more seasons and Bridgewater opts to give it a shot as a starter elsewhere in the league. 
Running Backs
Alvin Kamara:

8 carries, 39 yards, 2 TD | 3 targets, 2 receptions, 18 yards

Latavius Murray:

17 carries, 61 yards | 1 target, 1 reception, 14 yards
It was a second straight multi-TD performance from Alvin Kamara to end the Saints' regular season. It's hard to consider Kamara's season anything less than a bust from a fantasy perspective, but if you held him long enough and had a late playoff table, he really bailed you out in the end. He finished the season with only 6 total TDs – a far cry from his 18 total TDs last season. Kamara never seemed quite 100% after missing 2 games with a high-ankle sprain, but he's shown more of his trademark burst these last couple of weeks. There's nothing to suggest that Kamara won't be a first-round fantasy pick next season. RB Latavius Murray capped off a solid opening season in New Orleans with 18 total touches against Carolina. We all wondered how much of a role Murray would have alongside Kamara in New Orleans, and nobody expected Murray to absorb as many touches as Mark Ingram did the last couple of seasons. While Murray wasn't super fantasy relevant throughout most of the season, he proved to be a valuable handcuff – going for over 100 yards in both games Kamara missed due to injury. 
Wide Receivers/Tight Ends
Michael Thomas:

9 targets, 4 receptions, 37 yards

Tre'Quan Smith:

5 targets, 5 receptions. 56 yards, TD

Ted Ginn, Jr:

2 targets, 1 reception, 10 yards

Jared Cook:

2 targets, 2 receptions, 44 yards, TD
If you were depending on Michael Thomas to deliver you to a fantasy championship this week, you were probably sorely disappointed by his worst performance of the year. His 4 receptions and 37 yards were both season lows, and the 5 incompletions on targets to him were tied for his season-high. All things considered, Thomas had one of the greatest WR fantasy seasons that we've seen in the past few seasons. He finished with the most receptions in a season in NFL history, and his 9 receiving TDs was good for a tie for 3rd. Outside of Thomas, the Saints weren't really able to produce another fantasy relevant WR. Tre'Quan Smith finished with a TD against the Panthers on Sunday but was mostly inconsistent for most of the season. The same could be said of Ted Ginn, Jr – it's unlikely that we'll see Ginn back in New Orleans next season. One encouraging story towards the end of the year was Drew Brees developing more chemistry with TE Jared Cook. Cook had another TD today against Carolina – his 5th in the past 4 games. Cook finished the season with a ridiculous 8 TDs on only 41 receptions. Brees missing 5 games early in the season stunted the growth of a rapport between himself and Cook, but it seems to be clicking between them now and will be interesting to consider for next year's fantasy drafts.
Carolina Panthers
Quarterbacks
Will Grier:

⅛, 4 yards, INT

Kyle Allen:

25/41, 295 yards, INT
It was mostly an ugly showing for the Panthers QBs as Carolina closed out their season on an 8-game losing streak. Will Grier was injured and left the game after starting out with only one completion in 8 attempts. Grier was given the starting job over Kyle Allen – seemingly for Carolina to see what their options are in a likely post-Newton era starting next season. With the Panthers locked into the 7th overall pick in next year's NFL Draft, they may be thinking about taking a look at a possible franchise quarterback. What's clear is that at this point, Grier nor Allen seems like a long-term solution in Carolina. It will be the end of an era for the Panthers and Cam Newton. Newton nearly led Carolina to the promised land back in the 2015 season – finishing 15-1 and losing to the Broncos in Super Bowl 50. Newton has been injury-plagued and has yet to work his way back to his MVP form. It will be interesting to see where Newton lands next season, or if he'll be healthy enough to achieve significant fantasy relevance. 
Running Backs
Christian McCaffrey:

9 carries, 26 yards, TD | 10 targets, 7 receptions, 72 yards
In all of Carolina's woes this season, their shining light of hope was yet again RB Christian McCaffrey. McCaffrey finished with 72 receiving yards against New Orleans, making him only the 3rd player to ever finish a season with both 1,000 rushing and 1,000 receiving yards. McCaffrey has proven to be matchup-proof, QB-proof and even OL-proof at times this season. It's hard to imagine McCaffrey not being able to supplant Giants' RB Saquon Barkley as the consensus #1 pick in fantasy football next season. On top of producing at a high level through adverse conditions, McCaffrey also has virtually zero competition for RB touches. Now that we know what a Panthers' backfield looks like with no Cam Newton, McCaffrey handled virtually all of Carolina's red-zone touches as well. There will almost certainly be some regression just on yardage alone, but even still, McCaffrey should be in line for another monster year next season.
Wide Receivers/Tight Ends
Brandon Zylstra:

8 targets, 6 receptions, 96 yards

Curtis Samuel:

4 targets, 2 receptions, 13 yards

Greg Olsen:

6 targets, 2 receptions, 12 yards
While it was a disappointing season for the Panthers, they did have a couple of bright spots with their young WRs DJ Moore and Curtis Samuel. Moore finished the year with 80+ catches and over 1,100 yards – while Samuel finished with over 600 yards and 6 TDs. It will be interesting to see who ends up as Carolina's QB next year, but whoever it is will have some nice weapons to work with. Today may have been a curtain-call for Panthers' TE Greg Olsen. Olsen has had a fantastic career and been a fantastic fantasy contributor over the years. While he's been nagged by injuries over his past few campaigns, Olsen was the 1st ever TE to finish with three consecutive 1,000-yard seasons. If Olsen does decide to call it quits, he'll be leaving behind a solid legacy for his career.
–Corey Saucier