I had the unique opportunity to interview several members of the NFC Champion Philadelphia Eagles prior to the Super Bowl. For this article, I set out to find out what makes several of them tick, and who (or what) has been responsible for their success.
The first player I was fortunate enough to catch up with was quarterback Jalen Hurts in his Thursday press conference. I asked my own kids what question they'd have for Jalen Hurts if they could ask him anything. The Philadelphia Eagles' social media team took Hurts' response to my five-year-old's question and featured it on a social media blitz the day before the Super Bowl, which was an absolute thrill for my family. Here's the transcript from my time with the 2022 NFL MVP candidate:
Drew DeLuca: Hi Jalen, Drew DeLuca from QBList. 
Jalen Hurts: Hey, how are you doin'?
Drew DeLuca: Great! Iron sharpens iron, so which teammate or teammates on the other side of the ball do you credit the most with helping you raise your game this season? And also, my five-year-old wants to know: who's your favorite Philadelphia Phillie?
Jalen Hurts: [Smiles, chuckles] Bryce Harper. I love Bryce Harper. I remember he hit a…grand slam out of nowhere. It was crazy. I had baseball dreams long ago, so yeah: Bryce Harper. The energy he brings, the passion he plays with, that's what Philly is about, you know. He emodies all of that. Lotta respect for him. And your first question, I'm sorry?
DeLuca: The teammate or teammates on the other side of the ball who really helped you raise your game this season.
Hurts: I think those defensive backs out there, [Darius] Slay and James Bradberry, they compete with the receivers so well that it always makes it hard for us and we definitely have to be on target with certain things, and that has definitely heightened my play. And I think a guy on the same side of the ball as me that has helped me so much is Jason Kelce. His knowledge, veteranship, and his experience has meant a lot to me, and that trickles onto his coach, [Offensive Line] Coach [Jeff] Stoutland as well, I have a great relationship with him.
As soon as I got in here, [Stoutland] has been hands-on, trying to get me to see some things. I think as you go grow as a quarterback, you always want to soak up as much as you can, and some of those things take time. But I think being able to see things from multiple perspectives, seeing it from the center's point of view, the O-line coach's point of view, from J.T.'s point of view, and the defensive backs' point of view, all of those things have helped me.
Afterwards, I caught up with Miles Sanders, who received his first Pro Bowl nod after an impressive 2022 regular season. He had just finished interviewing with another reporter who helped us discover that Sanders' two favorite Rihanna songs are What's My Name with Drake and Rude Boy. Afterwards, I watched Sanders process the news about Kevin Durant's trade to the Suns. His reaction, after going over the Suns' new starting lineup: "Oh snap! They made it to the finals two years ago, right? Oh, they're going back." 
DeLuca: Nick Sirianni said earlier this week that it doesn't seem like you've had a road game yet. Talk about what it's like to see so much green on the road when away from Lincoln Financial Field. What does it mean to have so much support away from Philadelphia?
Miles Sanders: It means a lot, especially when we're on the field trying to quiet down the crowd and they're listening. I'm trying to remember where it was, but they were booing the home team when they were doing their introductions. I want to say it was either here when we were in Arizona or when we were in Washington, but it just shows the kinds of fans we have. They try to get in the game as much as we are. We love all the help and support they give us, that definitely helps us the way they travel.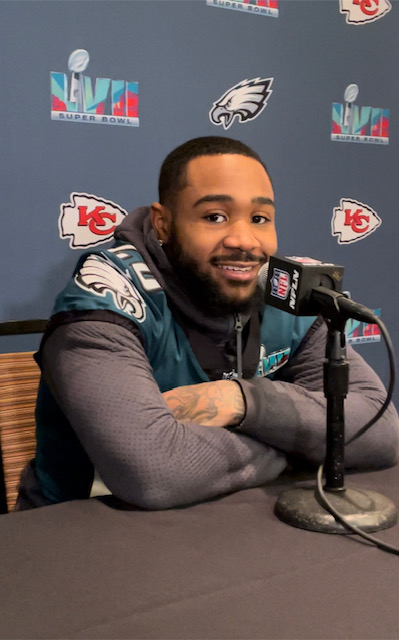 DeLuca: You've had a tremendous season. I know your usage down the stretch hasn't been quite as high as it was earlier this season, but you had 11 touchdowns this year, which is a personal high…
Sanders: Thirteen. Thirteen. [Smiles]
DeLuca: So sorry, thirteen!
Sanders: [Laughs]
DeLuca: So who or what has been the key to keep you positive, grounded, and focused through all the ups and downs of this season?
Sanders:  [Without hesitation] Jemal Singleton.
DeLuca: Talk to me about Jemal.
Sanders: My running backs coach, man. He's one of those guys that just understands me. He knows that I'm all about my business, but he's had to humble me a couple of times, too. He's from a military background. He went to Air Force, and my mentor and trainer is a military guy, too: he was in the army. So, I can definitely relate to [Singleton] and how he tries to teach me, so I listen. He's one of those guys that keeps me level-headed throughout all of this, and it's been working, and I appreciate him for that.
Next up was Brandon Graham, whose strip-sack of Tom Brady in the fourth quarter of Super Bowl LII serves as his permanent free meal ticket anywhere in the City of Philadelphia. Graham, a popular player among Eagles fans and teammates alike, was a 2022 Comeback Player of the Year snub despite logging a career-high 11 sacks on the heels of a career-threatening Achilles injury.
DeLuca:  Who do you think is the biggest unsung hero on your side of the ball that doesn't get the respect or notoriety he deserves?
Brandon Graham: [Pauses to think] T.J. Edwards.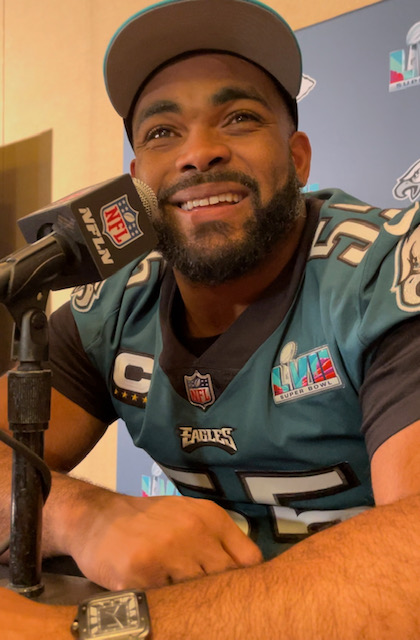 DeLuca:  Talk to me about T.J.
Graham: He's been a dawg since training camp. I've seen his growth over the years, and he played in the Big Ten, so I've gotta give him that Big Ten love!
DeLuca:  Speaking of the Big Ten, my wife is a huge Michigan fan, and both of her parents went there…
Graham: [Smiles and nods] Oh, OK! Tell her "Go Blue!"
DeLuca: Ok! Go Blue! So, talk to me about people in Michigan, who helped you on your journey, and you have to thank the most for everything.
Graham: My Mom and my Dad for sure, they're number one. Then you've got the coaches I've come across over the years that I still have relationships with that taught me the basics. That's what you need, people that are gonna teach you the basics of football, and they harped on certain things that stuck with me. At every level I've been through, I've had great coaches and not-so-great coaches, but I've learned from every one. You know what you don't want to do, but you also know what you want to keep to keep going. So yeah, appreciative of my Mom, my Dad, my coaches, and my teammates. I didn't have brothers, I had sisters, so football [teammates]? Those were my brothers, and people you meet along the journey become family. We've had the same morals, and we've spent time together, so I know you've got my back.
DeLuca: Anyone in particular at Michigan you want to give a shout-out to?
Graham: Shout out to [Head Coach John] Harbaugh and everyone at Michigan. Michigan is doing it right now. Even though we didn't win it this year, I feel like we're heading in the right direction. Credit to the staff and everyone there at Michigan.
Afterwards, I met up with A.J. Brown, who earned a Pro Bowl invitation in his first season with the Eagles. Brown set career highs in receptions (88) and receiving yards (1496) while tying his personal best in touchdowns (11). Per Jeff Kerr of CBS Sports, Brown hauled in 8 of those touchdowns on catches of 25 or more yards, most in the NFL since 2006 when the stat was first tracked. Brown didn't hesitate to heap praise upon his team's offensive line when given the opportunity.
DeLuca: My son's name is A.J., and obviously you're his favorite player…
A.J. Brown: [Smiles, nods] Thank you. I appreciate that!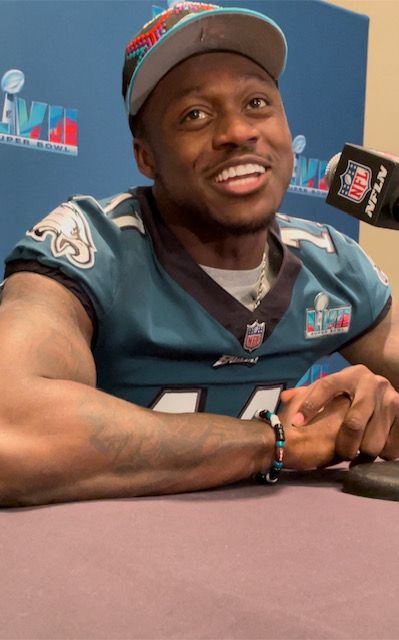 DeLuca:  Who do you think is the biggest unsung hero on your side of the ball?
Brown: Unsung hero?
DeLuca: Yes, who doesn't get the notoriety they deserve for the things they do?
Brown: [Pauses, thinks deeply] I think they do get the notoriety they deserve. I think it's the offensive line. Without the O-line, I don't think we'd be here! They've been doing a really good job of protecting Jalen, creating lanes for Miles and Kenny [Gainwell] to run…I definitely have to say the O-line.
Speaking of offensive linemen, I was fortunate to catch the iconic Jason Kelce for his last question of the evening. Kelce, a six-time Pro Bowler and five-time All Pro, was a fixture in the headlines all week along with his brother Travis, the Chiefs' All Pro tight end. Jason, who was drafted in the sixth-round by his brother's current head coach (Andy Reid), just finished his 12th season as a member of the Eagles, a campaign in which he broke Chuck Bednarik's 60-year-old record for most games started by an offensive lineman. Kelce has cemented his status as an all-time Philadelphia sports legend, so he was the perfect person to field a special question I saved just for him.
DeLuca:  If you could take one player from Philadelphia Eagles teams of the past and put him on this team, who would it be?
Jason Kelce: [Thinks deeply] I don't know, man…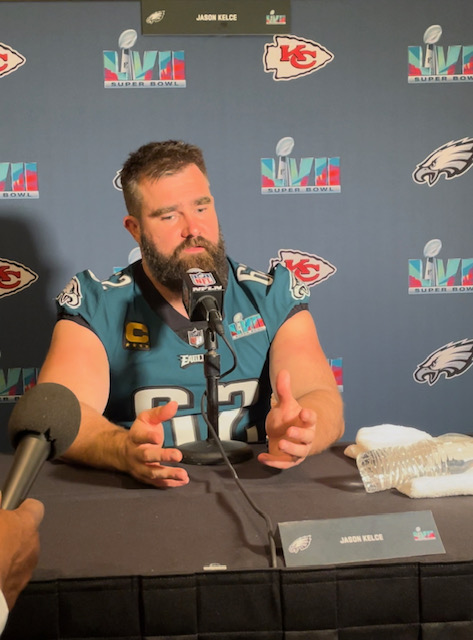 DeLuca:  I know you've been around a long time and know the history of the Eagles, so…
Kelce: I feel like the most obvious answer is Brian Dawkins. We have great players, and if there's one guy that stands out as an incredible motivational force and a guy who got his team to play harder, with a lot of passion? I don't think you can find anybody better than B-Dawk!
Photos by Icon Sportswire | Adapted by Justin Redler (@reldernitsuj on Twitter)