(Photo by David Rosenblum/Icon Sportswire)
QB List is excited to be partnering with FantasyDraft, featuring advice articles every week through the entirety of the 2018 season. Signup and play for free at FantasyDraft.
Prior to breaking down the Thursday night game from a daily fantasy perspective, I will recap how I did in the Fantasy Draft $100,000 Run and Gun (Sun Only) tournament from the week before. You can compete against me weekly throughout the season.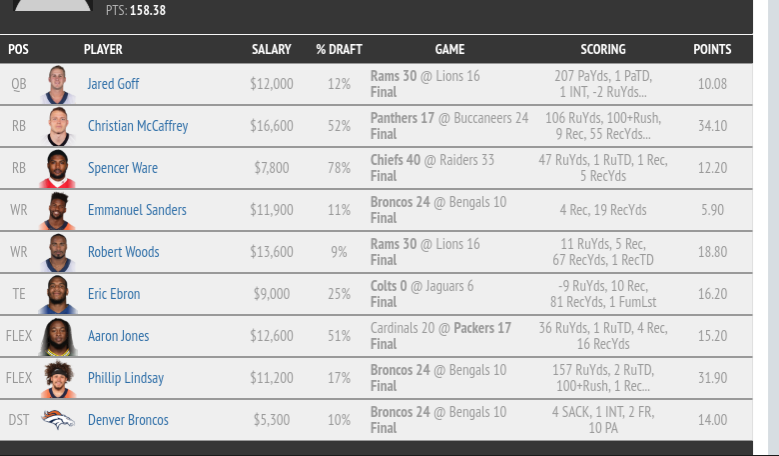 The Kareem Hunt news changed the entire slate for Week 13. I regret eating the chalk this past week with Spencer Ware as it changed my entire lineup due to the salary relief. I was all in on a Buccaneers stack, but the price of Ware allowed me to upgrade to quarterback Jared Goff and wide receiver Robert Woods. I didn't hate this combination as the Lions pass secondary has struggled, but Goff put up a disappointing performance. I wrote about my love for Denver Broncos running back Phillip Lindsay and I'm glad he came through in a big way. He was a little more owned than I thought he would be, but he should have been close to 50 percent with the match-up and price.
As always, we will continue our quest to find the right combination and see if we can hit the lineup that will finish near the top.
Quarterbacks
We have an AFC South match-up as the Jacksonville Jaguars will travel to Tennessee to take on the Titans. This game checks in with one of the lowest totals of the season as Vegas has set the over/under at 37.5. Jaguars quarterback Cody Kessler has taken over for the struggling Blake Bortles and is the definition of a game manager. Making his first start, Kessler threw for 150 yards and no touchdown passes. However, he didn't turn the ball over either which is what the Jaguars want from their quarterback. Kessler checks in at $10,200, but that price still may be too high. The Titans rank 23rd against the pass in pass defensive DVOA, but there's no way I can realistically recommend Kessler. He can be avoided in all formats.
Titans quarterback Marcus Mariota has started to play with more consistency as he has finished with at least 22 FantasyDraft points in four of the last five games. The only game he didn't in this stretch was when he left with an injury. It's encouraging to see Mariota have success throwing the ball as his fantasy performance isn't solely based on him being able to run. Unfortunately, this isn't a great match-up for Mariota as the Jaguars defense ranks fifth in total defensive DVOA according to Football Outsiders. Like Keenum, Mariota can be safely faded in all formats.
Running Backs
Jaguars running back Leonard Fournette returns from his one-game suspension due to fighting against the Buffalo Bills in Week 12. Fournette always goes under owned as his injury history scares people off. Due to this, he is always an elite tournament option. Fournette gets all the touches he can handle as well as he carried the ball 52 times in Week 10 and 11 and was well on his way to coming close to that in Week 12 prior to being ejected from the game. The Titans rank 13th in rush defensive DVOA, but I'm not worried about that as the Jaguars will feed Fournette for the entire game. The issue is Fournette's price as he checks in at $14,900 which happens to be the seventh highest among running backs. There are other options I will turn to in cash games, but Fournette can be used in tournaments if you are banking on him touching the ball over 25 times.
As for the Titans, it's been a disappointing year for Dion Lewis and Derrick Henry. Every time Lewis appears to be on the verge of finding consistency, he takes a step back. Lewis has scored under 10 FantasyDraft points in three of the last four games. Henry has had a little more success, but he is touchdown dependent. Henry has scored under six FantasyDraft points in two the last three games. This makes for an easy fade in cash games. In tournaments, we are willing to risk the extremely low floor if there is high ceiling. That is not the case for either of these players and against a Jaguars rush defense that ranks seventh, both players can be ignored.
Wide Receivers
The best part of daily fantasy football is we get to choose what players we want to roster. That is great news when looking at the wide receivers for the Jaguars. The leading receiver for the Jaguars happens to be a running back in T.J. Yeldon who will now be irrelevant with Fournette returning. The combination of making Fournette the focal point of the offense, Kessler being a game manager and an over/under that is less than 40 points, leads me to avoiding the entire situation.
The receiving unit for the Titans isn't much better, but at least we have one strong option in Corey Davis. The young receiver has caught three touchdowns in three of the last four games and finished with at least 90 receiving yards in two of those games. In Week 3 against the Jaguars, Davis finished with 34 receiving yards and there's a chance he could finish with a similar stat line. I love the talent of Davis, but we can wait for another week to fire him up.
Tight Ends
If the wide receivers left a lot to be desired, the tight end position is actually worse. Jaguars tight end James O'Shaughnessy has caught only 17 passes this season and has racked up three catches in the last three games as the starter. There's a reason he is minimum salary as his production reflects his price.
Titans tight end Jonnu Smith has an extremely low floor as he has totaled two catches or less in every game, but two. However, he has scored three touchdowns in the last five games. The Jaguars rank 11th against the tight end position, but Smith is only $5,200. I will be avoiding him, but if you are hoping he finds the endzone again, he could be used in tournaments as a desperation punt.
Defenses
The Jaguars defense isn't playing at the level of last season, but they still have the potential to dominate. The possibility of a low scoring affair keeps them in play along with the Titans allowing the second most sacks in the league. The Titans check in as the second highest priced defense which makes them an easy fade as I see the Jaguars running the ball a lot and not putting Kessler in position to throw interceptions.