Hey all! Thank you for humoring me in my absence, as we went through a bit of a sickness spell at our homefront. Back and better than before, we trudge through Week 9, hoping that we can find some solid offerings for the season. This week nine landscape is sadly full of drama end to end, as we have vaccination statuses clouding a titanic matchup of two of the NFL's best quarterbacks or the potential landing spot for one of the NFL's former best wide receivers who carries his baggage literally and figuratively into his next stomping grounds. Let's dive in and see what Week 9 gave us!
The Rodgers Dilemma
Aaron Rodgers needs no introduction, either in the NFL itself, or this week. Last week quickly unraveled one of the wackiest stories we stepped foot into, as Rodgers went from one of the league's "funniest and oddest" personalities, to the face of anti-vaccinated coverage in the league. I won't make this section of QB List a place to push forward my belief on whether or not someone should get a vaccine, but I will say that this has easily been the biggest story of the season. At the core of the conversation, Rodgers' positive COVID test gave us Jordan Love in a downright pedestrian Sunday afternoon football game (19 completions/34 attempts, 1 touchdown, 1 interception| 5 rushes, 23 yards), as we all somewhat hoped for Jordan Love to somewhat step into the league donning his best Tom Brady post-Bledsoe impersonation, hoping that all the negative Rodgers coverage would cause Rodgers to literally go underground, build a bunker to avoid football coverage, and we could go along without having Covid-19 vaccination coverage miring our football discussions.  We get it here, and it sucks. This conversation just continues on and on. And it won't go away for some time, as now there are pieces coming out about Rodgers's discussions with the league on how his e vaccination status could affect his teammates. That seems like a story that won't be unwrapped before Christmas, even.
Running Back Roulette
This year has been an extremely interesting one to cover, as we have COVID-19 giving us the last gasp of the sickness running its way through the league, over a year into the pandemic. We have an additional week of regular season football. Injuries galore have completely derailed most of the league's greatest running back scenarios. Let's just look at the six highest-drafted running backs who were drafted this season, and their current games played due to injury/COVID guidelines:
Christian McCaffrey(CAR): 4 games played of the 9 games played by Carolina
Dalvin Cook(MIN): 6 games played, one under 10 carries, of 8 games played by Minnesota
Derrick Henry(TEN): 8 games played of the 9 played by Tennessee, could potentially be out rest of season with a heel injury
Alvin Kamara(NO): 8 games played, 4 of 8 games played under 20 carries
Ezekiel Elliot(DAL): 8 games played, 6 of 8 games played under 20 carries
Nick Chubb(CLE): 7 games played, 3 of 7 games over 20 carries
The year of the RB, my bum! If you took any of these top six running backs, I really hope you went RB heavy AND picked up all the massive amount of touch leaders who have benefited from the falling out of the above backs.  Backs like Chuba Hubbard, Devontae Booker, and Darrell Williams have all stepped up mostly admirably in a position where they didn't originally intend to be, in starter's roles. How much longer can we look at "STUD RB'S" as a strategy to draft? Sure, there will always be legitimate great starting backs who will carry clout, but will we continue to take them over proverbial STUD wide receivers like Cooper Kupp, Davante Adams, Tyreek Hill who can outright win you weeks, and don't take up nearly as much wear and tear, as well as IR-spot prowess. Just some food for thought.
Fields quietly flutters/Mahomes just can't muster
Rushing quarterbacks are again the talk of the league, but is the current innovator of the style still in the league maybe not the most interesting one any longer? Patrick Mahomes was 13th overall in ADP, per FantasyPros.com before the year started, and we're now wondering if he'll rush his way up the list and make it back to the top five quarterback range. Since Week 5, Mahomes hasn't surpassed 25 fantasy points in a single game. In the same five-game period, Mahomes has also only passed 300 yards passing once. Scary stuff. In a season where we're watching Lamar Jackson have a total explosion of output or Kyler Murray attempting to return from a less severe injury to get back on the MVP charts, to Justin Fields potentially winning the starter's role seemingly set out for him when he was drafted, the immense drop in Mahomes splendor is mildly worrying. Do we completely shell off our Mahomes' stocks and get away from the poker table now? Or, as a potential Mahomes owner, do we look to buy low in the first period of his regaled career where you could get him at a lower than first two rounds trade offer.
On the other side of the rushing quarterback token, Justin Fields is looking to be just what we wanted him to be coming out of college. In a Monday Night Football matchup against the old guard (Ben Roethlisberger, for the uninformed), the coming party was all but announced (seriously, I didn't even buy any streamers or anything!). Fields was precise, consistent, and a weapon both on the ground (45 yards rushing), and a long ball threat (Averaging just over 10 yards gained per pass attempt).
Is there a shelf life for running quarterbacks, or is the injury past of Mahomes finally taking a toll? Either way, Fields is a potential shining star we're going to do our best not to miss.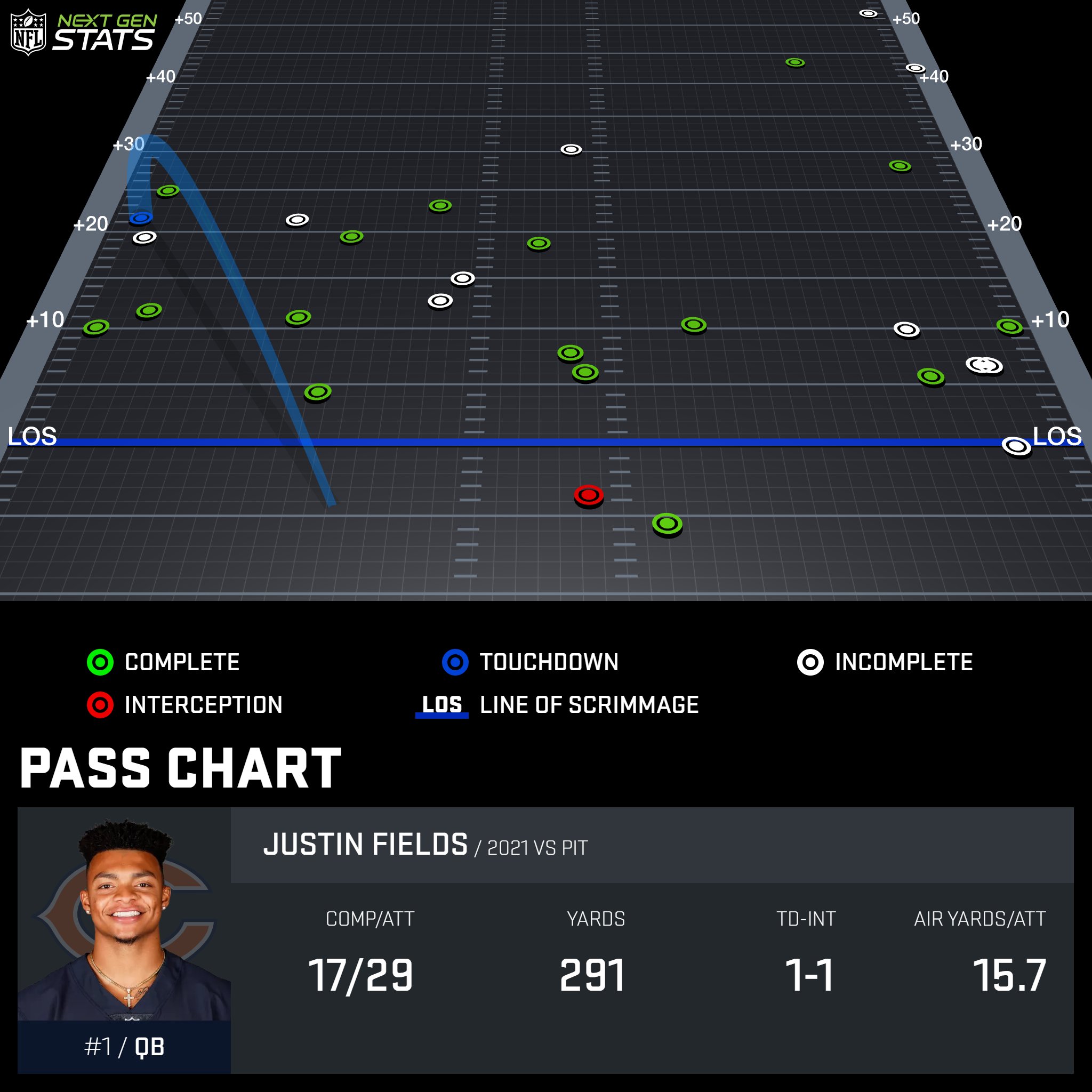 Is the best team in the AFC/league the Titans?
We are a week removed from Derrick Henry coming off the field with a foot injury, and now that we know he likely won't see the field until at the earliest, the postseason. Maybe the lone good news is that when Henry could return, the Titans will have the proverbial chair warmed up for him for comfort. Mike Vrabel has the Titans dialed in, in a team where not one lone player needs to step up and be a star at any given time to put them over the top. The team has a week removed from their star running back stepping out from the field, and a hodge-podge of Deonta Foreman, the washed ashore corpse of Adrian Peterson, and backup Jeremy McNichols stepped in enough to perform admirably and comfortably beat the potential lead to #1 seed in the NFC, Los Angeles Rams. Ryan Tannehill has not been at the level he was performing last year, and injuries have plagued A.J. Brown as well, but a combo meal of Anthony Firsker, Mycole Pruitt, and Geoff Swaim are all the tight ends this team needs. Could we be watching the next team of destiny in front of us? Kevin Byard and Janoris Jenkins sure think so.
OBJ sweepstakes are beginning!
Odell Beckham is on the move! Somewhere. Potentially. Any minute now. Sometime soon. Odell Beckham went from the potential best deep threat in the NFL to the world's least interesting man in Cleveland, and he made the team suffer it through the last month. Just two seasons removed from his first season in Cleveland where he eclipsed 1,000 yards, we haven't seen the last two seasons of receiving yards in Cleveland combine for that number he achieved in his first Browns season. So what do we do? Baker Mayfield couldn't get the ball to Odell, and his father was willing to post this all over social media just in case you didn't believe it. Odd given that just last year, Mayfield possessed the best deep ball accuracy in the league (see below!) So what is the falling out? Did Odell hate the skyline chili? Did he hold a disdain for the midwest where the nightclubs likely don't showcase a 3 am closing time? For all we know, maybe the personalities just didn't mesh. Either way, the rest of this week will have us wondering just where Odell settles, and I'd be lying if I didn't say I hope he makes it somehow to Foxboro (clam chowder is superior to chili as it stands, anyway).
Baker Mayfield was accurate on 29 of 52 deep passes (55.8%) last season.

1st out of 31 quarterbacks. pic.twitter.com/ZL7HR4huUn

— QB Data Mine (@QBDataMine) March 21, 2021
–Matthew Bevins (Twitter:MattQbList/Reddit:TheLongSpring)
(Photo by Andrew Dieb/Icon Sportswire)