I had the pleasure of interviewing several members of the NFC Champion Philadelphia Eagles before Super Bowl LVII. Among them was Dallas Goedert, who recently formed an exclusive club with Travis Kelce, Mark Andrews, and George Kittle as the only tight ends to post 700 or more receiving yards in both 2021 and 2022.
Speaking of Kelce, the Chiefs' All-Pro recently called Goedert "one of the best in the league" and reminded us that "he's been saying that for a while now." This high praise from a future first-ballot Hall of Famer is well-supported by the numbers. Per PFF, Goedert's 126.4 passer rating when targeted is the highest of any player since 2021 (minimum 100 targets), and he continues to be effective when called upon to block.
I'm grateful to Goedert for taking five minutes to tell us his story. I learned a lot about how he got his big break in college, and his path to success is a lesson in perseverance for us all. Let's find out how a guy who was snubbed by every single Division I college in America emerged as one of the NFL's elite tight ends.
Drew DeLuca: How are you doing, Drew DeLuca, QB List, nice to meet you.
Dallas Goedert: Nice to meet you.
DeLuca: At what point in the season did you just know that this team was destined to represent the NFC in the Super Bowl? Was there a distinctive, defining moment, or what kind of sticks out in your mind?
Goedert: For me, I have high expectations every year, so it was before training camp started. I thought that every year I've been in this league, and this is the only year I've gotten there. But really, probably Week 8: when we were still undefeated. We were rollin', we were still healthy. I said, "if we can stay healthy, we're going to be a problem." We were fortunate enough to secure the number one [seed] and have home-field advantage throughout the playoffs, which is a huge advantage for us, and being here is just a big blessing for all of us.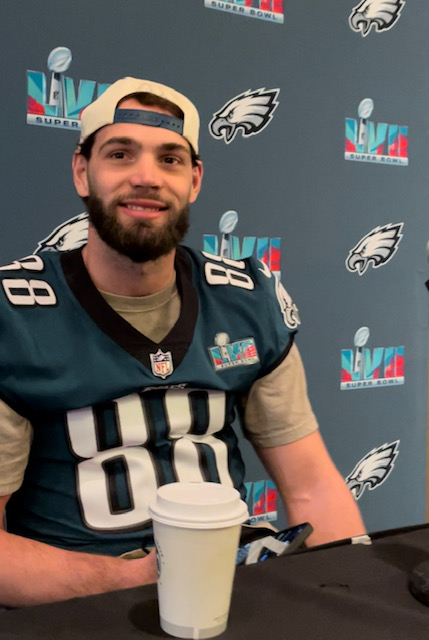 DeLuca: Absolutely. Talk to me about your personal journey. At what point did you first start dreaming about playing in the Super Bowl as a young person? Also, what two or three people do you want to thank the most from your younger years for helping you get here?"
Goedert: I would say the first time on my PS2 when I was playing Madden. I started a franchise with the Green Bay Packers and led them to the Super Bowl…saw the confetti fall there, and getting to the NFL and winning this game at that time was a dream. You never thought it would really happen when you're nine years old, but you want it to; you're hoping everything goes right.
You know, I  just have to thank my Mom more than anybody…my family altogether, aunts, uncles, cousins, all of them have supported me tremendously. My Mom was my basketball coach, my soccer coach, she did whatever she needed to for me and my sisters. She loved sports, she loves the game…[I got] my competitive spirit from her, so I'd say she's probably the biggest [role model] I'd thank.
DeLuca: Awesome! No one ever achieves anything great without going through some kind of adversity. What experience comes to mind that made you stronger and better as a player and as a person?
Goedert: For me, it would be not really getting looked at for college. I think I had one D-II offer from a school that was 50 miles from my hometown. Other than that, it was crickets everywhere else, so I was lucky enough to walk on to South Dakota State.
As a true walk-on, I wasn't preferred. I didn't get to go to fall camp my first year. I don't think I was even able to lift with the team in my first year. I got a card and went to the rec center where all of the other [regular] people were and I lifted there. I didn't get to go to meetings or anything like that. I just went to practice and did what I could and hoped they'd let me stay on the team. I was fortunate with certain circumstances that allowed me to be there in spring ball the next year with injuries and other tight ends not being on the team. I was the only tight end that was able to practice in spring ball. It was kind of just me being thrown into the fire, learning on the fly, and proving to myself and my coaches that I could [belong] there.
DeLuca: Final question. Your head coach Nick Sirainni said earlier this week that it doesn't feel like you've had a road game yet. Talk about what it's like to see so much green in the stands when you're away from Lincoln Financial Field.
Goedert: [Smiles] I've been fortunate enough to be drafted into Philadelphia with probably the best fan base in the world, the most passionate. Good, bad, or indifferent, whether you like them or not, they bleed green. Yeah, Sirianni nailed it. It seems like every game we've been at, the Eagles fans have been the loudest, always there supporting us. We're excited to [have brought] a fun year to Philadelphia. Hopefully, we can finish it off by bringing a Lombardi Trophy back to Philadelphia. I know when that happens, the city is probably going to burn up in flames, but all in a good way!
DeLuca: Thank you so much, appreciate your time!
Goedert: [Smiles, nods]
Photo by John Jones/Icon Sportswire | Adapted by Justin Redler (@reldernitsuj on Twitter)