After sitting in on the final Jalen Hurts and Nick Sirianni press conferences before the Super Bowl, I had the opportunity to sit down one-on-one with K'Von Wallace, a member of two National Championship teams during his four years at Clemson University. Wallace, who finished up his third year with the Philadelphia Eagles after being selected in the fourth round of the 2020 NFL Draft, was a key special teams contributor. He also made a couple of key plays in a reserve role this season on defense after losing ground to rookie Reed Blankenship on the depth chart. With the departure of C.J. Gardner-Johnson, Wallace could be in line to start in 2023.
Wallace, whose favorite athlete growing up was Philadelphia high school legend Kobe Bryant, recorded 22 tackles this year and played in all three Eagles playoff games. Per PFF player grades, the 5′ 11, 205 safety has improved each season so far and has one year remaining on a team-friendly contract.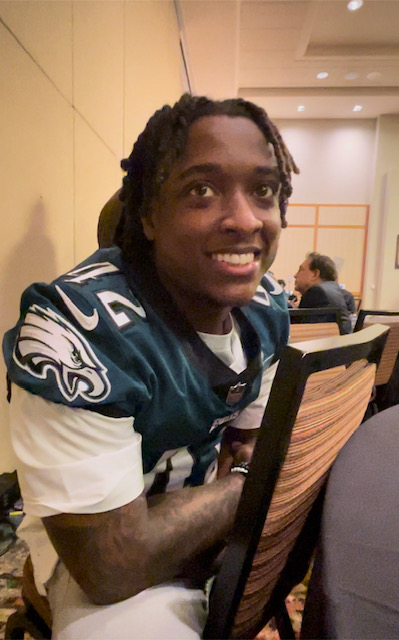 Q: Aside from your family, who's most excited to watch you play in the Super Bowl?
A: My girlfriend. I guess she kind of is my family. She's super excited, very supportive of me, and she just wants to see me win.
Q: What about your Clemson family? Who from there is excited for you?
A: I have a couple of pastors back there: Dan Lian, Riley, Brad Cooper…I have a lot of people rooting for me there, that's my second home (Clemson), so I have a lot of family there, especially church family. I've got an Australian brother out there, too. He's excited…he texted me, "Go win it, mate!" I'm excited to go out there and play for all of them.
Q: I know your best days are still to come, and I'm excited to watch that happen…
A: Oh yeah, definitely.
A: So with that in mind, can you pick someone on either side of the ball who has really helped you elevate your game so far as you develop as a young player?
A: That's a great question. I haven't had a question like that all year, that's a good question. I give a big shout-out to [Jalen] Hurts, [Britain] Covey, Andre Chachere on defense, Josh Jobe, and Mario Goodrich. Those five people have really helped me develop my game as a player.
Q: Your head coach Nick Sirianni said earlier this week that it doesn't feel like you guys have had a road game yet because of the support you get from the fans who have been traveling.
A: Oh yeah, it has been nuts! Even in Arizona, when we played [the Cardinals] here when Chauncey got that interception? We were like "Wow! This is a home game!" The fans have been lights-out all year. I haven't heard too many other NFL teams [get support] like that. When other teams come into our stadium, it doesn't sound like it's a home game for them! I don't know too many teams where you can go across the country and still be…home. We leave for the West Coast and it still feels like we're on the East Coast, so shout out to all the die-hard Eagles fans. They know we've gotta bring that "dawg mentality" to come out victorious.
Photo by Andy Lewis/Icon Sportswire | Adapted by Justin Redler (@reldernitsuj on Twitter)