Rookie wide receivers are extremely difficult to project. Most of them do not provide standout fantasy production until their second or third years. Not since the 2014 days of Buccaneers WR Mike Evans, Giants WR Odell Beckham Jr., and Panthers WR Kelvin Benjamin have we seen multiple fantasy wideouts provide weekly consistency in their first year.
Cardinals second-rounder WR Andy Isabella has a chance to buck this trend and become the rare rookie to make some serious impact. According to the FantasyPros website, his Average Draft Position (ADP) is 198 overall. In other words, he is being drafted in the final rounds of your fantasy draft. Getting someone of Isabella's talent, situation, and prolific college profile for cheap could be a steal for fantasy owners both this year and beyond.
Who is Andy Isabella?
Andy Isabella is a 5′ 9″, 190-pound speedster that played college football for the University of Massachusetts Amherst. A track star in high school, Isabella suffered an injury at his first track meet in college. Disappointed, he turned his attention entirely to football. Overlooked due to his size, he converted from running back to wide receiver after his freshman year.
Isabella's production immediately spiked, and he caught 62 passes for 801 yards and 7 TD's in his sophomore year. He improved on these statistics in his junior year before exploding in his senior year, catching 102 passes for 1698 yards and 13 TDs. He led the NCAA in receiving yards for the season and was a finalist for the Biletnikoff Award–given to the best receiver in college football.
This greatness did not come easily. There were a lot of ups and downs for Isabella as he gradually ascended to elite status. His less-than-imposing stature, combined with some technical issues, made teams wary of trusting him. He responded by keeping his head down, learning as much as he could, and producing with ruthless efficiency. Isabella's character and work ethic has been unanimously praised by coaches, teammates, and friends alike.
According to this report, the Cardinals "…Fell in love with Isabella's work ethic as much as his numbers". Former UMass coach Mark Whipple fondly recalled this memory of Isabella after a snowstorm blanketed the campus with 10 inches of snow: 'I look out there and it's Andy with a shovel and a hat on and everything else, he takes it off and he starts running,' Whipple said. 'That's just the way he is. He's not going to miss a workout. He didn't miss a game in four years (after earning a role as a freshman). He's a tough, tough kid."
Despite Isabella's efforts, the UMass team struggled mightily during his time there. They did not achieve a winning record during his 4 years, meaning defenses could key in on their one star. Despite this, Isabella still posted monster numbers.
Isabella's Weaknesses
Admittedly, Isabella is not a perfect prospect. There are some common weaknesses found in scouting reports:
Hands – he caught with his body a little too often and was not effective in contested catch situations.
Physicality – obviously due to his size, he won't leap to snag fades in the end zone.
Inability to shed tacklers – he can evade them just fine, but will not power through guys often.
Level of competition – UMass does not play against top-tier competition regularly, and Isabella was often not competing against NFL-level talent.
Route-running – Isabella struggled at times with beating physical corners and needs to work on his footwork a little more.
Despite these flaws, Isabella is still an elite prospect–one made immensely more appealing due to his landing spot. Digging deeper, we find a combination of college production and talent that line up perfectly for Isabella to make an impact immediately, especially in Arizona.
College Production
Isabella has the best production profile in his entire class. According to this graph from playerprofiler.com, Isabella is in the 97th percentile for College Dominator rating. College Dominator is a tool that examines the share of a team's receiving yards and touchdowns that a college wide receiver had. Essentially, you can see just how much a wide receiver impacted an offense. Isabella's college dominator was 52.2%, putting him in the 97th percentile. That is an absurd level of production for a UMass team that did not have any other weapons to take attention away from Isabella.
He measures up in every other predictive area as well. Compared to his contemporaries in this class, he stands out as the most balanced and consistent wide receiver. Take a look at this graph by twitter user @KyleLee1486 that compares the pass catchers from this class in terms of advanced statistics:
Charted 2019 WR/TE:
COLLEGE DOMINATOR
COLLEGE YPR
BREAKOUT AGE
SPARQ

Metric colors represent 3rds:(Green=greater than 65th
Yellow=between 34th and 66th, Red=less than 34th)

Player colors represent draft capital: Green=1st round
Yellow=2nd/3rd
Red=4th-7th pic.twitter.com/LdI9KvYK6Y

— Kyle_FFRecon (@Kyle_FFRecon) June 20, 2019
Something else to note here: breakout age is important because we can see that Isabella, as soon as he was given the opportunity, produced. Isabella breaking out before the age of 20 proves that he has a natural instinct for the game and can work to improve any technical flaws.
Anyone knocking Isabella for not playing against elite talent, moreover, should watch his highlights against Georgia, which boasted a top-15 defense in 2018. In that game, he caught 15 passes for 219 yards and 2 TD's. Take a look at Isabella running a go route for an easy score, blowing by his defender in the process:
Physical Abilities-How Well Will They Translate?
Isabella's workout metrics are not as consistent as his production profile, but many undersized NFL receivers have returned immense fantasy value despite their physical shortcomings. Chiefs WR Tyreek Hill and Rams WR Brandin Cooks come to mind as NFL superstars that Isabella compares to.
One area where Isabella absolutely excels is top-line, gamebreaking speed. His 4.31 40 time puts him in the 100th percentile and is his most valuable asset.
#UMass WR Andy Isabella (5-foot-9, 188) — 4.31 40 time. Long-speed + the short-area quicks to separate from coverage. Check the route here…Set-up the CB & go get the deep ball. #NFL @NFLMatchup pic.twitter.com/AtM8C07P95

— Matt Bowen (@MattBowen41) March 2, 2019
You may be thinking that there have been numerous receivers that have been extremely fast, but not produced in the NFL. John Ross broke the Combine record just a few years ago with a 4.22 40 time, but he has done next to nothing in the NFL.
Isabella is different, however, in that his college production blows all of those receivers out of the water. This graph shows every receiver that ran a 4.3 40 time or better since 2006 and their college production. Most of these receivers declared for the NFL after their junior years as opposed to Isabella who declared after his senior year. As a true freshman, Isabella saw virtually 0 opportunities, so taking a 3-year sample size is more applicable here. Over the next 3 years, he produced better than any of these receivers that ran a 4.3 40 or better:
| | | | |
| --- | --- | --- | --- |
| Player | Receptions | Yards | TDs |
| Will Fuller | 144 | 2,512 | 30 |
| John Ross | 114 | 1,729 | 22 |
| Marquise Goodwin | 120 | 1,364 | 7 |
| Andy Isabella | 231 | 3,526 | 30 |
| Curtis Samuel | 107 | 1,249 | 7 |
| Darrius Heyward-Bey | 138 | 2,089 | 13 |
| Brandin Cooks | 226 | 3,272 | 24 |
| Yamon Figurs | 73 | 1,144 | 6 |
| J.J. Nelson | 116 | 2,273 | 20 |
| Jacoby Ford | 143 | 1,986 | 16 |
| Parris Campbell | 143 | 1,768 | 15 |
You can see from the graph that the closest to Isabella in terms of production was Brandin Cooks. All Cooks has done in the NFL is produce 4 straight 1,000 yard seasons. If I'm getting that upside in the last rounds of a fantasy draft, especially in dynasty leagues, I'll take it every time.
Not every receiver on this list played as much as Isabella did. However, his young breakout age combined with more games of experience means that in addition to his physical abilities, he is also more NFL-ready than many of his peers.
Isabella also performed better in college than the likes of Beckham Jr., Evans, and Steelers WR Juju Smith-Schuster–all elite wide receivers that have burst on the scene the last few years. This is not to say he is better than any of them, but if Isabella was taller, he would be considered an elite, can't-miss prospect.
The Fit
Despite the presence of tall, physical outside receivers such as Jones,  Texans WR DeAndre Hopkins, and Packers WR Davante Adams, the NFL is moving more and more towards a short passing attack with versatile receivers moving all around the formation. Offenses like the Chiefs, Patriots, and Rams use speed to create mismatches and get their playmakers open in space.
Head Coach Kliff Kingsbury's Cardinals offense is reportedly going to be nothing like the NFL has ever seen. He wants to run 90 plays a game and, while that number is unlikely, it does speak to just how much this offense will explode if QB Kyler Murray is as good as advertised.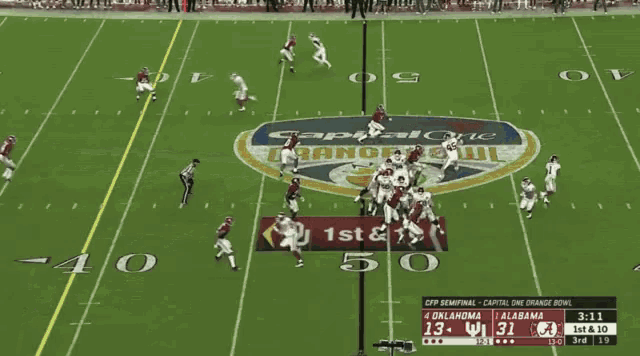 Kingsbury ran an "Air Raid" system during his time coaching in the NCAA: a system that is familiar to Murray and will operate almost exclusively out of the shotgun. A high tempo and emphasis on passing is designed to tire out defenses and put up video-game like numbers. During Kingsbury's NCAA career, his teams averaged almost 550 yards and 42 points a game.
Kingsbury's defenses, however, consistently ranked near the bottom of the NCAA. The Cardinals defense was not that good last year and does not project to be much better this year either. This is especially true with the loss of CB Patrick Peterson for 6 games. The Cardinals are going to be down in games a lot, and this could lead to loads of garbage time and shootouts.
The Role and Offseason Buzz
Isabella thrived on deep passes during college, boasting a 16.6 YPC rate. Kyler Murray has a rocket arm that can deliver deep passes accurately and with precision.
Isabella projects to be the starting slot receiver for this offense, due to his physical attributes and separation abilities. As early as March, he was being mentored by Randy Moss on how to play in the slot. This will undoubtedly lead to a lot of catches and yards, making Isabella valuable for all formats. However, Isabella has repeatedly stated that he "does not want to be seen as just a slot guy", and Kingsbury has echoed these statements.
This likely means that Isabella will be used all over the formation and put in positions to succeed. He can take a slant 70 yards or burn his man deep for a long touchdown. That's the kind of upside Isabella brings.
Recent talk out of camp pegs Isabella as a "sure thing" to get a chance to make plays. There has been nothing but praise coming from the Cardinals since Isabella was drafted; here's a clip of Cardinals OL Justin Pugh saying "Every time I turn around, he's making a play":
Conclusion: Draft Isabella!
Despite all of this, you still might shy away from drafting Isabella.
He's competing for targets with WR's Christian Kirk and Larry Fitzgerald, as well as RB David Johnson. No one knows how well Kingsbury's Air Raid will translate to the NFL. College production does not necessarily mean someone will produce in the NFL, especially when that competition was less-than-stellar.
But if the hype is to be believed, we could see a situation like the Rams or Chiefs where the RB and 3 WR's can be fantasy starters week in and week out. Kirk's ADP is currently at 88 overall, WR34 off the board. Fitzgerald's is WR39 at pick 102.
Isabella's ADP? Pick 198 and WR67 off the board. You can get him in the final rounds of your fantasy draft, and he has the upside to surpass both Fitzgerald and Kirk's production.
Rookie wide receivers rarely provide reliable fantasy production. However, if Kingsbury's offense takes the NFL by storm, which is seeming more and more likely with each passing day, Isabella's cheap value combined with his upside is a no-brainer. If he does not work out, you're not wasting a top pick on him, and it's easy to cut bait. If he does, however, he could be a league winner.
Featured image by Nathan Mills (@NathanMillsPL on Twitter)