Welcome, welcome, welcome!
Can you believe we'll be looking at the opening of training camps soon, and people are already planning the first of their many drafts? There are countless players that we're still finding ourselves wondering about–how are they rising or falling so much?. One of the most enigmatic names is the Kansas City Chief's RB Damien Williams. Undrafted out of Oklahoma, Williams has always confused fans and scouts alike. Williams looked impressive in a limited workload behind Kenyan Drake in Miami, and I was shocked that he wasn't given a chance to spearhead the backfield. I was just as surprised to read in Williams' college combine that he was "best suited" as a late-round draft selection if at all.
The stat sheet for Williams' college career doesn't do him many favors either. Williams didn't even come close to top 10 in Yards Per Carry either of his college years (5.4 in 2012, 4.9 in 2013). On top of that, Williams' total yardage also failed to impress: Williams didn't hit the 1,000-yard mark in either year (946 in 2012, 553 in a shortened 2013). So what can the Chief's offense do for him, and why should we expect Williams to lock down the backfield in Kansas City? Let's get to deep diving!
Opportunity runs rampant for Williams
When  Kansas City took QB Patrick Mahomes 10th overall in 2017, they saw something:  the opportunity for the Chiefs to become the next big offense. Mahomes patiently waited for his chance behind the NFL's George Clooney, Alex Smith, and the Chiefs made another great move: they took RB Kareem Hunt (out of Toledo) in the third round. 
They were now committed to a wholesale remodeling of their offensive attack and it immediately paid dividends; Mahomes and Hunt have looked like bonafide superstars. Hunt has since left the team (disciplinary issues), and his opportunity has been handed on to Williams. Maybe it was part luck (RB Charcandrick West wasn't on the team's roster until December, and RB Spencer Ware was ailing when news broke Hunt would be cut due to detrimental behavior), but the job belongs to Williams.
He "ran" with it. To end last season, Williams started 3 games and rushed for 5.1 yards per carry. He also averaged seven receptions per game. This was only the appetizer though–he then compiled 159 rushing yards and 10 receptions over two Chief's playoff games. The Chiefs, in a show of confidence, have not done much in the offseason to address the position. They threw a sixth-round pick at RB Darwin Thompson (while talented, seemingly a depth piece), and brought in Carlos Hyde (who if he did run away with the job, almost any back in the league would catch up to him and take it right back).
On top of this, Andy Reid has publicly confirmed that Williams will be his feature back.
What this offense entails
During the last two seasons, the Chiefs have averaged a 40-60 run-pass split in their offensive scheming. If Williams can stay healthy, defenses won't be able to stop him while also scheming against the arm and legs of Patrick Mahomes, the grace and bushwhackery of TE Travis Kelce, the speed of WR Tyreek Hill, potential breakout rookie WR Mecole Hardman (who many considered a top 3 wideout in this draft class), and veteran WR Sammy Watkins.
There won't be many games where the box will be stacked; the passing game and it's 50-touchdown performance last year simply demands more attention. The benefit is obvious for Williams, and while there will absolutely be a split of carries in KC, I predict it going 70-30 in Williams' favor. Using last year as a starting point, this would give Damien Williams a shot at 1,400 rushing yards–not even mentioning his passing game upside. This is a great time to buy in on Williams; do it now while people are still sleeping.
Final Thoughts
Williams is an enigma wrapped in a mystery wrapped in bacon (what isn't better wrapped in bacon). There isn't much of a track record to explain why some truly love him, but the final five games of Kansas City's season–where he showcased his upside–leave us with a huge opportunity to cash in.
Looking at running backs with under 100 carries, Williams's 74 YAR (yards above replacement, per footballoutsiders.com) was second only to RB CJ Anderson. If we increased the range to all running backs, it would have been just one yard under RB Melvin Gordon's YAR. Yeah, Williams was that good to end the season.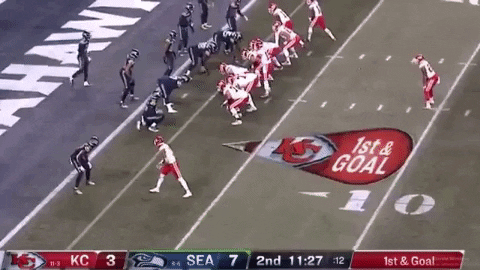 It's obviously possible you could take Williams where he's currently going (around picks 35 to 40) and regret it by week six. Okay then, take both Williams and Hyde to dull the potential fall out with Hyde likely costing only a 10th round pick. Or, spend a little less of your team capital and go Williams and Thompson. Either way, I think Damien Williams will be the secret ingredient in that award-winning KC masterpiece.
Photo by Scott Winters/Icon Sportswire