What's the Story?
A couple of weeks ago my friends and I woke up with blistering hangovers after a party, so the next logical step was to go to the diner to get some food in our systems and repent for our sins from the prior night. Like it always does, our conversation turned to fantasy football not long after we were seated and my friend Blake asked me what I thought of his fantasy team. I told him he was solid all around but didn't love Sammy Watkins, mostly because of his foot issues and overall disappointing career. "Whatever," Blake disagreed, "he plays in the best offense in football and if Tyreek Hill gets hurt he is going to be Kansas City's number one receiver." Later that night I was on the verge of taking Dede Westbrook in a draft when my computer froze. When I finally got the page to refresh I looked at my roster and ESPN's auto-pick drafted none other than Sammy Watkins. Well Blake, if you have next week's lotto numbers I'll take those too. Watkins had a career day on Sunday, popping off for nine catches, 198 yards, and three touchdowns. Let's take a look at how Watkins carved up the Jacksonville secondary for the game of his life.
The Breakdown
Watkins got the fireworks going early, taking the third play from scrimmage 68 yards to the house. Hill was lined up in the backfield, and he demands attention wherever he is. Patrick Mahomes motioned him to the right and faked a screen to pull the defense out of position. They didn't move much, but a little space was all Mahomes needed to fire a strike to Watkins over the middle. Safety Ronnie Harrison tried to jump the route and come up with an interception or a big hit, but was way too late on his break and came up with nothing. At that point, all Watkins needed was a block from Demarcus Robinson and a shimmy to Jalen Ramsey to find some daylight and hit the burners. Watkins got up to 21.4 mph on this run, good for the fourth-fastest play of the week.
On his second drive, Mahomes went right back to Watkins on an inside post. The Jaguars just made this way too easy for Mahomes. The Chiefs spread the defense with an empty set, and the Jacksonville defense dropped into a base Cover 3 at the snap. Mahomes waited for Watkins to get behind the linebackers and hit him with a dart underneath the safety for a nice pickup of 21.
This is the kind of play coaches love, Watkins was isolated with a strong corner in A.J. Bouye on the outside and straight up went to work. Watkins got a great burst off the line, then used a little push off to get some separation and catch a perfectly timed throw from Mahomes. Watkins could have stepped out after the catch and lived to fight another down, but instead opted to throw his body right at Bouye and bulldoze him for an additional eight yards.
Here we have a colossally blown coverage by Jacksonville. Safety Jarrod Wilson completely abandoned his zone to follow Mecole Hardman, and the defense lost Watkins once Mahomes moved left. Meanwhile, Watkins ran a drag wheel from the slot and ended up with the easiest touchdown in his career.
Mahomes executed a perfect RPO on this play to find Watkins for a 22-yard pickup. Nickelback D.J. Hayden was the option man and broke hard at the run, and with Bouye playing off coverage Watkins had a free five-yard out. He then took out the portal gun and sent Bouye into another dimension with a disrespectful juke, I would not have blamed Bouye if he took off his helmet and walked off the field after being exposed like that. Watkins left Bouye so dizzy that he fell trying to get up and chase him down.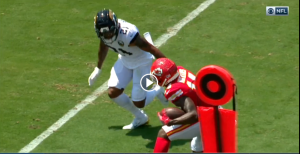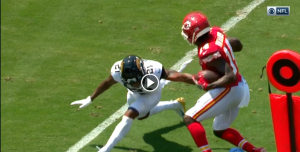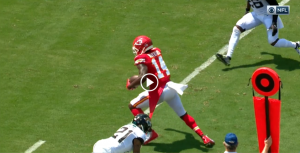 Between Bouye laying a bone crushing hit on absolutely nobody and desperately clinging to Watkins' jersey full well knowing he was just humiliated in front of his home fans, it is hard to tell which screenshot is better. Fans have been waiting to see this kind of explosiveness and agility out of Watkins since he was drafted, and it looks like he finally may be putting the pieces together.
Andy Reid tried to get cute and call a rocket screen to Watkins on this play, and it was blown up immediately. Jaguars DT Dontavious Russell displayed excellent recognition and beelined for Watkins as soon as he saw the screen, unfortunately the big man had no chance at tackling Watkins in space. He slipped by Russell and reversed field, then cut inside by Hayden and linebacker Quincy Williams to pick up an extra few yards and finish the play.
Too. Easy. This is an example of what Andy Reid does best, football is a game of match-ups and Reid knows how to find them. In an empty set, Watkins lined up in the slot and got matched up with linebacker Najee Goode. Watkins ran a little whip route and created all kinds of separation from Goode. After the catch, Goode over-pursued and allowed Watkins to turn up-field for seven more yards.
Mahomes made beating this Jaguars defense look like taking candy from a baby on Sunday. A play fake to LeSean McCoy drew in the linebackers and then Mahomes found Watkins over the middle on a slant. Ramsey was lined up on Watkins with outside leverage, which made it tough for him to get underneath and break up the inside route.
Watkins capped off his day the same way he started it, this time beating Ramsey to get in the endzone. This touchdown really never should have happened; the officiating crew missed a blatant push off by Watkins that allowed him to get open and make the catch, but six points are six points no matter how you get them.
The Verdict
All in all, most of Watkins points were hard earned on Sunday. He had some easy catches for sure but was nothing short of sensational after the catch. Watkins showcased top-end speed, agility, and vision in the open field, this compounded with Hill's injury makes Watkins extremely valuable to fantasy owners. Hill is expected to miss 4-6 weeks and call me crazy but I would be shocked if Watkins isn't a top 10 receiver in his absence. Even when Hill returns Watkins will be a must start for any team that owns him. So buckle up Watkins owners, because Sammy Watkins just might drive you to the playoffs.