Watching Kyler Murray throw the football is so much fun. He slings the ball around like a fourth-grader in a schoolyard recess game, and bear with me because I mean that in the best way possible. Thanks to his 349-yard outing in Baltimore on Sunday Murray became the second quarterback in the history of the league to throw for over 300 yards in his first two starts, joining Cam Newton. Oh, and Murray is also the first athlete to ever be drafted in the first round of both the NFL and MLB drafts. I'm sure you already knew that, as it's basically a formality to mention it any time Murray comes up in conversation. In fact, you may have read that sentence so many times that the gravity of the accomplishment has been lost on you. Baseball and football are wildly different sports that require wildly different skill sets and run year-round, yet somehow Murray managed to become an elite prospect on both the gridiron and the diamond. What I love most about Murray's game is his creativity, oftentimes when he throws the ball he looks like a shortstop who was given shoulder pads and airdropped onto a football field. Murray's toolbox mixed with Kliff Kingsbury's air raid offense is a match made in heaven, let's check out last week's film to see why.
The Run-Pass Option
The run-pass option (RPO) has evolved from an obscure gimmick to commonplace in today's NFL. The RPO essentially isolates a defender and lets him make the decision for the quarterback. Most times a linebacker will be the option man; if he steps towards the line of scrimmage to defend the run then the quarterback will pull out of the handoff and throw a pass. If he backs up to play the pass then the quarterback will hand the ball off to his running back. With athletic quarterbacks like Murray, some RPOs will have an option for the quarterback to keep the ball and run it himself. The RPO is a vital part of Kingsbury's offense and he'll run it whether or not the defense knows it's coming.
Watch Murray's head on this play in the first quarter. He's looking right at the unblocked defensive end Pernell McPhee and the safety Brandon Carr in coverage. Both defenders stay home to play the QB keeper and bubble screen respectively and leave Murray no choice but to hand the ball to David Johnson for a minimal gain.
This is the very next play. Arizona lined up in trips formation to the left, and Damiere Byrd motioned to a bunch, the same formation as the prior play. This time Carr jumped too far inside on the motion and allowed Murray to pull the handoff and throw the screen to Byrd.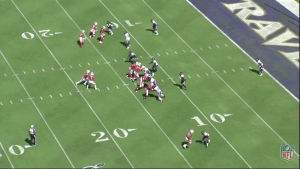 Notice Carr at the top of the screen in both of these screenshots. The first time the Cardinals ran this RPO he was out near the numbers, but the motion on the proceeding play brought him all the way inside near the hashes. This wasn't the only time Arizona showed Baltimore the same look on consecutive plays.
Mechanics and Mistakes
This is the kind of throw that should get Cardinals fans excited for the future. Byrd is lined up one on one with Cyrus Jones, Baltimore's third string cornerback. Murray sees the advantage right away, takes a quick three step drop and delivers a strike to Byrd before Jones could even turn his head around. You don't often see this kind of confidence in rookie quarterbacks, look at how Murray doesn't even step into the throw.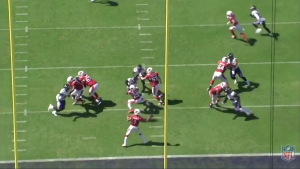 The difference in mechanics between Murray and Tom Brady is striking, Brady is square to his target and his arm comes right over the top. Murray's feet are even and his entire body is opened up, he also throws the ball at a 3/4 angle. Murray makes up for his lack of height by getting creative with mechanics, this enables him to get the ball out quick and throw around defenders. Murray loves this back shoulder throw to the sideline, and he went right back to it the play after this one.
This was a different play from the last one but Murray locked on to the same route, this time on the other side of the field. Kingsbury went with the mesh concept on this play, where two receivers cross with drags over the middle. The quarterback is supposed to read the drag first before moving to the outside receivers, but KeeSean Johnson was isolated with cornerback Marlon Humphrey and with pressure in his face Murray panicked and forced one over the head of his intended receiver without even looking over the middle. Ravens defensive coordinator Don Martindale sent middle linebacker Patrick Onwuasor on a blitz and left Byrd with all kinds of room over the middle. This is the perfect design to beat an inside blitz, and I bet Murray didn't like watching this one in the film room on Monday.
Run Game
Murray hasn't done much on the ground through his first two games, and that's a shame because his legs are by far the most exciting part of his repertoire. Last week his longest run came on the first play of the game, where he picked up seven yards
McPhee was untouched and screamed into the backfield for what looked like an easy sack, then Murray made the magic happen. Right before getting cracked Murray spun to his left and gave McPhee nothing but a face full of turf, hit the burners and took a great angle to the sideline to beat Jones and gain a couple of extra yards.
Intermediate Throws
I probably should have started with Murray's short game but let's be honest, any quarterback worth a damn can complete check-downs and dump-offs. No one wants to watch that so let's skip right to the good stuff.
Throws like these are why the Cardinals took Murray first overall. Baltimore drops into a cover 3 and has everyone blanketed, yet somehow Murray is able to throw a bullet in between two linebackers to a location where Christian Kirk is the only one who can make the catch. With a clean pocket, Murray is able to generate a ton of velocity by stepping into his throw, his mechanics here are much more conventional.
Anyone who plays Madden knows this play. The four verticals concept is a staple of the air raid offense, but the play is run differently in real life than it is in the video game. Kingsbury's version of four verticals gives receivers flexibility to adjust to the coverage and find ways to get open. Here Murray makes a similar throw to one we saw before, Anthony Averett has his back turned to the play and Murray makes him pay by dropping a dime into the hands of Kirk.
The Deep Ball
There are few things in this world as beautiful as watching a football fall out of orbit and into the hands of a wide receiver, and Murray makes it look like art.
Baltimore drops into a cover 3 zone on this play and Murray picks it apart. A pump fake underneath fools Averett and safety Earl Thomas gets turned around by Kirk on a corner, allowing him to get open down the field. Murray doesn't even step into this throw, and this is another way his baseball ability translates to the gridiron. Batting is all about your lower half; the more torque a player has in his hips, the more powerful his swing will be. You can see here that Murray generates all of the power on this pass by firing his hips through the throw. Murray looks Mahomes-esque the way he modifies his mechanics depending on the throw he needs to make.
Here the Ravens sent a zone blitz to get some pressure to Murray. He was forced right immediately and managed to keep his eyes downfield long enough to see KeeSean Johnson break free down the sideline, then muscled a ball as far as he could while taking a hit. Many quarterbacks would instantly be sacked here, but Murray uses his athletic ability and raw arm strength to do just enough to get the ball to Johnson with Carr too far out of position to make a play.
Murray hooked up with Fitz for 40 yards on this throw, although it should have been a touchdown. Arizona rarely goes under center and the Ravens defense was fooled by the play fake, but that was not the issue on this play. Baltimore was in a cover 3 and Humphrey abandoned his zone to follow Kirk. Meanwhile, Fitzgerald got free on a drag wheel from the slot. Murray tried to get fancy and draw the defense left by shuffling that direction, but he walked right into pressure and was forced to get rid of the ball without a lot of mustard on it. If Murray would have just sat in the pocket and stepped into a throw he likely would've had an 80-yard touchdown.
The Verdict
Through two games the reigning Heisman winner has lived up to the hype and has made himself fantasy relevant. Murray has been throwing the ball over forty times a game, and that volume alone will make him worth starting. He threw two touchdowns in Week 1 and none last week, but Arizona kicked three field goals from inside the five-yard line. Murray also hasn't done much on the ground thus far with just 17 rushing yards, but he's too dynamic with the ball in his hands for Kingsbury to keep him behind the line of scrimmage all season long. If you have Murray in your lineup it is time to start him every week, because he's only getting better.
---
Featured Image by Justin Paradis (@freshmeatcomm on Twitter)