Houston, we have a problem!
In case you were bewildered by the chaotic reaction caused by Andrew Luck's unexpected retirement, the AFC South suffered another relevant loss over the weekend: Houston Texans' running back Lamar Miller is out for the remaining of the season.
Miller tore his ACL in the first (and only) carry he had against the Dallas Cowboys in Week 3 of the preseason. 
Losing their starting back wasn't scripted for the Texans, who entered the 2019 season trying to reunite a complete, dangerous offensive unit for Deshaun Watson. 
So what's next for Houston? 
The franchise has Duke Johnson, acquired via trade early in August. But Johnson doesn't seem to be the ideal three-down back for the team, which leaves the Texans — and the fantasy football owners — seeking for someone to lead the way in the backfield. 
Let's take a deeper look at what the Texans lose with Miller's injury and what should we expect from their running game in 2019 after the breaking news. 
How Good was Lamar Miller?
Miller signed with the Texans in 2016 after an emerging tenure with the Miami Dolphins. The initial expectation in Houston was that the running back would continue to improve and soon solidify his name as one of the top RBs in football. 
After being a fourth-round selection in 2012, Miller became the Dolphins starting back in his second pro season. In 2014, he topped the 1,000-rushing yard mark for the first time and established what is still his career-best 5.4 yards per touch and 1,374 scrimmage yards. 
Another solid campaign one year later cemented himself as one of the most promising running backs in the league at the time: While combining for 19 TDs in 2014 and 2015, Miller had at least an 85-yard rushing touchdown and more than 5.2 yards per touch in each of those two seasons, creating a favorable scenario for him heading into the free agency. 
The 28-year-old never matched those performances in Houston though.
Miller did rush for more than 1,000 yards again (2016), but his yards per carry dropped considerably (hitting its lowest point, 3.7, in 2017), as well as his touchdown production, as he has yet to score more than six touchdowns in a season with the Texans. 
Last year, Miller posted 1,136 yards from scrimmage and six touchdowns in 14 games played. 
Here's how his career fantasy production has been per season thus far: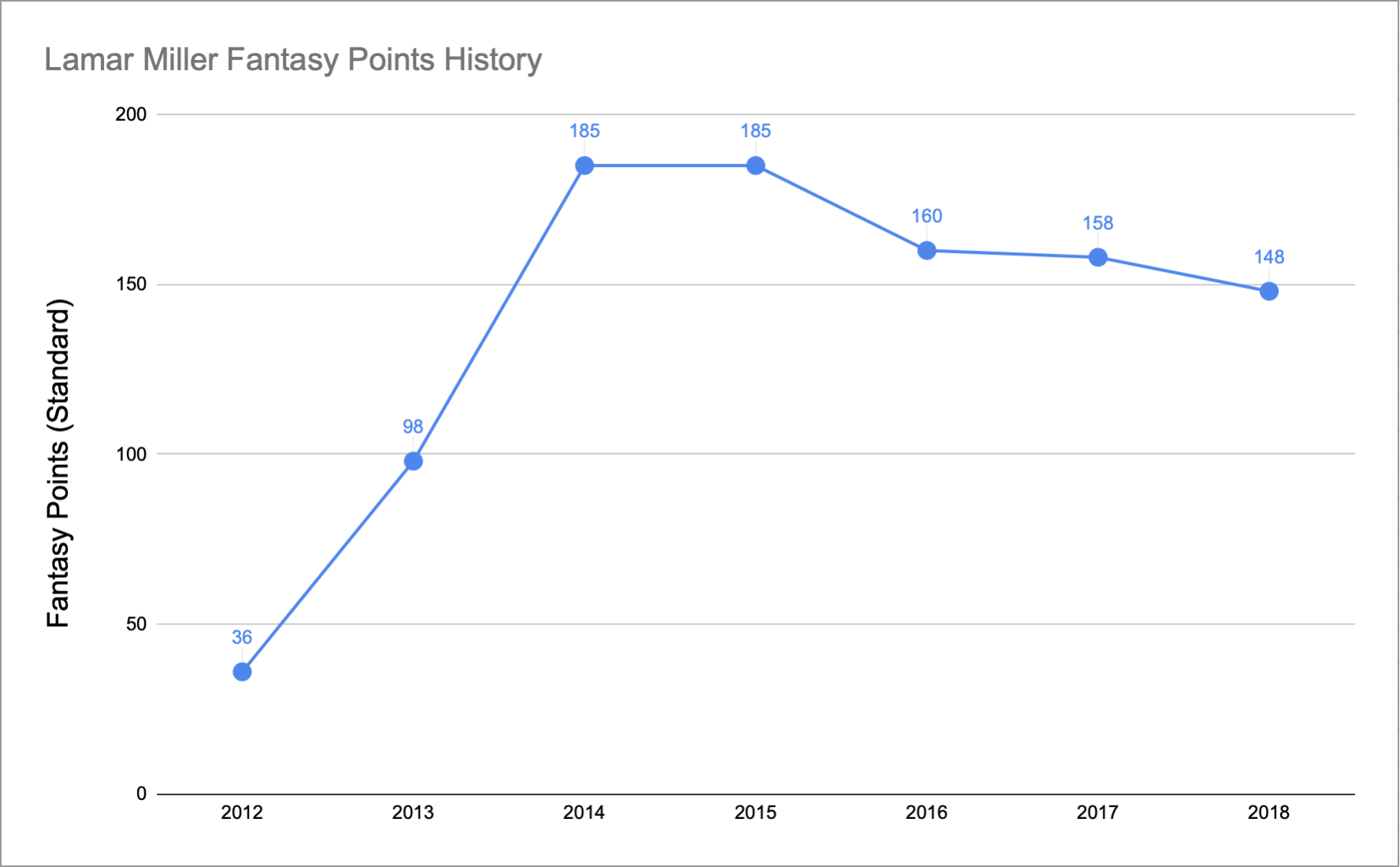 As we can see, Miller's production is decreasing, and he's far away from being an RB1 candidate in fantasy, something he was labeled with early on in his career. 
But keep in mind that he can be a solid RB2 for a lot of teams, after all, despite the lack of upside, Miller is still averaging 16 touches per game, 4.5 yards per touch, and six touchdowns per year in the past three seasons. He has been the Texans No. 1 running back, but now the team has to find a piece (or maybe pieces) to fill in for Miller during the season.
Who can handle that workload for Houston this year then?
What Are The Texans' Options?
Since March, the Texans have seen several changes in their backfield, which changed everything at the running back position compared to last year. Here's how the franchise split the ball to its RBs in 2018:
| | | | | |
| --- | --- | --- | --- | --- |
| Player | Rushing Att. | Rushing Yards | Rushing TDs | Snaps played |
| Lamar Miller | 210 | 973 | 5 | 619 (55.58%) |
| Alfred Blue | 150 | 499 | 2 | 461 (42.14%) |
| D'Onta Foreman | 7 | -1 | 0 | 31 (2.83%) |
With the injury, Houston now doesn't have its two most reliable running backs from 2018, as Alfred Blue signed with the Jacksonville Jaguars. By the way, D'Onta Foreman, who was a third-round pick by the Texans in 2017, was let go in this year's offseason and signed with the Indianapolis Colts. However, Foreman was placed in the injured reserve a week ago and then released by the Colts. 
The Texans were one of the two teams that had two running backs with at least 150 or more rushing attempts along with the Tennessee Titans. 
But with both of them gone, it should be time for a plan B, especially considering the options that the franchise has in the roster today. After all, none of them appear to be the ideal substitute for Miller. All the Texans current running backs were listed below: 
Duke Johnson
Buddy Howell
Josh Ferguson
Taiwan Jones
Damarea Crockett (R)
Karan Higdon (R)
We should expect Johnson with a more significant role for this offense right now, but, again, the former Cleveland Brown should have a better impact in the passing game rather than necessarily running the football. 
Besides him, there are no proven names.
Alongside two undrafted rookies in Crockett and Higdon, the Texans have Howell and Ferguson. They have both being with the franchise since 2018, and while Howell has yet to register his first NFL run, Ferguson totals 16 career rushing attempts (for 25 yards), with the most recent happening two years ago with the Colts.
Although in this case it doesn't translate to on-the-field production, the oldest player of this group is Jones, who was a fourth-round selection in 2011. The 31-year-old has never started a game in his career and hasn't put up a rushing attempt since 2016.
Bottom Line 
The Texans finished eighth in the NFL in rushing yards (2,021) in 2018, but only 19th in yards per carry (4.3) and 20th in touchdowns (12).
Watson has proven that he doesn't need to have an elite running back to move the chains on offense, but Houston can't afford not having a reliable piece in the backfield with a young quarterback under center and an in-transition offensive line.
Therefore, we shouldn't be surprised if the Texans acquire an early-down running back as the season nears.
Lastly, we can conclude two things about the Texans' backfield at this moment:
The unit will probably be very different than last year. Why? Not only due to the starting running back injury, but also because Johnson's acquisition gives Watson a sure-handed running back. While Miller led the team in both targets and receptions among RBs with just 35 and 25, respectively, in 2018 Johnson caught 47 passes in the past season and now has 121 receptions since 2017.
This backfield will create a surprising value in fantasy leagues regardless of who will be the No. 1 option.  If the Texans decide to lean on Johnson, for example, he'll have a much bigger role than everyone initially thought. So will his immediate backup, who appears to be Howell at this point. But keep in mind that Houston may get a new running back. The franchise can pursue a great name available in Melvin Gordon, for instance. Or perhaps look for established veterans such as LeSean McCoy and Adrian Peterson, who both appear to be tradable at this point. Another option is to go back to the free agency and claim names like Jay Ajayi, a veteran who is clear to play again and may be able to contribute on the field, especially on early-down situations.

 
(Photo by Leslie Plaza Johnson/Icon Sportswire)