When it comes to drafting tight ends, generally speaking I've believed over the past few years that if you don't end up with one of the top three or four tight ends in the draft, you can just wait until way late, because the rest of the tight ends are pretty interchangeable.
I think that's the case with the draft this year too. If you don't get Travis Kelce, Zach Ertz, George Kittle, or Evan Engram (though an argument can be made against Engram being in this group), you're probably fine just waiting on tight end, because the middle-tier tight ends are not likely going to be much more valuable than the later ones.
I'm especially fine waiting on tight end in drafts this year because there are some really interesting guys late in drafts. I've talked about some of my favorite tight end sleepers, but I want to dive into one of them in particular, and that's Mark Andrews.
Assessing the talent
Andrews was a rookie last year, drafted in the third round by the Ravens and seemingly slated to backup first-round pick Hayden Hurst. However, quite the opposite happened—Andrews ended up being the more valuable fantasy wide receiver and finished the year with a solid rookie campaign with 34 catches on 48 targets for 552 yards and three touchdowns.
On the surface, that seems like an okay rookie campaign for a tight end, but nothing that screams breakout candidate for this season. However, when you look closer at Andrews' numbers last year, it's pretty clear the guy is a very talented receiving tight end, and that could translate into production.
There are two main things to look for when you're trying to identify a solid fantasy sleeper—talent and opportunity. Let's start with talent: Andrews definitely has it. Last year, Andrews ranked 14th among all tight ends in ProFootballFocus' receiving score, with a grade of 75.5, placing him just below Evan Engram and just ahead of Jordan Reed.
He also ranked exceptionally well in Defense-adjusted Yards Above Replacement (DYAR). Now, you may be asking "Wait, is that? What does that mean?" If you want a more comprehensive breakdown of DYAR, I'd strongly recommend reading more here, as FootballOutsiders provides a very detailed explanation of the stat (which they created). But I can give you the short, likely overly-simplified version.
DYAR looks at each catch the player made and compares their performance on that catch with what a replacement-level player at that same position would have done in the same game situation, and then translates that comparison into yardage. If you're a baseball fan, you can sorta kinda think of it similar WAR. It's how many yards above a replacement-level player that specific player achieved in the season.
Here's a list of the top 10 tight ends in DYAR last year:
| | |
| --- | --- |
| Player | DYAR |
| George Kittle | 207 |
| Travis Kelce | 196 |
| O.J. Howard | 169 |
| Mark Andrews | 159 |
| Jared Cook | 146 |
| Rob Gronkowski | 98 |
| Jesse James | 96 |
| Zach Ertz | 93 |
| Kyle Rudolph | 91 |
| Benjamin Watson | 73 |
What does this tell us? It tells us that, in the somewhat limited action Andrews saw last year, he played significantly better than a replacement-level tight end. Now, it's important to note that DYAR isn't some perfect stat, it's not predictive of what Andrews, or any tight end, is going to do this year. But what it does testify to is his talent.
I also think it's worth mentioning that, generally speaking, some of the biggest player development happens between a player's first and second season. Rookie tight ends are kind of a crapshoot. Sometimes you get the Evan Engram's of the world who post 722 yards in their rookie season, but that's generally rare at the tight end position.
But second-year tight ends, that's often where a player can come into their own. George Kittle is a great example of this, as he posted 515 yards his rookie season and then 1,377 in his second. And for what it's worth, all the reports out of camp this year were nothing but heaps of praise for Andrews.
Per The Athletic's Jeff Zrebiec:
Tight end Mark Andrews probably caught more balls than any other offensive player. He regularly got the best of Ravens defenders, not only on short and intermediate routes, but also down the field. He also had no problem reminding his teammates about it, bringing a much-needed swagger to a new-look offense. If Andrews stays healthy and his rapport with quarterback Lamar Jackson keeps growing, it wouldn't be surprising if the second-year tight end led the team in receptions this year.
And while Andrews didn't see the ball a whole ton last year, he was productive when he got it, averaging 3.15 fantasy points per touch in PPR formats last year, which put him fourth among all tight ends with a minimum of 30 catches last year. Remember how much of a fantasy asset Eric Ebron was at the tight end position last year? He averaged 3.25 fantasy points per touch.
Also, if you want a little video evidence of Andrews being awesome, take a look at this grab and run from the Ravens' preseason game against the Eagles:
Assessing the opportunity
So I believe we've established that Andrews is a talented tight end, but the big question is opportunity. What is Andrews' role going to look like in what is likely going to be a very different, run-heavy Ravens offense with a quarterback in Lamar Jackson who has shown to struggle with his accuracy?
It's far from a certainty, but there's no doubt that Jackson likes Andrews and provides Andrews with opportunities to produce. Last year, Andrews ranked fourth among tight ends in average depth of target with 11.2 yards and also ranked fourth among tight ends in yards per route run with 2.01. He also was second among tight ends in yards per target at 11.04.
And when it was thrown deep to him, Andrews produced some good yardage: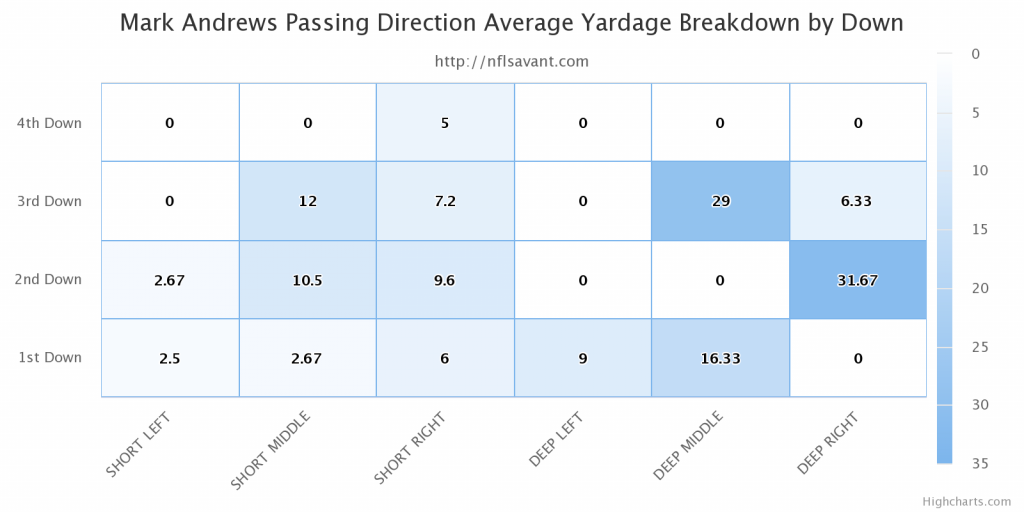 As for targets, the Ravens aren't likely to be passing a ton. Last year, the Ravens led the NFL in rushing attempts at 33.5 per game, and I'm betting they do something similar here.
However, even with that, Andrews had some games with a decent number of targets: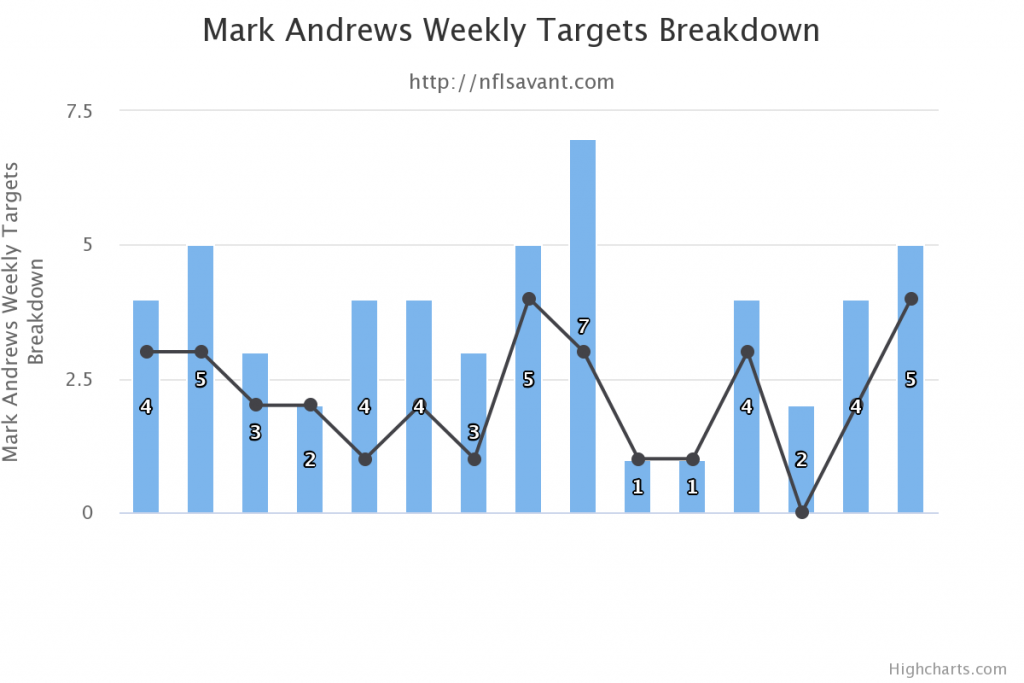 That's a bit of a rollercoaster, but clearly Jackson isn't afraid to throw to Andrews. And why wouldn't he be? Last year, when Jackson threw to Andrews, Jackson posted a 128.7 passer rating, the best of any receiver Jackson threw the ball to more than 10 times.
Conclusion
As I said, when you're looking for a fantasy sleeper, the two things you look for are talent and opportunity. Andrews has a ton of talent and performed pretty well when he was out there last year, and it looks like he could have a good opportunity to score.
However, the opportunity is not even close to a guarantee, and that's where a lot of the risk sets in. Who knows what the Ravens' offense will look like? It's probably going to be a run-heavy west-coast style offense, but that remains to be seen. Jackson showed some clear talent last year, but he also showed some serious struggles throwing the ball. The reports this offseason are that Jackson has been working a lot on his passing and has improved, but again, that remains to be seen.
Andrews could be targeted a lot given there isn't much of a receiving corps (either him or Marquise Brown), or the Ravens could run a ton and not throw to him at all. I personally expect him to be pretty heavily involved in the passing game, and as a result, I think he could be a useful fantasy tight end.
Right now, Andrews' ADP is around the 15th round. That means he's basically free, and given the chance that he could be a productive fantasy tight end, I think it's worth a shot.
Photo by Jeffrey Brown/Icon Sportswire