(Photo by Ian Johnson/Icon Sportswire)
Note: We started our draft recap Monday with rounds 1-2 and yesterday we covered rounds 3-4. If you missed anything, click the links at the top or bottom of the page. Today we will be recapping rounds 5-8 and tomorrow we'll be covering 9-14. As always, thanks for reading!
Rounds 5-8
Like yesterday, we'll jump right into the draft results and talk about each pick. As a general rule, I will spend less time on rookies: they have been well noted during the draft, and I am far from an expert at predicting who will break out vs who will fade. We will also review our teams so far: how do we think the draft has gone for us to this point? As always, thanks for reading!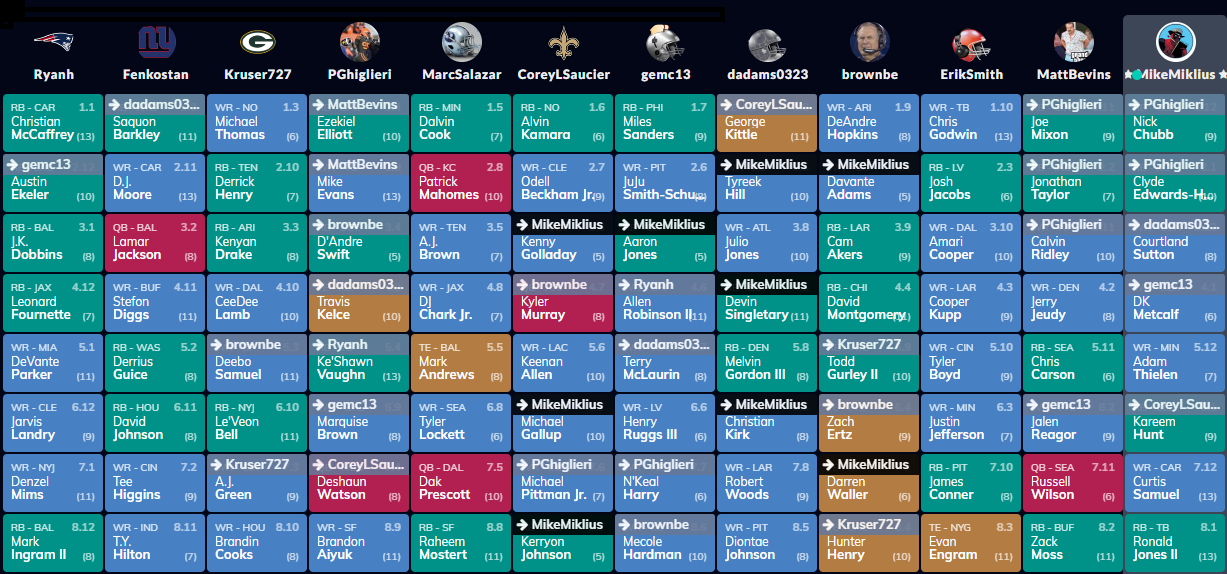 Note: Each pick was made by the name at the top of the column unless stated otherwise on the pick itself. For example, pick 1.01 was made by Ryanh while pick 1.02 was made by dadams0323–not Fenkostan. The color of each pick represents the position of the player (green is RB, blue is WR, orange is TE, and red is QB)
Round 5
With the start of round 5 came a pair of polarizing players. The first four selections in the round were DeVante Parker, Derrius Guice, Deebo Samuel, and Ke'Shawn Vaughn. DeVante Parker finally broke out in his fifth year (1,200 yards and 9 TD), and it seems like most are ready to buy-in. I'm not sold quite yet. Why does one good year wipe away four bad ones? It's true that Parker has flashed his talent before, but I don't completely buy the narrative that he's here to stay. There are also receivers in this range (Keenan Allen and Tyler Boyd to name two). Right behind Parker was Derrius Guice. To this point in his career, the story of Guice is "what could have been". In his few pro carries, he has looked like a complete baller. The talent shines brightly. The problem, though, are the injuries. The Redskins drafted Guice in 2018 and placed him on IR with a torn ACL. He came back to the active roster in November of 2019 but went down a month later with another torn ACL. Guice is still only 22, but the injuries are already piling up fast. I feel bad for him; it's terrible to watch a great talent be sabotaged by his body. It's worth wondering if he will ever live up to his enormous talent though. Like Parker, Guice is just too expensive for me in this range.
Deebo Samuel went next, and he feels like a good value at this point. He flashed in a big way in the playoffs, and he should be the WR1 in San Francisco. Behind Kittle, Samuel is the passing game's only returning weapon of note. Ke'Shawn Vaugh was the next rookie off the board, and he has a huge ceiling this year depending on what his role is. Vaughn is playing in Tampa Bay–the offense with Tom Brady, Chris Godwin, Mike Evans, Rob Gronkowski, and OJ Howard.  We want running backs in good offenses, so this is a home run, right? Just one problem: Ronald Jones. Jones will be 23 at the start of the season and put up 1,000 yards from scrimmage last year while sharing the field with Peyton Barber. If Vaughn becomes the starter, he was a steal in the fifth. If Jones holds him off, Vaughn becomes an expensive handcuff. I like Vaughn's talent, and I think he is worth the 'risk' at this point.
Our next four picks were Mark Andrews, Keenan Allen, Terry McLaurin, and Melvin Gordon. Mark Andrews was safe last year, something rare in the "tight end business". He averaged 6.5 targets per game and totaled a monstrous 10 touchdowns in 15 games. Lamar Jackson loves his tight ends, so Andrews is in a great spot moving forward. I feel like we could look back in a year and wonder why Andrews lasted until the fifth round. Keenan Allen is an excellent route runner averaging 101 receptions and 1,260 yards over the last three seasons. Also, long gone is the "injury-prone" narrative about him. It hurt to watch Allen get taken as I hoped to pick him up in this round. I imagine he dropped this far because Tyrod Taylor is now the quarterback and people are worried the passing game will wilt. Make no mistake that Allen is still the top option here, and he will eat if he stays healthy. Terry McLaurin went next, and he feels similar to DJ Chark for me. Both flashed in their rookie years but have question marks at quarterback. I love McLaurin's highlight reel, and he is another receiver I hoped to get a chance at later in the round. After McLaurin came Melvin Gordon, now playing in Denver. Gordon will likely slot in as the lead back, but I imagine Phillip Lindsay will still have a significant role. Of the veteran backs available this year, I'll be honest: Gordon was not my favorite. Still, Denver is committed to running and Gordon could have a good season there. The Broncos also agreed to pay Gordon $8 million/ year for the next two seasons.
The round finished up with Todd Gurley, Tyler Boyd, Chris Carson, and my pick of Adam Thielen. I love Gurley this year. He is in an offense with a lot of weapons, and he has no competition behind him. Either Todd Gurley carries the workload for Atlanta or they sign someone off the street if he goes down. Sure, Gurley's knees are a ticking timebomb. As long as he's playing, though, I love the talent. If Matt Ryan can have another season like 2016 or 2018, there could be plenty of points to go around and Todd Gurley is the clear red zone back. Tyler Boyd was this close to being on my team. I had a trade ready to accept with Erik, but I backed out figuring I would still get my guy. After all, Erik had three wide receivers and only one running back at this point. How could he not take a running back? I declined the trade and watched myself get sniped. So what did I like about Boyd? He is the likely number one option in Cincinnati with Joe Burrow coming in at quarterback. He also has management's approval: they signed him to a 4-year, $43 million dollar deal. He isn't an electric athlete, but he should be a favorite of Burrow for years to come and he knows how to play the position. Chris Carson followed Boyd, and he's a tough evaluation this year. On one hand, he is the lead back for a team that loves to run. He has two-straight 1,110 yard and 9 TD seasons, and his closest competition is still recovering from a torn ACL. On the other hand, Carson is coming off a hip injury and his bruising style leads to an elevated chance for injuries. He also has a massive fumbling issue. Oh, and there's the back that Seattle took in the fourth round. In my mind, Carson's outcomes range from an RB1 finish to being benched before the year is over. At least he doesn't have to worry about Rashaad Penny for now. Finally, I was back on the clock. I considered grabbing another running back, but the next 4-6 guys felt pretty similar in value. There was also no tight end or quarterback I had to have. There was another receiver I liked though: Adam Thielen. While he is already 29, Thielen is the only returning wide receiver in Minnesota with any real chops. Let's say Kirk Cousins throws only 500 times this season. How do at least 150 of those targets not go Thielen's way? He is an easy top-12 receiver in 2020, and I can accept the trade-off of his short shelf life.
Round 6
Round six started off with Kareem Hunt, Jalen Reagor, Justin Jefferson, and Zach Ertz. Kareem Hunt is an interesting pick at this point. He is the number two back on his team and he has a bevy of character concerns. Half the worry here is not knowing when the next shoe will drop and he'll be suspended for another season or out of the league entirely. The upside here is just as big as the downside: Hunt was a monster his rookie season for the Chiefs, and he was well on his way to repeating that success in 2018 before he was–you guessed it–suspended. Hunt landed with the Browns in 2019 and showed he is still the back we remember from 2017. If Hunt stays out of trouble, he represents enormous value in the sixth. I could honestly see him and Nick Chubb both putting up great seasons in Cleveland as the team likely focuses on the run. Jalen Reagor and Justin Jefferson were the next rookie receivers to come off the board and both joined teams (Philly and Minnesota) in desperate need of immediate help at the position. As I said before, though, I don't tend to trust rookie receivers. Still, if either pops early they will have plenty of targets waiting for them. Zach Ertz was next off the board. Like Kelce, Ertz comes with an age discount (he's 29). Ertz should continue to be the top receiving weapon in Philadelphia, at least early on. The team was completely devoid of reliable weapons, and it's still too early for me to say if that has changed since last year. Either way, Ertz is a nice value in the sixth.
The next four picks were Christian Kirk, Henry Ruggs, Michael Gallup, and Tyler Lockett.  Let's start with the ones I didn't personally take: Henry Ruggs was the first-round selection by the Raiders and a surprise as the first receiver off the board this year. Ruggs is a speed demon, and he fits the Raiders' mold well. The team is hurting for top-flight weapons, so there is plenty of room for Ruggs to carve himself a role–much like with Reagor and Jefferson. Tyler Lockett had a strong showing last season, cracking 1,000 yards for the first time in his career. He is flanked by DK Metcalf, who may have already passed him by as the team's WR1. Still, Russell Wilson is plenty capable of feeding both receivers. If Pete Carroll ever lets Wilson run loose, Metcalf and Lockett would both be in for monster seasons. That may be a big "if" though as the Seahawks love to run. Okay, on to my picks. I selected both Christian Kirk and Michael Gallup, and I took them as youth/ depth pieces at the end of my starting line-up. With Kirk, I love what I've seen so far and I like the offense he's tied to. The Cardinals plan to play fast, and they run a lot of 11 personnel (3 wide receivers) and 10 personnel (4 wide receivers). Kirk tends to excel from the slot, and I'm sure the team has noticed. As long as he is used to his strengths, I expect him to continue to grow. Did I mention that in Kirk's 13 games, he saw 10+ targets five different times? With Michael Gallup, I was thrilled to see the Cowboys select CeeDee Lamb. It almost guaranteed that Gallup would fall to me here. Gallup was 23 last season and here's what he did: 1,107 yards and 6 touchdowns. Oh, and that was in 14 games. Gallup saw an increase in basically every important wide receiver metric last season. He'll be working again with Dak Prescott in 2020 in what looks like one of the league's best offenses. I love connecting myself to great quarterbacks, and this round gave me a piece of Kyler Murray and Dak Prescott.
The last four picks of the sixth round were Marquise Brown, Le'Veon Bell, David Johnson, and Jarvis Landry. I originally had the 6.09 pick and I was debating taking Marquise Brown in that spot. I loved him coming out of college, and he looked explosive last year, though he wasn't even playing at 100%. By all accounts, Brown has the potential to be a mini Tyreek Hill. My worry though has always been Brown's size and injury worries. Brown is listed at 5'9 and 170 pounds–tiny by NFL receiver standards. I could live with the size if it weren't for the injuries already stacking up. Brown was recovering from Lisfranc surgery as he came into the league, and he's having another procedure this offseason to "fix the fix". Though I still wanted Brown, I preferred to trade back for more value. That way, I could grab a couple more running backs–whoever fell. With what would have been my pick, Colin grabbed Brown. I can already feel myself regretting it as I watch Brown streaking down the field for touchdowns in 2020. Le'Veon Bell and David Johnson feel like appropriate back-to-back picks. Bell held out of the 2018 season before being signed by the Jets. Adam Gase made it clear he wanted nothing to do with Bell last year, and he appeared intent on making him look bad all season. I think Bell still has more in the tank, but I can't trust Adam Gase to bring it out of him. David Johnson appeared washed up last season, so of course the Texans traded for him. Johnson is now the lead back on a team without many reliable weapons. If he can muster even decent play, he should be in for plenty of carries and targets this year. Just realize that he'll be 29 before the season is done. We finish the sixth round with Jarvis Landry: possibly the most under-appreciated man in football. Landry has seen 110+ targets for six straight seasons and 130+ for five straight seasons. He averages 1,000+ yards per season for his career, and he still found success in Cleveland's broken offense last year. Why do we all continue to doubt Landry? He is a no-doubt WR2 in PPR and he comes at a cheap price. I love Landry here. Did I mention he's never missed a game?
Round 7
Round seven began with Denzel Mims, Tee Higgins, AJ Green, Deshaun Watson, and Dak Prescott. Mims and Higgins are another pair of rookies headed to teams in need of weapons. The Jets parted ways with Robby Anderson, and it looks uncertain if Quincy Enunwa will ever play again. Mims was one of my top three wide receivers in the draft, and he feels like a value here compared to the price paid for his peers. The only worry is Adam Gase and the mismanagement of his assets–both here and during his tenure in Miami. With Higgins, there won't be quite as much pressure to succeed right away. The team already has Tyler Boyd, AJ Green, Joe Mixon, and whatever John Ross and Auden Tate have to offer. The upside here is that Higgins is paired with Joe Burrow, and the two will be able to develop together for years to come. After Mims and Higgins, AJ Green was next off the board. Despite starting his career with seven consecutive Pro Bowl seasons, Green is now on the decline. He will be 31 when the season starts and he missed seven games last year. He has only played one full season in the last three years. If Green is fully healthy, he might have another couple of solid years left in him. I could also see him being toast at this point, or retiring at year's end. That's why a former first-rounder lasted until the seventh. After Green, we started to see a run at quarterbacks. In many leagues, I don't imagine QB or TE lasting this long. People tend to panic and start over-drafting guys to make sure they aren't left out. The seventh-round is a completely reasonable place to grab your guy. At that point, you could reasonably already have three running backs and wide receivers. Deshaun Watson started the run. As much as I love his talent, I just as strongly hate the supporting cast. Brandin Cooks has a long history of concussions. Will Fuller, entering his fifth year, misses an average of 5.5 games per year and has never completed a season. Keke Coutee has only finished 17 games over his two-year career. If Watson was playing in Dallas, he might be my QB1. In Houston, he is in my QB6-8 range. After Watson came Dak Prescott. Dak is not necessarily my favorite talent, but he has an amazing situation. He is surrounded by an amazing arsenal of weapons (Amari Cooper, Michael Gallup, CeeDee Lamb, Ezekiel Elliott), he is fresh off a strong season, and he adds five rushing touchdowns a year. Neutral of situation, Dak would be in my top-10 at the position. In Dallas, Dak might be my QB3.
Continuing the seventh round, we saw Michael Pittman, N'Keal Harry, Robert Woods, Darren Waller, James Conner, Russell Wilson, and finally Curtis Samuel. Pittman has the opportunity to become the man in Indianapolis with only a 30-year-old TY Hilton and a recovering Parris Campbell to challenge him. There are plenty of targets available in this offense, and Pittman could eat if he manages to break out in year one. N'Keal Harry went next, and it seems like his rookie season couldn't have gone much worse. He injured his ankle in training camp and never got up to speed in year one. The Patriots are still desperate for a WR1, so Harry will get every chance to succeed this season. Robert Woods came next, and he was–in my opinion–a massive steal in the seventh. In each of his last two seasons, Woods has totaled 130+ targets, 85+ receptions, and 1100+ yards. It's not hard to imagine him as the WR1 for the Rams this season, and I could see a high-end WR2 finish this year. I was actually considering him at 5.12 along with Adam Thielen. After Woods went, I was back on the clock. I was honestly considering two moves here: Take Russell Wilson, the last QB in my current tier, or grab a tight end. The tight ends I was considering were Hunter Henry and Darren Waller. As much as I like Wilson, the value at tight end felt like it would drop off faster. So, I was down to Henry and Waller. I prefer Henry's talent, but I don't trust Tyrod Taylor or Justin Herbert to support a robust passing game. With all the mouths to feed (Keenan Allen, Hunter Henry, Austin Ekeler, Mike Williams) I was scared away. After all, Taylor has never thrown for 3,100 yards in a season, and I don't trust Herbert to be a starter in the league–regardless of what the Chargers spent on him. That's not to mention Henry's recent health issues. So, I went with Darren Waller. Why Waller? He is the most reliable weapon in Las Vegas, a team that was hurting for pass-catchers last season. He was the only player on the roster to accrue at least 75 targets (he had 117), and he has 12 games with at least six targets. Sure, Waller may lose some of his volume to the incoming class. Still, he's only 27, he's an athletic freak, he's coming off a breakout season, and he has the strongest rapport with Derek Carr. I'll take it.
James Conner was next off the board, and he is an interesting mix of talent, situation, and injury history. When Conner was mostly healthy in 2018, he put up 1,470 yards from scrimmage and 13 touchdowns. Oh, and that was in 13 games. Fast forward to 2019 and Conner had trouble staying healthy. After the first seven games of the season, he only totaled 19 more carries on the year. Conner is heading into a contract year and will be battling Jaylen Samuels, Anthony McFarland, and Benny Snell for touches. Let's also not forget that when Ben Roethlisberger went down for the season that the offense turned into hot garbage. After James Conner, Russell Wilson was next off the board. If I could choose any quarterback to lead my Bears, it would be a tough choice between Wilson and Mahomes. I'd love to see what Russ would do in Kansas City or Dallas–an offense that would let him go out and rip it. Still, Wilson plays in a run-first offense and this means his ceiling will probably always be capped. The seventh-round finished with my last pick: Curtis Samuel. Samuel is one of those guys I just can't quit. He saw a nice bump in targets last season for Carolina, and he suffered from lousy quarterback play. There are a handful of plays where Samuel gets open and the ball never arrives. Or, when it does arrive, it's off-target. Two examples are a 44-yard completion from Cam Newton in week 2 that would have been a touchdown if thrown accurately and an off-target pass from Kyle Allen in week 7 against the 49ers that would have been another touchdown.  In both cases (and yes, there were plenty more) Samuel was wide open and simply needed the throw to be made. In both cases, the quarterback failed him. Here's to hoping that Teddy Bridgewater proves to be an upgrade.
Round 8
We will finish up today with the eighth round. I led off by grabbing Ronald Jones. After him came Zack Moss, Evan Engram, and Hunter Henry. Ronald Jones had a brutal start to his NFL career. He was a second-round pick, but he was hopelessly lost all season long and rarely saw the field. He only totaled 30 touches. Enter 2019, and things were much better. He wasn't elite, but Jones started to show the promise that he was originally drafted for. He shared the backfield with Peyton Barber and managed 1,033 scrimmage yards on 203 touches. He flashed at times and looked like an NFL-caliber talent. Flash forward to this season, and the 23-year-old Jones will share the backfield with rookie Ke'Shawn Vaughn. Sure, it looks like Vaughn could be Jones' replacement. What if he isn't though? What if Jones ends up in a split or even–God forbid–holds off Vaughn? The potential in this offense is tremendous, and I'll happily throw a dart at Jones gaining traction. If his improvement from year one to year two is any indication, Jones has the drive to improve and succeed. Zach Moss broke the three-round rookie RB drought, and he joins Devin Singletary in Buffalo. The Bills, as I mentioned yesterday, want to run the ball. Drafting another back, then, was not surprising at all. Moss's floor, assuming health, should be something like 10 touches a game; his ceiling would be a full workload if anything happens to Singletary–or if Moss proves to be an elite talent. Either way, that's solid for this late in the draft. Next came Evan Engram and Hunter Henry: two talented tight ends that have trouble staying on the field. Engram missed eight games last year and five the year before. He plays in a Giants offense that could use some more reliable weapons, but I don't trust Daniel Jones behind center. Henry missed four games last year and all sixteen in 2018. He is surrounded by plenty of talent and faces an unknown at QB in Tyrod Taylor. Still, he has shown excellent talent if he can stay on the field. It's fitting that Henry and Engram went back-to-back here because they represent the end of my second tier of tight ends. Kittle and Kelce were tier one and then Andrews, Ertz, Waller, Henry, and Engram were tier two.
Moving on, we saw Diontae Johnson, Mecole Hardman, Kerryon Johnson, and Raheem Mostert off the board next. Diontae Johnson had an underappreciated rookie season last year. He was sixth in receiving yards amongst all rookies, and he had to deal with truly hideous quarterback play on a weekly basis. Seriously–there weren't many teams as bad behind center as the Steelers once Big Ben went down. Unfortunately for Johnson–and the rest of the Steelers weapons–Roethlisberger is 38 and has only finished one of the last five seasons. I love Johnson's talent and he should continue breaking out if his quarterback can stay healthy. Mecole Hardman was a big play machine last season, but I'm not optimistic about him finding a much bigger role. Why not? Four reasons: Tyreek Hill, Travis Kelce, Clyde Edwards-Helaire, and Sammy Watkins. However much Hardman may develop this offseason, I still have a hard time seeing him as anything better than the team's third-best option. More realistically, he is fighting for the fourth spot. He will probably break another 6-8 big touchdowns this year with limited targets, but good luck predicting which weeks they happen in. Raheem Mostert was the highlight in San Francisco's monster running game last year. So how did he last this long? Well, some weeks the 49ers liked Mostert. Other times they loved Tevin Coleman. Then there was Matt Breida. Oh, and Jeff Wilson had that one game. Did I mention Jerick McKinnon is healthy again? While Mostert looks like the lead back, there are a couple of factors weighing against him. First, he's 28. Second, he's never had a thousand-yard season. Heck, before last year he never hit 300 yards. Third, we still don't know whose job this is. I see the appeal in Mostert, but he's too old and this is too much of a guessing game for me. That's why I went with Kerryon Johnson with the preceding pick. As long as we're talking about flaws, let's discuss Kerryon Johnson. He has been injured in at least four straight seasons, a streak dating back to his college days. Still, when he was healthy Johnson flashed ability as a runner and a pass-catcher. Let's not forget that he is still only 23. If he can right the ship, I could see this pick paying off in the long run. If Johnson suffers another serious injury, he'll be an easy drop for me.
The eighth round finished up with Brandon Aiyuk, Brandin Cooks, TY Hilton, and Mark Ingram. Aiyuk is another high-profile rookie that inspires hope. He joins a San Francisco team that could use some immediate help at wide receiver now that Emmanuel Sanders is gone. I don't love Jimmy Garropollo as a quarterback, but he is definitely serviceable. If Aiyuk can break out, there are plenty of targets to be had here alongside Kittle and Samuel. Just know that this is a run-first offense all the way; the 49ers ranked 29th in pass attempts last season and I'm sure they'd love to repeat that this year. Brandin Cooks is once again on a new team. It seems like he does two things on a regular basis: put up 1,000-yard seasons and get traded to another team. Cooks most likely slots in as Deshaun Watson's #1 receiver, an excellent position to be in. The question is whether or not he can hold up. There's also the fact that the Rams took on $21 million in dead money to get rid of him. That's not something teams tend to do with healthy, productive players. What's the reason? Four concussions over the last two seasons. Still, Cooks will be a monster when he's on the field. TY Hilton followed Cooks off the board, and he's someone I'm not too quick to invest in either. Hilton will be 31 in November, and he missed six games last year while playing through a torn calf. If he shows anything this coming season, I'd be looking to sell fast. Our eighth round finished up with Mark Ingram. I was all over Mark Ingram last year as the lead back of the Ravens. This year? Not as much. Here's why: Ingram only saw 15+ carries in six games last year, and he never hit 20 carries. The team drafted a rookie I love in JK Dobbins. They also still have Justice Hill, Lamar Jackson, and Gus Edwards on the team fighting for carries. It's hard for me to imagine Ingram being in a stable role with so many mouths to feed–especially when three of them have heavy draft capital involved. If I was a betting man, I would wager Ingram's upside is 10 carries a game. The downside would be Ingram getting reduced to a bit part–spelling Dobbins here or there. Either way, I'll be passing on the 30-year-old this season.
Team Summaries
| | Ryan Heath | Dan Adams | Ryan Kruse | Matt Bevins | Marc Salazar | Corey Saucier | Colin Weatherwax | Ben Brown | Erik Smith | Paul Ghiglieri | Mike Miklius | David Fenko |
| --- | --- | --- | --- | --- | --- | --- | --- | --- | --- | --- | --- | --- |
| QB | | | | R. Wilson | P. Mahomes | D. Watson | | K. Murray | | | | L. Jackson |
| | | | | | D. Prescott | | | | | | | |
| RB | C. McCaffrey | S. Barkley | D. Henry | E. Elliott | D. Cook | A. Kamara | M. Sanders | D. Swift | J. Jacobs | J. Mixon | A. Jones | D. Guice |
| | JK Dobbins | M. Gordon | K. Drake | C. Carson | R. Mostert | K. Hunt | A. Ekeler | C. Akers | J. Conner | N. Chubb | D. Singletary | D. Johnson |
| | L. Fournette | | T. Gurley | Z. Moss | | | | D. Montgomery | | C. Edwards-Helaire | R. Jones | |
| | K. Vaughn | | L. Bell | | | | | | | J. Taylor | K. Johnson | |
| | M. Ingram | | | | | | | | | | | |
| WR | A. Robinson | J. Jones | M. Thomas | M. Evans | AJ Brown | O. Beckham | J. Smith-Schuster | D. Hopkins | C. Godwin | C. Ridley | D. Adams | DJ Moore |
| | D. Parker | C. Sutton | C. Lamb | J. Jeudy | DK Chark | K. Allen | DK Metcalf | D. Samuel | A. Cooper | M. Pittman | T. Hill | S. Diggs |
| | J. Landry | T. McLaurin | AJ Green | | T. Lockett | | J. Reagor | M. Hardman | C. Kupp | N. Harry | K. Golladay | T. Higgins |
| | D. Mims | R. Woods | B. Cooks | | | | H. Ruggs | | T. Boyd | B. Aiyuk | A. Thielen | TY Hilton |
| | | D. Johnson | | | | | M. Brown | | J. Jefferson | | C. Kirk | |
| | | | | | | | | | | | M. Gallup | |
| | | | | | | | | | | | C. Samuel | |
| TE | | T. Kelce | H. Henry | | M. Andrews | G. Kittle | | Z. Ertz | E. Engram | | D. Waller | |
My reactions so far: Looking at the results, I love where I'm sitting. Sure, I already moved my rookie capital for the next two years. I realize that would sicken some people: they live for their rookie picks. I like to play a little differently though. I use my rookie picks to obtain more up-front draft capital which I use to obtain young players I like. If I want draft picks at some point, I should have plenty of players to move to make it happen. To this point, here are the picks I've made: 2.04, 2.05, 3.06, 3.07, 4.05, 5.12, 6.05, 6.07, 7.09, 7.12, 8.01, and 8.07. That doesn't happen without giving up some future value. It's certainly not the most common strategy, but it's one I love if I find the right trade values. That's enough about my team though. Which other teams are looking good? While his running backs are a little thin, Dan Adams has a nasty group of receivers on his squad. Julio Jones and Courtland Sutton are WR1 material while Terry McLaurin and Robert Woods aren't far behind. Let's not forget the monster at tight end. I also like Ryan Kruse's team. After starting the first round with Michael Thomas, he came back to find a pair of workhorses in Derrick Henry and Kenyan Drake. Todd Gurley and Le'Veon Bell are great depth at the position for the next couple of years. The receivers are rounded out by AJ Green, Brandin Cooks, and rookie CeeDee Lamb. If Lamb breaks out this year, this could be a monster team. Oh, and Ryan grabbed a tight end I was considering in Hunter Henry to top it off. Let's see how everyone is feeling so far:
Ben Brown: These rounds were a mixed bag for me. I made a great decision trading up for Deebo Samuel at the beginning of the fifth round – my WR2 for years to come in an offense that will look to put the ball in his hands. After trading 5.3 to get back into the 4th round for Kyler, I was sitting at 5.9 and knew Deebo wouldn't make it to me so I had to move up for him. That left me without 5.9 or 6.4, but as 6.4 came around there were a few guys on the board I really liked, namely Zach Ertz and Christian Kirk, so I traded back up to 6.4 to take one. Kirk would have been the smart pick, but I went with Ertz mostly because of his PPR value and how he would help me compete in 2020/2021. I also thought Kirk might make it back to me at 7.3 since there were a bunch of solid WR options still on the board but boy was I wrong. Mike took Kirk immediately after I took Ertz and I've been second-guessing myself ever since. I sat without a pick between 6.4 and 8.6, watching tons of talent coming off the board but nobody I was really targeting–until Dan sniped me by taking Diontae Johnson who I'm really high on. I settled on Mecole Hardman who I also really like in dynasty but not as my WR3.
I really screwed up the Ertz pick and should have taken Christian Kirk instead. I won't forgive myself for that one. There's surprisingly a lot of TE depth right now and I did not need Ertz at all. With that said I'm not feeling particularly great about my team through eight rounds. I have a mix of aging guys who can help me win now (Hopkins, Ertz), some young guys who had productive rookie years and should blossom into top 30 talents (Montgomery, Murray), and two unproven rookies who will have to be productive out of the gate if I want to compete in 2020 (Swift, Akers). I do feel good about my overall talent level and I love that Deebo is my WR2, but Hardman as my WR3 is scary. I'm hoping that some aging vets will fall to me in the later rounds in order to compete this year, but I do feel good about my chances of getting a top 5 pick in next year's draft.
Marc Salazar:
Ryan Heath: Devante Parker at 5.01, Jarvis Landry at 6.12, and Denzel Mims at 7.01 continue to add to my cheaper stable of wide receivers that should soak up a lot of target volume in the middle rounds. With the 5.04, I slightly reached for Ke'Shawn Vaughn, who carries insane upside in the Bucs offense and only needs to beat out Ronald Jones. Along with Dobbins, these are the kind of picks I have to make when drafting from the turn, but at least I'm placing my bets on athletic players with good college production on high-powered offenses. So far, I think my team can definitely compete this year and has enough youth to sustain itself for the next few years. I haven't gotten the best value by the nature of my draft position, but I believe I just need one hit this year between Vaughn and Dobbins to have a real juggernaut on my hands.
Ryan Kruse: I know plenty of people would shy away from them but I like the Gurley and Bell picks. I figured I already have two great starting RB's so I may as well shore up the position with some great talent coming at a discount. I love Bell's ability but absolutely despise Adam Gase and his pathetic offenses. Gurley is in a new system where they believe he can be a three-down back. I feel like one of these talents should pay off eventually. I like my AJ Green pick too. He's back to 100% and will have Joe Burrow throwing passes this year. He could have a huge bounce-back season and prove he's still an elite receiving option. I also grabbed Hunter Henry. I had my eye on Waller but once he went I felt Henry was the best TE available. I know this position can be a wasteland so I wanted to secure one of the best early on. Henry comes with serious injury concerns so I'll need to grab another TE sooner than later. I don't think I could give myself anything better than a B- at this point in the draft mainly because I've acquired plenty of question marks. Will Bell, Green, Gurley, and Lamb be fantasy-relevant in 2020? Will Hunter Henry stay healthy? I like my team's upside though.
Matt Bevins: I was left wishing I had a fifth-round pick, seeing Parker/ Raegor/ Allen all go in this range. Allen has less upside but you know what he is, while Parker could be finally blooming into a top 10 wideout finally, and with this value, killer. I am excited to have a core of Zeke, Evans, Jeudy, and Russ. I enjoy my team and the fact I had some idea at which prospects I wanted, but unfortunately got beat up by the glut of rushers taken early between my picks that were traded. I likely will need to move one of my top 4 wide receiver options at some point in the first couple of seasons to get rushing depth.
Colin Weatherwax: 
Corey Saucier: So after waiting through rounds 3 and 4 without a pick, I was pleasantly surprised to see Keenan Allen sitting there for me in the 5th round (pick 54 overall). Sure Allen is on the older side and his QB situation is a giant question mark at the moment, but I still considered landing a potential WR1/WR2 fringe guy at 54 overall to be a great move. I anticipate Allen will be useful to me at least for a couple of seasons moving forward. I pulled out my GM hat and pulled another trade to get from the 6.07 pick to the 6.01 pick in order to take Kareem Hunt. I love Hunt's value here and ever since he was activated in Week 10 last season, his usage trended upward in a big way. Hunt is still only 24 years old (he'll be 25 before the season starts) and not only will he provide potential RB2/Flex value, but if Nick Chubb were to have to miss any time, Hunt is undoubtedly the most valuable handcuff in the league. After landing Hunt, I traded up from the 7.06 to the 7.04 to nab Deshaun Watson. Watson was a no-brainer here as the last young, elite QB left on the board at that point. As it turned out, all of these trade-ups left me without an 8th round pick.
At this point I am starting to feel pretty good about my team. I have a young elite RB, QB, and TE, I have tons of upside with Kareem Hunt and Odell Beckham Jr, and I have a serviceable WR2 in Keenan Allen. It does worry me that I only have 6 players on my roster through 8 rounds, but like earlier, I know there is more value to fall to me later and I know I have enough tricks up my sleeve to make the deals in case I get sniped repeatedly. At this point in the draft, I would give myself a B- grade.
David Fenko: Based on my "get the veteran" strategy, I'm still not entirely sure why I was compelled to draft Tee Higgins in the 7th, especially with A.J. Green going with the next pick. Admittedly, Green's foot injury from last year is a big concern still, but Higgins is still in a crowded WR room with Green, Tyler Boyd, and Auden Tate. Chalk this up to taking my eye off of my own strategy. A dearth of running backs on my team through 8 rounds (Derrius Guice and David Johnson being my only two) has me dropping my own grade, though I still think that I would give myself a B for 2020. Lamar Jackson and a WR stable of D.J. Moore, Stefon Diggs, and T.Y. Hilton really help my week-to-week outlook.
Erik Smith: Tyler Boyd continued my run on young (25) established receivers (two 1,000 yard seasons in his first four years). He will begin this season with potentially the best quarterback that he has ever played with, A.J. Green has a checkered injury history, and there is no guarantee that Tee Higgins will be a good player in the NFL. It's not inconceivable that Boyd is Burrow's number one target for the foreseeable future. Justin Jefferson might be my first reach, but he wouldn't have made it back to me, and sometimes you just have to go get your guys. Jefferson has some questions to answer, but he has a path to a massive amount of targets starting year one. Finally, I took James Conner in the 8th, and while there are tons of reasons to fade Conner, he is still just 25 years old with an elite fantasy season under his belt. He is a swing worth taking for me, with a huge hole at RB2 on my roster.
In retrospect, I may have been better off taking Mixon round one and hoping to catch Jacobs for a two running back start. There turned out to be a ton of young receivers available at a discount, with a noticeable dropoff occurring in the 10th round. But otherwise, I feel happy fading most of the question-filled veteran running backs that I could have chased in the middle rounds, with Conner as an 8th rounder making sense as a cheap, high upside gamble for RB2. I can now hammer the position with cheap, lower upside running backs that can help me this year in the event of injury. And with a loaded, young WR corps, I can pick and choose the values that fall down the board, without needing to address the position.
Dan Adams: I had consecutive picks in the fifth round and opted to go with Terry McLaurin, who represented the last of the tier of young receivers that offered both immediate production as a WR2 and high long-term upside, and Melvin Gordon. I love McLaurin's athletic profile and what he was able to do last year in a bad offense with shaky quarterback play. I'm not sure the Washington offense is better, but McLaurin should be. Gordon joined an offense on it's way up, and while it is a crowded backfield it means a lot that Denver went out and committed a significant amount of money to a running back despite what they already had. Gordon should have the majority of the red zone and passing work, which is enough to sell me on him for at least the next two seasons. I was between him and Gurley (unfortunately they both play on the same team as my top receivers), but with Gurley's knees Gordon felt like the safer play both short and long-term. My other picks in this range were Robert Woods, who I felt was a strong value in the seventh round as a 28-year old receiver in a good offense, and Diontae Johnson who should be poised for a breakout with Ben Roethlisberger back from injury.
I hate not having depth at running back and my team is older than I would have thought prior to the draft. I think my team should be one of the stronger rosters year one as I'm not relying on any breakouts in order to compete and I have elite talent at every spot but quarterback. That being said, I'm also in a bit of a corner as if I don't field a strong team right away I spent two early picks on depreciating assets that aren't going to have been worth it if they don't contribute to at least a semi-deep playoff run. So far I'd give myself a 7/10, passing but room for improvement.
Paul Ghiglieri: After going heavy on rushers, I needed to secure a stable of pass catchers to complement Calvin Ridley. After trading back a few times to collect an extra 7th rounder, a second 9th rounder, and a missing 10th rounder, I was able to secure Michael Pittman, N'Keal Harry, and Brandon Aiyuk. All three have WR1 upside, but all three also come with risks. I had hoped one of Justin Jefferson (another Erik snipe!) or Jalen Reagor would be there for me in Round 6, but when both went a trade back made the most sense. Denzel Mims and Tee Higgins were selected once I traded out of Round 6, so my team may be defined by whether Harry or Pittman go on to have better careers than either Higgins or Mims. Ultimately, Higgins profiles more like a jump ball WR2 to me (I know he's more than just that), while Mims landed with the Jets, an offense I simply don't trust under Adam Gase. Pittman should be in good hands with Frank Reich in Indy while Harry has no competition for targets in New England. Kyle Shanahan is an elite offensive mind who finally seems to have found an ideal formula for his wide receivers, prioritizing YAC while scheming them into space, a formula for which Aiyuk is perfectly suited. Their prospect profiles also project them for future success if all breaks right.