Ryan Heath's WR Rankings
The wide receiver position isn't nearly as barren as quarterback this week, but there are still some names you may feel obliged to play you wouldn't have considered a few weeks ago. I'll do my best to highlight deeper plays I'm above consensus on.
But first, I'll just take a small victory lap for being well above consensus on Jakobi Meyers last week. He still ranks 24th among WRs in OPPO per game, which is right around where I'll continue to have him weekly. Who's the next receiver seeing great usage that the industry is too low on?
…Likely the receiver with the 23rd-best OPPO, Zay Jones. Even after his first game back from injury, Jones continues to average 8 targets per game on a Jaguars offense with a significantly better pass rate over expected than the Patriots (-0.2% to -5.6%). He is a WR3/Flex at worst being ranked significantly below that (WR47 by FantasyPros ECR).
Rondale Moore mercifully returned to the slot in Week 5, running 41 of 45 possible routes and commanding 8 targets along the way (Greg Dortch ran only two routes). Moore ranks 33rd among receivers in OPPO per game through his two weeks of effort, but has underperformed his opportunity by a whopping 4.5 fantasy points per game. Expect that to turn around in a big way with the Cardinals boasting the second-best implied total of the week against a Seattle defense allowing 8.6 yards per pass attempt, by far the highest in the NFL.
Since Week 3, Alec Pierce has been the clear second option for the Colts' passing game. His targets have gone 5>6>9 in that span, while his OPPO has gone 9.3>10.2>14.2 in those games. Whenever a rookie's role grows, we should take notice. Pierce is an excellent upside stash for the rest of the season, and he should be projected much closer to Brandon Aiyuk (who now matches his OPPO per game on the season) than the consensus-powered Range of Outcomes Tool shows him.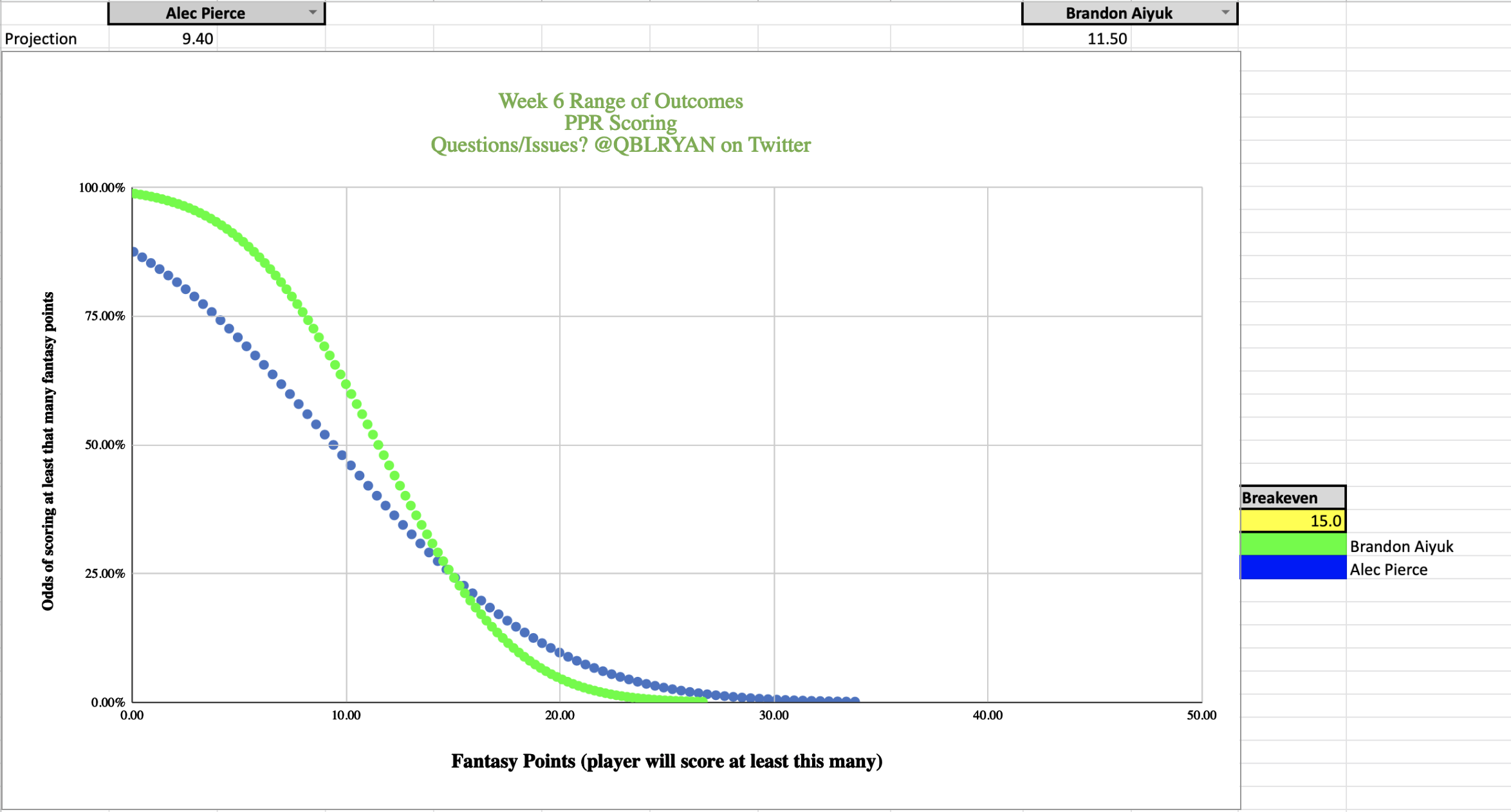 Finally, Donovan Peoples-Jones now has at least 7 targets in 3-of-5 games this year. The 47th-ranked receiver in OPPO per game (and, coincidentally, my rankings this week) is averaging a full 3.7 fantasy points per game less than his opportunity would imply. Peoples-Jones leading the league with 5 drops probably has something to do with that. You will likely end up frustrated, but I don't hate rolling out DPJ this week as a desperation bye week fill-in. Bank on the volume and hope his poor play regresses to the mean.
Green=Strong Starter, Yellow=Solid Starter, Red=Look for Better Options