The Guillotine League is a battle royale, free-for-all, elimination fantasy football league. There are no matchups, and at the end of each NFL week, the team with the lowest point total is eliminated, and all their players are dropped into the waiver pool. It is cutthroat and it is unforgiving, and you don't ever want to see yourself getting near the Guillotine. The Guillotine cares not for what you've been through, what injuries you've had, or what your projected point total was. All it cares about is eliminating the team with the lowest point total each week. The Guillotine demands sacrifice.
Heading into Week 3, we've already seen our league get trimmed from a 16 team league to a 14 team league. You may be a fan of our No Huddle podcast, but the Guillotine wasn't a fan of host Kenny Hyttenhove, and sent him to the gallows. He left behind many top players for us, including Michael Thomas (who went for $445 FAAB), George Kittle ($434), and Robert Woods ($398). Before this week even started, two of our members were already completely out of FAAB and they are hoping the players they got were worth it. People are scrambling to make sure they aren't on the bottom. Drew Brees got dropped; we don't have the time to waste on him. It's complete madness.
Week 3 Recap
After seeing what the Guillotine had done to two of our fellow owners, many of us came into the week pretty shook. Multiple league members called this their week of demise as early as Wednesday, making sure to add that they hate their team. Josh Gleason, who had already been on the chopping block the first two weeks, was feeling pretty good about his chances though, stating on Sunday that it "feels weird not being near the bottom for once." The Thursday night game this week actually offered some good games from fantasy-relevant players, as there weren't really any low scoring duds that were started on our teams. For the first time this season, no one was straight up panicking come Friday morning.
As the Sunday Night Football game got underway between the Rams and the Browns, the field had narrowed down to two. Ryan "That's" Amore was sitting in last place, and Dan Adams was the only team within striking distance, with about a 20-point margin separating them. Adams was down to his last player in Brandin Cooks, which always feels pretty dicey in this league, but he certainly felt a lot better when he saw that Cooks had his best game of the season. There was quite a bit of concern about Cooks's play to start the year, with just five receptions through two weeks, especially considering how many weapons there are for the Rams, but with eight receptions and 120 total yards gained, Cooks' 20 points was a sight for Dan's sore eyes. That is, until he went and looked at Ryan's team, and saw Cooper Kupp's 33 point game, and that he still had Allen Robinson and Chris Thompson going in the Monday night game. If only they could score fewer than seven points combined, Dan thought, but it was no use. Ryan soared past Dan, and that was that for him. You know, looking over Dan's roster, he had some good performances. David Johnson had a solid 18.5 point outing, and Austin Ekeler had a respectable 15 point day, but it wasn't enough to make up for the total duds he had in Vance McDonald (2 points), Chris Carson (4 points) and the Tennessee defense (1 measly point).
"I can't believe I survived my moronic decision to start Justice Hill," Ryan Amore added as he breathed a huge sigh of relief. Neither can any of us Ryan.
Any last words Dan?
"I think being aggressive in the early weeks to get the available players with high weekly floors is a better strategy than trying to hold onto your FAAB for a more valuable player that may not become available before your time is up. I regret not spending up for Evan Engram or George Kittle when they were available." I don't mean to twist the knife Dan, but Engram would have been the difference between surviving and not surviving the week. Then again, I'm not sure I'm really one to talk, as I've spent a grand total of $37 of FAAB on Mecole Hardman and Melvin Gordon. Hopefully, these aren't going to be my famous last words.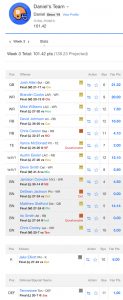 The Aftermath
So now that our league is down to a 13 team league, our rosters should hopefully look a little closer to what we expect. I mean, after all, we are closer to being a 12 team league now than the 16 team league we started off as. And yet, many of us are still in a position of needing to start guys that wouldn't even sniff rosters in a 12 teamer. But now we have all of Dan's players to vulture, plus some of the new exciting players like Wayne Gallman and Daniel Jones. Dan did actually have a pretty good roster to pick through, just had a bad week. Between running backs David Johnson, Ekeler, and Chris Carson, as well as Brandin Cooks, there were some real gems to be had here.
The highest bid of the week went to Johnson, no surprise there. His $477 price tag was good for the 2nd highest FAAB bid of the season (just behind Colin Weatherwax's $488 bid for Antonio Brown), and Matt Thomas needed almost every dollar to get him. The next highest bid was $444, pretty close for numbers that high. Austin Ekeler wasn't far behind, as his hot start to the year has everyone feeling pretty optimistic that he'll still be productive even after Gordon returns. And as the Gordon owner, I was the one who spent the most on Ekeler because I had the most to gain, right? Nope! I was a mere $230 short on my bid, as Ekeler went for a cool $400 to Mike Bourg. If memory serves correctly on the timeline of everything, the FAAB bids were processed late Tuesday night/early Wednesday morning, and then by Wednesday afternoon, we were hearing the rumblings of Melvin Gordon making his triumphant return. I don't think we'll ever have a bid as regretted as the Antonio Brown one, but Mike's regret was immediate and palpable in our Discord channel. Maybe his winning bid for Cooks will help him feel better, as his $351 bid was enough to win the wide receiver by the slimmest of margins, as the next highest bid was $346!
No one else has joined Colin and Mike Miklius with $0 FAAB yet, but Mike Bourg is getting close, now down to just $147 left of the original $1000. Everyone else still has a pretty significant amount, but not for lack of trying. The top free agents each week all get at least half the league bidding on them. What I'm really curious about and what we might start seeing soon is what happens when players hit the waiver wire for a second time. At any point, a team that has won a big fish could go home, and that means we could see David Johnson, or George Kittle, or Michael Thomas become available for a second time. How will our FAAB bids change? I hope I'm still around to find out. Yahoo is not a fan of my team this week, and I'm definitely in danger of going home again. It would be such a shame to not be able to gloat about getting Melvin Gordon for just $31, I better stick around.
---
If you'd like, you're welcome to follow our journey all season long.