The Guillotine League is a battle royale, free-for-all, elimination fantasy football league. There are no matchups, and at the end of each NFL week, the team with the lowest point total is eliminated, and all their players are dropped into the waiver pool. It is cutthroat and it is unforgiving, and you don't ever want to see yourself getting near the Guillotine. The Guillotine cares not for what you've been through, what injuries you've had, or what your projected point total was. All it cares about is eliminating the team with the lowest point total each week. The Guillotine demands sacrifice.
Week 5 Recap
And then there were 12. 12 teams remained standing at the beginning of Week 5, and now our rosters were finally looking legit. Our projected point totals represented that too, as they keep climbing up each week, and the bar to clear to not be eliminated continues to rise. No one really felt safe this week, well, except for people who owned Deshaun Watson (me), or Christian McCaffrey, Amari Cooper, and Aaron Jones (Ryan Kruse actually owned all three of these guys). Oh, and obviously the Will Fuller owner was safe, except… he was on the bench. Where most people seem to have had him actually. As Sunday night's stunning Kansas City loss came to a close, we found three owners in jeopardy at the bottom. There was Matt Thomas, who had an eight-point advantage and only Jarvis Landry to go, which meant he was probably safe, but there are no guarantees with that Cleveland offense. Then there was Mike Bourg, who had a three-point advantage and Robbie Gould, and Rich Holman, currently sitting in last with the San Francisco defense. There's no telling who would have a better week between a kicker and a defense, but the three-point advantage definitely made Bourg feel a bit better.
What was that I saying about no guarantees with the Cleveland offense? Yeah, that was no joke. Baker Mayfield continued his stretch of throwing the ball to the wrong guys with two more interceptions, and San Francisco also recovered 2 fumbles, and that was all she wrote. The San Fran defense put up 19 points, and Gould just couldn't keep up. With that, Mike Bourg was sadly eliminated. He put up a fantastic fight this season, and was aggressive early with FAAB to make sure something like this didn't happen. He had acquired Austin Ekeler for $400, and Brandin Cooks for $351, but it wasn't enough. Part of the problem was just how tight the league is getting. He scored 123 points this week, the highest total for any eliminated team. Just a tough week to have to go out on.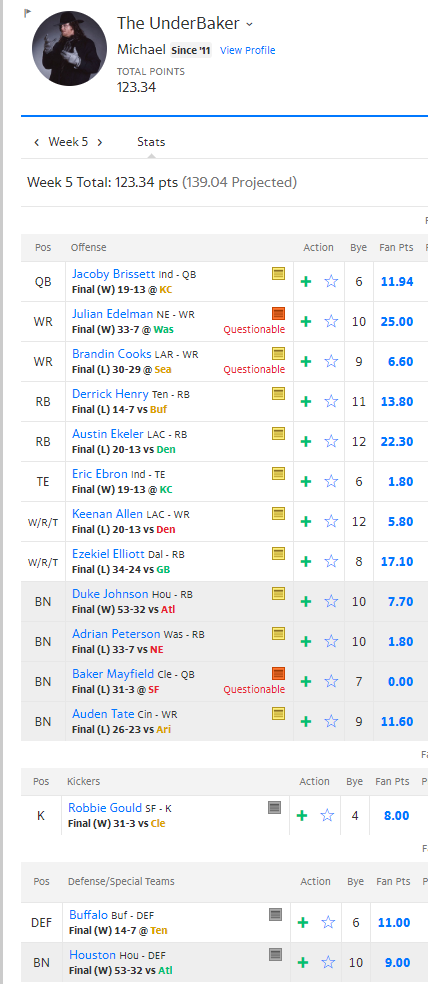 The Aftermath
You may have noticed something while looking over Mike's roster. There is a lot of great talent on the team. Ezekiel Elliott, Keenan Allen, Julian Edelman, Derrick Henry, Austin Ekeler, and Brandin Cooks have all been top 100 players this season and would be difference-makers for all of us. Heading into the FAAB processing period, we were all expecting a new high bid to be set on Elliott, but that all five of the other guys would command good money as well. I put in solid bids for each of them myself, as now we are down to 11 teams and there is clearly no room for error, as Mike Bourg just found out.
Well, much to no one's surprise, Elliot did indeed set a new high FAAB bid. What did surprise us was by how much. I came in with a bid rivaling DeAndre Hopkins $621 price tag from last week, but I wasn't even close. Nathan Mills made sure to get Elliott, dropping $834 on him, leaving him with just $138 left in his FAAB budget for the rest of the year. Elliott is the type of premier talent who could be worth it, as he has an incredibly high floor in that Dallas offense. Keenan Allen went for the next highest amount, earning a $521 price tag. Rich Holman may have narrowly missed out on Hopkins last week, but he made sure to get Allen this time around. Edelman went for $230, I snagged Derrick Henry for $197, and Austin Ekeler saw his price plummet from $400 a few weeks ago to just $125 this time around. I guess that's what happens when there are better players on the market, and some guy named Melvin Gordon starts splitting backfield work with him. As the Gordon owner, I kind of regret not bidding more on Ekeler, as starting both of them each week would have provided a very high floor, but it also would have left me screwed for their bye week. The most surprising bid was Brandin Cooks, who only went for $45. In full transparency, I did have a higher bid for Cooks, but I didn't place contingency bids and when I won Henry, I no longer had a roster spot to pick up Cooks with. I do think that between how many talented players there are in that Rams offense, along with concerns about Jared Goff's ability to support them all from a fantasy perspective, there are major concerns about Cooks's volatility, and that's one thing you can't afford in the Guillotine League. We may all come to regret this, but there will also likely be bad weeks ahead for Cooks, and that could cost Ryan Amore, who picked him up.
This league is getting more and more tense, and let me tell you, we are all very nervous about this league each week. If you want to feel like you are constantly on the edge of a cliff every Sunday/Monday, join a guillotine league. We can all attest, firsthand, at just how nerve-wracking this league is.