The Guillotine League is a battle royale, free-for-all, elimination fantasy football league. There are no matchups, and at the end of each NFL week, the team with the lowest point total is eliminated, and all their players are dropped into the waiver pool. It is cutthroat and it is unforgiving, and you don't ever want to see yourself getting near the Guillotine. The Guillotine cares not for what you've been through, what injuries you've had, or what your projected point total was. All it cares about is eliminating the team with the lowest point total each week. The Guillotine demands sacrifice.
Week 4 Recap
This was actually one of the smoothest weeks for most of us. There were really only a few teams that were ever in danger, one of whom being our wonderful graphic designer Justin Paradis, who was sorely missing Saquon Barkley and also missed out on the Wayne Gallman sweepstakes. His livelihood was really threatened Thursday night, when Jamaal Williams only scored 1 measly point, making him a bit lacking as a Barkley replacement, and then watched as Aaron Rodgers had his best game of the season… on Paradis's bench. Instead, Paradis had opted to start Tom Brady, who managed a total of 4.7 points. In total, the 93.8 points that Paradis put up would have gotten him eliminated in two of the previous three weeks. But the name of the game is to simply not be the worst team each week, and Paradis was not the worst this week.
The worst went to the main man that you all get to hear every week on the Preview and What We Saw podcasts, our very own Colin Weatherwax. Weatherwax had been very aggressive to start the season, making big FAAB moves early on. He picked up Antonio Brown for $488 after Week 1 (I'm sad that I can't mention this anymore), and snapped up George Kittle for $434 after Week 2. Looking back on it now, perhaps picking up Kittle wasn't the best idea, with the Niners having the earliest bye week. Kittle was forced to the bench this week, and with Brown out of the NFL already, that meant of Colin's total $1000 FAAB budget, $922 of it was spent on guys who combined for 0 points in Week 4. Even so, Weatherwax had plenty of reasons to remain optimistic. He was the early bird to Darren Waller, snapping him up for free off waivers before the season started. He boasted an elite WR corps of DeAndre Hopkins and Adam Thielen, along with explosive talent like Devonta Freeman, Calvin Ridley, and Tarik Cohen. Then Hopkins threw an interception, Thielen was forgotten by Kirk Cousins, and the rest of his team just didn't show up. For the first time all season, the Guillotine was decided before the Sunday Night Football game even started. Weatherwax definitely wishes he had started Carson Wentz over Josh Allen, as the 14 point difference between the two would have been enough to save him. But then again, who would have guessed that Allen going up against one of the best defenses in the NFL would have done worse than Wentz?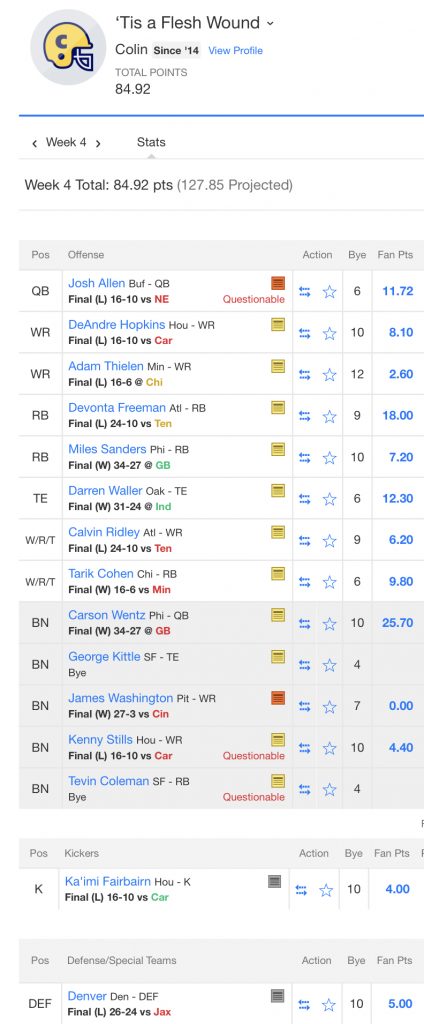 The Aftermath
So this was really the first time that we saw a team that had won some major FAAB bids get eliminated, making George Kittle and Tarik Cohen the first players to be Guillotined twice. Weatherwax actually had a pretty solid roster overall, with two of the best TEs in the league in Kittle and Waller, as well as Hopkins, Thielen, and Freeman. This led to a wild FAAB period that included the new largest bid of the year, leapfrogging Antonio Brown's $488 price tag (got it in one more time). We saw five different players eclipse the $150 total, the most we've had so far this season. Teams are realizing that there's more and more of a chance of us going home, and that's being reflected in our bidding.
The new highest bid still belongs to a WR, but now it belongs to Hopkins as Justin Paradis got very spooked by how close to the light he got, and does not want to go down that tunnel again. Paradis dropped an insane $621 on Hopkins, but he needed it, as the next closest bid also would have been the highest bid of the year had he won. Rich Holman put down $532 in the hopes of getting Hopkins, so everyone believes that he will turn his season around from being the current WR21 in PPR. Kittle and Waller each went for over $200, with Kittle earning a $271 tag (way down from his previous $434 bid), and Waller was picked up for $221. Kittle's price being so low surprised me, as now with his bye behind him you are guaranteeing TE production moving forward, and everything points to his season simply being unlucky so far. However, tight ends, in general, do have limited upside and people are worried that Kittle just won't be the same guy he was last season. Freeman and Thielen rounded out the players getting over $150. Thielen has had a disappointing season so far as well, but after his comments about the passing game after their loss to the Bears on Sunday, there's hope that Cousins will start looking for him more on the field. I was the one who got Freeman, and while I'm always concerned about his injury history, I did pick up Ito Smith to handcuff him and I do like his involvement in Atlanta's passing game.
Feel free to follow along with our journey here.
Featured Image by Justin Paradis (@freshmeatcomm on Twitter)