The Guillotine League is a battle royale, free-for-all, elimination fantasy football league. There are no matchups, and at the end of each NFL week, the team with the lowest point total is eliminated, and all their players are dropped into the waiver pool. It is cutthroat and it is unforgiving, and you don't ever want to see yourself getting near the Guillotine. The Guillotine cares not for what you've been through, what injuries you've had, or what your projected point total was. All it cares about is eliminating the team with the lowest point total each week. The Guillotine demands sacrifice.
Week 6 Recap
We were riding on a pretty strong wave of momentum coming out of Week 5. We had the most exciting Monday Night Football game all season, as three different teams had legitimate chances of falling to the Guillotine and each only had one player left in the Monday game. Not only did Rich Holman pull off the upset and come from behind to stave off elimination behind the strength of the 49ers defense, but he eliminated a team with a lot of top-end talent, leading to one of the most exciting FAAB periods in league history. Ezekiel Elliott, Keenan Allen, Julian Edelman, Derrick Henry, and more all hit the wire, and we spent nearly $2,000 FAAB dollars on these players. It was going to be really hard to live up to the hype.
One person who wanted to make sure he didn't have another close call was Holman, who barely scraped by the skin of his teeth last week. He won the bid for Allen at $521, and was definitely counting on him help make sure that didn't happen again. Imagine his fear when Allen continued to struggle, scoring below 6 points for the second straight week. This is a PPR league, everybody! Keenan Allen, who's one of those receivers that is way better in PPR than the other formats, flopped for another week and Holman could only watch on in fear. It didn't help that his first two picks in the draft were the disappointing Juju Smith-Schuster and the not-much-better Joe Mixon. These three "studs" combined score just 12.9 points, and just to add insult to injury, Holman's TE, Will Dissly, got injured early in his game and scored 0 points. It looked like karma was going to catch up to Holman. And yet, he found himself in the race still, in fact, he was in almost the exact same position as he was the week before. As Sunday came to a close, Holman was just 5 points behind Ryan Amore, and each of them had one player left. This time, it was Kenny Golladay left for Holman, going up against TJ Hockensen for Amore. Things were looking promising for Holman, but that 5-point lead for Amore could be the difference-maker.
Golladay continued to put the league on notice, and while Hockensen has been a nice surprise for a rookie TE, he just didn't do enough, and Amore had to sadly bid the league adieu. But unlike last week, when Mike Bourg's surprisingly stacked roster met it's early demise, Amore wasn't leaving behind a roster full of talent for us to scavenge.
"I'm pulling for you to take me out," Amore had said to Holman prior to the MNF game. "This team needs to be taken out back behind the barn."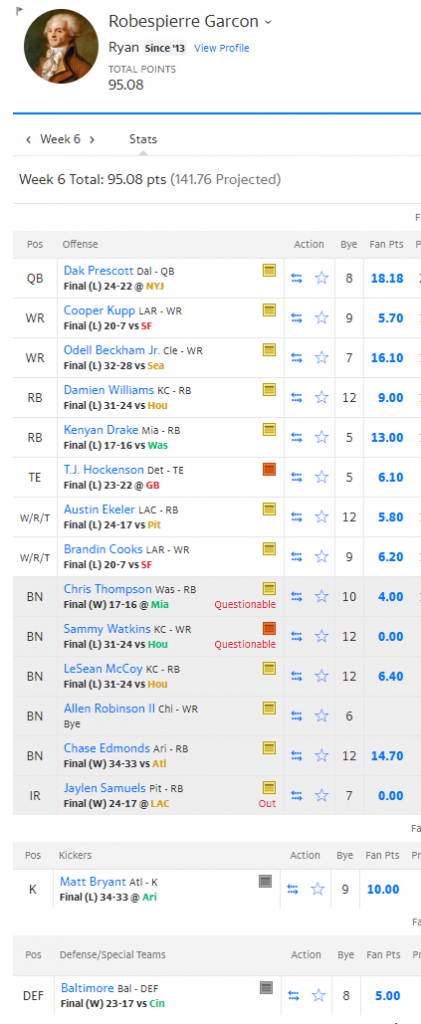 The Aftermath
Looking at that roster above, there's a big question we have to ask ourselves. Who on Earth do we bid on? Anyone? Do we bid on Amore's first-round pick, Odell Beckham Jr, who's inconsistency in the maddening Cleveland offense could be enough to send us to the Guillotine in a bad week? Do we bid on second-round pick Damien Williams, or his backfield partner LeSean McCoy? Hockensen is interesting with the NFL being so starved for productive TEs. Cooper Kupp is probably the player with the highest floor, but does anyone trust Jared Goff at this point? What about Austin Ekeler, the player who has hit the waivers 3 times now? There isn't a single player on that roster that doesn't come with some major questions.
It seems as though the rest of the league feels similarly to how I do, as FAAB spending was way down this week. Every week we've seen at least one free agent go for more than $400, this week we barely cracked $300. Beckham went for exactly $300, with the Rams WRs getting $192 (Brandin Cooks) and $171 (Kupp). I think if Kupp had gone out earlier in the league when floor was the most important thing, he could have earned a price tag higher than $300, but as the league has shrunk, the concentration of talent has really risen. Ekeler saw his price drop dramatically again, fetching only $53 this week, and poor Damien Williams went from being a solid second-round pick to only being worth $21 in FAAB. I went out and grabbed Allen Robinson for $91, a steal of a price in my opinion. His volume has been insane and that's valuable in a PPR league.
At this point, I don't really know what to expect. Now that we are down to 10 teams, it feels like the margin for error keeps getting smaller and smaller. All it really takes is one bad game from a player you're counting on to send you home. And it's not just a question of can your players perform, but also can you pick the right players to start? I had to choose last week between Terry McLaurin, Melvin Gordon, and Derrick Henry. It seems like a first world problem, to have those guys as the choices for my flex spot, but I was really nervous that picking the wrong one would be the difference in sending me home. It ended up not being an issue, but these are the types of questions a lot of teams are starting to face. And it's almost more terrifying than trying to decide who to start between, say, Emmanuel Sanders or Chase Edmonds, which I was facing in my 12-team home league. When this league started, we were facing deep league problems, and now we're facing shallow league problems. And it's a really weird feeling.
Featured Image by Justin Paradis (@freshmeatcomm on Twitter)