The Guillotine League is a battle royale, free-for-all, elimination fantasy football league. There are no matchups, and at the end of each NFL week, the team with the lowest point total is eliminated, and all of their players are dropped into the waiver pool. It is cutthroat and it is unforgiving, and you don't ever want to see yourself getting near the Guillotine. The Guillotine cares not for what you've been through, what injuries you've had, or what your projected point total was. All it cares about is eliminating the team with the lowest point total each week. The Guillotine demands sacrifice.
Week 4 Recap
Usually by this point of the season, there have been enough waiver wire runs that every team has some pretty good players on it. Even if you don't spend big to get the best players that hit the waiver wire, you can still get quite a few starters that fly under the radar. So with that, most teams can expect to at least score triple digits and put up a good fight. Unfortunately, that doesn't always happen, and sometimes teams just have a bunch of bad performances all at once. That's what happened this week to our Staff Playbook writer, Paul Ghiglieri. It started early on Thursday night, when KJ Hamler was forced out of the game with a hamstring injury. Then it continued on Sunday, with poor performances from Brandin Cooks, Kenyan Drake, Jared Goff, and to add injury to insult, Austin Ekeler went down early with yet another hamstring injury. And if that wasn't enough, Carson Wentz far outperformed Goff in the Sunday Night Football game, which really wouldn't have mattered anyway since the next lowest-scoring team finished 38 points above him. But hey, at least Ghiglieri got quite a performance out of Terry McLaurin?
Ghiglieri provided us with his thoughts on his first foray into the Guillotine League experience. "I went into the draft with the mindset that Austin Ekeler and Kenyan Drake would be perfect anchors in a PPR league, and I figured Cam Akers would emerge quickly so I took him in round 3 believing I would have the best RB stable in this 17 team league. Essentially, with wide receiver being so deep, I opted to zig while others zagged and try to acquire what I felt could be three top-15 backs to begin the season. It was a gamble since I had Terry McLaurin as my WR1 but little else. The hope was that I'd survive Week 1 and then add WRs as other teams got axed, building a juggernaut that would jump out early and never look back. Unfortunately, Drake did not return on my investment and neither did Akers. Ekeler started off slowly and then got hurt. I spent big on Courtland Sutton after Week 1 only to lose him to IR the next week. Even though conventional wisdom says you play it safe in the beginning knowing you can add elite talent through waivers each week, I got stuck with the 16th pick in the draft. I believe you have to bet on upside in a league this large when you're picking that late. I don't think the process was entirely flawed, but I clearly missed on my most important picks. Despite that, I'm happy I survived to the quarter point of the season before losing my head! A fun experience all around!"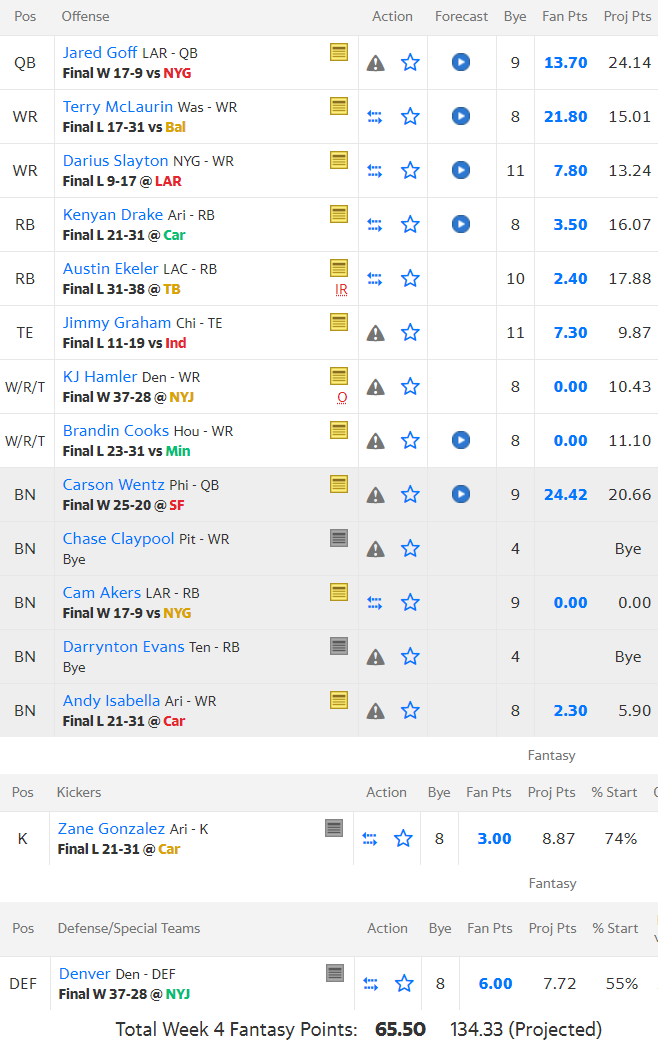 The Aftermath
When it became clear that Ghiglieri was going to be eliminated, he weighed in on what he expected to happen come waiver wire time. "Enjoy bidding on Terry. Everyone else is a waste of FAAB." Looking up and down the roster, I can't say that he's wrong. There's a lot of question marks up there. Is Drake going to turn it around? Will Akers get any work in that crowded backfield? Does anyone believe that the Giants will have any relevant fantasy players?
Well, someone believed in a few of these guys. In fact, Terry McLaurin didn't even garner the most FAAB! That honor went to Drake of all people, as Kevin Taylor believed in him to the point of spending $376 in FAAB on him. It was a bit of an overpay, the next highest bid came in at $186, but Taylor made sure to get his guy. McLaurin was second-highest of the week at $200. He was much more hotly-contested, as the next two highest bids were $187 and $169. Justin Jackson was the third-highest, garnering $153, also from Taylor. He needed RBs badly, and made sure to get his two, even if it meant overpaying. Between Drake and Jackson, Taylor spent $317 more than the next highest bids for those players. I hope it pans out for him and doesn't come back to haunt him later on down the road. The best value bid, in my estimation anyway, was Teddy Bridgewater, who went for just $22 to Bryan Sweet.
We are now down to the lucky 13 teams, and it's anyone's guess as to what will happen next week.
Featured Image by Justin Paradis (@FreshMeatComm on Twitter)