The Guillotine League is a battle royale, free-for-all, elimination fantasy football league. There are no matchups, and at the end of each NFL week, the team with the lowest point total is eliminated, and all of their players are dropped into the waiver pool. It is cutthroat and it is unforgiving, and you don't ever want to see yourself getting near the Guillotine. The Guillotine cares not for what you've been through, what injuries you've had, or what your projected point total was. All it cares about is eliminating the team with the lowest point total each week. The Guillotine demands sacrifice.
Week 2 Recap
Remember last week when I said you needed to make sure no bad luck came your way in order to stay alive? Well, that's still true, but it also helps to make good decisions with your lineup. And while I met some particularly bad luck with Julio Jones dealing with a hamstring injury, I also could have been saved had I made some better decisions. No, it wasn't sticking with my gut on Allen Lazard that killed me, nor was it some misguided belief that Carson Wentz was not a bad quarterback (although that certainly didn't help), but really it came down to being seduced by a bad player who had plenty of volume in Week 1. See, I thought that Peyton Barber would continue to be involved despite just a 1.7 YPC average in Week 1. How could Washington go from 17 carries in one week, including a lot of work inside the 10-yard line, to just 1 measly carry in Week 2? They wouldn't do that right? Well that's exactly what they did, and so I got all of 0.1 points from Barber. I really should have known better. But my alternative was starting Jordan Howard, a running back who got 0.9 YPC on just 8 carries the week before in a very similar role to Barber. It just somehow seemed like Barber would be the safer choice. And yet, had I started Howard, I wouldn't have been eliminated in Week 2. How painful to know that in my choice between two crappy RBs, I chose wrong.
I gotta say, after two years now of playing in the Guillotine League, it is absolutely gutting to be eliminated this early. I thought it sucked last year when I made it all the way to the top 6. I had played for so many weeks that I had developed a rhythm with my waiver claims, and therefore I felt almost empty when I had one fewer league to set claims for. I didn't get a chance to get in that rhythm, but this is still so much worse. This is just embarrassing. All my friends are still talking about the league, talking about how all the FAAB claims ended up, talking about who's going to get sent home, and I just feel like I'm sitting outside the party, stuck outside the house with my hand up against the window, wishfully looking in. It's the worst feeling. But I'll be back next year, because there's also no feeling quite like that sigh of relief when you realize you are truly safe from the Guillotine. I'll be back to chase that feeling for sure.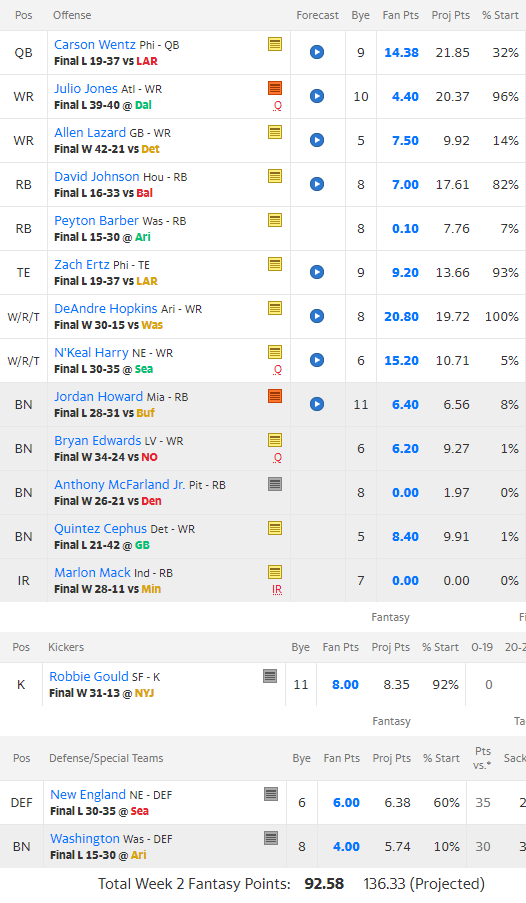 Ouch. 44 points below projections.
The Aftermath
Of all the players on my roster, there's really only one that I would have gone after aggressively (which may have been part of the problem), and that's DeAndre Hopkins. He's soaking up all the volume in that high-octane Arizona offense, and in a PPR league, he's going to be a beast every week. I wouldn't spend big on Julio, because whoever does win him in a claim is likely starting him, and his hamstring injury only got worse after Sunday's game. Most likely, we'll be seeing Julio back on the block again soon. As for David Johnson, he had a tough matchup against Baltimore, and guess what, it's not getting any easier against Pittsburgh. If I was absolutely desperate for a running back, I would think about going after David Johnson. Zach Ertz probably would have been my second highest priority, but TE has actually been pretty deep this year and I'm really worried about the Eagles passing game.
The rest of the league didn't feel the same way I did, which is probably smart considering I've already been eliminated. DeAndre Hopkins was indeed the top earner with a winning bid of $591, barely beating out two other bids that were north of $550. Julio Jones was second, with a winning bid of $400, again barely beating out the next highest bid of $387. The lucky winner of both Hopkins and Jones? Mike Miklius, who finished in second-to-last, only 6 points ahead of me. Perhaps he felt the fire a little too close and made big moves, because he's now left with just $9 of FAAB for the rest of the season. Zach Ertz went for $322, David Johnson for $271, and no one else cracked triple digits.
There are 15 teams left heading into Week 3, and the team Yahoo has projected to finish last this week is David Fenko, who's week got off to a fantastic start as he chose to start Matt Breida in the Thursday Night Football matchup. Breida ran for all of 4 yards on 3 carries, so his 0.4 points gave Fenko a great foundation moving forward. Hopefully the rest of his team can pull through though, and give him a Cinderella story to remember. Good luck to all the teams left, I hope you miss me! (Editor's note: We miss you already, Myles)
Featured Image by Justin Paradis (@FreshMeatComm on Twitter)