The Guillotine League is a battle royale, free-for-all, elimination fantasy football league. There are no matchups, and at the end of each NFL week, the team with the lowest point total is eliminated, and all of their players are dropped into the waiver pool. It is cutthroat and it is unforgiving, and you don't ever want to see yourself getting near the Guillotine. The Guillotine cares not for what you've been through, what injuries you've had, or what your projected point total was. All it cares about is eliminating the team with the lowest point total each week. The Guillotine demands sacrifice.
Week 3 Recap
Before I get into the football aspect of it, let me just say, it is so sad having to watch from the outside looking in on this league. The Guillotine League is so much fun, there's so much tension, and so much celebrating as people realize on Sunday that they are going to be safe for the week. People looking forward to which stars will hit the waiver wire, and others nervously biting their fingernails wondering if their boneheaded decision on who to start as their RB2 is going to keep them from surviving the week.
Speaking of whether or not your RB2 choice would be your undoing, this was exactly the dilemma that David Fenko was facing Thursday night as he watched Matt Breida be completely irrelevant for the Miami Dolphins. Breida had been involved just enough in the first two weeks of action that it wasn't out of the question for him to have the opportunity to break one big play and score a TD. In a 15-team league, you are definitely scraping the bottom of the barrel with some of these players for sure. Was it the choice I would have made? Well, that's irrelevant, because I didn't even survive to this point to have the right to judge others. But since I'm writing this column? No, I would not have started Breida. Fenko braced himself for what would likely be the cold reality come Sunday; as Breida wrapped up his night with 0.4 fantasy points, Fenko messaged us "remember me fondly."
Then the Sunday games began, and it became clear that Breida would not be the only player with a hugely disappointing week. Dan Adams looked on in horror as Diontae Johnson came out of the game, only scoring 0.9 points before doing so. Reigning champion Ryan Kruse wondered if he could change his QB decision, as Tom Brady did all the things he thought Gardner Minshew would do. Fenko had to watch D'Andre Swift stand around on the sideline for most of the day, giving him a grand total of 3.3 points from his two running back slots. But then Fenko got some huge games from Patrick Mahomes and Justin Jefferson, and he vaulted himself out of elimination contention. Kruse was pretty far behind Adams entering Sunday Night Football, but Allen Lazard wanted to keep Kruse from joining the dead and his 26 point performance gave Kruse a 1 point lead. All Adams needed was 1 point from Marquise Brown on Monday night, and he almost didn't get it. Brown managed just 3.3 points, but it was enough to send Kruse packing, which means there will be a new champion!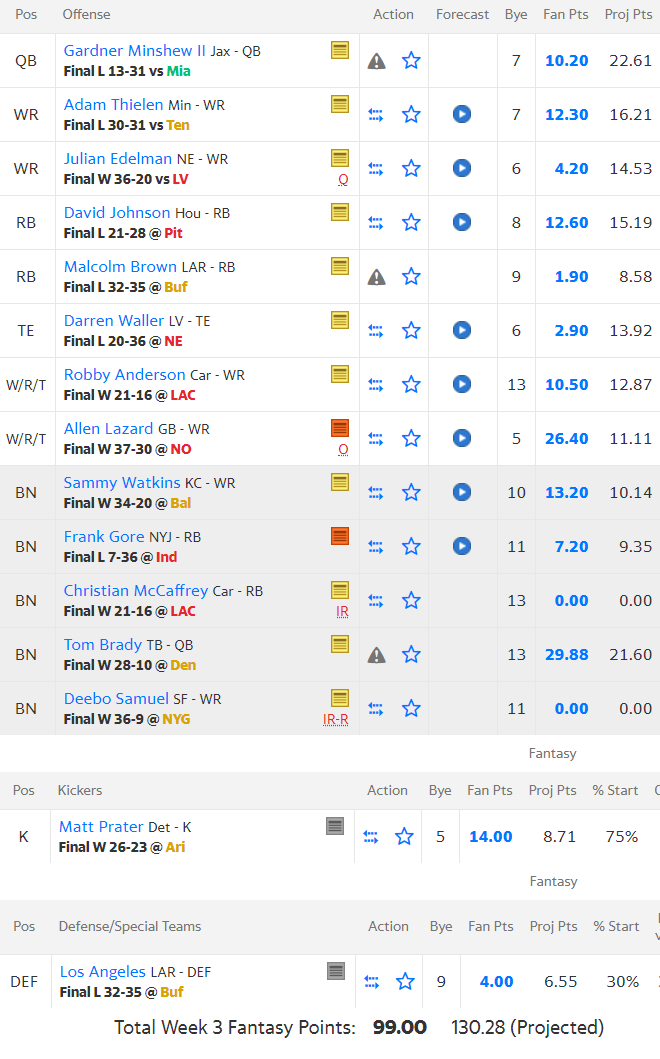 Boy, that Tom Brady statline really stings huh.
The Aftermath
I don't know if you noticed when going down the list there, but Christian McCaffrey is now available on the waiver wire. And it's not like he's there because he had a disappointing week, he's been very good when healthy this season, he just, unfortunately, has a high ankle sprain and will miss a few more weeks. So that begs the question, how much FAAB do you drop on someone who won't be able to help you for a few weeks, but when he's back, will be a top-5 player in fantasy? Well, how does $500 sound? For Jamie Sayer, it sounded great. He's scored over 140 points all three weeks and has never been close to elimination, so if he can keep that streak going, this sets up very well for him moving forward.
The other top players this week included David Johnson, Darren Waller, Adam Thielen, Robby Anderson and Allen Lazard. Fenko saw the writing on the wall from this past week and managed to snag himself Lazard for $126, who is now out for an extended period of time after core surgery. That's gonna sting. Johnson got the second highest FAAB bid of the week, earning $371 from Bryan Sweet. Thielen, Waller, and Anderson all fell in the under $300 range, as Thielen went for $299, Waller for $230, and Anderson for $230 as well. Here's hoping these guys can help keep their respective teams out of elimination, as those are healthy chunks of change to drop at this point in the game. Interestingly, there are a few surviving teams that have yet to spend a single dollar of FAAB, including Rich Holman, better known as La Cucaracha as he narrowly avoided elimination multiple times last year. Perhaps he feels that he's sitting pretty compared to last year and doesn't need to spend the money. And on the complete opposite side of the spectrum is Mike Miklius, who is down to just $9 in FAAB. He was almost eliminated in Week 2, and let me tell you, barely staying alive really strikes the fear of the fantasy gods in you.
Now that we are down to 14 teams, the lineups are starting to look a bit more palatable and the point totals are going to start going up. I wonder when we will have our first 100-point elimination. Kruse was eliminated this week with a total of 99 points, so we're getting very close.
Featured Image by Justin Paradis (@FreshMeatComm on Twitter)