The Guillotine League is a battle royale, free-for-all, elimination fantasy football league. There are no matchups, and at the end of each NFL week, the team with the lowest point total is eliminated, and all their players are dropped into the waiver pool. It is cutthroat and it is unforgiving, and you don't ever want to see yourself getting near the Guillotine. The Guillotine cares not for what you've been through, what injuries you've had, or what your projected point total was. All it cares about is eliminating the team with the lowest point total each week. The Guillotine demands sacrifice.
17 of our best and bravest (and possibly most insane) QB List writers and supporters volunteered ourselves as tributes, hoping to be the one team left standing at the end. Because that is the only way to be crowned champion of the Guillotine League, to avoid its cold grasp week after week, and be the last team standing. That essentially places our "Championship" in Week 16, as only two teams will be left when that week begins.
We've each been given $1000 in FAAB to last us through the season, which provides its own interesting and unique set of questions. Do you spend big early, in the hopes of being a top team from the start and making it each week? Or do you ration out your FAAB, making sure you have more than everyone else when studs are still hitting the waiver wire later in the season? Do you spend every last dime of your FAAB if Saquon Barkley or Christian McCaffrey is suddenly available, or do you spread it out for a pupu platter of second-tier stars? Each week provides a new set of circumstances and a new set of questions for each owner.
Week 1 Recap
Look, if you want to survive in a Guillotine League, you are going to need a decent amount of luck. One doesn't simply make it through the gauntlet of beating out 16 other teams without a few lucky bounces, a few lucky sit/start decisions, and maybe even a boneheaded move or two by your opponents. But at the beginning of the game, all you need to do is survive. When the only thing you need each week is to not be the bottom team, it's much easier when there are 16 other teams to take the heat. So what terrible things would have to go wrong for you to end up as the 1 team, out of 17, at the bottom? Well, why don't we ask Ben Brown, who found himself looking up at the rest of us from the bottom of the totem pole?
"In a 17 team league your team is going to be top-heavy, and it's near impossible to survive when your top three draft picks all miss Week 1 due to injury. I was unlucky this year but I'll be back to claim the crown in 2021."
He's absolutely right, in a league as deep as a Guillotine League, the rosters thin out very quickly. In most leagues you are drafting around 180 players, we drafted 255. That means you aren't going to get a ton of help from your bench if you need it, so you better hope your stars show up. And for Ben, that meant his first three picks, Miles Sanders, Kenny Golladay, and Courtland Sutton, none of whom played in week 1. He needed to replace them in his starting lineup with Boston Scott, Preston Williams (ouch), and Hunter Renfrow (double ouch), who combined for 17.6 PPR points, or about as much as you would hope a guy like Sanders would do by himself. That's the kind of bad luck you absolutely have to avoid at the beginning of the season, and there's really no way to predict that. Brown just got caught in the injury crosshairs, and them's the breaks. Sorry to see you go, but not at all sad to watch you leave.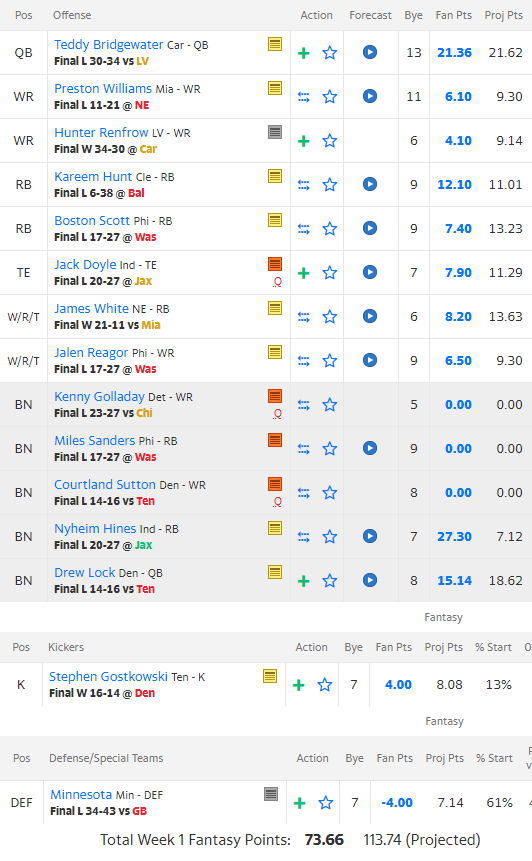 Big oof looking at his total points scored vs. his original projection. And boy does seeing Nyheim Hines on the bench hurt big time. Had he chosen to replace Scott with Hines, well, he still would have been eliminated, but it at least would have been much closer (16th place score 97 points). Adios Ben!
The Aftermath
The toughest question to answer each week for the surviving teams is what to do come Tuesday night when it's time to place our FAAB bids. You look at Ben's roster and see a lot of tantalizing talent, but none without question. Obviously, we face the same issue Ben did as the top three players were all still considered questionable on Tuesday. Kareem Hunt's role in that Cleveland offense is always a concern, or will James White get the same workload with Cam Newton under center? This, combined with knowing that really all that matters right now is how they perform in Week 2, makes it very difficult to determine how aggressive to be in your bidding. Personally, I felt very unsure about Golladay or Sutton's chances of playing this week, so I decided to cool it on the bidding for them. If my team can last another few weeks, I may find them on the waiver wire again and have the opportunity to grab them at that time. Plenty of players last year hit the waiver wire multiple weeks in a row, so it's tough to convince myself to go after a guy I can't even play (potentially) right away. Not to mention, on top of all the players on Ben's roster are all the players that all the normal leagues are having to deal with on the wire. Malcolm Brown and Myles Gaskin were top waiver wire candidates this week, and how do you factor Brown and Gaskin into this mix of players as well?
But with 15 other managers in the league, I knew I'd see a variety of opinions and strategies, and boy did we. Miles Sanders was the most heavily contested player, receiving 12 bids and ultimately going to Kenny Hyttenhove, who ponied up to the tune of $512 for Sanders. That's actually higher than what the highest bid was at this time last year, which was Colin Weatherwax bidding $488 on Antonio Brown. The other top bids were Kareem Hunt for $376, Courtland Sutton for $290, and Nyheim Hines for $250. Everyone was a bit lower on Malcolm Brown and Kenny Golladay, as they only went for $178 and $152, respectively. Golladay was the most closely contested player though, as Erik Smith barely missed out at $149. Those looking for a bit of bargain-bin shopping found some good deals, with James White at $100, Preston Williams getting $51, and Jalen Reagor at $50, and Myles Gaskin bringing up the rear at $16. I'm not sure what Gaskin was going for in most leagues, but I imagine it was more than 1.6% of your overall budgets.
What will happen in Week 2 of our Guillotine League? At this point, Week 1 no longer matters. The scores have been reset, and everyone is back at 0. So it doesn't matter how many points you scored, it doesn't matter which players got injured, all that matters is not scoring the least amount of points in Week 2. Because we all know what happens if you do. The Guillotine must be fed. Check back next week to see what happens next.
Featured Image by Justin Paradis (@FreshMeatComm on Twitter)