The Guillotine League is a battle royale, free-for-all, elimination fantasy football league. There are no matchups, and at the end of each NFL week, the team with the lowest point total is eliminated, and all their players are dropped into the waiver pool. It is cutthroat and it is unforgiving, and you don't ever want to see yourself getting near the Guillotine. The Guillotine cares not for what you've been through, what injuries you've had, or what your projected point total was. All it cares about is eliminating the team with the lowest point total each week. The Guillotine demands sacrifice.
Week 9 Recap
The best thing about the points resetting every week is that anyone can go home at any time. Just because you were bad in weeks prior and barely scraped by the skin of your teeth, doesn't mean you'll be at the bottom again. Of course, that was not the case this week. Before we had even started Sunday's main slate of games, we already had two owners that were underperforming their projections pretty badly. Matt Bevins, who has somehow managed to survive without Patrick Mahomes, got a measly 13 points from Tevin Coleman and DJ Chark combined, about half of what he was hoping to get from them. Rich Holman, who had just barely survived two weeks in a row thanks to miraculous Monday Night Football performances, got 7 points from his kicker and defense combined, which isn't the worst thing in the world, but still not something you want to see. Of course, the bad only got worse as Sunday's games unfolded.
"I'm done," said Bevins early Sunday. "Brissett's down." There's nothing more devastating than getting a poor QB performance in the Guillotine League. QBs account for so many points, that they can make or break your week very easily. And for Bevins, Brissett's performance of 2.76 points was surely going to be enough to keep him down. But Holman made sure he had something to say about that. Holman was trusting Juju Smith-Schuster and Robby Anderson as his flex players and that was… not ideal. They combined for less than 10 points, while David Montgomery wasted away his 22 point performance on Holman's bench. It looked like we had a real race to the bottom from a couple of teams who had already flirted with danger previously.
You all know me better than this by now, and the truth is, heading into the Sunday Night Football game, neither of these teams were on the bottom. In fact, Matt Bevins was already safe by the time SNF rolled around, thanks to a monstrous 40 point performance from Tyler Lockett. Holman was a bit in danger, but he was in 3rd to last place, 17 points ahead of the two below him. There was Nathan Mills, who got 0 points out of Dede Westbrook and had Eric Ebron's 3 point performance at TE. Below Mills, there was Justin Paradis, who had somehow trusted Kirk Cousins enough to start both Stefon Diggs and Adam Thielen, who combined for 2.6 points in an ugly game against the Chiefs. These two remained at the bottom as we approached the marquee Monday Night Football matchup between Ezekiel Elliott and Saquon Barkley, who were rostered by Mills and Paradis, respectively.
So this is what it came down to. Paradis was 17 points back from Holman, and Mills was 9 points back, and the only players left for any of them were Elliott and Barkley. Holman could only watch in terror as Mills and Paradis creeped up on him, scoring points while he was stuck standing still. Elliott only scored 13 points, the lowest output of the season for him, but it was enough to surpass Holman. Paradis was much more nervous, as Barkley struggled out of the gate, but the Giants set up a beautiful screen play for him at the beginning of the 4th quarter, that led to a 65 yard gain as he was pushed out of bounds by the last Cowboys defender. Had Barkley been able to get past him, he would have scored a touchdown, and Paradis would have been safe. Alas, not only did Barkley not score that TD, but he didn't touch the ball again that drive, and didn't score enough points the rest of the way to make it matter. Justin Paradis finished 2 points shy of being saved, and Rich Holman found a way to survive through another MNF butt clencher. How he keeps doing it, I don't know.
Paradis, it's been fun to have you around, but also, thank you for the immense talent you are putting into the FAAB pool.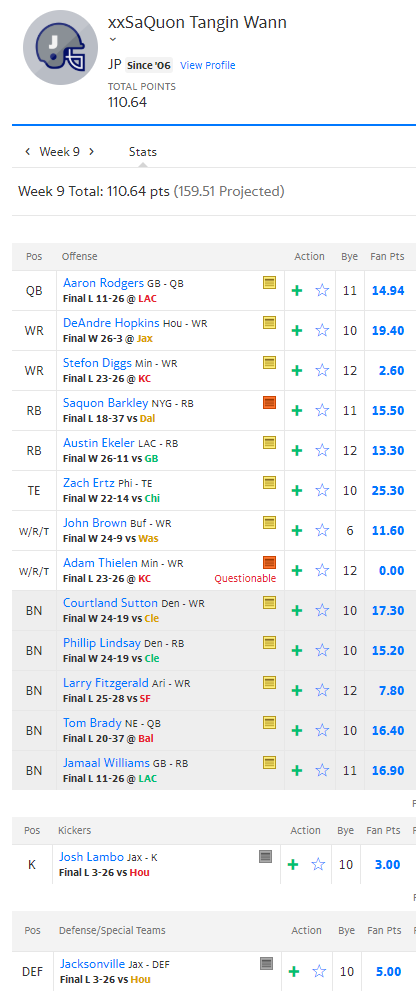 The Aftermath
I have been waiting all season for this. If you noticed in last week's recap, I had the most FAAB by a long shot, and that was very intentional. I spent all season value-bidding on players, getting the second tier of stars, because I knew at some point, the elite stud RB would become available. Suffice to say, I was ecstatic when I got Barkley with my $170 bid, a number that guaranteed I would get him no matter what anyone else did. Even with that, I am still second in FAAB and only $7 behind the lead. Of the seven teams remaining, four teams no longer have any FAAB left. With our rosters looking more and more like DFS lineups, getting the first pick of the free agent litter will be very valuable.
Nathan Mills did not like being so close to the bottom, so he dropped $138 on DeAndre Hopkins. In theory this is a good idea, but Hopkins is on bye for Week 10, so there's a decent chance Mills will never see a return on that investment and Hopkins will be a free agent again next week. If Mills can survive one more week though, he just added one of the premier WR options in the league. Some of the other noteworthy additions were Stefon Diggs and Adam Thielen for $0 each, as none of us trust the Minnesota passing game anymore, and Zach Ertz interestingly also went for $0. He's been a monster as of late, but he's got a bye this week, and that worried us enough to not drop any FAAB on him apparently.
At this point in the season, it's not enough to have a strong lineup. We all have strong lineups. So now it's about picking the right matchups and, honestly, getting lucky. There are only 7 teams left, and the margin for error is thinner than it's ever been.