We've made it to the halfway point of the QB List Guillotine League! 16 teams entered the league, and now only 8 teams remain. What began as a fun, exciting opportunity has turned into a gruesome gauntlet that has left us all harrowed and stressed. The hope for survival grows a bit dimmer each week, as look around at the rest of the league and realize that it's not enough to just be "good enough" anymore.
The Guillotine League is a battle royale, free-for-all, elimination fantasy football league. There are no matchups, and at the end of each NFL week, the team with the lowest point total is eliminated, and all their players are dropped into the waiver pool. It is cutthroat and it is unforgiving, and you don't ever want to see yourself getting near the Guillotine. The Guillotine cares not for what you've been through, what injuries you've had, or what your projected point total was. All it cares about is eliminating the team with the lowest point total each week. The Guillotine demands sacrifice.
Week 8 Recap
With this week officially determining who will finish somewhere in the top half, and which unlucky manager won't even make it to the halfway mark, we all were a bit on edge this week. Luckily for us, the Thursday Night Football game did not have many fantasy-relevant players, so no one was particularly sweating bullets heading into Sunday. Once the Sunday games started though, there was quite a bit of early disappointment. After riding high on Chase Edmonds train for a few weeks, Josh Gleason fired him up again as David Johnson was set to miss another game. He was also counting on a get-right game for Kyler Murray, who put up a stinker against the Giants but would hopefully bounce back against the Saints. Not the choice I would have made, as we are in a 9-team league at this point there are plenty of better streaming options, but Gleason wanted to ride that Air Raid offense to a win. The Saints defense, being one of the better defenses in the league, shut down the Cardinals, and Murray and Edmonds along with it. Of course, I'm really not one to talk here. I was busy getting pedestrian performances from Derrick Henry, Allen Robinson, and Tyler Boyd, and at this point pedestrian doesn't cut it. After the Sunday morning games, I was in the hot seat.
I stayed in the hot seat even through the afternoon games. Despite a big game from Deshaun Watson, I couldn't catch Gleason (who had a big game of his own from Latavius Murray). As the Sunday Night Football game got underway, I found myself 9 points behind Gleason, a very nervewracking position to be in. And though I had three players still left to play, and Gleason had zero, I was still envisioning all the scenarios in which I didn't manage to score 9 points. Thankfully (well, for me at least), I got enough points from Tyreek Hill to cover the gap, and it was indeed Josh Gleason who became this week's tribute for the Guillotine.
With Gleason going, it wasn't just another team who's players were hitting the waiver wire, it was the team with the most FAAB left going home. Gleason had more than double the next closest person in terms of FAAB, with a ludicrous $740 still remaining of his original $1000 budget. The last few weeks he had mentioned a few times that he wanted to go big game hunting, and not nickel and dime his FAAB away to marginal players. I bet he's rethinking that strategy now.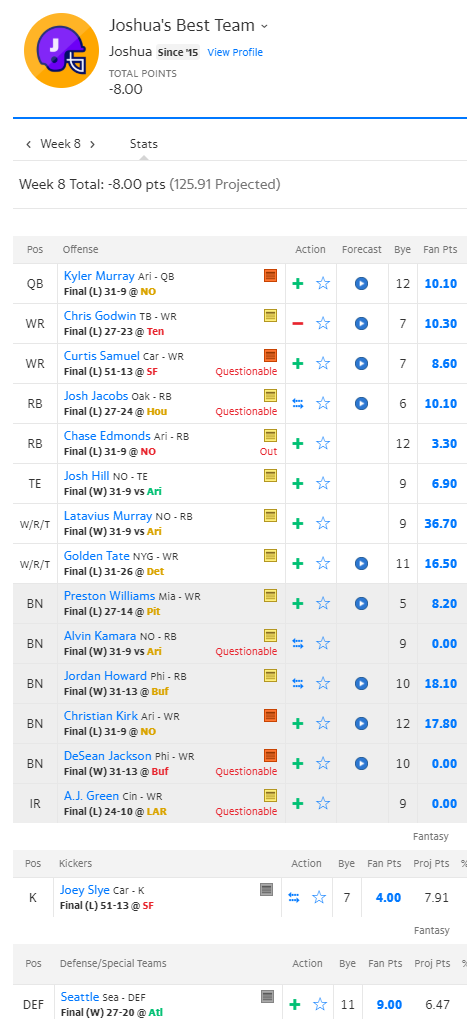 The Aftermath
Before I get into the FAAB bidding, I just want to say, with the World Series going on, a lot of us were pretty preoccupied on Tuesday night and, you know, we're in a lot of fantasy football leagues… sometimes things don't always go the way they should, and it's just because we all had a collective brain fart. That's all. Just keep in mind, we're human, okay?
So Chris Godwin was the high man this week for FAAB. I needed some more WR production, as I was stacked at RB but have had to make some questionable WR decisions. Godwin gave me someone I felt safe with, considering even in his bad weeks he was still a double-digit performer. I spent $86 on him, and feel pretty good about that. I also had contingency bids in for Josh Jacobs and Alvin Kamara, but once I got Godwin, it negated my other bids. Jacobs ended up going for $68 to Matthew Thomas, and that seems like great value. His volume has been through the roof, and Jacobs is going up against the Detroit Lions this Sunday, so a solid matchup as well. Thomas also got Jordan Howard for $30, who's been having a resurgence in Philly as of late, and Matthew Bevins took a flier on Miles Sanders for $1. Can't go wrong with a $1 bid.
Alvin Kamara went for $0. I repeat, Alvin Kamara went for $0. I did have a $76 bid on him, but again, that was negated once I got Godwin. Obviously a few things contributed to this here, the chief culprit being that New Orleans is on their bye week. We've seen time and again people getting screwed by bye weeks, and so rather than waste FAAB on a player that wouldn't help us at all in Week 9, we figured we'd probably see him again next week. Plus, he's missed a few games with that ankle injury, and while he's expected to come back in Week 10, you never know with injuries. So Kamara, a surefire first-round pick, stud RB, went for $0.
Since we're at the midpoint of the season, let's take a look at how every team left is doing in terms of FAAB.
Myles Nelson – $316 left
Justin Paradis – $257
Matthew Thomas – $170
Nathan Mills – $138
Matthew Bevins – $57
Rich Holman – $0
Ryan Kruse – $0
Mike Miklius – $0
If you want to see more of our league, click here to get to our league page.
Featured Image by Justin Paradis (@freshmeatcomm on Twitter)