The Guillotine League is a battle royale, free-for-all, elimination fantasy football league. There are no matchups, and at the end of each NFL week, the team with the lowest point total is eliminated, and all their players are dropped into the waiver pool. It is cutthroat and it is unforgiving, and you don't ever want to see yourself getting near the Guillotine. The Guillotine cares not for what you've been through, what injuries you've had, or what your projected point total was. All it cares about is eliminating the team with the lowest point total each week. The Guillotine demands sacrifice.
Week 11 Recap
"I'm going to be honest, I'm really nervous for my team this week." Every Sunday my anxiety levels spiked as I feared potentially going home in the Guillotine League, a league that has honestly made every other form of fantasy football feel tame in comparison. "I don't know what it is, but I just feel like I'm going to be eliminated this time."
"You say that every week," scoffed my girlfriend, who has told me on numerous occasions that I should have fewer fantasy football teams anyway. "I was nervous for you the first few times you said it, but now you're just the boy who cries wolf."
She was probably right. I mean, other than the fact that I had already survived 10 eliminations to this point, I also had just added Ezekiel Elliott and DeAndre Hopkins to my squad. So what that I was forced to stream Jared Cook at TE in a 6-team league, I was far from the only person suffering from byes and I had plenty of talent on my roster. It didn't take long for my fears to materialize. The Baltimore Ravens made Deshaun Watson look downright pathetic, and he struggled his way to a five-point outing in the opening slate of Sunday games. I was far from the only person who had reasons to fear though, as Matthew Bevins got 5 points or fewer from four different players on his roster, including James Conner, Tyler Boyd, and the Chicago Bears defense. At least all of my other players scored in double-digits, including my own kicker and defense. Heading into Monday Night Football, I had a 17-point lead over Bevins, and we each had two players left. He had Patrick Mahomes, which was definitely nerve-wracking, but I had Tyreek Hill, and so I could pin my hopes on the idea that if Mahomes went off, Hill likely would as well.
It didn't take long for that dream to come crashing down. Hill came off the field early in the game with a hamstring issue, and never came back into the game. Okay, well I still had Melvin Gordon, so maybe I could scrape out a win with that 17-point headstart I had built up on Sunday. Mahomes was looking pretty bad out there too, at least for the first half, and it seemed like this was going to be an ugly game with not many fantasy points to go around. He came alive in the second half though, throwing a touchdown and scrambling for big yardage, and we entered the final Chargers drive with me clinging to a 1 point lead, and with my Gordon and Bevins' Hunter Henry coming on to the field.
With the Chargers in an obvious passing situation, down one touchdown with less than 2 minutes to go, Rivers never looked Gordon's way. Instead, he kept looking to his receivers, beginning with an incomplete pass to Hunter Henry which damn near gave me a heart attack while the ball was in flight. He followed that up with a dump off to Keenan Allen that left them short of a first down, and then the Chiefs batted down Rivers' next pass attempt to leave the Chargers with a 4th and 4, with 1:25 left on the clock and no time outs. If the Chiefs had gotten the stop here, they would have kneeled out the clock, and I would have won by my measly 1 point. Instead, Henry broke open across the middle of the field, and Rivers connected for a 10-yard gain. With Ekeler in the game and Gordon out, I had no way of scoring points, and ended up losing the week. This was easily the most distraught I had ever been about a game that I had no real rooting interest in. It sucked.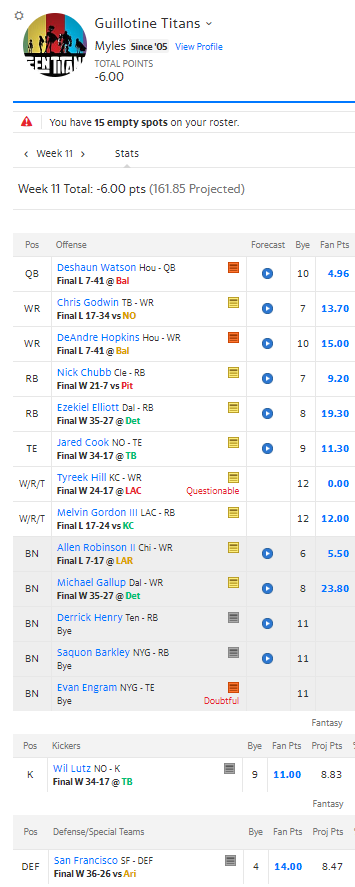 The Aftermath
First of all, before I get to what actually happened in the Guillotine League, I just have to say: there's no emptier feeling than having one fewer team to put waiver claims in for on Tuesday night. I felt incomplete as I put in my waiver claims and skipped over one of my teams entirely. Yahoo doesn't make it any easier, as they sent me a push notification on Wednesday morning letting me know I have 15 empty slots on my roster. Thanks Yahoo, way to rub it in.
This is where the league has officially gotten weird. There were only two teams left with any FAAB, and it's become clear that matchups matter just as much as the actual talent and expected production. Saquon Barkley garnered just $2 in FAAB, putting him at 5th this week in bids, and for good reason as the Giants travel to Chicago to take on a good Bears defense. Meanwhile, the Browns are at home against a less than stellar Miami Dolphins squad, so Nick Chubb went for the second most amount of FAAB at $22. Huge difference between those two and taking Chubb may end up being the better play this week. Ezekiel Elliott went for $23 and DeAndre Hopkins went for $10, and these two along with Chubb represented the last of Bevins' FAAB. Only Matthew Thomas has any FAAB left (he got Matt Ryan for $1 to go with Barkley), and with $83 left in FAAB, he'll have his pick of the litter each and every week, assuming he remains alive. Every other team will have to duke it out amongst themselves for the $0 leftovers, hoping they can get some good players by the grace of the waiver gods. It's not the end of the world though, as many good players every week go for $0. This week, Derrick Henry, Tyreek Hill, Melvin Gordon, Allen Robinson, and Deshaun Watson went for free, and I expect more of the same next week.
While it definitely sucks that I won't be participating in this league anymore, I'll still be writing about it every week, and I'm really looking forward to seeing how the final few weeks shake out.