The Guillotine League is a battle royale, free-for-all, elimination fantasy football league. There are no matchups, and at the end of each NFL week, the team with the lowest point total is eliminated, and all their players are dropped into the waiver pool. It is cutthroat and it is unforgiving, and you don't ever want to see yourself getting near the Guillotine. The Guillotine cares not for what you've been through, what injuries you've had, or what your projected point total was. All it cares about is eliminating the team with the lowest point total each week. The Guillotine demands sacrifice.
Week 13 Recap
With only four teams left in the league, every team looked like the fantasy football version of the Monstars. The worst tight end started was George Kittle, the four quarterbacks started ranked 1st, 3rd, 7th and 12th among all players in points per game. There were no perceivable weaknesses heading into the week, just four rosters that looked straight out of a DFS contest that also didn't have a salary cap. But for any of us that have ever played DFS, we know that even the best-laid plans often go awry. And go awry they did for Mike Miklius, who got down to a big deficit early thanks to lackluster performances from… well just about everyone. No one truly stunk it up (well, aside from the Philadelphia defense), but no one was a standout either, and at this point in the league, you need to have a few standout players. Heading into Monday Night Football, Miklius faced an uphill battle. He still had Russell Wilson and Stefon Diggs, two high ceiling performers for sure, and needed them to outscore Dalvin Cook by a combined 24 points. Given the season Cook has been having, it seemed unlikely, but there was a chance.
And then things started to break for Miklius. Cook went down right before halftime clutching his shoulder, and then left the game in the third quarter, never to return. Cook had scored 13 points while he was out there, but 37 points was oh so doable for Wilson and Diggs. Matt Bevins (the Cook owner) was sweating bullets. But Kirk Cousins and Diggs could never get on the same page, connecting on less than 50% of Diggs' targets, and Miklius was only able to get 30 points from his duo. Every week there must be a sacrifice, and though not a single offensive player for Miklius scored less than 9 points, it wasn't enough to save him.
RIP, Mike Miklius. 'Tis a shame you met the same fate as your team's namesake.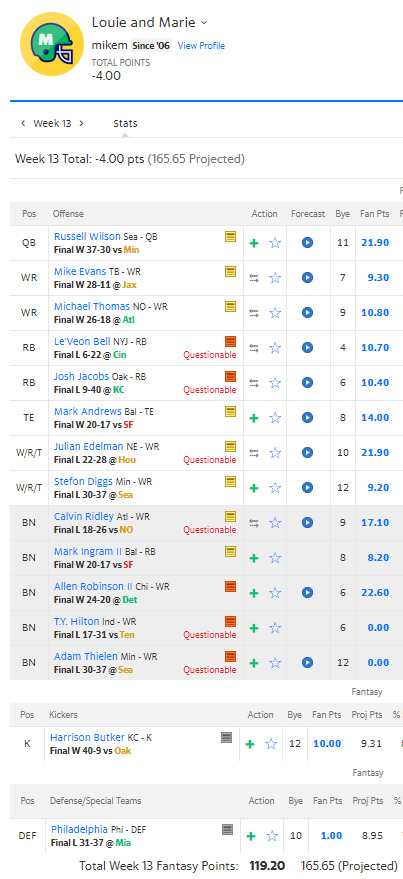 Week 14 Preview
We've reached the semi-finals! There are only three teams left, which means only two more eliminations to go. Still remaining in the league are Matt Bevins, Ryan Kruse, and the cockroach himself Rich Holman (this isn't an insult, he just literally wouldn't die despite being nearly eliminated like at least 5 times). Nearly Headless Rich has the lowest projected point total at 155, but Bevins (162) and Kruse (166) aren't far ahead of him. The two teams that remain this week will face each other next week in a winner-take-all finale.
Guillotine League Semi-Final Lineups
| | Matt Bevins | Rich Holman | Ryan Kruse |
| --- | --- | --- | --- |
| QB | Patrick Mahomes | Aaron Rodgers | Lamar Jackson |
| WR | DeAndre Hopkins | Julian Edelman | Amari Cooper |
| WR | Michael Thomas | Julio Jones | Davante Adams |
| RB | Nick Chubb | Alvin Kamara | Christian McCaffrey |
| RB | Ezekiel Elliott | Leonard Fournette | Aaron Jones |
| TE | Travis Kelce | Darren Waller | George Kittle |
| FLEX | Chris Godwin | Derrick Henry | Cooper Kupp |
| FLEX | Kenny Golladay | Le'Veon Bell | DJ Moore |
Who you got winning?!