(Photo by Doug Murray/Icon Sportswire)
Note: We started our draft recap Monday with rounds 1 and 2. If you missed a day, click the links at the top or bottom of the page. Today we will be recapping rounds 9-14 and tomorrow we finish up our coverage with rounds 15-25

Rounds 9-14
We will jump right into the draft today. In addition to covering each round, we will dig into thoughts from our managers about their favorite and least favorite picks so far.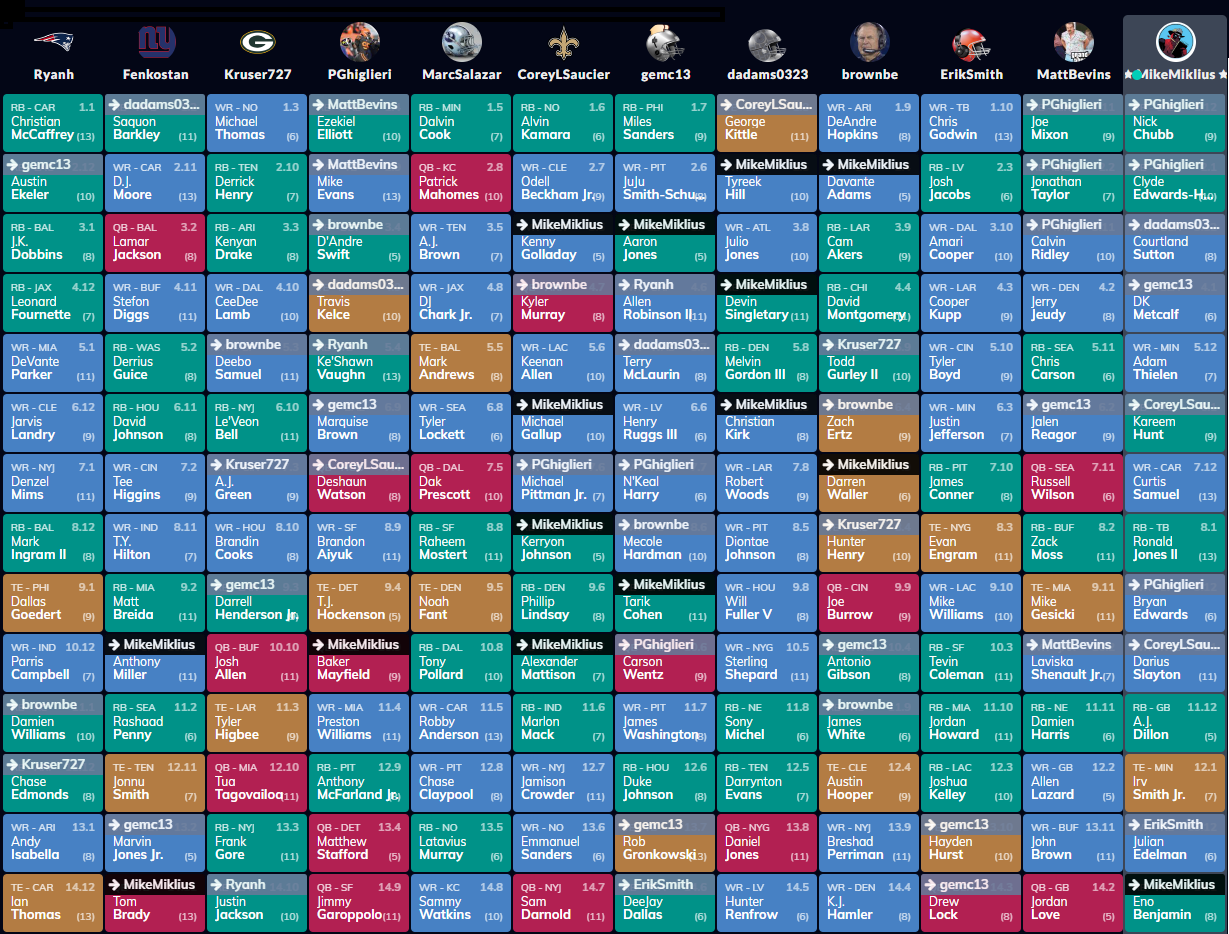 Note: Each pick was made by the name at the top of the column unless stated otherwise on the pick itself. For example, pick 1.01 was made by Ryanh while pick 1.02 was made by dadams0323–not Fenkostan. The color of each pick represents the position of the player (green is RB, blue is WR, orange is TE, and red is QB)
Rounds 9 & 10
Round 9 began with a run of tight end and running back. The first six picks were Dallas Goedert, Matt Breida, Darrell Henderson, TJ Hockenson, Noah Fant, and Phillip Lindsay. Goedert has flashed plenty of talent, but he is held back by the presence of Zach Ertz on the roster. Still, Philly is hurting for weapons and I think Goedert has the talent to succeed even if Ertz is on the roster. The huge upside is once Ertz retires though. Matt Breida moved to Miami in the offseason, and he will fight Jordan Howard for carries. We know that Howard is "just a guy" at this point, so Breida could be a monster if he can split carries and dominate pass-catching work. He is still only 24 and he looked good in San Francisco these last two seasons. Darrell Henderson was everyone's darling heading into last season, but then the Rams drafted his replacement (Cam Akers) in the second round. Henderson is merely a handcuff now to the Akers owner. TJ Hockenson and Noah Fant went next, both high profile tight ends from Iowa taken in the first round of last year's draft. I can't count on either to be a reliable weekly threat quite yet, but they both flashed their potential in year one and have a tremendous upside for the future. Phillip Lindsay was the sixth pick and he has likely been relegated to backup duty in Denver. Why was Lindsay demoted? You know…averaging 1240 yards from scrimmage and 4.9 yards-per-carry in his first two seasons. To be honest, I'm a Lindsay fan and I think he'll gain traction again at some point. It just won't be right away now that the Broncos have paid Gordon.
In the back half of round nine, we saw Tarik Cohen, Will Fuller, Joe Burrow, Mike Williams, Mike Gesicki, and Bryan Edwards come off the board. I started things off with Cohen–a running back I love this year. In 2018, when he was being used well, Tarik Cohen had 99 carries for 444 yards and 71 receptions for 725 yards. Oh, and he finished as an RB1 in PPR. Cohen isn't an every-down back, but rather a weapon to be moved around the field. Last year, the Bears used him terribly. I can't count how many times they ran him straight up the middle. Did I mention he's only 5'6? Yeah, not the best plan. I'm not counting on another RB1 finish, but RB2 is safely within expectations. Will Fuller was next off the board, and he is the epitome of "when healthy". He is a monster when he's playing, but he averages 5.5 missed games per season. Once again, he'll be huge if he stays on the field. Joe Burrow was the next quarterback and the first such rookie off the board. He was the first pick in the draft, so he'll be given every opportunity to succeed. He also has an excellent supporting cast around him. Mike Williams was next, fresh off his first 1,000-yard season. Williams has mostly failed to live up to the lofty expectations of a first-round pick thus far, and he will see a downgrade at quarterback. He feels like the third or fourth-best target in LA right now. Mike Gesicki was next off the board–another young tight end with big upside. He was a target/ touchdown machine down the stretch for Miami, but he'll need to develop chemistry with new QB Tua Tagovailoa. Round 9 ended with another rookie WR: Bryan Edwards. Edwards joins the Raiders, a team desperate for more reliable pass-catchers. If he flashes, there are plenty of targets to eat up.
Round 10 started with Darius Slayton, Laviska Shenault, Tevin Coleman, Antonio Gibson, Sterling Shepard, and Carson Wentz. Darius Slayton took advantage of a Giants team devoid of weapons en route to a 740-yard, 8-touchdown rookie season. I can see a pretty clear path to the team's WR1 role as nobody on the roster feels untouchable to me outside of Saquon Barkley. Laviska Shenault joins DJ Chark in Jacksonville–another team lacking in weapons. He also has a much lower price tag than the other receivers we've already seen fly off the board. That's what I like in my rookie dart throws–a cheap price. Tevin Coleman came off the board next, and he remains in San Francisco. He's quick on hs feet and he had a few big games, but I don't imagine San Francisco changes anything from last year; this is still a committee. Antonio Gibson, the RB/WR tweener, went to Washington and will likely be moved all around the field. I imagine Gibson is a hedge in case Guice goes down again. Outside of Guice, he is definitely the most interesting running back option on the team. Sterling Shepard went next, and he will battle Darius Slayton for the lead dog role in New York. I loved Shepard going into last season, but concussions sidelined him. At this point, I'm not sure how much longer his career will last. Carson Wentz went sixth, and he was the eighth quarterback selected. Wentz has also been a bit of an injury risk. He didn't finish 2017 or 2018 and he was concussed in last season's wildcard loss. If some of Wentz's new weapons don't break out, I'm not sure how much upside there really is here.
I had the 10.07, 10.09, and 10.11, and the last six picks of the round were Alexander Mattison, Tony Pollard, Baker Mayfield, Josh Allen, Anthony Miller, and Parris Campbell. Let's start with the picks I didn't make: Tony Pollard is the backup to Ezekiel Elliott, and he was more than capable in his rookie season. If Zeke goes down or misses time, Pollard would be a vital piece to own. If I was the Zeke owner, I would do whatever was necessary to get him. On that note, I love grabbing a piece like Pollard and then dangling them in front of the Zeke owner as trade bait. Josh Allen is not my favorite real-life talent, but he has been excellent for fantasy thus far. He has averaged 570 rushing yards and 8.5 rushing TD in his two seasons. Just watch out for the fumbles. Parris Campbell was a high-value target going into 2019 when Andrew Luck was still the quarterback. Remember that? Since then, Campbell muddled through injuries and only saw 24 targets in his rookie season. He also has Philip Rivers as his quarterback. Safe to say the ceiling has lowered a bit here. Still, the WR1 role will be wide open once Hilton leaves. At 10.07, I grabbed Alexander Mattison. I like his ability, and I knew who was picking next: the Dalvin Cook owner. I believe in Mattison's talent if Cook goes down, and that's my top priority when grabbing backups. I always look for talent over the situation. Oh, and he's only 22 this season. Next for me was Baker Mayfield. Last season went about as poorly for Baker as the previous one went well. Remember when everyone was gushing over Baker after how 2018 finished? I blame an abysmal offense that stifled Mayfield and OBJ. Maybe he won't be the league's best QB, but he has tons of weapons and he's flashed before. I still believe. Speaking of believing, I finished the round with Anthony Miller. Miller started to break out in 2018 before disappearing again at the start of 2019. Despite the Bears' lack of playmakers, he only had 17 receptions through the first 9 games. Things turned around late, and Miller totaled 35 receptions in his last 7 games. If we only look at the last 7 games, Miller's season pace would have been 126 targets, 80 receptions, 1,001 yards, and 5 TDs. Chicago didn't bring in anyone significant at receiver in the offseason, so the job is still Miller's to lose.
Rounds 11 & 12
Round 11 continued the run on position players with Damien Williams, Rashaad Penny, Tyler Higbee, Preston Williams, Robby Anderson, and Marlon Mack. Damien Williams has sneaky value this year now that a vaunted rookie sits above him on the depth chart. How quickly we forget that he had an MVP-like performance in the Super Bowl, totaling 100 rushing yards and 2 touchdowns. I wouldn't be surprised to see Williams hang around all season, stealing 5-10 touches per game. If CEH gets hurt or fails to live up to expectations, Williams would have RB1 upside again. Rashaad Penny is quickly fading away from relevancy thanks to an ACL injury that will probably have him on the PUP list to start the season. It doesn't help that the Seahawks added Carlos Hyde to the mix. Still, Penny looked impressive when he was on the field last year. Tyler Higbee was the next tight end to go. He is the TE1 in Los Angeles–a team that figures to make frequent use of him to help a struggling offensive line. Higbee had a career year in 2019 and will look to build on his success. Just watch out for Gerald Everett–he was no slouch either. Preston Williams was the 11.04, and he is a pick I love this year. In the eight games before Williams was hurt, he had more targets, receptions, and yards than Parker. He's also four years younger and six rounds cheaper in draft capital. If he recovers fully from his torn ACL, Williams should be one of the steals of this draft. Robby Anderson is in a new home in Carolina, who signed him for 2 years/ $20 million. I expect Anderson to be the #4 target behind McCaffrey, Moore, and Samuel. He also has yet to post a 1,000-yard or 8-TD season. Marlon Mack has played well these last two years, but he was clearly replaced in the offseason. With Jonathan Taylor taking the early downs and Nyheim Hines catching passes, I don't see much room for Mack on the roster. His best bet is a trade to a new team that can use him.
James Washington, Sony Michel, James White, Jordan Howard, Damien Harris, and AJ Dillon ended round 11. Many loved James Washington coming into the league, and he took a step forward in his sophomore season. I think James Washington, Diontae Johnson, and Juju Smith-Schuster can all find success moving forward as long as Big Ben doesn't go down. If he does, everyone's ceiling drops significantly. Sony Michel was the first of three Patriots running backs off the board, narrowly beating James White (next pick) and Damien Harris (two picks after White). Michel led the team in rushing yards last season and should be the favorite heading into 2020. White is still the pass-catcher, meaning every other back's ceiling is that much lower. If the offense continues to throw to the backs, then I love White's upside here. Then there is Damien Harris; Harris was a healthy scratch for almost the entire season, and he's looking like a complete waste of a draft pick so far. Still, he is only in his second year and he's cheap–something New England loves. I imagine Harris becomes the third option and hopefully he can impress. Jordan Howard was sandwiched by the Patriots love-fest, and he moves on to Miami this year. Despite what you may be told every offseason, Howard has not learned to be a viable pass-catcher. Still, he is a capable runner. If anything happens to Matt Breida, Howard should eat up a lot of carries.  Otherwise, he is the less-exciting half of this tandem. This brings us to the end of the eleventh, and my next pick: AJ Dillon. For those keeping track, Dillon was my first rookie in the draft. He is currently buried in the Green Bay depth chart, but he provides an important handcuff to Aaron Jones should anything happen to him. Dillon was also one of my top-5 rookie backs in the class. As I said before, I want rookies at a discount–not at the expense of passing on proven commodities early on.
Round 12 began with Irv Smith Jr, Allen Lazard, Joshua Kelley, Austin Hooper, Darrynton Evans, and Duke Johnson. Like AJ Dillon, Irv Smith is a young talent I like who also serves as a handcuff. Imagine Adam Thielen goes down to injury again this year. Who is the team's top remaining veteran receiving threat? Now that Diggs is gone, no one else on the team had 65 targets, 55 receptions, or 550 receiving yards last season. Smith was impressive in his first season, and he looks ready to grow into a larger role. I see him taking over the TE1 role from Rudolph and possibly becoming the team's second-most targeted weapon outside of Thielen.  Even on a run-heavy team, that's a great spot to be in. Allen Lazard is the second Packers receiver off the board despite the team not drafting anyone. Lazard feels like the only receiver on this team outside of Adams that isn't in Rodgers' doghouse. He also has huge upside if he can grow into the team's WR2 role. Joshua Kelley was someone I debated at 12.01, but instead he went here to Erik. I don't imagine Austin Ekeler will be a workhorse this season, so Kelley could have a lot of carries to take on if he can jump Justin Jackson on the depth chart. Austin Hooper was the 14th TE off the board and a bargain at that point. He is playing in Cleveland in an offense loaded with weapons. I don't love the landing spot, but Cleveland is clearly going to use him: they gave him a 4-year, $44 million dollar deal in the offseason. Darrynton Evans was a third-round selection by the Titans, and he could be part of the future of Tennessee's backfield. It looks uncertain whether or not the Titans will re-sign Henry, so Evans could be a great play towards 2021. Duke Johnson once again lost his chances at being a feature back as the Texans dealt for David Johnson. That's not necessarily the biggest obstacle though. Johnson was jumped on the depth chart last season by Chase Edmonds and Kenyan Drake, and he looked unimpressive when he was on the field. If DJ falters, Duke could have his chance. Then again, Houston would probably bring in a veteran. Poor Duke.
Jamison Crowder, Chase Claypool, Anthony McFarland, Tua Tagovailoa, Jonnu Smith, and Chase Edmonds rounded out the twelfth round. Jamison Crowder looks like the only returning receiver of note for the Jets, and he could eat up a lot of targets. I've never been that impressed by the talent, but the situation here could be excellent. I guess that ties into me generally thinking Sam Darnold is underrated right now. Chase Claypool played at Notre Dame last season and looks like he'll be a wide receiver (vs a TE) moving forward. Behind a bevy of weapons in Pittsburgh, I'm not excited about the immediate future. Anthony McFarland also went to the Steelers and will challenge for the lead dog role. I think this job is his for the taking if anything happens to Conner: Jaylen Samuels has been unimpressive thus far, and the rest of the roster depth is likewise nothing special. Tua was our QB11 and someone who could start right away–depending on health. A healthy Tua was a coin-flip decision for me with Burrow, so this looks like excellent value. Tua also has a nice set of weapons waiting for him in what looks like a Dolphins team on the rise. Jonnu Smith will be entering his first season as the Titans' TE1, and I'm curious about what he has to offer. There isn't much here outside of AJ Brown, so the sky is the limit for Jonnu in terms of target. I like the talent, but I'm still not sold on Ryan Tannehill as the guy behind center. Chase Edmonds finished out the second round, and he starts the season as the Cardinals backup. Personally, I'm not sold on Edmonds' talent. I think he was in the right place at the right time and made his name from one monster game last year. He is serviceable, but not the superstar-in-waiting some are expecting. Still, he is the backup right now if anything happens to Kenyan Drake. That's definitely worth a speculative add.
Rounds 13 & 14
Round 13 began with Andy Isabella, Marvin Jones, Frank Gore, Matthew Stafford, Latavius Murray, and Emmanuel Sanders. Andy Isabella was a second-round pick and will likely play outside for the Cardinals in 2020. With the team expected to play mostly 3 and 4 wideout sets, Isabella should have plenty of opportunities to see the field. Still, he only saw 13 targets last season and isn't a lock for the team's WR4 role this year. Marvin Jones seems perennially underrated, and he's someone I would have been looking at if I didn't already grab Kenny Golladay in the third. Through 13 games, he was on pace for 959 yds, and 11 touchdowns. Oh, and five of those games were without Stafford behind center. The Immortal Frank Gore was next off the board as he enters his 16th (!) season. He has some of the greatest career longevity I've ever seen from a running back, and he is described as a strong presence in the locker room. Still, he will be a backup for the Jets and hasn't rushed for 1,000 yards in any of his last three seasons. Matthew Stafford was someone I was eyeing at quarterback behind Mayfield. Interesting fact: after eight games (before Stafford went out for the season) he was on pace for 4,998 yards, 38 TD, and 10 INT. He also has an excellent supporting cast in Golladay, Jones, Hockenson, Deandre Swift, and Kerryon Johnson. I love Stafford's outlook this season. Latavius Murray is the backup in New Orleans, and it would be fair to say he is merely a backup. The upside, then, is if anything happens to Alvin Kamara. If Murray took on the lead role, he would likely become a workhorse in a top-5 offense. Murray is most valuable to the Kamara owner as he approaches age 30. Emmanuel Sanders will be joining Murray in New Orleans, and I love the fit. Sanders was this close to going down in Super Bowl history as a hero if not for an overthrow by Jimmy Garoppolo late in the game. Sanders will slot in as the WR2 behind Michael Thomas, and he will offer immediate flex value. I'm excited to see how he fits in with the Saints.
The back half of the thirteenth round saw Rob Gronkowski, Daniel Jones, Breshad Perriman, Hayden Hurst, John Brown, and Julian Edelman come off the board. Rob Gronkowski is back in the league, and back with his best buddy Tom. Gronk should become the TE1 in Tampa Bay as OJ Howard failed again to live up to expectations. I don't imagine this is the Gronk of old, but he should be a red zone threat for his familiar QB. Daniel Jones reminds me of Josh Allen: I don't think he is a long-term solution for his team, but he is useful for fantasy purposes and has rushing upside. Jones enters his second season desperately needing to cut down on turnovers: he had 12 interceptions and 18 fumbles last year. Breshad Perriman had a bit of a renaissance last year to end the season. In Tampa Bay's pass-happy offense, he averaged 101 yards and a touchdown in his last five games. Still, he has yet to hit 700 yards in any of his four seasons. Hayden Hurst's biggest accomplishment this last year was probably getting traded to the Falcons for a second-round pick, despite his limited career output. He is now expected to be the man in Atlanta with Austin Hooper long gone. I'm not sure what to make of it all, but at least the price is cheap. John Brown had a nice season last year despite Josh Allen's inconsistent play, but I'm doubting a repeat performance. Stefon Diggs is the new man in town, and I don't expect this offense to support two receivers. If you are higher on Allen's passing ability, Brown is worth a look; he is talented and he should be the WR2 on the team. The thirteenth round ended with Julian Edelman. Edelman has been a target monster for Brady when healthy, but Brady is gone, Edelman is now 34, and he has a bad track record of staying healthy. I'll pass.
Round 14 kicked off with Eno Benjamin, Jordan Love, Drew Lock, KJ Hamler, Hunter Renfrow, and Deejay Dallas. I was first on the board, and I grabbed the last rookie running back I had my eyes on: Eno Benjamin. Benjamin was a seventh-round pick by the Cardinals, but I love his talent. Want to see for yourself? Check this out. My distrust of Chase Edmonds plus my love of Eno Benjamin made him an easy selection for me. Jordan Love is an interesting pick in a startup: because of Aaron Rodgers' contract, it's almost guaranteed Love won't see the field for at least 2 years. Is a 2-year stash at quarterback worth it? Not for me. Still, I know a lot of people love him. I guess love truly is blind. Drew Lock, on the other hand, is starting for the Broncos this season and Broncos fans are optimistic. How are the weapons around him? Courtland Sutton, Jerry Jeudy, KJ Hamler, DaeSean Hamilton, Noah Fant, Melvin Gordon, and Phillip Lindsay. That's a nice roster to grow with. Speaking of KJ Hamler, he was next off the board. Hamler was a second-round pick, but his stock is low thanks to the depth chart. I believe in Sutton and Jeudy, so it's hard to project Hamler for much. Hunter Renfrow should man the slot for the Raiders and God knows there are plenty of targets to go around. There isn't much established here outside of Darren Waller, though newcomers Henry Ruggs and Bryan Edwards will hopefully show something. Deejay Dallas goes to the Seahawks, a team that loves to run and currently is looking for more running backs. Given Chris Carson's health/ fumbilitis and Rashaad Penny's ACL recovery, Dallas will have a big chance to impress this year. If he can't rise to the top amidst this uncertainty, the future looks bleak.
The fourteenth round finished with Sam Darnold, Sammy Watkins, Jimmy Garoppolo, Justin Jackson, Tom Brady, and Ian Thomas. In superflex leagues, I will own a lot of Sam Darnold this season. It seems like everything that could have gone wrong for Darnold last year did: he had mono and took a long time to fully recover; he was captured on camera saying he was seeing ghosts (pass rushers that aren't there); oh, and worst of all was that Adam Gase was his head coach. Darnold has flashed the ability I want to see from my starter, and I still believe in him as a long-term option, whether or not the stats back it up yet. Moving on to Sammy Watkins, I think everyone outside of the Chiefs office expected him to be an offseason casualty. He's back, however, and he's making things complicated. Watkins is unlikely to break out (he has only one career thousand-yard season) but he will eat up targets from everyone else. Watkins should successfully lower, by at least a little bit, the ceiling of everyone else on the roster. My lasting memory of Jimmy Garoppolo is when he overthrew Emmanuel Sanders in the Super Bowl. If he nailed that throw, he is a Super Bowl champ right now and the start of the next 49ers legend. Instead, he is the scapegoat. Garoppolo has a nice supporting cast–starting with the best tight end in the league–and it seems like his leash is a little tighter this year. I was a big Justin Jackson fan last year, and I clearly backed the wrong horse. I still like his talent, but the Chargers appear to have moved on. Jackson looks like he will be the odd-man-out. I still think he can catch on somewhere else though based on his talent and cheap price. We'll skip Brady for a moment and talk about Ian Thomas. Thomas is the TE1 in Carolina, and still young enough to have time to develop. I don't expect much this year as Thomas looks like the fifth option in an offense led by Teddy Bridgewater. He is a nice stash though. That leaves us with Tom Brady. While I like the upside of Baker Mayfield, I have to be real: he will be worthless if he looks as bad as he did last year. So, I needed a backup. Let's start with the bad. Brady will be 43 when the season starts, he is on a new team for the first time in his career, it looks like he will have a limited offseason, and he has declined for 4 straight years in passing yards, touchdown rate, and completion percentage. So what's the bright side? First, this is probably the best supporting cast Brady has ever had in his career. Second, he still put up 600 pass attempts last year. Finally, Brady has something to prove. I don't care what they say in public–Brady and Belichick both desperately want to prove they don't need the other. For Brady, this means the next two years are critical. I like relying on an angry legend to do something special. That's why I wanted Brady as my backup.
Team Summaries
| | Ryan Heath | Dan Adams | Ryan Kruse | Matt Bevins | Marc Salazar | Corey Saucier | Colin Weatherwax | Ben Brown | Erik Smith | Paul Ghiglieri | Mike Miklius | David Fenko |
| --- | --- | --- | --- | --- | --- | --- | --- | --- | --- | --- | --- | --- |
| QB | | D. Jones | J. Allen | R. Wilson | P. Mahomes | D. Watson | D. Lock | K. Murray | | C. Wentz | B. Mayfield | L. Jackson |
| | | | T. Tagovailoa | J. Love | D. Prescott | S. Darnold | | J. Burrow | | M. Stafford | T. Brady | |
| | | | | | | | | | | J. Garoppolo | | |
| RB | C. McCaffrey | S. Barkley | D. Henry | E. Elliott | D. Cook | A. Kamara | M. Sanders | D. Swift | J. Jacobs | J. Mixon | A. Jones | D. Guice |
| | JK Dobbins | M. Gordon | K. Drake | C. Carson | R. Mostert | K. Hunt | A. Ekeler | C. Akers | J. Conner | N. Chubb | D. Singletary | Da. Johnson |
| | L. Fournette | S. Michel | T. Gurley | Z. Moss | T. Pollard | P. Lindsay | D. Henderson | D. Montgomery | T. Coleman | C. Edwards-Helaire | R. Jones | M. Breida |
| | K. Vaughn | D. Evans | L. Bell | D. Harris | L. Murray | M. Mack | A. Gibson | D. Williams | J. Howard | J. Taylor | K. Johnson | R. Penny |
| | M. Ingram | | C. Edmonds | | | | Du. Johnson | J. White | J. Kelley | A. McFarland | T. Cohen | |
| | J. Jackson | | F. Gore | | | | | | D. Dallas | | A. Mattison | |
| | | | | | | | | | | | AJ Dillon | |
| | | | | | | | | | | | E. Benjamin | |
| WR | A. Robinson | J. Jones | M. Thomas | M. Evans | AJ Brown | O. Beckham | J. Smith-Schuster | D. Hopkins | C. Godwin | C. Ridley | D. Adams | DJ Moore |
| | D. Parker | C. Sutton | C. Lamb | J. Jeudy | DK Chark | K. Allen | DK Metcalf | D. Samuel | A. Cooper | M. Pittman | T. Hill | S. Diggs |
| | J. Landry | T. McLaurin | AJ Green | L. Shenault | T. Lockett | D. Slayton | J. Reagor | M. Hardman | C. Kupp | N. Harry | K. Golladay | T. Higgins |
| | D. Mims | R. Woods | B. Cooks | A. Lazard | R. Anderson | J. Crowder | H. Ruggs | B. Perriman | T. Boyd | B. Aiyuk | A. Thielen | TY Hilton |
| | P. Campbell | D. Johnson | | J. Brown | C. Claypool | E. Sanders | M. Brown | KJ Hamler | J. Jefferson | B. Edwards | C. Kirk | |
| | A. Isabella | W. Fuller | | | S. Watkins | | J. Washington | | M. Williams | P. Williams | M. Gallup | |
| | | S. Shepard | | | | | M. Jones | | J. Edelman | | C. Samuel | |
| | | H. Renfrow | | | | | | | | | A. Miller | |
| TE | D. Goedert | T. Kelce | H. Henry | M. Gesicki | M. Andrews | G. Kittle | R. Gronkowski | Z. Ertz | E. Engram | TJ Hockenson | D. Waller | J. Smith |
| | I. Thomas | | T, Higbee | | N. Fant | | H. Hurst | A. Hooper | | | I. Smith | |
As our rosters are getting pretty filled out, I decided to swap to a position-by-position look at each team today. Keep in mind when looking at our rosters that the starting line-up is 1x QB, 2x RB, 2x WR, 1x TE, and 3x Flex. This format provides some flexibility and allows teams to load up more on either running backs or wide receivers. Looking at my own team, I am glad that I was able to snag a couple of starters I like at quarterback. Brady has a strong upside in the short term while Mayfield gives me some possible long-term value if he bounces back. I plan to start only two running backs when possible, and I should have enough depth to make this work. At wide receiver, I feel like I truly go six men deep. That doesn't even count Samuel or Miller as my 7 and 8. I'm not 100% sold on Waller as my tight end to be honest, but most options at the position make me at least a little queasy. I could certainly do worse. My favorite pick so far was probably Christian Kirk in the sixth; I know he was on the radar for a few other managers. My worst pick could end up being when I took Darren Waller over Russell Wilson. If the Seahawks air it out, as they say, I could see Wilson having a career year. Even without increased volume, he is still an excellent starter I could have had in the seventh.
Looking at the other teams, Ryan Kruse has done well to build a balanced squad. He is deep at running back and should have no trouble filling out a strong line-up this season. Wide receiver is a little thinner, but I still see multiple viable starters in Thomas, Cooks, and Green. On top of that, Lamb provides some excellent upside for the future. Hunter Henry and Josh Allen round things out, and this team should be competitive from day one. Adding in Tua is another strong depth piece. I also like what Erik has done with minimal trading. Staying in his own draft spot for the first 12 rounds, Erik watched as value repeatedly fell to him. He grabbed Godwin at just the right spot in the first. Then he took Jacobs before I could in the second. Cooper came in the late third and Kupp in the early fourth. Erik's receivers go 4-5 strong this year, and that doesn't include the future promise of Justin Jefferson. Likewise, he has enough behind Jacobs at running back to fill out any remaining roster spots. I'm not big on Evan Engram, but he was yet another value for Erik in the eighth. This highlights how a strategy opposite mine (frequent trading) can work out just fine. Now let's see what the other managers had to say. (In addition to reviewing their teams, each manager will share the biggest snipe they made and made against them.)
Manager Reactions
Ben Brown: I didn't need Joe Burrow in the 9th round but I'm now confident in my QB situation for the next 10+ years between him and Kyler Murray. I had pick 10.4 and was targeting Alexander Mattison as my RB4 but thought he would last until the 11th and again I was wrong. I traded out and naturally Mattison went a few picks later, so I settled for Damien Williams who I think is significantly undervalued at his current ADP. He's coming off a monster playoff run and as my RB4 he should offer significant value as either a FLEX guy or a bye week fill in. I was also surprised to see Austin Hooper, a TE1 in many formats, and Breshad Perriman, a guy I've followed since his rookie year and who finally put it all together last season, both fell to me in the 12th and 13th rounds, respectively. Prior to seeing ghosts against New England last season, Sam Darnold looked like he would turn into a competent QB in the NFL and I still think he can be, so if he figures it out then Perriman should remain productive enough to fill in at times as my WR5. Getting sniped by Erik in the 2nd round, when he took Josh Jacobs, completely changed my draft strategy and directly led to me trading back and taking two rookie running backs in the 3rd round–something I never do. I'm not sure if I actually sniped anyone but I do know that I took Damien Williams at the right time (11.1) since he definitely wouldn't have lasted to my next pick.
Ryan Heath: Getting Dallas Goedert and Ian Thomas as my two tight ends in this range was very nice; I think there's a great combination of floor and ceiling provided by the two. Parris Campbell and Andy Isabella are two receivers I really liked last year, and I love buying at their depressed prices. Both are fine lottery tickets. I'm wondering if I should have added some more cheap veterans in this range for depth, as I passed on the likes of Matt Breida and Sony Michel, both of whom were eventually drafted at good values. I wasn't completely sniped in the draft, but I had really hoped D.J. Chark would make it to me at the 4/5 turn. I'd debated whether to take Chark or Robinson at 4.06 trying to consider which would be more likely to make it back to me at the end of the round. Ultimately, it looks like there was no way I was getting both, but that was definitely a point of frustration for me. Much later, I apparently grabbed someone else's target in Chase Edmonds, who I immediately sold for two picks that became Justin Jackson and Boston Scott. I value all three of these players similarly, so trading one lottery ticket for two was a clear win in my eyes.
Ryan Kruse: I like the QB's I got in this range. Josh Allen and Tua Tagovailoa are 23 years old and 22 years old respectively. I had Allen rated as my QB9 so I was more than happy to grab him in the 10th round. I had Tua as my QB16 but I really wanted to lock down a young and promising QB room. I'm not as bearish as the others when it comes to Tua's post-injury draft stock. I also like the value I got for Higbee, the overall TE10 in my rankings. Higbee tied Kelce as PFF's third-highest-graded tight end in 2019 and finished the season scoring within the top eight of PPR tight ends. I felt Chase Edmunds would be a necessary backup behind Kenyan Drake so I paid a premium and gave up two picks to secure the Arizona backfield. At this point in the draft I wasn't taking anymore RB's unless they helped to solidify my squad. That means targeting less valuable guys like Edmunds, Ito Smith (Gurley's backup), and Frank Gore (Bell's compliment). I got sniped a time or two but they didn't set me back too much (except for Edmunds). Mike nabbed Waller a few picks before I had to settle for Henry and Paul took Aiyuk just before my pick so I settled for Brandin Cooks.
Matt Bevins: I don't want to talk down anybody's picks yet (I'll save that trash talk for the season), so I'll just say I'm glad my theory of waiting on tight end worked out–given the youth at the position. I got Mike Gesicki in the 9th and was super happy to see him there. He's a big body bruiser of a tight end and finally has a legit quarterback to throw to him. Then in the 10th round, I may have reached (who knows) but I really like the potential of Shenault in Jax. He's seen comparisons to DeAndre Hopkins and DeVante Parker, and with Chark finally breaking out they have an opportunity to be a killer tandem. I waited and waited and waited and got sniped for Sony Michel. I remember writing so many good things about this guy before his first pro season, and he's been a disappointment for the most part (saved many times by some short rushing tds). That said, with Brady on the move it was worth the risk with an 11th round pick to see if he could be a quality player to build around. I took Damien Harris in retaliation shortly after. 
David Fenko: Jonnu Smith in the 12th feels like a gift to me. Tennessee has already waived Delanie Walker, leaving Smith as the starting TE for the Titans in 2020. Being able to wait for 12 rounds to get Smith allowed me to shore up some other weaknesses earlier. There weren't any picks where I felt I either sniped someone or got sniped. 
Erik Smith: Did I need Mike Williams at the end of the ninth round? No. Do I even like Williams that much in fantasy? Not really. But he doesn't turn 26 until October, and he's already posted eleven touchdowns in a season once and 1,000 receiving yards in a season once. Maybe he puts together a complete season or grows as a player, as his first-round pedigree hints at some untapped potential. Otherwise, I began to hammer late-round running backs in an attempt to bolster my group after a receiver heavy start. Tevin Coleman and Jordan Howard are both unexciting options, but they each share a backfield with an injury-prone option (Raheem Mostert and Matt Breida) and could stumble into fantasy relevance this year. And at 27 and 25 years old respectively, Coleman and Howard should still have a bit of dynasty appeal, making them nice 10th and 11th round options. Joshua Kelley and Deejay Dallas are both dart throw rookie running backs that have a legitimate path to contributing in year one, at a fraction of the cost of the top rookies. And Julian Edelman at pick 156 seems like stealing; yes his age and the loss of Tom Brady makes him a little shaky, but who else is catching passes in the Patriots' receiving corps? As far as snipes, I was hoping to get Calvin Ridley in the 4th round, with four picks between my Amari Cooper pick and my next selection, but that was probably wishful thinking. Otherwise, I'm pretty good at letting values fall and not falling in love with too many players. Some notable picks of mine that drew groans from other drafters were Chris Godwin in the first, Amari Cooper in the third, and–surprisingly–Tyler Boyd in the 5th.
Dan Adams: I was excited to see Will Fuller fall to me right up until I had to actually press the button to draft him. He's got all the talent and speed to be an elite receiver this year, especially with Hopkins gone. However, he's also one of the only guys I'm comfortable labeling as injury-prone given his issues with soft tissue injuries. At 9.08 I think he's worth taking for the five weeks I should be guaranteed of having him be a top receiver. If he ever figures out how to stay healthy consistently this pick is a home run. Sony Michel is only entering his third year and should be the focal point of the Patriots offense for as long as he holds up so I was a little surprised he made it this far into the draft, and Darrynton Evans felt like a reach but RB dried up very quickly and he's got big-play speed in a run-heavy offense. I think he'll have a role this year and he's one of the better handcuffs in the league. Daniel Jones was solid for fantasy as a rookie, his team took a franchise offensive tackle in the draft, and he has a ton of weapons if everyone is healthy. I really wanted one of Noah Fant or T.J. Hockenson, but both went off the board just a few picks before me. Losing out on A.J. Dillion was also probably one of the saddest things to happen to my team in this draft. I love him going into the NFL Draft and think his landing spot is really strong long-term. I prioritized Michel to have more immediate depth, as I think Dillon will struggle for touches this season, but I would have loved to get him at the pick I ended up taking Evans with.
Paul Ghiglieri: This range of picks I really liked for my team. I am very high on T.J. Hockenson at tight end, and I believe Bryan Edwards has Anquan Boldin-type potential. Carson Wentz has already proven he can be an elite fantasy QB. The only thing holding him back is health. I had a chance to take Dak Prescott or Deshaun Watson, but I passed on them in favor of waiting on QB so I could solidify my WRs in Round 6. The careers of N'Keal Harry and Michael Pittman will determine if that was a smart move or not. Unsure whether my unproven receivers will pan out, I thought it best to strike now and try to acquire upside and high-end production at QB and TE as well in case I needed to compensate. Wentz is a big enough health risk that his own team drafted a quarterback in the second round this April, so I knew I was going to have to add some quality depth at the position later. However, I panicked and took Matthew Stafford, a pick I regret, just three rounds later. I liked what Stafford was doing when the team opened up the offense last year, but he's a statue who offers no rushing stats and he's become rather brittle in his thirties. The remainder of his career may be short-lived, so adding him as reliable depth behind Wentz wasn't the best decision. This selection caused me to question my QB options and take yet another signal-caller, Jimmy Garoppolo, in the very next round. In retrospect, I would have passed on Stafford and acquired another WR or RB, without feeling the need to reach on Garoppolo. I do think, however, that like Matt Ryan before him, Year 3 in Kyle Shanahan's complex system should yield a big year for Garoppolo. I did add Preston Williams, another WR with big upside, and since I hadn't taken a running back since Round 2, I felt I needed to start adding extra coverage there as well. Anthony Mcfarland is an intriguing back with speed and burst, and I can see him carving out a valuable role playing behind Pittsburgh's strong O-line. There's even the outside chance he eventually takes over the backfield entirely if the team moves on from James Conner in 2021. I've already mentioned how Erik Smith sniped me three times at WR, but that all happened in the first six rounds. The consecutive quarterback picks caused me to lose out on Boston Scott one selection before I planned to take him in Round 15. Had I taken Daniel Jones or Drew Lock instead of Stafford in Round 13, I may have felt comfortable enough with their health, youth, and upside that I would have waited on Garoppolo, whom I am sure would have still been there a round or two later, thus allowing me to add Scott and someone like Antonio Gandy-Golden: another WR prospect I liked in this range. Admittedly, a lot of great talent went much earlier than their ADPs and were snatched up well before Round 9, so I don't feel like my hiccups in these later rounds set me back as much as one would think.