Welcome to the QB List Staff Playbook Series. Every week throughout the season, we will conduct a staff survey, asking multiple fantasy analysts to offer insights on some of fantasy football's most pressing questions. Essentially, we're sharing our "playbook" with you, revealing the hard choices and strategic moves we would make to stay ahead of the competition.
This week, the QB List Staff was asked which underlying stats you should know, specific to certain players, ahead of Week 4 :
Paul Ghiglieri (@FantasyGhigs): Yards per route run (Justin Jefferson/Robbie Anderson)
Reasoning: Yards per route run takes the total receiving yards for a pass catcher in a season and divides that by how many routes on passing plays he actually ran. It's an oft-referenced metric when attempting to identify breakout candidates, but it's also useful as a means for targeting undervalued producers at the position. According to PFF, among receivers with 15 or more targets, Justin Jefferson and Robbie Anderson both rank inside the top-10 at the position, with Jefferson leading the league in this stat. Crossing routes and vertical routes from the slot have bolstered Anderson's value, finally solidifying the WR2 promise he teased so often in New York.
Justin Jefferson doesn't have Stefon Diggs' game-breaking speed, but he brings more physicality over the middle, and that has garnered the favor of quarterback Kirk Cousins. Like Anderson, Jefferson can operate out of the slot, but he's also capable of winning on the perimeter as well. Take a look at the clip below. The scheme plays a part in getting Jefferson open, but it's what he does after the catch that gives him a chance to be special.
Incredible first career touchdown celebration for Justin Jefferson pic.twitter.com/D1Mz1HjXZS

— Barstool Sports (@barstoolsports) September 27, 2020
While we shouldn't expect 170+ yards and a score from Jefferson most games, he should be able to maintain consistent high-end WR3/low-end WR2 value moving forward, making him an ideal Flex play in PPR leagues. Put in a bid or make an offer for at least one of these receivers before Week 4.
Ben Brown (@FelixTheDog23): Adjusted Line Yards (James Robinson)
Reasoning: According to Football Outsiders, the Jacksonville Jaguars' offensive line ranks as the 8th best in the league in adjusted line yards. They've essentially been the 8th best offensive line in the run game this season, and that's due largely in part to their interior linemen. Starting center Tyler Shatley ranks 7th overall among centers this season according to Pro Football Focus, and the 3rd best run-blocking center with an 81.3 grade. Both of Jacksonville's starting guards also rank highly, with Andrew Norwell and A.J. Cann both landing in the top 15 overall among guards. This bodes very well for James Robinson, who has exploded onto the scene this season as an undrafted rookie who seized the starting job out of camp and likely won't let it go anytime soon. Yes, Robinson looks like an immensely talented stud, but it's important to note that his friends on the interior offensive line are doing their part to help him in his breakout season.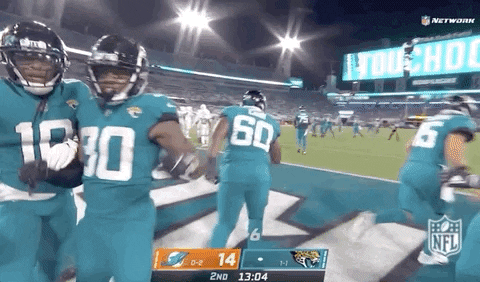 Rich Holman (@RichardoPL83): Average Front/Men in the Box (David Montgomery and Ronald Jones)
Reasoning: On FantasyData.com they have a metric that tells us the average number of defenders in the box that a running back faces. Obviously, a running back is going to have a tougher time going against stacked fronts. On the opposite side, backs that face light fronts should have an easier path to success. Through three weeks, two running backs top the list of most average defenders in the box – David Montgomery and Ronald Jones. Both backs have seen an average of 7.1 defenders in the box per rushing attempt. Montgomery being up here doesn't surprise me that much. Defenses daring Trubisky to beat them through the air definitely makes sense. On the flip side, I'm surprised that teams would do the same against Mike Evans and Chris Godwin. Either way, this stat is a bucket full of cold water on Montgomery and Jones.
We're STILL starting Ronald Jones #bucs pic.twitter.com/kUROUXDhpi

— KAY-ELE (@TheEnigmatic8) September 27, 2020
Marc Salazar (@dingwog): Target Share (Jonnu Smith)
Reasoning: Heading into the season, fantasy managers had a long list of potential breakout tight ends that were available after the top four were drafted. Towards the bottom of that list was Jonnu Smith. However, after three weeks Smith is in the middle of a breakout. Smith is earning a 20.6% target share, or the percentage of team's total passing targets. That total is good for sixth in the league, right behind stud tight ends Travis Kelce, Darren Waller and Mark Andrews. While the Titans' passing volume is towards the bottom of the league, if Smith continues to command 20% of the targets, production will surely follow.
Ryan Heath (@QBLRyan): Air Yards market share (D.J. Moore)
Reasoning: D.J. Moore is 2nd in the league with a 50% share of his team's total air yards. Though he has somewhat underperformed expectation in fantasy this year, and his teammate Robby Anderson is generally thought of as the offense's deep threat, Moore has been dominating his team's downfield opportunities. Only 80% of Moore's targets have been deemed catchable, compared to Anderson's 92%. This suggests Moore has simply been unlucky compared to his teammate. Positive regression to the mean is likely to kick in, making Moore an attractive buy-low.
Highest % of team's air yards:

◾ Julian Edelman – 51%
◾ D.J. Moore – 50%
◾ Adam Thielen – 46%
◾ D.K. Metcalf – 45%
◾ Calvin Ridley – 43% pic.twitter.com/b2D4WIQZNS

— PFF Fantasy Football (@PFF_Fantasy) September 30, 2020
Mike Miklius (@sirl0inofbeef): Longest carry/ reception (Brian Hill, Kalif Raymond)
Reasoning: Given the nature of football, most of us don't see all the games. In fact, it's unlikely most fans even catch 40% of them. This being the case, you have two choices: watch RedZone and see the biggest plays or watch some of the games and stat surf. Here's the problem with stat surfing: sometimes, one big play obscures the true results. Brian Hill, for example, had nine carries for 58 yards and a touchdown. Look out Todd Gurley? Closer examination sees that Hill had good blocking on his 35-yard run, and it was the lone bright spot of his day. Take away that run–and the blocking that created it–and he's looking at 8 carries for 23 yards. Those are hardly inspiring numbers. We can do the same with Titans receiver Kalif Raymond. He had 118 yards through the air, but only 3 targets and a 61-yard reception. If not for a defensive breakdown, Raymond would have been a mere footnote.
Brian Hill TOUCHDOWN. pic.twitter.com/0b3Kfuy68o

— NFL Daily (@nfIdaiIy) September 27, 2020
Matt Bevins (@MattQbList): Red zone targets: (Russell Gage)
Reasoning: I know, it's early, so this is a tough stat to really hone in on. However, if you want a good predictor of confidence in a player from a QB, look at red zone targets for a certain position. Your top 5 target leaders in the red zone are currently Calvin Ridley, N'Keal Harry, Stefon Diggs, Keenan Allen, and Marvin Jones. These are players who have their signal caller's trust, but also you could likely find some gems further down the list. A sneaky one at 7… Russell Gage. Look for those types for max return on cost.
Top-5 #Falcons PFF Offensive Grades vs. Bears

1. WR Russell Gage – 79.6
2. C Alex Mack – 70.5
3. RG Chris Lindstrom – 67.9
4. WR Olamide Zaccheaus – 67.2
5. WR Calvin Ridley – 66.6

— Evan Birchfield (@EvanBirchfield) September 28, 2020
Have a question? Want to know more? Click the Twitter handle of any QBList.com writer above to reach out directly. We're always happy to help out and talk football!
Photo by David John Griffin/Icon Sportswire | Feature Graphic Designed by James Peterson (Follow @jhp_design714 on Instagram & Twitter)