We don't really acknowledge it much on QBList, but there is some football that goes on in between Thursday Night Football and Sunday. It's called college football, and it is just as much, if not more, fun than NFL football. And, college football ends up feeding 99% of the NFL's roster on any given Sunday, Monday, and Thursday (and Saturdays in December). So, I thought it would be a good idea to give you, the faithful reader, a quick little guide to the discourse around college football, some bowl projections, and a little prediction model by yours truly. If you have any questions, feel free to drop them in the comments below or reach out to me on Twitter (@MrAdster99).
A Quick Primer for the Final Week of the Season and Games to Watch
It is finally here: Rivalry Week. It's the best week of the season for college football fans because even if your team isn't headed to the Playoff or a conference championship, there's something big to play for. Nearly every Big Game(TM) is played during Rivalry Week. Of course, there are some exceptions (Michigan/Michigan State, USC/UCLA, etc.), but this week is when the bad blood really comes to the forefront.
Last week, we had some #TeamChaos action, as Oregon was toppled (as I predicted?) by Utah in Salt Lake City. Oregon's second loss of the season effectively knocks the Pac-12 out of the Playoff picture, as they haven't looked nearly dominant enough to warrant being in the final four Playoff teams. Interestingly enough, that's the second time this season that Oregon has been ranked #3 in the country and been upset. Go figure!
So, we're down to 3(ish) conferences with Playoff contending teams: the Big 12, the SEC, the Big Ten, and maybe the American. The ACC and Pac-12 have already seen their best teams lose too many games to warrant being included in the conversation. So, it's going to come down to the final two weeks of the season for pretty much every team but Georgia.
Let's take a look at the most important games to watch and how they'll affect the Playoff picture:
Ohio State vs. Michigan: My goodness, this is shaping up to be an incredible matchup. Ohio State looks downright unstoppable on offense, after shredding the #7 team in the country for FIFTY. SIX. POINTS. With 49 of them in the first half! It's not that Ohio State is expected to be this good on offense, per se, but the 56 points is less impressive to me than the fact that Ohio State only gave up 7 points to an offense with a Heisman-contending running back. After allowing 31 points to Purdue the week prior and 24 to Penn State two weeks before that, Ohio State's defense was their big concern, but a shutdown effort against a solid offense is giving me a whole lot of confidence in the Buckeyes.
For Michigan, the concern is stopping that Ohio State offense. Michigan doesn't have the true offensive firepower to keep up with Ohio State, but they definitely have the defensive pieces to make life hard for Ohio State QB C.J. Stroud and the stable of elite Buckeyes wideouts. If not for some unfortunate referee mistakes in the game against Michigan State, the Wolverines would come into this matchup undefeated. It's going to come down to whether the Michigan defense can make life difficult on Ohio State. The Buckeyes might have a bit of a talent advantage, but Michigan has the home-field advantage. Both teams are playing for the chance to play Wisconsin in the Big Ten championship.
You've probably heard about Michigan Head Coach Jim Harbaugh's record against rivals Michigan State and Ohio State:
The record speaks for itself. Jim Harbaugh is winless against Ohio State and he's struggled with Michigan State as well. The Harbaugh era has been so underwhelming. https://t.co/GBWc2bHmku

— Ky Carlin (@Ky_Carlin) October 30, 2021
Saturday, Noon ET kickoff. Be there or be square.
Oklahoma vs. Oklahoma State: Another huge game with huge playoff implications. Oklahoma is now a one-loss squad and has looked mortal for the last few weeks after falling to Baylor and barely escaping Iowa State last week. Oklahoma State has looked quite the opposite, dominating Texas Tech last week and absolutely crushing TCU the week prior. Oklahoma's two biggest schools by student population meet in the 116th edition of the Bedlam rivalry.
An Oklahoma State win would put the Cowboys in prime position for their first Playoff appearance ever. The Cowboys' resume would include an 11-1 record, with quality wins over Boise State, Baylor, and Oklahoma. They would need to beat Baylor in the Big 12 Conference Championship Game (CCG) next week, but it doesn't seem like as tall a task as trying to beat Oklahoma two weeks in a row.
Meanwhile, an Oklahoma win wouldn't provide as much clarity for the Playoff picture. The Committee isn't high on Oklahoma and wasn't high on them even before they lost their first game, so it's not as clear where the Sooners would slot in prior to Conference Championship Week. A 1-loss, Big 12-champion Oklahoma would still probably make the Playoff, because they would have quality wins over Oklahoma State and another ranked team (whomever they beat in the CCG) at that point.
The winner of this game goes to the Big 12 CCG. If Oklahoma State wins, it will be Oklahoma State/Baylor (assuming Baylor beats Texas Tech next week). If Oklahoma wins, it will be Oklahoma/Oklahoma State, by virtue of Oklahoma State's tiebreaking win over Baylor a few months ago.
Saturday, 7:30 ET kickoff. Be there or be square.
Ole Miss vs. Mississippi State: Not quite as fun as it would have been last week or two weeks ago, now that Mississippi State is no longer ranked, but the Egg Bowl is always a very fun time. Plus, Ole Miss is playing for the chance at a New Year's Six Bowl. They are 9-2, and if they take care of business against MS State, they'll be one of the "at-large" teams selected by the Committee to participate in one of the most prestigious bowl games.
Mississippi State is playing for pride at this point. They're 7-4 and no longer ranked, but they certainly haven't had a bad season by any means. They've locked up a bowl spot and will probably get to go play in a fun, warm-weather bowl that isn't in Mississippi. But a win over their most hated rivals would be icing on the 2021 season cake.
Thursday, 7:30 ET kickoff. Be there or be square.
Boise State vs. San Diego State: This matchup is a little more under the radar (if only because Power 5 schools get 85% of the media attention), but the Aztecs are putting a 10-1 record on the line against a red-hot Boise State squad. Boise State started off a little slow out of the gate, going 4-2 in their first 6 games, but they've really come into their own over the last 5 weeks by beating a ranked BYU and blowing the doors off a formerly-ranked Fresno State and, as a result, now sit at 7-4. They're definitely better than their record would suggest, which should make Aztecs fans nervous.
San Diego State is having a peculiar season. There's virtually no offense to speak of for the Aztecs, as they've made their living playing rock-solid defense and putting the opposition in terrible field position (thanks to the Legendary Leg himself, Punter/Kicker Matt Araiza), but have still won 10 games this season and have been ranked nearly every week of the year.
Bro Matt Araiza punted this from the 12 to the opposite end zone what in the WORLD.pic.twitter.com/H3T1xbjZMT

— Brett Kollmann (@BrettKollmann) November 7, 2021
Good lord.
If you have a chance, read this whole thread, but this punt just about sums up how important Araiza is to this Aztecs squad:
How valuable to SDSU is Matt Araiza? Let's look at Friday's game at UNLV:

Just a one possession game. Every punt is critical. Araiza had 6 successful punts through the game (one was blocked).

The average field position for UNLV was their OWN 13 yd-line. Nice…

— Ronnie Hick❌an Stan (@JTIVHeisman) November 21, 2021
At any rate, the Aztecs will need to play solid defense against Boise State's prolific offense and score enough to keep Araiza's leg from falling off. An Aztec win or a Fresno State loss (the Bulldogs play at San Jose State this week) would clinch a spot in the Mountain West Conference Championship Game. Meanwhile, a Boise State win would keep the Broncos in the hunt for a Mountain West CCG appearance, as Boise State, Air Force, and Utah State are all tied up in the Mountain division of the Mountain West: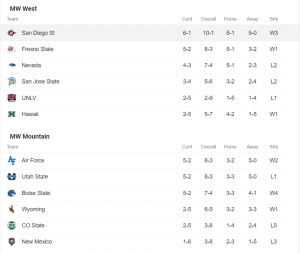 There are other games that don't project to be as close or as exciting but are still worth noting:
The Iron Bowl: Alabama vs. Auburn – This one might have been a little more exciting had Auburn's starting QB, Bo Nix, not have sustained a season-ending injury a few weeks ago. Crazy things happen in the Iron Bowl, I just don't think this game is shaping up to be weird and wacky. I'm all for #TeamChaos, though!
The "Battle Line" Rivalry: Missouri vs. Arkansas – I'm going to be honest; I had no idea these teams had a rivalry. They've only played 12 times between 1906 and 2020, which is odd because the two universities are really not that far apart (about 4 hours of driving). Missouri is the closest Power 5 opponent to Arkansas by driving time as well. At any rate, Arkansas is 7-4 and hoping to win 8 games in a season for the first time since 2015, while Missouri is hoping to avoid its third straight exactly-.500 season.
The "Land Grant" Rivalry: Michigan State vs. Penn State – Despite last week's shellacking, Michigan State's season has been a huge success. They beat Michigan, won 9 games (10 if they beat Penn State), and will likely finish the season ranked. Not bad for a team that went 2-5 last year. It certainly gave Spartans fans something to watch until basketball season started. Penn State's season has been underwhelming by their usual standards. They entered the season with legitimate Big Ten title hopes and are coming into this game looking for their 8th win of the season after close losses to pretty much every ranked team in the Big Ten (Michigan, Ohio State, Iowa).
The "Civil War": Oregon vs. Oregon State – Last week, they were manhandled by Utah. This week, Oregon takes on an upstart Oregon State team with a trip to the Pac-12 CCG on the line. The winner of this game faces Utah. If Oregon State wins, they will have totaled their most wins (8) in a season since 2012 (9).
Bowl Projections
*Made prior to Tuesday's MAC-tion; projections do not reflect results from those games.
The good (or bad, depending on your fandom and expectations) part of the college football season is that many schools beyond the selected Playoff schools get to end their seasons in a bowl game. These bowl games (many of which are owned and operated by ESPN) often pay the schools large amounts of money to come play in all kinds of places across the country. Many bowl games are played in nice climates in the Southeast or closer to the West Coast, where the weather is nicer and teams can get a little "vacation." And, of course, there are some teams that unfortunately accept bids to games in the Northeast and get a nice cold-weather game.
Keep in mind that these are based on my own projections for each team's record at the end of the season, as well as some estimation of what the College Football Playoff Selection Committee might do when it comes down to "Selection Sunday."
First, my picks for the College Football Playoff. These are, of course, subject to change, but I'm basing these on what I think the Committee is going to ultimately do. These are important for the New Year's Six and the rest of bowl season because each conference sends teams to various bowl games based on the number of "ties" it has with bowl games and the number of teams it has available for those "ties." Losing teams to the Playoff reduces the number of teams available for bowl "ties."
Even though the Committee has come out with its third set of rankings, these bowl projections are an estimate of how the rest of the season will shake out and how I think the Committee will ultimately slot various teams at the end of the season.
First, we begin with the CFP Semifinal projections. The playoff selections have a huge impact over bowl season, so any change here alters the rest of the bowl schedule dramatically, depending on the teams selected.
College Football Playoff Projections
This week's Playoff projections are the same as last week, it's just dependent on an Oklahoma State win against Oklahoma in Bedlam this week, Ohio State beating Michigan and Wisconsin over the next two weeks, and an Alabama loss to Georgia in the SECCG.
The Top 10 hasn't changed much since last week. Pittsburgh is in there because I think they are ultimately going to win the ACC. That will catapult them into the 10 best teams in the country in the final CFP rankings:
New Year's Six Bowl Projections
And, finally, now that we've gotten the best six bowls out of the way, here are the remainder of the bowl games (of course, subject to change, based on the CFP Committee's rankings). Teams typically need to win 6 games (a .500 winning percentage) to reach a bowl game, but ESPN will occasionally take teams that are 5-7 to fill in extra bowl games. And, since ESPN organizes nearly half of the bowl games, they have a lot of discretion over what teams are in what bowl games and can choose teams to "stand-in" for conferences that can't meet all of their bowl ties.
Note: As you scan the list of bowls, take a look at the conferences involved and check out the bowl payouts. That should give you a really good idea of the monetary disparity between various conferences. Also, if you're looking for one last game to watch this weekend, keep an eye on Florida/Florida State, who are both at 5 wins. Whichever school wins (I currently have Florida as the winner of that game) will get a bowl berth automatically.
Now that Oregon State has become bowl eligible, the PAC-12 will be able to fill its bowl spots, including the LA Bowl. As such, our dream of Coastal Carolina vs. San Diego State in LA is no more. Instead, we get nice matchups between independent Liberty and Coastal Carolina and San Diego State against a solid Oregon State team.
Graphic by Michael Packard (@designsbypack)