Hope is all I seek. As a Bengals fan, this seems an increasingly impossible task. Driven by the love and loyalty only a parent could understand I am a dehydrated vagabond lost in the Sahara of negligence that is Bengals fandom.
Hope, in Cincinnati, is a drug peddled with wanton disregard for the injury it may inflict on the hopeful. It is but a prayer – a Hail Mary with preseason drop artist Ja'Marr Chase entrusted to catch it. Inevitably and annually, this hope dies an unceremonious death. A withered heap on the floor fumbled by Jeremy Hill. The potential of hope fades into memory only to resurface in late April eager to find a creative and original way to let you down again.
Admitting you are a Bengals fan feels borderline confessional. Whenever conversation strays toward the NFL sweat pools within the developing wrinkles of my forehead anxious for my evolving attempts to contextualize and qualify this failure I invite into my life each fall. Akin to inviting the local homeless drunk to live with me each season, I sleep in the bed of my own making and each year I refuse to cancel my subscription. I couldn't quit if I tried, I know this.
This failure has molded my person. Throughout my life of Bengals peril, I have developed a psychological forcefield impervious to failure capable of justifying any misstep. This has coalesced into a competitive callous that informs my life and relationships. There is hope in even the darkest of hours, a silver lining to every unmitigated disaster, and once it all hits the fan– there's always next year. I'm not sure this is healthy, but here I am in early September masochistically preparing for another dish of muck.
Though I am not from Cincinnati, my story is irrelevant to the salient point that I am a 30-year-old man who has yet to see my NFL team win a playoff game. This encompasses 487 games, an 0-7 playoff record (all Wild Card losses), and some of the most poetically Shakespearean tragicomic moments I have ever lived. I was there for all of it.
From the summer '03 bliss when the incompetence of a 2-14 season bestowed assumed superstar #1 overall pick, Carson Palmer, into our laps[1]. As fate would have it, the prospect of rebirth morphed to rubble in fascinating fashion. From Palmer's ACL tear in a Playoff game against our rival Steelers[2] through his ugly divorce whereupon he swore to never play for the franchise again, Palmer's tenure pretty well encapsulates the incessant volatility we Bengals fans live with. From the hopeful shine of potential to inevitable failure, like clockwork.
Then there was the Andy Dalton era – a QB best remembered as the generational definition of average yet uninspiring. Dalton's 0-5 playoff record represents the greatest era of my Bengals fandom. Though Dalton made the regular seasons more enjoyable, his winless playoff record gave me five indelible memories of hope squandered. In his best season, at 10-2 with a 25 TD-7 INT ratio, he also fell victim to the Steelers in heartbreaking fashion. He broke his hand trying to make a tackle after an interception. Even when things are good, the grim reaper lurks.
Now we rest our prayers on the shoulders of Joe Burrow, a draft-day deity #1 overall pick who was fresh off arguably the greatest season a college QB has ever played and an equally noteworthy post-title celebratory cigar gif which was on loop in my dreams from April through his injury: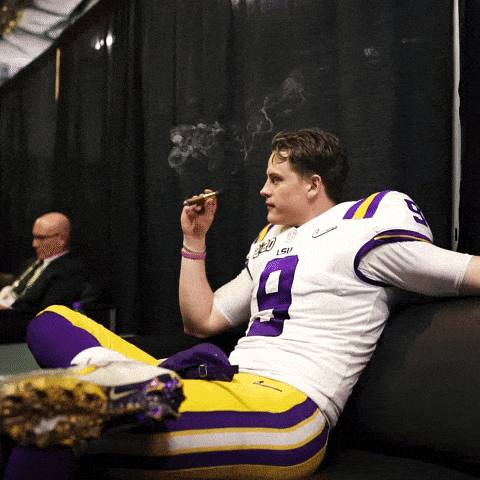 Burrow, a quintessential "Mamba Mentality" competitor was tasked with saving a downtrodden 2-14 team that supplied him with traffic cones disguised as O-Lineman. Left for dead dropping back up to 61 times a game[3] behind the worst O-Line in football – I awoke every Sunday not even hoping for a win, merely praying that our hero could survive the season. As we all know, he didn't. My empathy for Burrow is so strong that I recently concluded that if Burrow were to, god forbid, ever leave the Bengals I would root for him to beat the Bengals #JoeDeservesBetter. Could this be my route out of Bengals fandom? A man can dream.
The Bengals are the only NFL organization without an indoor practice facility, they employ the fewest amount of scouts and our owner's daughter is the chief contract negotiator. They are notoriously difficult to work with, incessantly lowballing their stars[4] whilst refusing to entertain reasonable trade negotiations even one time proclaiming "The Bengals don't feel it's their job to make other teams better." The themes of obstinance, negligence, and dinosaur-age thinking continue to hamstring the organization. All of this starts at the top with the round ball of a roadblock that is our owner Mike Brown. I'll spare you that rant.
At this point I am surprised anyone with an alternative would willingly choose to play for what could be classified as the worst franchises in professional sports. If being a fan is akin to inviting the homeless drunk to live with you, choosing to play for the Bengals is akin to selling your mansion to voluntarily become that homeless drunk.
All of this begs the question, why? Why don't I just quit? Why renew my subscription to misery every season?
Fandom, to me, is not a choice. Loyalty is built into my bones. I am knee-deep in hatred for our bully of an older brother, the Steelers. I once had a mouthful of chewing tobacco spat at me for cheering an Ochocinco touchdown at M&T Bank Stadium against the Ratbird Ravens and my commiseration has morphed into jealousy as the pendulum swing of NFL ineptitude in Ohio swings in favor of the Browns. The honest answer is – this is the only life that I know. Like a feral child crawling out of necessity, I can only dream of life standing on my own two feet rooting for another team.
Furthermore, I have an innate desire to intellectualize the minutia of roster management for my team.  Following these storylines is an automatic process I couldn't quit if I tried. For example, I have followed the frailty of our offensive line since the 2017 offseason Whitworth and Zeitler were allowed to walk in lieu of starting a pair of top draft pick busts Cedric Ogbuehi and Jake Fisher. We have yet to recover from this blunder. Since then, we have paraded a cast of career backups and incompetent flameouts like matador Bobby Hart and Michael Jordan, the guard who tossed a WFT defender into Joe Burrow's knee. Like a horrifying page-turning book that you cannot put down, I am incapable of ridding my mind of these storylines. Could I just wake up one day and forget about the crisis that is our interior offensive line? Could I look at college tackle prospects without the glimmer of hope that they could be the missing link to save at least one of Joe Burrow's remaining ligaments? If only.
So I find myself here every September mired between two poles – one side a jaded ex-devotee skeptical of the prospect of hope and the other side a passionate title-seeking ignorant child within me who still buys the false promise of hope. I can preach patience on Ja'Marr Chase's hands till I'm blue in the face, I can refute the media narrative that our OLine is destined to tear Joe Burrow apart one ligament at a time as if my words alone may buy him that extra second, I can pray for just one playoff win before I reach senior citizen status, but none of that matters.
Fandom and loyalty in life is like love – hopelessly driven by blind faith. Like a visually impaired dumpster diving raccoon, maybe we will stumble upon something greater than the expired banana we are reticent to call breakfast. This leap of loyalty cannot be logically articulated but there is solace in knowing we are not alone. With the cards stacked against us each year we the fans of the less fortunate line up at the one-yard line, our backs shadowed by goalposts, with a Sisyphean grit that more fortunate fans would never understand. Grit that is driven by the prayer that maybe, if we are lucky and all the stars align, that we can share a mere moment of exaltation that only a title could bring. Scratch that, I'll settle for a playoff win. Ok, maybe that's too much, hope is all I seek.
[1] Which led my ignorantly blissful 12-year-old self to change my AIM screenname to bengals9_therebirth.
[2] We were bound to win this game, I swear. Palmer tore his ACL on his first pass of the game, a 66-yard bomb to the late Chris Henry.
[3] In a 35-30 L @ Clevalnd
[4] Most recently souring FA Superstar Safety Jessie Bates in negotiations when he quoted "I guess I haven't done enough yet to be considered one of the best safeties in the league"