I have to start this article by acknowledging two things:
1) I am not a fantasy football analyst, in fact, I have barely played fantasy football in my life, probably have been part of two Yahoo! leagues ever.
2) I was lucky to get an invite to the RazzBowl tournament, but it wasn't because of my fantasy football prowess (see number one, supra), I mostly do fantasy baseball and the jury is still out on my adequacy on it.
With that out of the way, I feel confident I will do fine in my RazzBowl participation, aiming for a top 3-5  finish in my league (which is loaded with awesome and very knowledgeable people, whom I respect a lot, including the last overall champion of the tournament).
What's RazzBowl?
In case you are not aware of it, Pitcher List and Razzball alumni, Blair Williams, penned a great review on the rules, past results, and the keys to success in this article, but to summarize, it is a Cutline Better Ball-type tournament, hosted on NFC, with an optimal scoring format, where an owner's best scoring lineup will be used from Week 1 to Week 10. The rosters are comprised of one quarterback, two running backs, three wide receivers, one tight end, two flex, and 11 bench spots.
Scoring is points-based, with the following weighting:
After Week 9 there is no optimal scoring and team owners will set their lineups to compete for prizes in the applicable bracket if they've made the playoffs (top 6 in each league).
The nice thing about RazzBowl is that it puts together a lot of great analysts from all around the Fantasy Football sphere, with regular Joe's like me, who want to give it a try.
Draft Prep
Being a newb, this was the part where I felt more anxious, to be honest. For fantasy baseball purposes I usually prepare by analyzing the previous season, and I produce detailed notes and observations that can help for draft prep. But in this case, I  was basically starting from scratch as I had close to zero background knowledge. So a couple of weeks before the draft I started studying.
I took dives into the Draft Kit and Going Deep sections here, at QB List, just to set the tone on how things look like in a general way. I spent a fair amount of time checking the Razzball Rankings and also Blair's pieces on draft prep. I read about Air Yards, Zero RB, Hero RB, Hammering WR, Big Time TE, and hundred other draft strategies until I went numb.
I read lots of experts' Twitter feeds and lots of articles and well, I was overwhelmed, to say the least. It was impossible to catch up with everything, of course, you don't get experience at will. So, I took the decision to simplify things.
Points, Stats, and Guts
My strategy would be simple: volume, stats dependence, and no Christian McCaffrey.
Before you stop reading and start shouting "This guy is stupid!" (I will not confirm or deny those allegations), spare a second here with me: I got the first pick (was in my KDS choices) and after thoughtful consideration, I decided that if I wanted to have a fighting chance for a top result overall, I would need to go against the tide, and there is nothing more against the tide that betting against the consensus number 1 pick. So I went with Dalvin Cook, but I'm getting ahead of myself here.
The volume aspect is something I learned the hard way this year on a similar cutline-points-based tournament in fantasy baseball, the RazzSlam. No matter how good your team is, if you don't get the volume from your players, your points will not be enough. That means, for football, having sufficient RBs in this case.
For the stats part, after some thinking, I settled on a couple of them: Target Market Share (TMS) and Targets Per Route Run (TPRR).
TMS refers to the amount of a team total that one player is responsible for in any given stat, in this case to the percentage of a team's pass attempts that were targeted at that player. To get TPRR, you divide their target total by their route total; it is said to be the most highly-correlated Fantasy stat available. You can get more info on them, and other stats, here.
I added another stat to the lot, one which I suppose is like claiming to invent warm water, but just makes sense to me to use: multiply TMS by the Percentage of Completion (Completion/Targets) for that player, let's call it T/T for simplicity.
So, I went stats scraping and got a nice handy little chart, like this one:
You can check a longer list here.
This is kind of a who's who list for WRs and TEs, but also adds some more info for the RBs.
The Draft
On July, 27th we started our slow draft. As I wrote before, I had pick 1.1 and went with Dalvin Cook. After deciding I wouldn't go the CMC route, then there was the decision to make about which RB should I take in his place, Derrick Henry, Alvin Kamara, and Cook were all in the mix for this, so why Cook?
Concerns of health around CMC could also be made about Cook; not in vain, he has missed 21 of 64 possible games in his four years career; I am not concerned about it because he has just missed four in the past two years. I'm concerned that, even receiving increased opportunities with Michael Thomas out, Kamara's game will be impacted by an average New Orleans offense, and, looking at Henry's diminished receiving skills, I decided on taking Cook as my first pick.
Picking in the top spots has the disadvantage of having to wait a long time in between picks; this also meant that I wouldn't get the chance for another elite RB, and also I wanted to be stacked on this type of players by round 10 (five of them, minimum). I decided my focus would be to get WR/QB/TE depending on my expected ROI and on what my little chart recommended, for the next 3-5 rounds.
With Travis Kelce, Tyreek Hill, Stefon Diggs, Davante Adams, Justin Jefferson, Calvin Ridley, DK Metcalf, DeAndre Hopkins, and Patrick Mahomes also gone with the RBs, I picked with my consecutive selections Keenan Allen and Allen Robinson.
Allen should get plenty of volume and opportunities with the Chargers, some are concerned about his efficiency but he ranks 10th in T/T and 4th in TPRR among WR/TE. Robinson's outlook with someone different from Trubisky throwing the ball to him just increased exponentially.
My fourth pick was QB Josh Allen; as with the Robinson pick, I'm aiming to a high ceiling, and it's hard to look at Allen and not think superstar; that's a nice ceiling for me. I completed picks 5 and 6 with TE Mark Andrews and WR Robby Anderson.
I love the value Andrews provides at this point in the draft: he will be one of Lamar Jackson's top targets and, injuries apart, he could pass one of the previous picked TEs in production. If Anderson can get around 150 targets, 1,050 receiving yards, 90 receptions, and 5-6 touchdowns, I'll be happy.
The rest of my top 10 picks was filled with RBs as designed: Melvin Gordon, Jamaal Williams, Kenyan Drake, and Devin Singletary.
The rest of my squad ended up being this: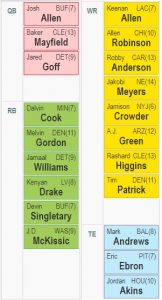 And this was the order: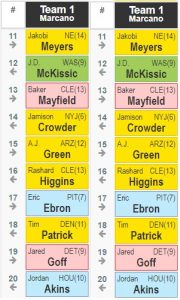 All in all, I feel good about the draft but they say that ignorance is bliss, so I'm sure I could've taken some decisions differently with better results. I'm still learning, and this is a big test, considering the quality of the rest of the managers in the league (previous champ, great analysts, high stakes players, etc), but I like the thought process behind my team.
In the end, I will get a lot of feedback from this experience that should help me improve my skills from now on. Let the games begin!
(Photo by Rich Gabrielson/Icon Sportswire)