Ravens @ Cardinals
Final Score: Ravens 24, Cardinals 17
Writer: Brett Ford (@fadethatman on Twitter)
The Ravens extended their NFL record winning streak to 22-straight preseason games, proving once again to be the biggest try-hards in the league. Baltimore jumped out to an early lead as rookie tight end Isaiah Likely shined in the first half. The Ravens built up the lead to 24-3, but the Cardinals made a mid-game switch at offensive coordinator and saw immediate results, scoring back-to-back touchdowns in the fourth quarter. Arizona had a chance to tie the game, but couldn't architect a third-straight scoring drive, falling to the visiting Ravens by a score.
Baltimore Ravens
| Preseason Week 1 |
Quarterback
Tyler Huntley: 13/14, 129 yards, TD, Sack | 2 rushes, 9 yards
Anthony Brown: 10/13, 91 yards, 2 TDs, INT
Tyler Huntley was "masterful," according to head coach John Harbaugh, as he led the Ravens through the first half. Huntley continues to play well enough to raise some eyebrows and make folks wonder whether or not the Ravens will sign Lamar Jackson to a record-breaking contract extension. His play as the Ravens' backup has likely been at least a small factor in Lamar not inking a deal with the Ravens yet. Huntley extended plays with his feet and was accurate with his throws, even making a Mahomes-esque play on the Ravens' first drive, escaping right and throwing across his body to the middle of the field for a big gain.
Anthony Brown started hot in the second half, completing each of his first six passes including a touchdown in the flat to rookie running back Tyler Badie. A rookie out of Oregon, Brown looked calm and comfortable in the pocket and was well-protected on most of his dropbacks. He delivered his most impressive throw of the night on a 38-yard touchdown strike, hitting Raleigh Webb with a perfectly-thrown ball on a seam route for the score. On his next attempt, he completely missed his read and threw an interception into the chest of a Cardinals linebacker.
No fly zone 🙅‍♂️@ItsMeWootang x #BirdCityFootball pic.twitter.com/rTJlFm7xoe

— Arizona Cardinals (@AZCardinals) August 22, 2022
Running Back
Tyler Badie: 12 carries, 34 yards | 3 targets, 2 receptions, 5 yards, TD
Mike Davis: 6 carries, 18 yards | 1 target, 1 reception, 5 yards
Justice Hill: 5 carries, 5 yards | 1 target, 1 reception, 8 yards
Nate McCrary: 1 carry, 9 yards | 1 target, 1 reception, 7 yards
Tyler Badie hit the hole hard on his carries and showed versatility, scoring on a catch out of the backfield in the second half. Badie also picked up a nice block in pass protection on Brown's touchdown pass in the third quarter.
.@Only1Badie for 6 ❗️

Tune in on FOX! pic.twitter.com/SeBo71k5Dl

— Baltimore Ravens (@Ravens) August 22, 2022
Mike Davis carried the ball six times for 18 yards and was largely unexciting in those carries. If Dobbins is not ready for week one, I would not be shocked to see the Ravens bring in another veteran back with a little more spring in his step to open the year (though I doubt they will spend draft capital like they did to acquire Latavius Murray a year ago, the situation is not as dire).
Wide Receiver/Tight End
Isaiah Likely: 8 targets, 8 receptions, 100 yards, TD
Raleigh Webb: 2 targets, 2 receptions, 46 yards, TD
Bailey Gaither: 3 targets, 2 receptions, 18 yards
Patrick Ricard: 1 target, 1 reception, 1 yard
Makai Polk: 1 target, 1 reception, 19 yards
Isaiah Likely is good at football. He stole the show for the Ravens' offense, making several plays including a nice touchdown catch through contact in the second quarter. Likely finished with a team-high eight catches on eight targets for 100 yards and a score. He ran solid routes and put himself in position to not only make catches but to gain yards after the catch as well.
"Looks like a young Darren Waller…"

Who remembers that the @Ravens were the ones to draft Waller?

Isaiah Likely is going to be a STUD. Definitely worth an add in Dynasty leagues, and a name to watch for early waivers in redraft. #FantasyFootball pic.twitter.com/CrFrIv2Ho8

— Fade That Man (@FadeThatMan) August 22, 2022
Raleigh Webb caught a touchdown late in the game on a seam route out of the slot, but the distribution of targets was widespread as the Ravens had 11 players with at least one target. Of note, Nick Boyle made a return from a season-ending injury a year ago. Mostly a blocking tight end, Boyle caught two passes for no net yardage.
Arizona Cardinals
| Preseason Week 1 |
Quarterback
Trace McSorley: 18/34, 229, 2 INTs, Sack | 5 carries, 5 yards, TD
Jarrett Guarantano: 3/6, 37 yards, 1 TD, 2 sacks | 1 carry, 15 yards
The Cardinals' offense was mostly stagnant for the first three quarters… and then Kyler Murray got the call and made an immediate impact. No, he didn't play, but he did get on the headset to call the plays in the fourth quarter. On the first two drives with Murray as offensive coordinator, the Cardinals scored back-to-back touchdowns. McSorley capped a 16-play, 74-yard drive with a one-yard sneak for a score and rookie Jarrett Guarantano capitalized on short field position for a touchdown pass just a few minutes later. Murray's study time looks to have paid off as Kliff Kingsbury's job as play caller is in jeopardy.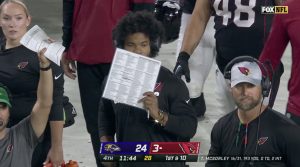 Running Back
Eno Benjamin: 4 carries, 12 yards | 1 target
Jonathan Ward: 3 carries, 11 yards | 1 target, 1 reception, 27 yards
Keontay Ingram: 4 carries, 9 yards | 3 targets, 2 receptions, 20 yards
Darrel Williams: 1 carry, 3 yards
Eno Benjamin toted three carries and was targeted once while Darrel Williams had just one carry. Jonathan Ward popped with a couple of chunk plays and a nice kickoff return. He showed his speed and pass-catching ability on a 27-yard catch and run out of the backfield early on. The Ravens ranked first in rush defense a year ago and held the Cardinals to just 2.1 yards-per-carry on Sunday night.
Wide Receiver/Tight End
Victor Bolden:  9 targets, 5 receptions, 66 yards
Andy Isabella: 8 targets, 5 receptions, 54 yards
Greg Dortch: 7 targets, 5 receptions, 47 yards
Jontre Kirklin: 2 targets, 2 receptions, 18 yards, TD
Greg Dortch looked like the Cardinals' best offensive weapon in the passing game. Dortch made plays against man-to-man coverage and found holes in zone coverages as well.
Two years post-hype, Andy Isabella made an appearance with five catches for 54 yards and had a couple of red zone looks. In the fourth quarter, Jontre Kirklin caught a deep corner fade for a touchdown as well. With DeAndre Hopkins serving a suspension to open the season, the Cardinals' wide receiver depth is a question mark and it will be interesting to see who breaks camp on the 53-man roster out of this group. Rookie tight end Trey McBride was a non-factor, targeted twice with no catches.