Titans @ Steelers
Final Score: Steelers 20, Titans 16
Writer: Adam Sloate (@MrAdster99 on Twitter)
Both teams tallied scores early, thanks to some sweet passing game work from both Kenny Pickett and Will Levis, who each found their top receivers, Diontae Johnson and DeAndre Hopkins, respectively, for several chunk plays. However, it was the running backs who found the end zone for both squads in the first half, with Najee Harris scoring for Pittsburgh and Derrick Henry answering for Tennessee. Levis showed poise and strength on an 8-play, 57-yard drive in the final 76 seconds of the second quarter, leading the Titans down the field for a go-ahead field goal entering halftime; Tennessee led 13-10 at the break.
However, it was almost all Steelers after halftime, as Pittsburgh scored 10 points to Tennessee's 3 on their next 3 possessions. Adjustments by the Pittsburgh secondary kept the ball out of Hopkins' hands, while the Pittsburgh offense found a way to unlock the ground game for Najee Harris and Jaylen Warren. Both churned up significant yardage and put the Steelers in position to score often in the second half. With the game on the line, Levis drove the Titans down the field for 12 plays and 66 yards, but ultimately couldn't find his receivers in the end zone for a game-winning TD; instead, he found Steelers DB Kwon Alexander for a game-ending interception in the end zone, and the Steelers came away with a hard-earned win. The Steelers get the suddenly listless Packers at home next Sunday, hoping to improve to 6-3, while the Titans travel to Raymond James Stadium in Tampa Bay to face a backsliding Buccaneers team.
Three Up
Diontae Johnson – He'd be on here even if all he did was catch a TD since that was his first TD catch since Week 17 of 2021. But Johnson also tacked on 7 receptions and 90 receiving yards, marking a second straight game with at least 85 yards and at least 7 receptions. He's back.
DeAndre Hopkins – "Nuk" has looked a lot more like his old self with Will Levis under center. He garnered an absurd 11 targets on the night, tied for second-most on the season, and even if he was only able to turn them into 4 catches, he's still looking electric when the ball's in his hands.
Najee Harris – If only for this week, Harris finally looked a bit like the RB1 fantasy managers expected. He turned his nice workload into a fantasy-relevant day, thanks to a TD on the ground, and averaged a respectable 4.3 yards per carry.
Three Down
Kenny Pickett – The Steelers were able to win this game thanks to their running backs, not due to Pickett's play. In fact, the Steelers tried to simplify the offense as much as possible for Pickett by setting up nearly all of his looks within 10 yards of the line of scrimmage. Accordingly, Pickett threw for just 160 yards and a TD and looked particularly uninspiring doing so.
George Pickens – Pickens had a frustrating night, garnering 5 targets but turning only 2 of them into catches for a whopping -1 yard. One of those targets saw Pickens miss a TD by roughly half a foot.
Nick Westbrook-Ikhine – Westbrook-Ikhine was a more regular target of Ryan Tannehill this season but has garnered just 3 targets in the last two games with Levis under center. It seems fair to say that NWI is no longer fantasy-relevant.
Tennessee Titans
Quarterback
Will Levis: 22/39, 262 yards, INT, 4 sacks | 1 carry, 2 yards
Overall? I'd rate this one as "a shrug and a smile" for Levis.
First, the good: for someone whose second career game came against a fearsome pass rush — including the best DE in football — Will Levis seemed awfully composed. Here's a good example of Levis waiting out the secondary to find a nice gain:
Will Levis senses pressure and makes an off-platform throw to Nick Westbrook-Ikhine for a first down!#TENvsPIT on Prime Video
Also available on #NFLPlus https://t.co/SEBKoOkzMq pic.twitter.com/cN1oW4GuaH

— NFL (@NFL) November 3, 2023
Levis often held onto the ball in the pocket, surveyed his receivers, and found guys even when the pocket collapsed in on him. You can find some more of his solid throws downfield in the "Notes" section.
Additionally, Levis was able to take some of the check-downs and layups the defense gave him, alleviating some of that pressure. He was also able to attack the Steelers and find success with quick passes, either at the line of scrimmage or between the numbers just beyond the line of scrimmage. His passing chart shows a solid emphasis on the middle of the field play:
The bad: boy, did the pocket collapse a LOT. He was under pressure constantly thanks to injuries and general ineptitude along the offensive line. The Titans had to rely on OT Andre Dillard, who was benched last week due to poor play but had to start thanks to starting tackle Chris Hubbard's injury. OT Nicholas Petit-Frere was in and out of the game due to injury — and holding T.J. Watt quite a bit when he was in — and another lineman, Peter Skoronski, went down for a bit in the second quarter. Dillard was out for a play or two in the third quarter, too.
Levis held onto the ball for just a bit too long at times because he was looking for better plays downfield, making a bad offensive line look even worse. I'm shocked the sack numbers are what they are because it feels like Levis was under fire on just about every dropback…and even his screen passes looked harrowing:
Will Levis is fearless pic.twitter.com/UB2RBiALzJ

— Bussin' With The Boys (@BussinWTB) November 3, 2023
Notes
When he wasn't under pressure by the Steelers defensive line, Levis looked first for DeAndre Hopkins, and the two made some solid connections. Here's a nice play from the vet to pick up a big first down:
DeAndre Hopkins working against a LB and a classy throw from Will Levis pic.twitter.com/FzwF5Aqn6Q

— Nate Tice (@Nate_Tice) November 3, 2023
Levis didn't look particularly accurate in many of those throws to Hopkins but the veteran has enough savvy to make those off-kilter passes look like smooth connections for the most part.
On the last drive of the first half — essentially a 1-minute drill — the Steelers' coverage unit looked incredibly exposed/confused, and with time to throw, Levis took advantage time and again. Levis found Kyle Phillips right down the middle on the below play:
Titans lead 13-10 at halftime:

Will Levis 12/17 153 yds
Derrick Henry 45 yds 1 TD
DeAndre Hopkins 4 REC 60 YDSpic.twitter.com/6oHijsjetY

— SleeperNFL (@SleeperNFL) November 3, 2023
Levis again finds Phillips later in the drive for another chunk play:
Big play to move the chains @will_levis ➡️ @kylephilips17

📺: Watch #TENvsPIT on @NFLonPrime pic.twitter.com/RjljaX6fs4

— Tennessee Titans (@Titans) November 3, 2023
Missed opportunities
It feels wrong to put this one in the "missed opportunities" category for Levis; I would categorize it more as a missed opportunity for the Steelers' defense. But Levis should probably avoid making these types of throws in the future:
Never do that again Will Levis 😂 pic.twitter.com/BzW7d9O3Rk

— JPAFootball (@jasrifootball) November 3, 2023
Exemplified in some of his throws to Hopkins, Levis is a tad inaccurate, and it's making plays harder for his receivers. He struggled to put the ball out in front of his receivers, instead putting it above their heads or behind their backs at times.
Running Back
Derrick Henry: 17 carries, 75 yards, TD | 4 targets, 3 receptions, 27 yards
Early in the game, the offensive line was getting essentially zero push. Henry was getting stopped at the line for some mundane 1 or 2-yard gains and looked a little stiff. But he was able to turn it around, churning up yardage with a blend of tough running and agility. Once the offensive line started to look a bit more cohesive as a unit, Henry was able to find pockets up front and glided through them for some nice gains.
The good news is that Henry still has enough of the "King" left in him to make a spectacular play now and then. Take a look at this absurd stretch for a TD from Henry in the first quarter:
And you guys think Derrick Henry's crazy training exercises are useless.. pic.twitter.com/Mqc4E9m4df

— Jeff Mueller, PT, DPT (@jmthrivept) November 3, 2023
Henry has now had three games in a row of over 4.5 yards per carry, something he was only able to achieve once this season with Ryan Tannehill under center for a full game. His success has opened up the play-action game that the Titans have so badly needed to move the ball on offense. The improved play from Levis — and the respect that defenses are now giving to the Titans' moderately successful passing game — seems to have rejuvenated Henry a bit.
Tyjae Spears: 5 carries, 18 yards | 6 targets, 4 receptions, 4 yards
Spears exemplified the "lots of enthusiasm, not a lot of talent" mentality during this game. He was able to turn some plays that looked destined to be duds into slightly longer and more beneficial gains with his fresh legs and tough running. But, he was also a poor receiver and runner at other times, getting too focused on turning the play into a big one instead of orienting himself on the task at hand (catching the football cleanly).
One pass that exemplifies Spears' attitude most for me is partially Levis's fault but I think this one is more so on Spears:
Will Levis overthrow or Tyjae Spears backpedaling? #Titans pic.twitter.com/7BsQk7ttHi

— Real Friends & Football (@rff_football) November 3, 2023
The Titans utilized Spears as a short-yardage/check-down receiver primarily and sprinkled in a few carries for him, rightfully treating him as a change-of-pace back. He would be a high-end RB option if Henry were to go down, but until then, he's not fantasy-relevant due to the lack of quality targets in the receiving game and minimal rushing workload.
Wide Receiver/Tight End
DeAndre Hopkins: 11 targets, 4 receptions, 60 yards | 1 carry, 5 yards
Hopkins jumped out to a huge start, tallying 60 yards thanks to 4 receptions on 7 targets. For those of us keeping track of the math, that means Hopkins was dead silent in the second half, garnering just 4 targets and converting zero of them into catches. Correlated to Hopkins' performance was the Titans' point output, as Tennessee tallied just 3 total points in the second half. Some of that looked to be improved play from Steelers CB Joey Porter Jr., who was rock solid as Hopkins' defender — although Porter garnered a pretty significant share of penalty markers as a result of his coverage, so do with that what you will — and some other defensive adjustments from Mike Tomlin. It was a good call by Tomlin to divert more defensive attention towards Hopkins because the rest of the receiving corps leaves a lot to be desired, and I wouldn't be surprised to see teams try to key in on Hopkins if Levis becomes overreliant on his one proven receiver.
Remember also that Levis struggled to accurately hit Hopkins at times; the 31-year-old can only do so much to turn some grossly inaccurate passes into completions.
Kyle Phillips: 5 targets, 4 receptions, 68 yards
Dedicated Titans fans will remember where they were when they witnessed the Kyle Phillips breakout game. Phillips showed out against CB Patrick Peterson tonight, burning him a couple of times at different spots on the field and in key situations–and maybe even talking a little bit of smack (sources are saying Phillips might have told the vet "You can't guard me"). Earlier, you saw Levis hit Phillips on two wide-open passes; that was all Phillips' handiwork. Sure is easy to hit the open man when he's that open. 
Phillips has now essentially doubled his total targets on the season with the 5-target game here. 8 of his 11 targets have come in the last two games, though, so Phillips and Levis could be developing some chemistry together, which bears watching over the next couple of weeks.
Missed Opportunity:
Levis ultimately threw a tough ball to Treylon Burks on 4th and 4 in Steelers territory with just over 2 minutes remaining, but Phillips, #18, is wide open on the same play:
Looks like Levis had Philips (18) open on 4th down. pic.twitter.com/NmWKJzryVS

— Seth Walder (@SethWalder) November 3, 2023
Chigoziem Okonkwo: 4 targets, 3 receptions, 28 yards
All of Okonkwo's production came on Tennessee's final drive of the game. He was targeted in the end zone for what would have been the game winning score, but a defender leaped to disrupt the pass and almost intercepted it.
Treylon Burks: 3 targets, 2 receptions, 23 yards
Nick Westbrook-Ikhine: 1 target, 1 reception, 23 yards
The rest of these guys have been on the very deep-league radars for a bit, especially with Ryan Tannehill under center. But, until the passing game finds its legs with Levis, none of these guys are likely to garner significant targets. They weren't heavily involved tonight, and their involvement didn't appear particularly notable except for Westbrook-Ikhine's chunk play on the drive to conclude the second quarter.
NOTE: Burks left the game on a cart and was strapped into place for his ride to the ambulance/hospital.
Pittsburgh Steelers
Quarterback
Kenny Pickett: 19/30, 160 yards, 1 TD | 1 carry, -1 yard
Kenny Pickett could have tacked on at least another fifty passing yards in the first half if he had hit some open receivers. Here's a well-compiled set of Pickett's missed throws in the first half:
Reminder that Jordan Addison is so good he got Kenny Pickett over drafted by two rounds pic.twitter.com/jD5QRCSSvz

— Ben Cummins (@BenCumminsFF) November 3, 2023
Say what you will about Matt Canada–but Canada's not causing Pickett to miss receivers who are the NFL equivalent of wide-open.
The Steelers made some significant halftime adjustments on both sides of the ball, but the one that saved the day on offense was simplifying the game for Pickett. Pittsburgh placed significant emphasis on throws to the flat, screens, and quick "out" routes to get guys open near the line of scrimmage. They trusted Pickett enough to get them the ball close by and then relied on the players' after-catch ability to turn those plays into legitimate gains. Take a look at Pickett's passing chart: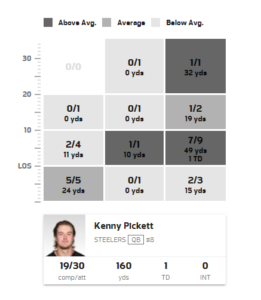 Just 6 of his 30 attempts are beyond the sticks, indicating that the Steelers don't really trust Pickett to attack downfield. The downfield throws are the plays that really start to add up in fantasy, so unless his receivers are hyper-efficient on these short-yardage passes, Pickett's not really a safe fantasy option.
Notes
Hey, he finally connected with Diontae Johnson for a TD! He also, admittedly, made a nice throw to Johnson on the game-winning drive (first one in the video):
4th Quarter Kenny

Kenny Pickett has 7 game winning drives in his career#steelers #kennypickett pic.twitter.com/PhRyc1tAmO

— Matthew Luciow (@matthewluciow92) November 3, 2023
Missed opportunities
George Pickens had a nice touchdown on the following play if he kept his toe in bounds:
George Pickens sheeshpic.twitter.com/61SxHE7joV

— Ian Hartitz (@Ihartitz) November 3, 2023
Pickett could've made a better throw, as Pickens has to make an adjustment on the ball as it's coming down. The adjustment drags him toward the sideline, but an NFL receiver should know that the toe drag is absolutely essential in this type of play.
Running Back
Najee Harris: 16 carries, 69 yards, TD | 4 targets, 2 receptions, 7 yards
The run game looked terrific for both Steelers running backs tonight. The Titans' defensive front simply could not stop either of these guys at the line of scrimmage, due to a lethal blend of minimal toughness and feet stuck in cement. Harris looked like he ran with some juice tonight, showing some rare agility and absorbing contact, exemplified by this touchdown run early in the game:
Najee Harris with a Touchdown 🤩🔥pic.twitter.com/Ny6Hfu8iVI

— Alabama DieHards (@DiehardsAlabama) November 3, 2023
I would caution against drawing any sweeping, positive conclusions from this game regarding Harris' fantasy potential. He needed the end zone to make this performance good enough for fantasy purposes, and he only minimally out-touched Jaylen Warren. 
Jaylen Warren: 11 carries, 88 yards | 3 targets, 3 receptions, 25 yards
There is nothing funnier, in a cosmic, no-skin-in-the-game sort of way, than Warren getting pushed out of bounds just a yard shy of 6 sweet fantasy points and then seeing Najee Harris trot onto the field and vulture valuable fantasy points away from Warren.
Today, we had exactly that. With just under 5 minutes to go in the game, Warren ripped off a strong 22-yard gain to put the Steelers in prime scoring position. Warren bounces off of some pressure from a Tennessee lineman and his own offensive lineman and turns on the jets.
There should never be a game for the rest of the season that Jaylen Warren does not lead The Pittsburgh backfield in touches. pic.twitter.com/Af7Jzv1EKN

— TheOGfantasyfootball (@TheOGfantasy) November 3, 2023
On the next play, Harris is stuffed at the line.  On 2nd and goal, the Steelers then take a false start with Harris lined up behind the center for a direct snap. Nowhere in their goal line plans was the man who got them there featured.
Unfortunately for Warren fans, this moment was just a microcosm of the Steelers run game today. Warren looked untouchable at the line of scrimmage, making the Tennessee linemen look slow. Once he got into space, it was tough to bring him down, as he was agile and quick against the Titans' secondary. Warren's 8 yards per carry wasn't because he was running behind the world's best set of offensive linemen–he dominated up front and was one of the biggest reasons Pittsburgh walked away with the win.
Wide Receiver/Tight End
Diontae Johnson: 9 targets, 7 receptions, 90 yards, 1 TD
Diontae is so back. While Pickett was mostly contained to check-downs, dump-offs, and dinking and dunking, he found an exception for Johnson, who could be found open all over the field, as you saw above. He also finally broke into the end zone with Pickett under center:
Diontae Johnson's first TD in a year! 🔥

TOO OPEN #Steelers

— PickensBurgh🫡 (Tino) (@PickensBurgh) November 3, 2023
In case readers think I'm making too big a deal out of this Johnson TD, take a look at the man himself following the score:
Diontae Johnson says FINALLY! #Steelers #NFL pic.twitter.com/JcxbJFE6Ek

— Blitzburgh (@Blitz_Burgh) November 3, 2023
Zooming out: the workload is extremely encouraging for Johnson, who is just a few weeks removed from a return from injury. All signs point to Johnson holding a massive share of the Pittsburgh passing offense when healthy, as Johnson garnered 14 targets last week, by far the most of any player on the team, and tacked on another team-leading 9 targets today. He's the WR1 of this offense.
George Pickens: 5 targets, 2 receptions, -1 yard
It was a tough day to be a George Pickens fan, and apparently a tough day to be Pickens himself.
#Steelers WR George Pickens is PISSED OFF.

This is after Diontae Johnson scoring a TD for the first time in a couple seasons.

😳😳😳

(📸@Blitz_Burgh) pic.twitter.com/DuP4WxqvSr

— MLFootball (@_MLFootball) November 3, 2023
Pickens investors can take a little solace in the fact that he was mere inches and a mental mistake away from scoring a TD of his own. However, the main concern I have for Pickens moving forward is whether he's going to have a sustainable role in this offense. Johnson's return from injury and subsequent target explosion has come at the expense of Pickens' workload, as Pickens now has 10 targets in his last 2 games, and just 3 catches for 21 yards. Today, Pickens was held back by Kenny Pickett's passing limitations, e.g., the ability to throw the ball downfield accurately, and it seems like he might suffer the same fate moving forward unless Pickett magically finds a way to support 2 bona fide top (by talent) wideouts.
Connor Heyward: 3 targets, 2 receptions, 16 yards
Allen Robinson: 2 targets, 1 reception, 10 yards
These guys can safely be kept on the waiver wire for now. There's not enough passing game work to support George Pickens and Diontae Johnson, let alone the husk of Robinson and Heyward.
Photo by Mark Alberti/Icon Sportswire | Adapted by Justin Paradis